A few years back, I participated in a flash fiction writing event and drew the genre of Historical Fiction as my prompt. Historical Fiction! I had no idea what to do with that. None. At all.
I believe the full prompt was Historical Fiction, a dentist's office, and a leather jacket.
Uh. Okay. Sure.
So off I went and wrote a story. My own little sort of baseball story and turns out it did pretty well in the competition, meaning it was good enough to get me to the next round.
After finishing the story, I'd had a bit wish that my sorta kinda baseball story would get to see the light of day, and be published during the baseball season.
Well, my wish came true. "The Dilemma" was published this past April in issue 13 of SLAB Literary Magazine.
My baseball story! Published in April! During Spring Training!!
So why am I telling you this in June?
Well, it came out in the print version in April and I decided to wait for the issue to be loaded up online before sharing. Well, Issue 13 is online, however…..my story is listed in the table of contents but it's not printed in the online version.
Grr.
I've sent a few notes but I think the editorial team is off on summer vacation.
While I love the folks and SLAB and am so very, very grateful they published my story, I don't really want to wait anymore to share my little story with the world.
So I scanned that bad boy and you can read my little baseball story today, a few weeks before the All Star Break.
Here it is: The Dilemma
You can also find the link in the right side of this page.
If you take a few moments to give it a read, I'd be quite grateful. If you don't wanna read but just wanna send "yay you" thoughts, also fine by me.
Either way, I'm going to be over here feeling pretty darn proud of myself for taking a bit of an oddball prompt and making something good.

Issue 13

So without going into specifics (because it's the internet and who knows what people do with facts anymore) the job I do every day is, essentially, a customer service gig. We don't support the general public, but support the operations of my employer. We serve all of my coworkers as customers. Confusing enough?
Anyhow, since we have a focus on customer service and have standard corporate performance measurements to maintain, on a regular basis we send surveys to our customers to ask how we did so they can grade us and provide feedback.
Fairly standard stuff. If the surveys for my team come in good, then fabulous. It's logged and reported and so forth. If a survey comes in bad, then a member of the team that collates responses will discreetly make a copy and slide it onto my desk. This usually happens when I am off in a meeting or something so they don't have to make eye contact. It's all very clandestine.
Bad surveys happen. It's normal. I usually review them, see what the beef is about and move on.
Except for yesterday. Yesterday gave me pause. I returned to my office to find the dreaded folded sheet of paper on my desk. "Ugh" was my first thought as I unfolded and read the survey.
It was a good time. Suffice to say, my team was blamed for everything wrong in this person's life, including (and I'm not kidding) the reason the person is leaving our institution to go work somewhere else. All our fault.
The words "byzantine" and "Kafkaesque" were used. And after looking up what those words meant, I was really offended.
Just kidding, I wasn't offended. To be honest if bureaucratic, surreal and nightmarish processes aren't your bag, then working anywhere that receives federal funding is not going to be a fun time.
This unhappy person did wrap up by saying they thought my employee that they worked with lovely, but the processes were ugly.
Fair enough.
To be honest, I appreciate this customer for giving me the first good laugh I've ever had over a bad survey response.
And the search for just the right image for this post was also a nice distraction from my byzantine day.
I think I nailed it:


**An actual Franz Kafka quote that just supremely fit this post
I think, sometimes, it must be a bit odd living with me.
On Sunday afternoon, with many things troubling my mind, I went outside and took a nice walk. I also looked at my neighborhood and noticed the way the sunlight is shifting. A cool tinge to the breeze. And I noticed that college kids are starting to move back to this college town.
When I got home I was a bit tired, a little sweaty, and more centered in my mind.
"Oh!" I said, as The Good Man and I talked things over, "I brought something home."
His eyes lit up at the prospect. What could it be? Something freshly baked from our fabulous neighborhood shop? A pound of aromatic fresh ground coffee? A small fun tchotchke from one of the many nearby gifty shops?
Nope. What I brought home to my sweetheart was this: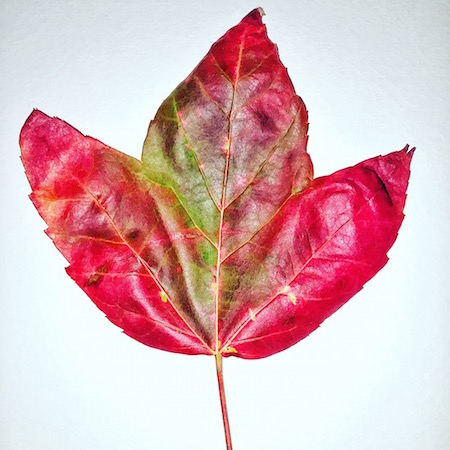 From a Red Maple tree

I brought my love a leaf.
More than a leaf, it was the perfect representation of how restless I was feeling. As summer begins to give way to fall. As youth gives way to middle age. As things are in motion and changing at my place of work.
I was stunned on my walk to notice that leaves are already changing. Trees are starting to turn the bright reds and yellow and oranges of fall. I'm sure our unseasonably cool late summer has been part of the reason, but I was startled to see the change. I was also comforted to know that the restless feelings inside me are in sync with nature.
It is both a green leaf and a red leaf at the same time. Both the joy of spring and the end of summer. Happy and sad. Birth and death.
Transition.
My theme song lately has been Sam Cooke, "A Change Is Gonna Come." I just recently found this song again through the whims of Pandora's algorithms. And as Pandora is want to do, it plays at least once a day during my work days. Occasionally, if the time is right and the office door is closed, I sing along.
It is a sad song. A lament. But also, it's inevitable that change has to happen. Like that leaf, there has to be some core that remains and stays in place to keep you grounded. With that grounding, then other things can change.
Lest you think I have any personal big changes planned, I do not. I consider most of my life to be my rock. But things around me are changing at a rapid clip, and I am feeling that happen.
Seasons are in transition. Things at work are changing fast, and actually have been changing for some time. And the nation is changing too. This election cycle has been nothing short of the lunchroom at an insane asylum. Come November, things are changing for all of us, no matter how the voting goes. Even the world is changing. Both for the good and for the bad.
I'm not always very good with a lot of change. Some people thrive. Me, I get a little worried. It's my way.
But on that sunny Sunday in Northern California, a pretty little leaf became the perfect metaphor for what's going on inside of me.
And The Good Man, he understands that sometimes I need to bring home a leaf to best explain everything that's on my mind.
___________________
Because I can, I ran my leaf photo through the Prism app, which I just adore. My favorite of the conversions was this one.
Thought I'd share it too: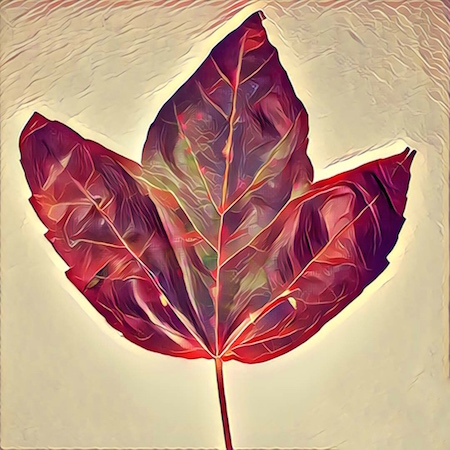 Same leaf, now artified

Leaf photos ©2016, Karen Fayeth, taken with an iPhone6, the Camera+ app, and the Prism app. Subject to the Creative Commons license in the right column of this page.

This is where I ate my lunch yesterday: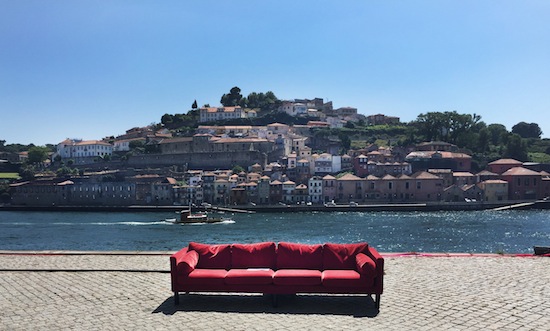 Copyright ©2015 Karen Fayeth

A velvety red couch by the beautiful Douro River in Porto, Portugal.
Wednesday was a beautifully clear warm June day. I sat on the pleasantly comfortable couch with two other people who are counterparts from another company. Two people I genuinely like.
We sat together companionably and talked and laughed and told stories. We couldn't believe our good fortune that the couch seating was open on such a gorgeous day.
Inevitably, time passed and it was time to go back inside the Alfândega Congress Centre, a historic former customs house, and go back to work.
Deep in very businessy conversations inside the cool stone structure, I couldn't stop my mind from wandering back to that place. That seat. That sun. That perfect moment. A delicious lunch with good and decent people on an oddly but fortuitously placed couch by the Douro river. In Portugal.
On the next break I wandered downstairs and back outside. After taking a photo of that now empty red couch by the river, I went down a few granite stairs and sat closer to the water. Small wakes from passing boats gently lapped the bottom step.
Then I started thinking. Lovely thoughts on a lovely day. A workday, no less! What a lovely city in a lovely country. Just that easy. Just that difficult.
And that, my friends, is how a good memory is made.

A couple days ago I mentioned that I had been in Chicago for a writer's conference at the end of March.
I've been to Chicago many times (as in passing through on my way elsewhere) but I've never really been to Chicago. When a couple ladies from my class said they wanted to go into downtown for dinner I was totally on board.
We hopped on the L and headed from Rosemont into downtown and walked around.
The ladies were intent on seeing Cloud Gate, colloquially known as "The Bean" and I was onboard.
It just so happened that the March theme for my photography club was night photography, so I took along a camera just in case I saw something good.
The Bean is like any touristy object, it's been photographed thousands of times. I had no idea what I could do to improve on what's already been done, so I just had fun with this shiny reflective piece of art.
Here's what I got: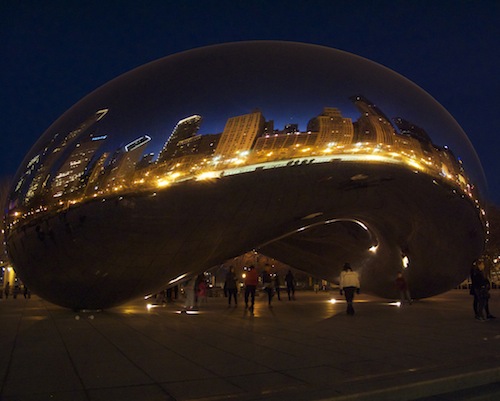 Image Copyright © 2015 Karen Fayeth

I think the Chicago skyline is so beautiful and a bit iconic as well. I love that at certain angles, the polished surface of the Cloud Gate just disappears into the sky like liquid silver. It's really cool!
My favorite part of the whole night was when my fellow travelers and I had found our way to Millennium Park and were a bit lost trying to find The Bean inside the park.
At one point, a bunch of kids came running and flowed around me like a stream while they pointed and shouted "El Frijol! Mira! Mira! El Frijol!" I smiled because I knew I was near. And I laughed because of course it's called El Frijol. My New Mexican pride stool tall as I found that big shiny bean.
I love the shot, but I wasn't sure anyone else would. Turns out this photo took second place in the voting for my photography club's monthly challenge, and that makes me happy (missed first place by one vote!).
After The Bean, we found our way to Giordanos because hello Chicago style pizza! Can you believe I forgot to take a photo of that delicious deep dish? Oh well.
This photo of Cloud Gate brings me good memories of downtown Chicago. I look at this beautiful bean photo and I smile.
Chicago is such a great city. Really top notch. I can't wait to go back.