In addition to my weekly forays into macro photography, I also am a part of a photography club where I work. We have a monthly theme each month and for February the theme was water.
Ah water, necessary, essential, and in California a bit scarce. We've had some good rains lately but it's never enough.
The water theme was to support some research in process by my buttoned up scientific fellow photo club members. While they submitted perfectly rendered landscapes of lakes, exquisite macros of a single droplet on a perfect flower, and velvety moving streams, I submitted, well, this: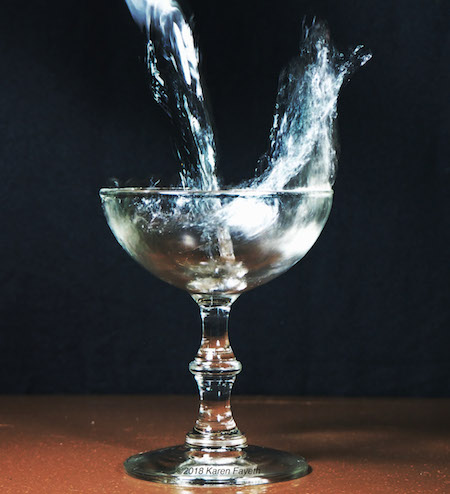 ©2018 Karen Fayeth

I fell in love with and bought the champagne glass for a dollar at my local salvage/thrift store. It was the only one there, and I loved everything about it. Since purchasing, I have been looking for the perfect project to incorporate its voluptuous curves. Turns out this was it.
Lately I have been exploring photography of drips, drops and splashes. Without a speedlight, the action of the water in this photo is not frozen, but I actually like the movement.
Also, it's unintended, but doesn't it look like a 1970's liquor ad? I love that about this photo. Not sure what I mean? Try this, this, and this.
I showed it to one of my photographer friends, a very metropolitan millennial, and he declared it "sexy AF" and "just waiting for a vodka ad."
I consider that a win.

Here it is, Sunday, January 7th and I'm staring down the barrel of Monday.
It's time to get myself back into gear.
You see, not only does my employer shut down between Christmas and New Year, but I was also able to scrape up enough hours to take this past week off. I've just had seventeen glorious and fun filled days away from work. Days of setting my own agenda. Of not looking at work email. Of working on photography at midnight if that's where the fancy took me because I could sleep in the next day and the next one after that.
Last week I existed in a fabulous sort of limbo land. 2017 no longer, not quite 2018. It suits me.
All good things must come to an end, and so must my extended vacation. Tomorrow, reality slaps me across the chops, as reality is prone to do.
This morning The Good Man and I left our warm and cozy home to venture out into the rainy, wintry cold for Sunday breakfast. Pancakes to bid adieu to vacation and bonjour to 2018.
Through visible breath and rubbing hands together I looked up and saw a bright red maple leaf shellacked to the windshield. "Hey that's pretty," I said and took a quick snap.
Now, I realize that in this simple winter image I somehow exactly captured my mood. No more holly jolly songs and soft Christmas lights. No more Santa and wrapping presents and warm cookies baking in the oven.
It's now winter, plain and straightforward. No more looking forward to the holidays, instead we look to Spring. I have a lot of (needed) California rain to endure this year because that is what the Bay Area does in winter.
This is the long slog, when it's still dark early and foggy mornings and shivery cold.
But soon. Yes soon, the world moves into winter so we can know the spring. Daffodils and cherry blossoms are just around the corner, but for today it's a sodden leaf in cold rainy hazy blue surroundings.
So I won't lose hope. Tomorrow may loom large, but I will pop back to the surface like a bobber and keep swimming. I will have great successes and I will fail a lot too. I will be mad and sad and happy and grumpy and overtired and all the things I was on December 21 when this wild leave from work began.
Okay 2018. I put you off as long as I could, but you are now top of my To Do list and I'm going to tackle you.
Starting tomorrow.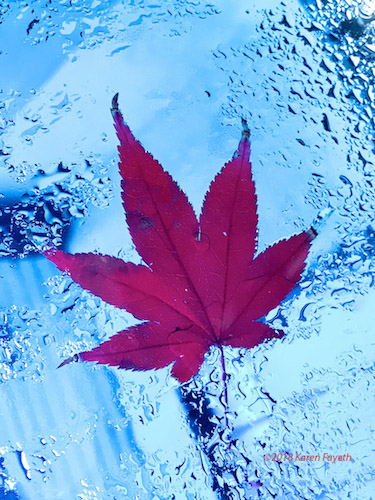 ©2018 Karen Fayeth

It began with a photo of fish.
The photo was published in the online edition of the Albuquerque Journal. I often read the Albuquerque Journal so I don't feel so far away from home.
A glance at the file information for the photograph gives a date of June 2002. I find that so hard to believe, and yet it's true
The photo shows three fish that got stuck when their river home dried up. A rapid New Mexico drought took all the water.
I can't recall which New Mexico river this happened to, I probably should have kept a screen shot of the newspaper article, but even as I know that New Mexico has struggled with drought for years (and today), I was amazed and shocked by this photo.
It is difficult to believe that water could evaporate that quickly.
Here is the photo: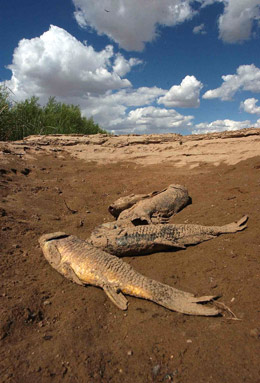 The image didn't leave my head, it rattled around in there and said so many things to me. My brain worked it over and a story began to form. The feeling of trying to draw a breath but only getting New Mexico mud.
The first draft of the story "Sangre del Toro" took shape in October 2002. Wow. Thirteen years ago.
Over the years I have submitted that story off and on to contests and literary magazines. I'd dig it up, edit and polish and try again with no luck.
I believed in the story, in the character, in the image, so I kept trying. And trying. And editing and trying and so on.
I did another edit and submitted it again for another round in the publishing meat grinder this last December. I have come to understand that publishing is as much about timing as it is about quality. And that's why I kept trying.
On February 26, I finally got a yes from a literary journal named Jet Fuel Review.
It was almost surreal to finally hear a yes in response to this story and it's even more surreal to announce that the Spring 2015 edition of Jet Fuel is live.
You can download the entire edition here: Full Edition
Or you can read just my story here: Sangre del Toro.
Woo! Whatta rush. Very excited about this one finally seeing the light of day. It was only by searching my hard drive to find that fish photo that I realized this published piece was thirteen years in the making.
Thirteen years of believing in a kind of sad story about a little girl caught out, just like the fish.
The editors of Jet Fuel told me they thought the metaphor was a little too obvious, which is probably true. I guess they still liked it enough to publish.
And so please give it a read and support Jet Fuel. They are a great group and I am forever indebted to them for taking a chance on little Adelida.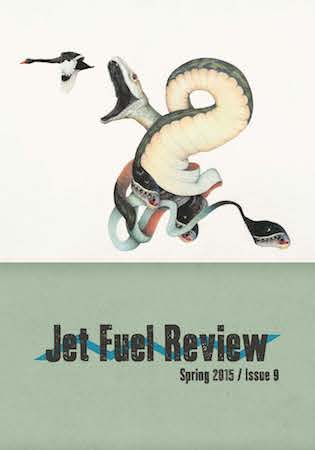 This is where I ate my lunch yesterday: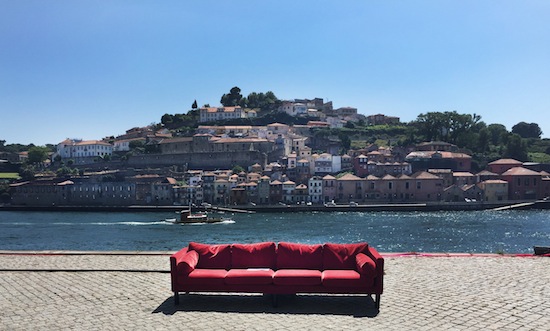 Copyright ©2015 Karen Fayeth

A velvety red couch by the beautiful Douro River in Porto, Portugal.
Wednesday was a beautifully clear warm June day. I sat on the pleasantly comfortable couch with two other people who are counterparts from another company. Two people I genuinely like.
We sat together companionably and talked and laughed and told stories. We couldn't believe our good fortune that the couch seating was open on such a gorgeous day.
Inevitably, time passed and it was time to go back inside the Alfândega Congress Centre, a historic former customs house, and go back to work.
Deep in very businessy conversations inside the cool stone structure, I couldn't stop my mind from wandering back to that place. That seat. That sun. That perfect moment. A delicious lunch with good and decent people on an oddly but fortuitously placed couch by the Douro river. In Portugal.
On the next break I wandered downstairs and back outside. After taking a photo of that now empty red couch by the river, I went down a few granite stairs and sat closer to the water. Small wakes from passing boats gently lapped the bottom step.
Then I started thinking. Lovely thoughts on a lovely day. A workday, no less! What a lovely city in a lovely country. Just that easy. Just that difficult.
And that, my friends, is how a good memory is made.

If we make it through December
Everything's gonna be all right I know
— Merle Haggard

Every year "If We Make It Through December," a classic Merle Haggard song that was released for the first time all the way back in 1973 becomes the theme for my holiday season. I have been playing it on repeat in my car as I drive back and forth to my job.
I also play it when it's dark in the morning and when it's dark in the evening. As the rain comes down. As protestors shut down access to my home and helicopters hover in the sky. As my feet ache and my head hurts and I wonder why, for another year, I'm anxious, depressed and overwrought during the happiest time of year.
Every year I look forward to December and the holiday season, hoping to capture some small bit of that childhood joy and anticipation and magic. I watch movies like "White Christmas" that are filled with optimism and dancing and songs about snow.
Every year I feel crushed by an avalanche of end of year business activities. It's the nature of the profession I have chosen that December is just always going to be craptastic.
And then current political events put a little exponential anxiety to this year's festivities.

Now I don't mean to hate December
It's meant to be the happy time of year

Happy, yeah. Full of cheer. Ho, ho, ho. Yesterday should have been a really good day. My boss held a breakfast holiday celebration for all of her team. Then one of my main client teams had a holiday luncheon for us too. A day of eating? Hell YES!
But in between those two events, I had a bunch of other meetings. I was late to most of them and got chewed out. I was running hither and thither to get to these "fun" events where my attendance was fully expected.
At the end of the day I had an inbox full of emails and angry voicemails from people expecting me to get my other work done.
So I stayed late at work (again!) and tried to get somewhat caught up. I worked off most of the code red items and left the code orange for another day.
Then I went home exhausted and emotionally shut down. I was not a good spouse to The Good Man or a good human to my Feline.
Hell, I didn't even plug in our Christmas tree yesterday. Yes, last weekend I managed to get our fake tree put together, but it is not decorated. I usually love to make cookies for the holidays, but not this year.
Instead I made toast for dinner and then went to bed. Feliz Navidad.

If we make it through December we'll be fine

But as I whine on and complain loudly, I suppose all is not lost. This year I introduced The Good Man to December's theme song. This happened while we were taking a drive to go see Merle Haggard play a live show at my favorite concert venue in Napa.
How bad can my month be if I get to see one of my all time favorite musicians play live? A musician who has written songs that make up a lot of the soundtrack of my life.
The Good Man is going through his own turmoil this December and so the lyric we most often repeated to each other on our hour long drive was this one, "If we make it through December we'll be fine."
And we will. We'll be fine. This hell and highwater (literally, one of the highway exits in our town was flooded out so we had to seek an alternate route) will recede and we'll find our way back to level ground.
I don't mean to hate December. It's just sometimes it feels like December hates me.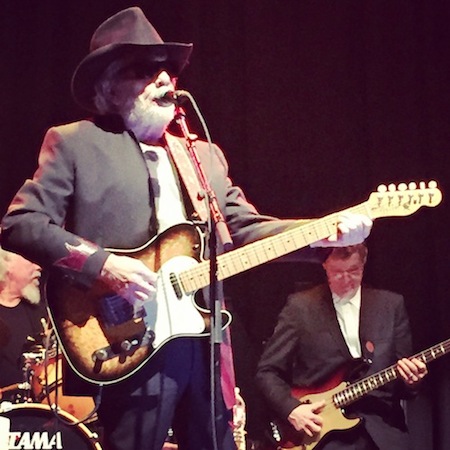 Photo copyright ©Karen Fayeth, 2014

Photo copyright ©Karen Fayeth, 2014. Taken with an iPhone 6 and run through Instagram. Photo subject to the Creative Commons license found in the far right column of this page.