It is a dark, gray and drizzly day here in Northern California and to be honest, that is a good thing. I say that even as my mood can best be described as poopy. The fact that the earth needs the rain doesn't preclude a little blue mood to go with the not-blue skies.
To be honest, in March, this is what the Bay Area is supposed to do. It's supposed to rain. So I'm grateful for the rain.
But still, I'm cranky.
Days like these make me want to stay in bed all day and only come to the surface for something tasty to eat (then dash back under the covers).
Last evening I watched an old episode of No Reservations when our host, Anthony Bourdain, was in France. At one point they showed warm hot loaves of bread coming out of the oven. Of course now all I want to eat is gigantic loaves of warm bread smothered with butter.
But alas, the butter is a non-starter for me with the lactose intolerance and all. And well, we all know bread gets a bad rap these days.
Later in the show, the host was eating some gigantic meat-on-meat madness type of meal and I said to The Good Man, "I…I just don't think I could eat that. I mean, I would try, but oh how my stomach would hurt."
What the hell has happened to me? I remember the days when I would and could eat everything from flaming hot green chiles to milk products to fatty meats washed down with a lot of beer and wouldn't even blink an eye.
Now as I ponder yet another birthday coming along in a few months, I realize what a little lily I have become. A hothouse flower who can't eat things too hot anymore (damn my GERD) and can't eat milk products (well, I can, but it's an unpleasant outcome) and I sure do eat a lot less meat than I used to because my tummy just can't take it.
Alas! What has become of poor Karen? I don't even know who I am anymore.
I suppose it's all a part of the cycle of life. I mean, I have tried and digested a lot of good food in my life. I don't hold back, I'm willing to give most foods a shot but I have become a lot more circumspect in how I nosh.
A "good" meal can be great in that moment and can then ruin my whole day. So I eat a little less quantity and a little better quality and I wonder what else I'm going to be a candy-butt about in this great life.
First world problems. I got 'em.
(And give me time, I'll get over myself. I always do.)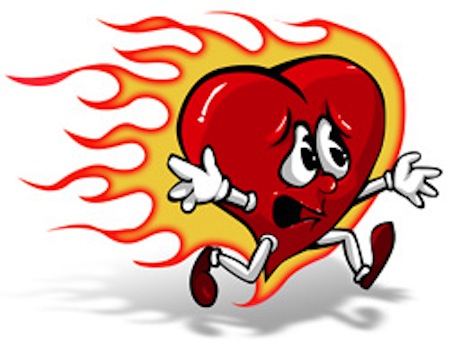 Image found here.

Today feels more like New Year's Day to me than it did on January first. This is easily explained, as today is my first day back at work and the reality of 2014 is slowing sinking in.
Today was the first day back to old routines and old problems and that dratted alarm clock squawking at me at some unspeakable hour when even the sun doesn't want to be disturbed in his slumber.
But here I am, back in the grind, wondering how I can keep myself stress free and high energy for all of the many days that lie ahead until my next two-week break.
As such, it's time for me to turn my attention back to words and writing and the ol' blog.
I thought I'd kick off the New Year by doing an update post, addressing many of the things we've chatted about over the past month or so.
Where to start?


Oh Fair New Mexico


Well, let's be a little meta and start by talking about my little blog. March will mark seven years of writing words on Oh Fair New Mexico.
Total count (before this post) is 566,730 original words over 1,669 posts.
For the loyal readers, I give you a huge hug and lots of thanks for keeping up with the wild meanderings of my mind.
In the past I was able to consistently post every weekday, and did so for years. Lately that flow has slowed quite a bit.
Is it that I just don't have anything more to say? Hardly.
The nature of my job is such that I rarely have a free second of time during my days. This job is high energy and decisions required moment to moment.
In my former gigs, I was able to write up a post over my lunch or while on a break. Now, when I eat lunch (at my desk, usually) I have a line of people out my office door wanting to chat.
I often hear "Oh she's there!" outside my cubicle walls and an "Oh, are you eating lunch? This will just take a minute" when a face peeks around my doorway.
My employees are top-notch folks and I take working for them very seriously.
But dammit! Mommy needs some alone time!
I get quite frustrated sometimes over my lack of time. It's something I'm working on in this new year.
I'm telling you all of this by way of saying that even if a week goes by and I haven't posted something, don't give up on me. I'm still here and I'm still writing.


750 Words

Nice segue. Speaking of writing, lately I have been getting a nice boost from a website named 750words.com.
If you ever read the book The Artist's Way by Julia Cameron, then you learned the value of morning pages. Per Ms Cameron, morning pages are three handwritten pages about any topic you please. The intent is to help prime the ol' pump and get the creative juices flowing.
I have done morning pages off and on for years and they sure help, but it's easy for me to let them drop. They are kind of a pain in the butt sometimes, plus my handwriting sucks. Also, my hand can't go fast enough for my brain.
Enter 750 words. The creator of the website did the math and figured out that three pages is, give or take, 750 words.
So it's morning pages, online, with reminder emails and badges and statistics and fun.
Why I'm telling you this is because I have been working on words on that site and boy can I tell a difference.
Hopefully that difference will show up here on Oh Fair too.


The Feline
Just before Thanksgiving, I wrote a pretty sad post about my little fuzzy one.
She had just spent a weekend in the pet hospital and when we brought her home she was weak and quite skinny.
At the time, we didn't think she would make it to Thanksgiving.
She did.
Then I was just certain she would not make it to Christmas.
She has.
So here I am on January 6th feeling pretty amazed that The Feline is actually doing ok. Through the wonders of modern veterinary medicine, she is not only ok, she has gained a little weight and is clear eyed and feisty and full of vim and is feeling like her old self.
It's kind of amazing. The Feline will never recover from her ailment, what she has is terminal, but The Good Man and I now understand how to manage it. We got her steady and we have more time with the little punk than we thought.
She will be 15 years old in March, and now my hope is that she gets to celebrate her little cranky feline birthday.
Here's a photo taken about a week ago. This was the first time I really realized she was feeling better and it's become one of my favorite photos of her: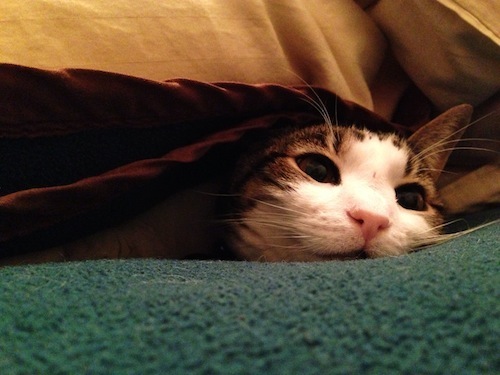 Copyright © 2014, Karen Fayeth


That Damn Chocolate Bear
You listened to my tale. You sympathized with my anxiety. You heard my cries.
The response was best summed up by a New Mexico friend:
"Snuff the Yogi."
And I want to. Oh. I want to.
Here is the status of the Bear as of this morning.

Copyright © 2014, Karen Fayeth

He sits there, mocking me. He is in residence on the shelf set aside for snacks. During the height of holiday madness, that shelf was cram packed with delicious treats and he survived by cowering in the back behind the biscochitos and the sugar cookies and the See's Candy and the rocky road treats made by The Good Man's little sister.
After the piranhas had their holiday feeding frenzy all that's left is that damn bear and a crappy candy cane.
Yes, people, I'm telling you that the bear is still intact.
I asked The Good Man, "What kind of maniac doesn't eat a freaking chocolate bear?!"
He politely responded that since things have escalated, he will be seeking a safe house where the bear can be granted asylum.
He's just doing this to torment me. He knows one day in the not too distant future I am going to tear the apartment apart and walk through that bear's gold foil restraining order and tear him chocolaty limb from chocolaty limb.
Oh it's happening.
Well there we have it. I think that gets us all pretty much current and caught up as of today.
I am through most of my first Monday back at work. All in, it was not bad.
Manageable.
Onward until tomorrow.
Feliz Año Nuevo my friends.
I just realized that it's only two weeks until the glorious three day weekend of MLK Jr. day.
I can hardly wait.

All images © Copyright 2014, Karen Fayeth, and subject to the Creative Commons in the right corner of this page.

When poets, musicians and bards speak of the seasons, they speak of the cycle of life. Birth, life, death. The never ending cycle that none with a soul and a heartbeat can avoid.
I like to think of autumn in philosophical ways as I crunch the leaves under my feet. Ah yes, the earth must turn. The leaves must turn brown. My hair must turn gray.
But really, autumn isn't quite just a philosophical thing for me anymore. I guess as years go by I have racked up painful scarred notches on my soul. Reminders. Injuries that push me from the figurative to the literal.
We are just a week away from the Thanksgiving holiday, and I am reminded that the anniversary of my father's birth is also next week. He always favored an apple pie for his birthday, which occasionally fell on the actual day of Thanksgiving.
It has been almost nine years since he passed, and this autumn day has caused me to think of my father, and the deep well of sadness that I will likely not ever recover from.
His death broke something inside of me. Resolve? Courage? Strength? I don't know. I do know that in the wake of his passing, I cry a lot easier. I get sad a lot more quickly. I grieve more profoundly. And I love with gusto because time is always ticking away. The world does not stop turning. The leaves cannot help but turn brown.
Today, when coworkers casually passed me in the hallway and asked, "How was your weekend?" by way of making small talk, my answer couldn't be the usual "Fine, and you?" Sure, I said that a few times. And a few other times I said, "Actually, I had quite a terrible weekend."
It's true, but not everyone wants or cares about the truth when crossing paths in the break room on the way to the coffee machine on a Monday morning. Lying is hard for me.
My precious Feline is sick. A few months ago we knew she was sick but it didn't seem terminal. Two months later and it's not good. She spent the weekend at a pet hospital where too many people grabbed at her and poked needles in her and she wasn't at home with her humans.
She's home now, and that helps. They sent us home with bags full of medications and regimens. We cannot cure her, we can only make the symptoms a little less awful.
The prognosis is tough to make. She may live another year. She may only live until tonight. I have no idea.
But the clock is ticking. As I watch her lose weight and refuse to eat I know that the specter of death looms large. As large at the oak trees that line my residential street, spilling their leaves and showing me their skeletons.
This is autumn. As sure as I am not ready for pumpkin spice lattes, I'm also not ready for what this autumn has in store.

Photo Copyright 2013, Karen Fayeth

Photo Copyright 2013, Karen Fayeth, and subject to the Creative Commons license in the right column of this page. Taken with an iPhone5 and the Camera+ app.

Over the years I have suffered a certain amount physical ailments for which medical doctors can find no cause. The better part of discretion will keep me from detailing my woes (what my beloved grandmother used to call the "organ recital").
But suffice to say, 1) it's been going on for a while, 2) ow, 3) four different doctors have said, "want me to write you a big script for liver killing pain meds?" to which I said "no thank you".
After years of wailing and moaning, a friend suggested I try acupuncture. I figured what the hell, I had exhausted my options with regular doctors so why not try something different?
I am not completely sure what I think about acupuncture. I vacillate from "it's utter bullmuffins" to "hey, there may be something to this."
Actually, over the past year or so, I have gotten quite a bit of relief from having those little needles stuck into me. Whether it's all psychosomatic or not isn't my place to decide. I just know I feel better, and that's all that matters.
Since I moved to a different city several months ago, it was untenable for me to visit the same needle sticker as it was just too far away.
At the end of last week I had my first visit with a local hokey-poker to see if she could pick up where the last guy left off.
During the course of this visit, the new gal asked me if she could use a technique in addition to the needles. I say hey, why not. Give it a shot.
The technique was called cupping. My first thought was "oh that's nice, she's going to hug me and gently cradle my sensitive places. How thoughtful."
No, turns out that kind of cupping is best left to The Good Man. She meant taking these glass bowl looking deals, heating them up and plopping them on my well oiled back, creating suction.
Holy smokes it hurt. A lot.
I'd seen photos of celebrities with these big sucker marks on their back and shook my head and chuckled at the time, thinking "buncha weirdos". And yet here I was letting this lady do the same to me. What I don't really understand is how those lilly-sensitive spoiled celebs are able to put up with this "treatment" while I had tears of pain rolling down my face.
What have I become? Who am I?
I'm old, that's what. The days of rubbing a little horse liniment on the owie places is over. If these painful glass jars can help me feel better, well, fine.
When I whimpered a little and called out for my mommy, she said "oh, is that too much?" and she lightened the suction a little.
Finally she removed those sea serpent suckers from my skin with a moist sound and said, "Ok, you're done. By the way, you might want to mention to your spouse or significant other what happened here. They may be a bit shocked to see the marks on your back."
Marks? Holy crap, I look like I was treated with a meat tenderizer. My whole upper back was a raw red with big round sucker marks scattered about.
I went home and whined to The Good Man who gave me good clucking sounds and lots of sympathy. Then he did the kind of cupping that I like and that made me feel a lot better.
The skin on my back still isn't all that pleased but whatever happened last week between the needles and the jars seems to have helped. The pain is standing a little off to the side and I seem to be improving.
Hard to believe a little girl from New Mexico who once held up a hand and solemnly swore, "I believe in the future of farming…" Is now laying on a table letting this woo woo stuff happen.
But I am and this is me and I'll be damned if this crazy stuff might be helping a little.
: shrug :
Now this is the kind of cupping I am looking for.

Image found here.


As time will do, when it passes by it takes little chunks of me with it. I know I wake up in the morning a lot creakier than I used to and there is swiss cheese where my remembering parts used to be.
This problem is true for both humans and animals.
And so it has come to pass that my fourteen and almost fifteen-year-old feline is having a few health issues. It's not good, but it's manageable.
What this means, however, is we have to give the fuzzy three different medications.
Now, this animal of ours, she does not like to be messed with. At all. The survival instinct is strong with this one, and fight not flight is her main mode.
This cat stands her ground and then some.
Many of you are probably saying, "nah, that's just how cats are" and think about how squirmy your cat may be.
Be advised, our vet is scared of this cat. Let me drive that point a little farther in. A woman whose job it is to deal with animals in all forms day in and day out, and has been doing so for almost thirty years, has told us "you know your cat is especially wiggly, right?"
Wiggly. That sounds cute.
It's not.
So back to these three medications. One is a drop we can put on a piece of food. Fine, that happens easily.
One is a pill. This involves prying her mouth open, which then invites a lot of biting, clawing and hostility. Occasional growling and meowing too. Once the pill is down many hostile looks are sent my way as I watch an animal plotting my death in her mind.
The third is an asthma inhaler. Delivering this medication is, to put it mildly, a rodeo. We watched videos online to see how to do this and every person who said "my cat fights it" or "my cats is extra squirmy" was the owner of the kind of cat I would love to have.
These people who think they have a wiggly cat have not wrapped an arm around Satan incarnate and tried to get the great horned creature to inhale and exhale a minimum of ten times with a rubber mask over its snout.
There have been times The Good Man and I have both tried to hold this feline beast down and administer the meds and haven't been able to do so.
To be fair, my handsome and adorable Good Man is also a kind man. He's a gentle soul, which is probably why he is able to put up with me.
He hates seeing his own cat suffer this much. He and that damn feline have been through a lot together, they are like survivors of the wars and he feels it is a betrayal to do this to her.
So the wet work, as they say, falls to me. May I point out the many scratches on my arms, legs and chest?
But I seem to have sorted out how to get the meds into the beast. I have tried many approaches and for the moment I have something that is working. I'm sure that smart cat will figure out a counter attack, but for now, I'm doing it.
Last night as I held that damn asthma mask on the cat and she was actually kind of still (because I had her in a wrestling lock that Rowdy Roddy would be proud of) and breathing, The Good Man looked on in amazement.
"How…how did you do that?" he asked, perplexed. "I don't understand how you can give her the meds and I can't?"
I replied simply, "It's because I'm meaner than you."
And it's true.
As a woman of New Mexico, I have worked cattle, horses, sheep and pigs (and on one weird day, turkeys).
When you work livestock you learn more than a little about giving meds to an animal who would rather you didn't. And how to do it without hurting yourself or the animal.
And how to grit your teeth and be a little mean about it because ultimately it's being kind. I hope we can get this feisty cat to feeling better.
I have to admit, I admire her survival instinct. Now pass me the Neosporin.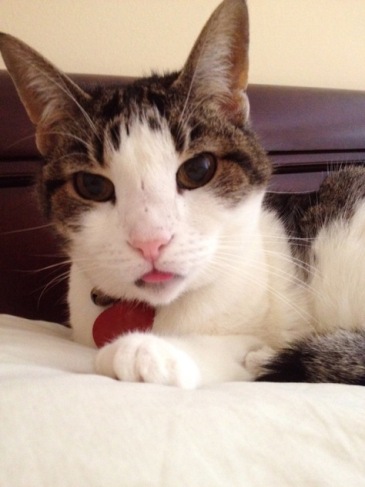 What?!?!

Photo Copyright 2012, Karen Fayeth, and subject to the Creative Commons in the right column of this page. Taken with an iPhone5 and the Camera+ app.