It's funny the things that stick with you. The seemingly forgettable details or moments that you look back on with fondness.
This past weekend, I returned home to New Mexico after a far too long two-year personal drought. Life, work, whatever, gets in the way (no excuse is good enough).
The occasion of my return was the high school graduation of my oldest goddaughter. At almost 19 she is no longer that curly-haired blonde toddler who captured our hearts. She is a smart, sassy, funny, talented and gorgeous woman and I'm a bit weepy right now just typing that. I'm so proud of her.
I have been working too many hours and it's fair to say I dragged my ragged self onto a plane, glad to go home. Sometimes I feel like I wander a little too far away from New Mexico. I forget the foundation of my soul and going home never fails to readjust my mind, my very DNA. It gets me back to remembering who I am and what matters.
Plus I eat good when I'm there, and green chile itself will help anyone get right.
Each time I go home, I'm overwhelmed at all of the things that have changed since the last time I was there. El Paso is growing fast. The area around Las Cruces too. More cars, more buildings, more people. It's crazy.
So then I start to seek the familiar. What hasn't changed. What is there that I remember so I can have a touchstone. A "hey, there that particular thing is, just where I left it."
The feedlots in Vado, for example. I was pleased to find them there, cows huddled under the water misters. The inevitable cow scent on the breeze.
The Organ Mountains. Craggy, uneven, and absolutely gorgeous. I see those mountains that once watched over my college education and smile, glad to say hello again.
So today at work when I was homesick, missing my best friend and the peace of her back patio, I started going through the photos on my phone to help me with the pain.
Did I find photographs of vast mountain landscapes? Did I see the faces of my loved ones? Did I have a whimsical photo of a cow?
No I did not.
All of those sorts of photos are on my actual camera. Weirdly, I took very few photos with my phone on this trip.
So I will share with you the two photos I did take. Memories I'm carrying in my pocket to remind me of home. This gives you an awful lot of insight into my muddled mind:
First, a photo of my goddog. I may have taken one or two photos of him in the past.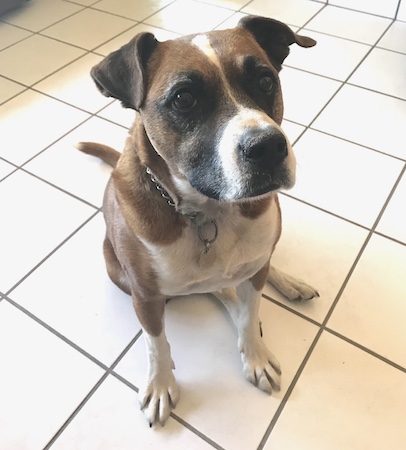 The gray hair around his eyes and in his muzzle makes my heart hurt, just a little

The second will take a little more explanation.
You see, to get back to Las Cruces, I have to fly into El Paso and while that's not my town, over the years I've even grown a bit fond of that crazy place.
When I stumble off the airplane and into the terminal I find that nothing much has changed. Then my heart softens a little when I see the genuinely godawful carpet in ELP's main terminal. Seriously, it's so bad, it makes me sentimental.
Nothing says "welcome home" like lizard carpet. Apparently, I was so overcome I had to take a photo.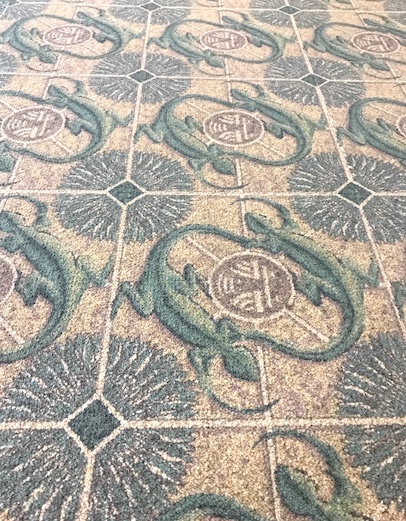 Not conducive to overcoming a hangover

And now I'm glad I did, I just found out today that the infamous ELP carpet is due to be replaced, like this month! Yipes.
That means next time, I won't be greeted at the door by the funky lizards. And as my goddog isn't getting any younger, one day I'll roll up to my best friend's house and won't get to experience his side-angled lope and velvety soft ears.
That's too much to consider. Right now, I will rest easy knowing that hideous lizard carpet and beautiful brown dog eyes remain just where I left them. I feel my connection to home, which makes sitting in this dull gray office just a tiny bit easier to take.

Both photos ©2018 Karen Fayeth, taken using the Camera+ app on an iPhone. Don't steal 'em. Thanks!

A leap day is observed because a complete revolution around the Sun takes slightly longer than 365 days. It compensates for this lag, realigning the calendar with the Earth's position in the solar system; otherwise, seasons would occur in a different time than intended in the calendar year. — Wikipedia


On my way into work today, I was listening to whatever morning radio station was not running commercials and landed on a crew of three djs discussing facts and trivia about today, February 29th. Better known as Leap Day.
Yeah, yeah, yeah, we all know the deal. The Gregorian calendar is nice and all, but doesn't *quite* work. Close only counts in horseshoes and hand grenades, as the saying goes. And, apparently, calendars.
While I have a degree in finance, I am not a finance person. Humorously, the work I do is slotted under the Finance organization, so I can confidently say that in the parlance of the Finance industry, Leap Day is better known as a fudge factor. A plugged number. A "what do you want the numbers to say?" kind of adjustment.
Let's just call it a rounding error.
I work in contracts and we have something similar. It's what one of my first and favorite bosses called "weasel words." This is where the person on the other end of the contract (usually a lawyer) is being petulant and you can't quite give them the language they want. Instead you can appease them with something in the vicinity of what they want. Words like "reasonably attempt" and "in accordance with best practices." Leap words, if you will.
Not to digress, but baseball has something similar. Called a "neighborhood play" it roughly means that the second baseman doesn't have to actually touch the base or runner to get the out as long as they are near to the base and in control of the ball.
Second basemen tend to stay a bit off the bag because lead runners like to come barreling in trying to disrupt a potential double play. The topic of the neighborhood play came to a head during the playoffs last year as a player got seriously injured.
So in this Leap Year, baseball looks to be changing up the rules. Which will likely make for a lot more leaping shortstops trying to stay off the DL.
In the spirit of both Leap Day and my favorite sport of baseball, I present to you my favorite Giants shortstop of all time, Omar Vizquel, doing what he did best.
Happy Leap Day!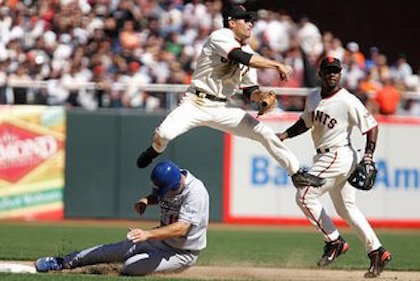 Leaping Omar image found here.

I don't know what to write I don't know what to write I don't know what to write.
Oh, I know, I'll try my old trick of using a random word generator.
Okay here goes. *click*
The word is: carnival.
Ooh a juicy word. Yes. Okay. Great. Here we go.
Heeeere we go.
Ok…now.
Ugh.
My mind is like a carnival?
Nah. It's like a carnival that's left town. Quiet. Dead. Bits of trash floating around.
That was almost lyrical and then it wasn't.
So goes the ongoing wrestling match with my demons. Well, not demons. That's an unfair characterization. My Muse is not a demon and my demons are not Muses.
Both are an essential part of the creative process.
In seeking advice from my mentors for my utter Jornada del Muerto** of creativity, I was reminded of the old advice: Just start writing. Anything. Just write.
And so I am. Writing. Something and nothing. I know if I can keep writing something and nothing it soon becomes a something about something and the wind fills my sails and I glide along that literary ocean, making progress. (metaphor much?)
But until that happens, I am thirsty and hungry and yearn for pretty words and meaty thoughts and the satiation I can only feel after feasting on a good turn of phrase.
Until then I wander the Jornada del Muerto of my mind. Am I off the trail? Am I still headed west? Will there be water soon?
I make the journey to find the story that flows from the word carnival. I'll carry it around in my virtual backpack until I figure out where it goes. Somehow. Somewhere.
My carnival awaits.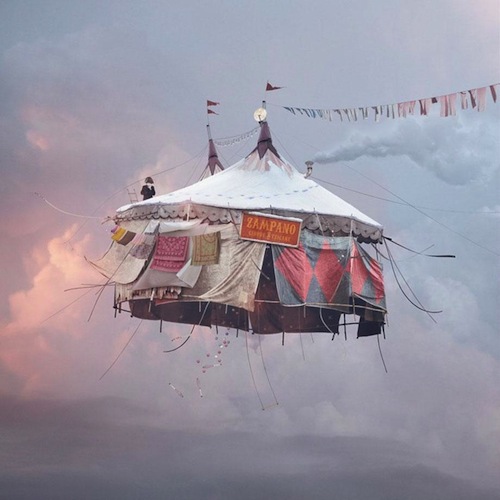 The copyright on this amazing photo belongs to Laurent Chehere who is a profoundly creative artist.

_____________

**With a nod to fellow New Mexicans. For the non New Mexicans, the Jornada del Muerto is a really long stretch of fairly bleak desert in New Mexico that contains no sources of water. It was not such a nice place for Conquistadors and settlers back in the day. Many legendary tales are told of travelers suffering the journey.

Welcome to the sixth day of the year 2015 but only my second day back at the ol' place of work.
While technically the first of January is the first day of the New Year, it doesn't really feel like the New Year has begun until I go back to work, i.e. get back into the "real world."
My employer is ever so kind in that they shut down operations from December 24 through January 1. That means with a little planning and a little curation of vacation hours, I can eek out full two glorious weeks away from the office.
I look forward to this two-week break from work all year long.
All. Year. Long.
In my career, I've rarely taken two weeks of regular vacation time, so these two weeks at the end of the year feel beautifully indulgent.
My first priority for the break time is to sleep. Nap. Sleep more. Rest and then do nothing too taxing on brain and body. That usually lasts about three days then I'm rested and raring to go.
The rest of the break time is spent with family, exploring the world with The Good Man, cleaning up my home office/studio and working on creative projects.
I find I'm able to fully and completely forget about work and live the dream of a creative life. Sleep until my body is rested, rise and work on creative projects, fill my head with creative inspiration and plan forward for the projects I want to work on in the coming year.
It's a beautiful place to be, a place I'd live all year round if those darn lottery numbers would just break my way. It feels solid and satisfying and clean and pure.
And then sixteen days of being my own boss pass too quickly and Monday, January 5 arrives. I have to figure out how to get back into the flow of "regular" life. I have to metaphorically merge into speeding traffic with no running room and only two of four cylinders in working order.
Yesterday was that day. Yesterday I woke up with the help of an alarm clock (bleah, sixteen days of no chirping alarm was REALLY nice) and sat up in my comfy bed, bleary eyed and lost.
I tried hard to find the muscle memory to rise, to make some breakfast, to put on some clothes, where is my work badge?, move out the door and get to work on time.
When I arrived at the office it was all too familiar and all too unfamiliar.
It felt like I had changed. I was a different (and better) person as I swiped my badge and entered the office. Then I realized that work had not changed.
I came to my own little gray cubicle and there was all of my same stuff I'd left behind, but it looked alien.
The laptop machine asked me for a password and I had to think very hard about it. Took a couple tries at it and finally remembered.
Have you ever seen baby ducks when they are following their Mama Duck into the water? It often looks like this: Mama slides effortlessly into the water and her eight to ten ducklings slip, slide, belly flop, and unceremoniously plop themselves with a splash behind her.
For a moment, the water crests over the top of their head, then the ducklings one by one pop to the surface like popcorn and start swimming.
It was very much like that yesterday. I fell uncoordinated and perilously off the vacation ledge into the bracingly cold pool of work. I grasped for stability for a little while and then I found my feet and began to paddle. By the afternoon I was moving more or less in a forward manner.
So that's the New Year. A little bit new, a lotta bit old. I suppose all of the inspirational quotes are true. It's up to me to make 2015 a really awesome year.
Forward into battle! *splash*cough*splutter* Okay. Now, here we go.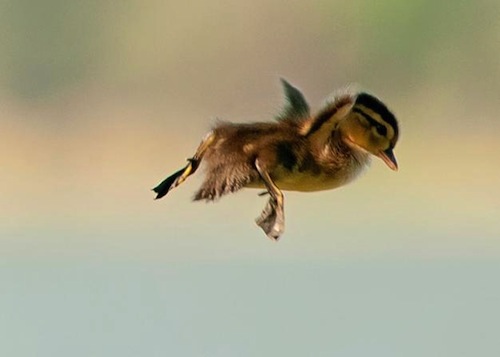 "Hoooooly craaaaap"

Image found here.

I miss my best friend today. Autumnal Equinox makes me think of harvesting hay and Dickerson's dances.

That was a text message I sent to my best friend yesterday afternoon. I was at work and found myself with a few moments of pause. What I felt in that silence was an aching sense of melancholy.
The angle of light has been changing for a while and yesterday the world looked a little different bathed in early Autumn sun.
A beautiful sunny yet hazy day as I found myself at a high elevation gazing across the amazing view, Oakland to my left, Golden Gate center, Albany to my right.
It's hardly original to feel melancholy in the Fall. I will follow the old poetic trope and go there anyway.
Since I know I have a "thing" about Autumn, I started looking back in the archives of my blog and found something that perfectly captures how I feel today. I'm nothing if not consistent.
Autumn is, after all, my favorite season in Oh Fair New Mexico.
So here's a repost to get me through the day. The words still ring true, even as time goes by.
___________________

Get outta the wayback machine!

Originally posted April 15, 2009


It was Fall, had to be. Slight crispness to the evening air. Anticipation thick as the fog of Aqua Net in the sorority house where I lived.
It was 1989, probably. Or somewhere close to that. The campus of New Mexico State University. I was a sophomore, maybe a junior, I can't remember. Doesn't matter.
What does matter is that I was getting ready to go to a dance at Corbett Center on the NMSU campus.
The woman who would become my best friend for what is now over twenty years was the driving force that night, and many just like it. Her parents had met at a Corbett Center dance, so she was especially incentivized to go scoot a boot and see what's doing. Family history.
I nervously pulled on my too shiny, too new, gray goatskin round toe ropers and jeans that didn't really go with the boots, but were at least long enough to be acceptable. "You should buy some Rockies," I was told, and they were right. I would, later, in quantity. But then I had neither the money nor the courage. I wasn't sure what I was going to get into, I just knew I was going to be there come hell or high water.
It wasn't my first Corbett dance. It wouldn't be my last. This story isn't about one actual night, more an amalgam of a lot of great nights.
The gaggle of high-haired women walked out the back door of our home, a sorority house containing twenty-eight women of different backgrounds, and one understanding house mom. What bound us together was our choice of educational institution. A land grant institution. To the uninformed, that means an agricultural college.
It was a short shuffle over to Corbett, up the stairs to the third floor where they had the ballrooms. Pay the entrance fee. Five dollars I think? Maybe less back then. Get a stamp on your hand. Look around, see who is there already. Talk about who you hope shows up.
Hear the opening strains of music. Usually The Delk Band. A group of musicians, brothers, and their dad on fiddle. I went to school with most of the boys. I remember I thought one of the Delks was cute. I remember one of the Delks was the drummer and back then had a tendency to speed up the tempo as a song wore on. Hard to dance to a wildly varying tempo. But we did it. (note of update: Saw the band not that long ago and that is no longer a problem.)
They were our people, and we embraced them. And we danced. Oh did we dance.
The two-step. Not the Texas double up kind, no. The slow kind, keeping time to the music.
And a waltz. My favorite, how I love to waltz. The rhythm of a song set to the beat of a waltz still paces my heart a little differently.
The polka. If done right with the right boy (he had to be tall because I'm tall and otherwise we'd just bump knees) you felt like you were flying, feet hardly touching the ground.
Then of course the Cotton-Eyed Joe (stepped in what?) and the Schottische, played back to back, often enough. Linking six or eight of us, arm in arm, facing forward, laughing our fool heads off.
The ladies, my friends and I, would stand on the sidelines and take a look at the scene. My best friend would always get asked to dance first. She's beautiful and a great dancer. Who could blame the boys for flocking to her blue-eyed, dark haired gorgeousness? Not me, certainly.
As I got better at dancing, I got asked often enough, too. The boys liked the girls who could dance, who liked to dance, who didn't turn up their nose at dirty fingernails and cow sh*t on their boots.
There is something special about dancing with a boy who knows how to dance, a strong lead, who looks you in the eyes. The boys who had the right fold in their hat and smelled faintly of Copenhagen and beer and Polo cologne.
I got to know those folks. All of them, the boys, the girls, the dancers, the musicians, the laughers, the people who liked to swing each other around the dance floor.
They became my family. We traveled in packs, dancing until we were sweaty, then heading outside into the cool air to take a breath, drink a beer, laugh a lot and occasionally find someone to spend a little time with.
Well not me, not then. I was still too awkward and mixed up to attract much in the way of boys at that point. I was more "one of the guys" than one of the girls the guys would chase. Don't feel bad for me though, I eventually figured it out. (cover your eyes, mom)
Over time, we all aged a little, got to be over 21 and started to migrate from dancing at Corbett center to dancing at the local country bar. It was fun but seemed a little more complicated. Add more than a couple beers to the night and weird things happen.
But still we danced. By that time, I'd moved off campus and lived with my friend from TorC. She was crazy and fun and taught me a lot (cover your eyes, mom), and she loved to dance as much as I did. She coined the phrase "big bar hair" and gave me an education on how to get it, and keep it, despite dancing so hard sweat ran down your face.
Then we all aged a bit more, and we graduated and found respectable jobs. My best friend, her husband (a fine dancer, I must say) and I are all actually employed in the same area that's listed on our diplomas. One might scoff at country folks, but all three of us hold a Master's degree in our chosen fields.
Now, on the verge of turning forty well past forty, I find I still miss those days, mightily. I wished I'd enjoyed them more at the time. The stress of school and classes and "what do I want to be when I grow up" cast a pall on my days.
My own fault. A worrier by nature, a tendency that I fight tooth and nail every single day I take a breath.
When I'm having a bad day, when I doubt myself, when I realize I don't fit in at my new place of employment, when I don't feel heard or understood or very well liked, I can always go back to those days in my mind and smile.
I can't get together with my best friend and her husband and NOT talk about those days. Magical. I'm blessed to have been able to have them. Once upon a time, I knew where I belonged.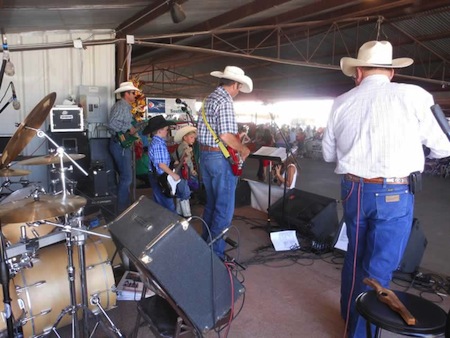 Photo of The Delk Band in action

Image from The Delk Band website and found here.