It's January. The holidays are over. Back to work. Inauguration looms large.
The skies above the Bay Area have turned a familiar shade of mushy gray. Expected for January.
When the marine layer isn't in, it's frosty cold. When the marine layer is in, it's torrential. Standing pools of water soak my socks. Windshield wipers can't keep up. The kind of rain that terrifies a New Mexican until she remembers that Bay Area drainage systems were meant to handle this kind of water. Mostly.
January feels dreary, but there is hope on the horizon. There is a break in the gray.
You see, this past weekend my favorite grocer featured unopened daffodil blooms. I scooped them up and ran home with my trophy.
I love daffodils because they remind me of what's to come.
First come the daffodils with their buttery yellow optimism. Then almond and cherry blossoms create their own snowfall of fragrant petals. Then tulips in every color you can imagine. Finally colors and flowers of every sort jostle for the gentle rays of warm Spring sun.
I am a child of Spring and Spring is on the road, making its way back home to me. It returns with the dogged determination of a lost love.
Within my pile of hope and anticipation bought at the grocery store, there was a special stem. It made me a promise. Silent and steady.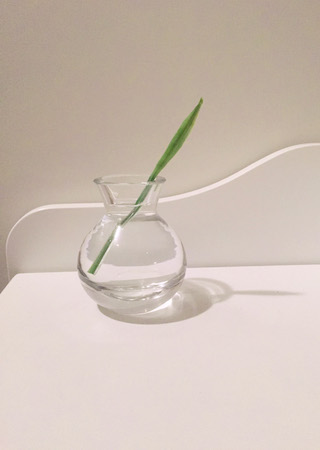 A promise made.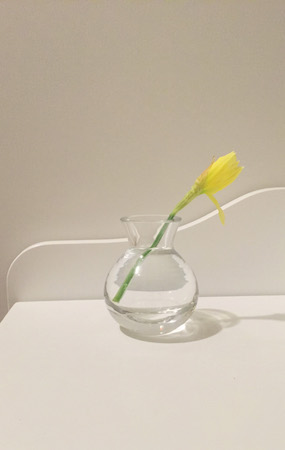 A promise in progress.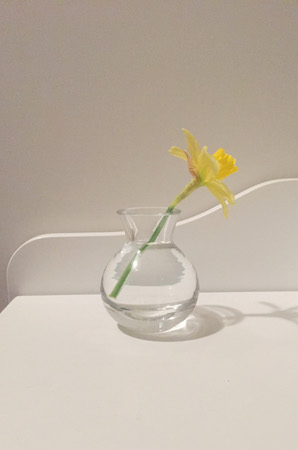 A promise kept.


Now ain't that something to get excited about?

All photos ©Copyright 2017, Karen Fayeth. Taken with an iPhone6, the Camera+ App, patience and anticipation. Subject to the Creative Commons license on the right column of this page.

This is a bear.
A chocolate bear. A delicious Lindt milk chocolate bear. A tasty holiday morsel, a gift, a happy chocolatey treat with a red bow around his tiny bearlike neck.
This bear is a survivor. It has outlasted all of the cookies, both biscochito and sugar cookies. It outlasted the holiday decorated six pack of Toblerone that was a gift from a coworker. It has outlasted all of the Christmas 2013 bits and bobs of delicious sugary treats. It has even outlasted the giant candy cane, which is always the last to be eaten around here.
Oh yes. This bear is a survivor.
The bear was gifted to The Good Man. It is The Good Man's bear, and so by the laws of respect and decency, I have neither opened nor nibbled on the bear. Sure, by the laws of the State of California that bear is half mine to do with as I please. But I am a nice spouse and I give The Good Man the space to open and nibble on his own present first.
But this bear. It challenges me. It torments me.
There it sits in its thin gold foil, smirking at me while I rummage and forage for holiday sugar snacks that aren't there anymore. Oh sure, I came home from work loaded with sweet meats in the week before the actual day of Christmas. We had a dedicated shelf for all of the sugary holiday yum-yums.
But they are gone. Noshed. Dispatched with.
All except this freaking smiling bear. The bear that isn't mine but make me want to p0wn it like the little chocolately bitch that it is.
I want to bash in its little head and gobble at its ears. I want to reach into its gullet and pull out the still beating chocolate heart and bite into it with fury and insanity and let the juices dribble down my chin.
I want to fry up its little chocolatey liver and sip from its corpuscles.
Oh yes, I want, need, must have it. It vexes me. It taxes me. I shall dominate this milky chocolate bear that hails from Switzerland and mocks me and doesn't understand the needs of a sugar fiend.
Must. Smash. Bear.
And gobble the remains.
Must.
So.
Do you think I probably need to back off the sugar a bit? Probably need to get a few more veg in the maw and less processed sugar snax? Maybe something protein based with a little less fat? Something with actual nutritional value?
Yeah. Me too.
Happy Post-Holiday Food Hangover.

Slightly askew photo of my chocolatey prey is Copyright 2013, Karen Fayeth, and subject to the Creative Commons license in the right column of this page. Taken with an iPhone5 and a dash of maniacal insanity.

On Wednesday I re-shared what is the most popular post ever on Oh Fair New Mexico. It also happens to be a holiday post.
Today, I want to share one of my personal favorites. I have many posts I am especially fond of, but this one fits the holiday bill.
I like it because "We Three Kings" really is one of my all time favorite Christmas carols to sing, and also because I learned something in researching and writing this post. I no longer just belt out words about frankincense, I really think about it.
Plus, dat potential New Mexico connection. Am I right? Yes I am.
So for your Friday reading, here is a little discussion about frankincense and how it it made.
Enjoy!

————-

The Gift of the Magi – In short supply

Originally published December 22, 2011

We three kings of Orient are/bearing gifts we traverse afar
So goes the lyrics of one of my all time favorite holiday songs. I belted it out with gusto during Midnight Mass through most of my formative years.
As the story goes, the Three Wise Men brought gifts of gold, frankincense and myrrh on that first Christmas, thus paving the way for BlueRay players and gift cards and a Red Ryder BB gun.
I always thought gold was the good gift in that stack. Who knows what all that other stuff was? Wasn't a gift of frankincense and myrrh like getting a fruitcake and an ugly sweater?
Yesterday, I read with interest an article in USA Today discussing how the Boswellia tree, a scraggly tree found mostly in Ethiopia, is facing quite a sharp decline. Like 7% of trees dying off per year and new saplings not maturing into full trees.
Frankincense is the dried sap from a Boswellia tree. Cuts are made into the trunk of the tree (called stripping) and then sap flows to heal the wound. When that sap hardens (called, appropriately enough, tears), the dried frankincense is harvested from the tree and it can be burned or oils extracted for perfume.
The trees are threatened for a couple of reasons, one is that the Ethiopian government has pushed people to relocate from the highlands to the lowlands where the tree is prevalent. This puts pressure on the ecosystem. The highlanders brought cattle with them, and the cows eat saplings. Also, the grasslands are burned to make it easier to get to the trees to collect the frankincense, but that also kills saplings.
In addition, the process of cutting into the trees leaves them vulnerable to attack by longhorn beetles.
Researchers are still trying to understand if climate change is also a concern.
In all, quite a fascinating bit of understanding about that gift from the first Christmas that I've so often sung about but not well understood.
Of course, as I read the article I thought "I betcha these trees would grow in New Mexico." Well sure enough, there is a man in Arizona who is growing and selling Boswellia trees and they seem to do well in Southern California, Florida and parts of Arizona.
It's too cold here in the Bay Area, but if I was back in New Mexico, I'd totally want to see if I could grow a Boswellia tree.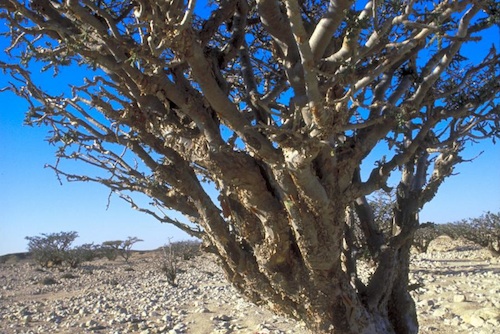 The Boswellia tree

Cuts are make into the trunk of the Boswellia tree to encourage the flow of resin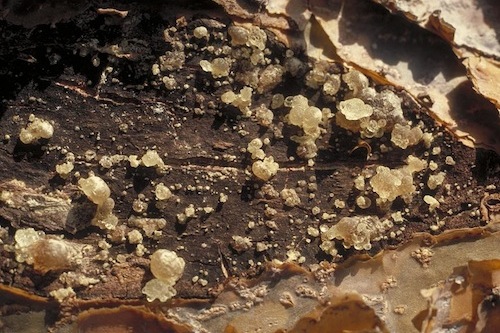 Hardened frankincense, also called tears

All images from LookLex Encyclopaedia.

This week's Theme Thursday is (appropriately enough): gift
Well, with Thanksgiving done and dusted, I suppose that officially begins the Holiday Season.
No stopping the relentless advertisements and ho ho ho'ing at every corner.
Each holiday season, it's always a bit of a toss up for me if I am in the spirit or feeling grinchy.
Honestly? More often than not it's the grinch that emerges in December.
But this year is a bit different. I have to admit, standing there in Rockefeller Center watching the ice skaters and gazing at the tree, I did sort of feel a warm, happy Holiday spirit wash over me.
Now I'm ready to head home and put up our own tree and make spiced cider and hum a few carols and enjoy the holidays this year.
No worry, I'm sure it will wear off in about a week.
But until then…it's beginning to look a lot like Christmas!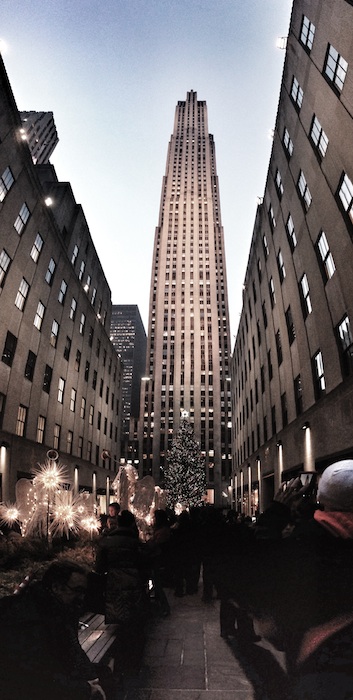 Copyright 2012, Karen Fayeth, and subject to the Creative Commons license in the right column of this page. Taken with an iPhone5 and the onboard camera app using the panorama feature.

Being a Nina (godmother) is an interesting thing. It's become an unexpected but fantastically fulfilling part of my life.
I'm up to five godkids now…and sometimes that makes me want to pour a cool beverage, sit a spell, and think.
Mostly about the sanity of these friends who have invited me to have something of an impact on the lives of their children.
I mean really? Me?
But they said, "yeah, you" and so I stepped up. I take godparenting very seriously. This isn't just some "in name only" kind of deal.
These five kids are my kids. I laugh with them and cry with them and by god my heart breaks for them.
Whew. It's a lot.
On Sunday, The Good Man and I found ourselves in our Sunday go-to-meetin' clothes inside the insanely gorgeous Grace Cathedral at the tippy top of Nob Hill in San Francisco.
It was baptism day for the two girls that belong to one of The Good Man's oldest and dearest friends and his lovely wife.
We're the head godfolks over their oldest child who is nearly three and is beautiful and smarter than a whip. We're the backup godfolks for the younger girl who is creeping up on six months and is adorable as the day is long.
I always did enjoy a good baby dunking. This church is just so beyond spectacular that it made the day that much more special.
I'm not going to lie, I misted up a little bit when they splashed that holy water up on the noggins of my pretty girls. I don't know, it just got to my little Nina soul to see them up there being brave and taking on this sacred ceremony in their lives.
It's a good thing I had the hand of The Good Man to hang onto for strength.
Later that evening, I got a call from my oldest godchild, the twelve year old daughter of my best friend back in New Mexico. I'd sent both her and her sister a little box of fun stuff from my recent international travels, and she wanted to talk about it.
She had just gotten home from a 4H shooting competition up Raton where she had taken eleventh place and her little sister (the ten year old) had done good too. The younger girl had done a respectable sixth place shooting a .25 rifle with scope. It was her first time in competition and she wiped up the floor with the other sixty kids in the race.
My girls!
And then came the part where I had to lay down because I was weak in the knees with pride.
My goddaughter told me how when they were up in Raton, she learned a new song on her violin.
Now, let me back up here and fill in some story so we're on the same page. There is a gentleman named Mr. Joe Delk who is a New Mexico legend. He leads the Delk band with his three sons and is one hell of a musician.
He plays a fiddle like it oughta be played. He learned it from his daddy.
Mr. Delk and his band played many of the dances I went to back at NMSU. I've met Mr. Delk several times and found him to be a kind man with a quick wit.
Before my godkids went up to Raton, they heard that Mr. Delk was going to be there too since his grandson was in the shooting competition. My baby girl's dad told her this fact and said she might take her violin along and see if she could talk to Mr. Delk about playing.
So, she did. She took her instrument and she got up all her courage and walked over to a living legend of New Mexico (by herself, her mom wasn't there at the time) and asked Mr. Delk about playing the violin.
Mr. Delk told my girl to go get her instrument and then he taught her how to play "Faded Love".
Oh lordy, I'm tearing up again.
I'm the proudest Nina in the whole wide world. My girl! Such a brave one. I'm in awe of her!
I talked about her and her sister taking their seat at the table with a long line of proud agricultural New Mexicans when they raised and sold their pigs at last year's fair.
And now, my oldest girl steps into some really hallowed territory. She can play a song that is a bedrock of both our American and our Southern New Mexico culture all thanks to a man who is himself part of that bedrock.
Whew. I didn't know it was possible to feel this proud.
What an awesome day to be a Nina.
And god kid #5? Well, I finally got a boy in my clan. What in the heck am I going to do about a boy? He's just a few weeks old, so I have time to sort it out. He's already one of the calmest babies I've ever known in my life. I know both he and his big brother are destined to be amazing men.
Just. Whew.
I need to go dab my eyes a little and hug the infinitely huggable Good Man and thank whichever entity seems to fit into my dogma and catma today for the chance to be a part of it all.
I gotta heart full of proud.

Heart Full of Stars

Image found on Silverbeam's Deviant Art page and used under Fair Use.