On Wednesday I re-shared what is the most popular post ever on Oh Fair New Mexico. It also happens to be a holiday post.
Today, I want to share one of my personal favorites. I have many posts I am especially fond of, but this one fits the holiday bill.
I like it because "We Three Kings" really is one of my all time favorite Christmas carols to sing, and also because I learned something in researching and writing this post. I no longer just belt out words about frankincense, I really think about it.
Plus, dat potential New Mexico connection. Am I right? Yes I am.
So for your Friday reading, here is a little discussion about frankincense and how it it made.
Enjoy!

————-

The Gift of the Magi – In short supply

Originally published December 22, 2011

We three kings of Orient are/bearing gifts we traverse afar
So goes the lyrics of one of my all time favorite holiday songs. I belted it out with gusto during Midnight Mass through most of my formative years.
As the story goes, the Three Wise Men brought gifts of gold, frankincense and myrrh on that first Christmas, thus paving the way for BlueRay players and gift cards and a Red Ryder BB gun.
I always thought gold was the good gift in that stack. Who knows what all that other stuff was? Wasn't a gift of frankincense and myrrh like getting a fruitcake and an ugly sweater?
Yesterday, I read with interest an article in USA Today discussing how the Boswellia tree, a scraggly tree found mostly in Ethiopia, is facing quite a sharp decline. Like 7% of trees dying off per year and new saplings not maturing into full trees.
Frankincense is the dried sap from a Boswellia tree. Cuts are made into the trunk of the tree (called stripping) and then sap flows to heal the wound. When that sap hardens (called, appropriately enough, tears), the dried frankincense is harvested from the tree and it can be burned or oils extracted for perfume.
The trees are threatened for a couple of reasons, one is that the Ethiopian government has pushed people to relocate from the highlands to the lowlands where the tree is prevalent. This puts pressure on the ecosystem. The highlanders brought cattle with them, and the cows eat saplings. Also, the grasslands are burned to make it easier to get to the trees to collect the frankincense, but that also kills saplings.
In addition, the process of cutting into the trees leaves them vulnerable to attack by longhorn beetles.
Researchers are still trying to understand if climate change is also a concern.
In all, quite a fascinating bit of understanding about that gift from the first Christmas that I've so often sung about but not well understood.
Of course, as I read the article I thought "I betcha these trees would grow in New Mexico." Well sure enough, there is a man in Arizona who is growing and selling Boswellia trees and they seem to do well in Southern California, Florida and parts of Arizona.
It's too cold here in the Bay Area, but if I was back in New Mexico, I'd totally want to see if I could grow a Boswellia tree.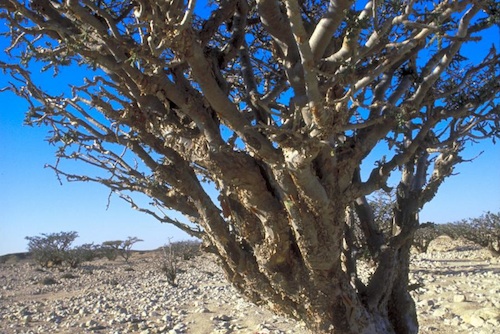 The Boswellia tree

Cuts are make into the trunk of the Boswellia tree to encourage the flow of resin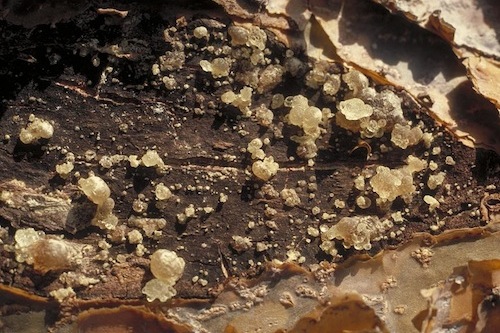 Hardened frankincense, also called tears

All images from LookLex Encyclopaedia.

This week's Theme Thursday is (appropriately enough): gift
Oh me oh my oh. Sometimes I really have to step back and just wonder what in the hell is wrong with me.
I try to be a normal person, I really do. I try to keep the weird under wraps and show a normal, professional, got-it-together face to the world.
But I ain't got nothing together. It's all just a shuck and a jive.
On Friday, I managed to embarrass myself pretty good.
See, I've been feeling a little bit on edge about the new job. I really, really like the job and my manager and the people I work with and perhaps I've become almost too emotionally attached to this place.
It's an awesome gig! With how crazy busy things have been recently, I have made a few mistakes. One medium sized, one a great big whopper. Wheew. I do hate making mistakes on a grand scale.
I'm used to making mistakes. I always say, "It's not whether or not you make a mistake, it's how you get back out of the mistake that matters." And it's true.
Trouble is, I not only made these mistakes, but being so new I don't even know how to back out gracefully. So I've been flailing at it.
Flailing. Never a good look.
I suppose I am actually grateful that I got sick recently because it took me out of the game for several days. That flu laid me down not-so-gently and gave me respite. And perspective.
Coming back to work I felt humbled and ready to step back in and be more calm and methodical about how I approach my work.
Then there was Friday. For reasons I can't fully explain, I was totally out of sorts on Friday. Quaveringly low self-esteem, a bit of anxiety, and just all around trying and failing to keep it together.
At lunch I decided to head outside. My sister and I had been chatting about this fabulous under eye serum she found and I was off to Sephora to procure some of my very own. I thought it would be a nice bounce to my self esteem.
I got up from my desk and felt pretty ok. Threw my shoulders back and was doing my best "fake it until you make it" strut.
I went out the front door of the building and saw four coworkers (one of them an employee on my team), I smiled and said, "hey, that looks like trouble" and threw my head back and laughed just about the time the toe of my sandal caught the uneven concrete.
Then I went ass over teakettle. Right there. In front of a crowded foyer, lots of people outside, and four of my coworkers.
Oh, and everyone gasped and many people came running over. "Are you all right? Are you ok? Here I'll help you up" was like a loud chorus swarming around my head.
Now, here's the thing: I fall down all the time. My whole life. It's just something I do.
Usually falling down happens in one of two scenarios. 1) I am feeling pretty overwhelmed and "out of it" or 2) I am feeling overconfident.
Well, Friday's tumble definitely falls into category one. Overwhelmed. I tend to lose track of my feet and the results were incredibly humiliating.
Since I fall down so much, when I roll to a stop and quickly assess my limbs, and I realize I'm fine (and since I'm so well practiced at this I'm almost always fine) I start to laugh. C'mon! Falling down is funny!
But I think my sitting there on the ground cackling at myself makes people really nervous. I guess I'm supposed to be upset and crying when I fall. Hell, I'm not giving anyone that satisfaction! I'm going to laugh because falling is totally funny! Even my own tumbles are pretty dang hilarious.
Anyhow, I waved off all the hands reaching out to pull me up and repeated like a mantra, "I'm fine, I'm fine, no I'm not hurt, I'm fine."
I got to my feet and walked away, intent on going to my car and still having my fun lunchtime shopping break, despite the dirt and gravel stuck to my backside.
Then I walked past a picnic table out by the parking garage, near to where all the fuss had happened.
Two young women sat at the table. As I walked by, one said to the other, "It's because she's so fat."
Ouch. That's not funny. That's not ooops I fell down but I'm fine rocking good time Karen. That's just mean.
So I walked away from them and went around the corner and I called The Good Man, because he felt like the only person in the world who might actually be on my side.
And of course, he was. So I promptly started crying. Sobbing, actually.
Thankfully he was nearby to where I work and he came over quickly whisked me away. We had lunch and he said soothing things and he took me to Sephora and I got my eye cream anyway.
Then I went back to work and I was (mostly) fine.
Because when the world is mean and gravity isn't your friend, it's nice to know that no matter what all those people think, The Good Man still likes me and believes I'm an all right person.
I worked for a few hours quietly in my office then I left work a little early and enjoyed my Friday late afternoon.
Today, Monday, I still feel a little sheepish. I am a manager, fer chrissakes and falling and flailing don't inspire confidence from the troops.
Somehow I have to get my mojo back. Not sure how, just need to. And fast.
Maybe I should post an ad: LOST! One mojo. Last seen about a month ago. Really funky and fun. If found, please return to owner. Excellent karmic rewards upon return.

Image found here.

Ok, look. Facebook finally got me. Like a hungry, persistent mountain lion, it pounced on me, grabbed me by the throat and took me down.
Anyhow.
As I've been spending more time in the cavernous Facebook labyrinth, and seeing a lot of pages and a lot of faces, I'm starting to notice a trend.
Remember the infamous MySpace pose? That's the self-photo taken with the camera above you, eyes looking up but chin down. Yeah, I think we've all seen plenty of that pose.
But that's so over now.
The pose I'm seeing a lot of these days is the in-the-car self-photo.
Yup. Hold the phone way out to one side and snap a shot of yourself in the driver's seat. Post it. Magic.
Look, I fully understand the need to look good in our Facebook profile. An old boyfriend from college might show up or something!
So what's with the in-the-car profile photo and how can we make it better?
I will now dig into my deep and (not so) closely held secrets of the art of photography and perform a public service.
Ya wanna know why you like that photo of yourself in the car?
Two words: Natural light.
We ALL look better in natural light. When you are in your car, good ol' fashioned sun comes pouring in through all the windows. Real sunlight makes you look hot.
I'm not kidding.
So assuming you want to have a nice photo of yourself on your Facebook page without your steering wheel in the background, and assuming you are all alone or too shy to ask for help, and assuming you want or need some advice on self portraiture…..


Here's Karen Fayeth's tips for a smoking hot profile self-photo:


Either get outside or if you have a nice sunny spot in your house filled with natural light, go there.
Next, what would be a nice background? How about a wall with a fun pattern or a wood fence with character? Sit down and lean back against it. Sit up straight! No slouchy here because we'll all see it.
Make sure the sun isn't shining directly in your face. That will make you squinty. Make sure the sun isn't directly behind you. That will make you halo-y and a dark shadow. It works best if it's a sunny day but you are in shadow, or the sun isn't directly on you. An overcast day is even better. That diffused light is majorly hot.
Hold your phone camera out at about eye level and a little off center. If you hold it above your eyes, you'll get that eyes-up MySpace look. If you hold it below, now you are looking down and no one likes a double chin in their photo.
Keep your chin up but not too high. Keep it at normal level as if you are looking straight forward.
Keep your elbow slightly bent. Don't straight arm it or you will see your arm in the photo. Here's an example.
Relax your face. Don't force the smile. Try thinking about something that makes you laugh or smile naturally. Think about that time your buddy slipped and cartwheeled on the ice. Or think about how much your love your kid/spouse/dog/whatever. Something that tickles your funnybone and makes your eyes twinkle.
Look into the lens. Don't look off to the side. Don't look up. Don't look down. Look that lens square in its little lens eye and snap the shot.
And then another. And another and another and another and another.
Don't be shy to take A LOT of photos. You are looking for one good one among the many that make you go "uh, no". It's every photographer's little secret. Take lots of shots.
Wait! Don't just upload that photo you like right from your mobile phone to your Facebook page!!!
Pause.
Look at it on a bigger screen. Download it or email it to yourself and look on a regular monitor.
Check out the photo and crop it down if you want. Look in the background ALL AROUND you in the photo to be sure there isn't something weird going on back there. (be especially alert for dogs pooping, kids barfing, etc. Check out This is Photobomb for a sense of what I'm putting down here. Site not totally safe for work.)
Then, if you are happy with the photo, go ahead and make it your profile photo.
And wait for the compliments to roll in.
Oh, and one last piece of advise: Fer chrissakes, no duckface!
No photos in the mirror either.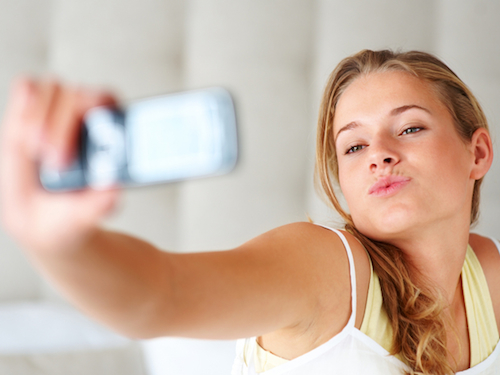 Sooo many things wrong with this technique. Good light though!

Image found all over the web. If it's yours I'll gladly take it down or give credit, at your request. Thanks! I found it here.

Hello Lady Readers, just a quick post for you.
Back in April we chatted about about my fandom for Sally Hansen Salon Effects, a fabulous easy to apply nail polish product.
Well, I'm back and I love Salon Effects more than ever.
New in stores, seasonal nail goodness!
I love that I'm wearing this at my stuffy corporate job. Most ladies here have simple buffed and clear polish hands.
Not me! (Ok, to be fair, I did check the calendar and I don't have any in-person meetings with suppliers or managers until next Tuesday. The ghosties will be stripped off by then…. I do have some sense of decorum…..un poquito….)
Wheeeee!
Happy Early Halloween!

Through the course of my life, I look back and with the clarity of hindsight and find those moments that formed my foundation. Lessons with impact that linger in my memory and shape my days.
Today, when I navigated over to my once a week Theme Thursday site, I saw that the word this week is: Face.
Well, this left me stumped. I tucked the word into one of the creases in my brain and thought about it for a while. This is when some of the best ideas hit me, when I've planted a seed then forget about it. Something worthwhile often blooms.
What happened is that I had a memory. Just a flash, but enough to remind me.
I was eight, maybe? Perhaps actually younger. I was wearing a black leotard and pink tights. I had ballet class to attend in an hour or two, and so I was ready to go.
While waiting, I was doing what kids do…fiddling around with stuff. I'd somehow acquired a rubber band and that had captured my interest. *sproing, sproing*
I played it like a guitar, stretching and loosening it to get better notes.
I used it like a slingshot to send balls of paper zipping through the sky.
I wrapped it around my thumb, took it off, wrapped it around again.
Then, for some reason I can't quite explain, I wrapped the rubber band around the end of my nose. Unwrapped it. Wrapped it again, tighter this time. It didn't hurt and felt sort of weird so I went and looked in the mirror. Laughed, then left it on my nose and walked around.
After a while, I heard my mom calling, it was time to get in the car. I took the rubber band off my nose, left it on my desk, got my stuff and headed out to the car and climbed in.
My mom, with an eagle eye for such things, asked "what happened to your nose?"
I was like, "what?" and touched my nose. All seemed well.
Mom made me look in the visor mirror. Seems that rubber band had left a bruise on the end of my nose. A dark blue bruise in a perfect circle.
Yay!
So needless to say, the gig was up. I had to explain what I'd done. (confession is good for the soul….or so the parish priest used to tell me.)
My mom gave me one of those looks a parent gives a child when they confess to something like wrapping a rubber band around their nose. Then she gave me a stern lecture. She wasn't mad. But she had something very firm to impress upon me.
I don't remember the exact text of what she said, but the gist was….don't mess with your face. If you are going to monkey around like that with a rubber band, use your elbow or your toe , but not your face. Your face is the first thing people see when they meet you. That's where people form their first impression. And do you really want the first impression to be a big dark blotch on the end of your nose?
She also warned me that the girls at dance class would likely tease me. I thought "no way, they won't care." Well, they cared. They cared a lot. Those snotty girls made comments. And pointed and laughed. And made fun of me mercilessly.
They made fun of me a lot anyway because they were all thin and lithe and had visions of ballet careers in their minds. I was the opposite of thin and lithe and had visions of grilled cheese sandwiches in my mind.
You picking up what I'm putting down?
So I thought about what my mom had said. I initially resisted what she said when the "talking to" came down, but later on, I knew she was right.
Damnit.
The advice stuck with me, and I've stuck with it.
So don't monkey around with your face. For me, that extends to lip tucks and eye brow lifts and injections of all kinds. My face is my calling card, and as it ages, it tells my story.