Do you remember the Sting song "Russians" from way back in 1985? An overly somber commentary on the state of the Cold War, Sting implored "I hope the Russians love their children too."
I have had occasion to listen to this song a few times over the past months. It keeps coming up in my consciousness. I do readily admit that in 2016 the song sounds almost quaint and old fashioned. I remember the first time I heard it in 1985 it felt deadly serious.
As a GenXer, the Cold War is certainly a part of my formative years. Growing up in New Mexico, I was acutely aware that "Oppenheimer's deadly toy" was largely created in Los Alamos. My dad was employed by Sandia Labs and he worked on nuclear weapons. Hell, my dad was one of those guys in the 1950's out on some Pacific island in the middle of nowhere setting off nuclear explosions just to see what would happen.
So the Cold War was a little more real to me than perhaps many of my classmates. I remember on the playground talking with some friends about this list that apparently the Soviets had. A list of the first places they would hit if the war began. We all agreed Los Alamos would be on the list and debated if Sandia was there too.
I remember saying to a friend that I'd rather be nearby if a nuke was dropped. I'd rather be vaporized than have to live with radiation poisoning. I was just a kid but I had worked out how I would get as close as possible to Kirtland Air Force Base to control my own destiny.
That was some heavy stuff for a little kid, but it was the reality of the world back then.
So when I learned in April of this year that I would be traveling to the Czech Republic, I was incredibly excited. I love international travel and Czech Republic is a really old and quite historic city. The Good Man calls it "deep Europe" and it sounded so dark and mysterious.
But I also pulled up short. Hesitatingly, I asked The Good Man, "Didn't…uh…Czechoslovakia used to be Communist?"
Then I took a look on Google, I searched "Iron Curtain" and found this map. There it is, Czech Republic behind that heavy line.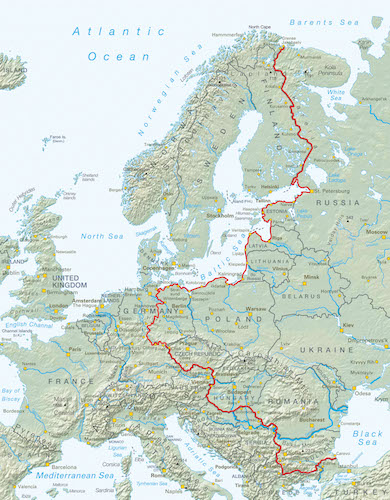 Map found here

I had a startling realization that I was preparing to travel to a communist country. This brought up an amazing amount of fear and almost guilt. Like I was betraying my country. Like I was letting down my father and all of those people he worked with back in the day. Or that I would surely find myself taken prisoner and subjected to intense KGB scrutiny simply for being an American in the wrong place.
Of course, all of that is patently ridiculous. The Czech people had taken back their country in 1989 and Americans visit Prague all the time. One of my coworkers had just been there and she loved it.
My weirdness was not helped when the guy who heads up the property team at work dropped a letter on my desk and told me to keep it with my laptop when I traveled. The letter assured that my employer owned the machine and that I was authorized to carry it.
I said, "This is my fourth international trip for our employer. I should admit I've never had a letter like this before."
He quickly replied, "That's because you've never traveled to a former Communist country before."
Oh.
Back in the day, I loved that movie "White Nights." What more could a movie do to pander to GenXer fears around the Cold War? Plus, I had enormous teenage tingly feelings for Gregory Hines (I can confess I actually got to meet him once and he was even more handsome in person, and also a true gentleman). Mikhail Baryshnikov was not exactly hard to look at either. But I'm wandering off topic…
That scene where Baryshnikov's character, a defector from Russia, realizes the airplane is going to make a crash landing in Siberia had a big impact on me. As he's tearing up his passport and flushing it down the toilet, I was terrified. When the inevitable straight out of central casting KGB agents arrived to harass our hero, I just knew that was EXACTLY how it really was. This was more documentary than fiction, right? <*smirk*>
It was with all of these thoughts and fears that I boarded a plane headed for the Czech Republic. Of course what I found when I landed was a beautiful country and very kind people.
My first foray into the center of the city of Prague was to attend a formal dinner at the historic Rudolfinum. One of my coworkers who knew her way around suggested we get off the Metro a couple stops early and walk about half a mile to the venue. Well of course, I was excited at this very idea. My first real exposure to the heart and soul of Prague.
I was immediately enchanted by the lumpy cobblestone streets and the very old buildings. We soon came across an odd building with four statues over the entrance depicting what appeared to be, to my eye anyway, communist era workers. The kind of thick neck and heavy features you'd find in a Diego Rivera painting.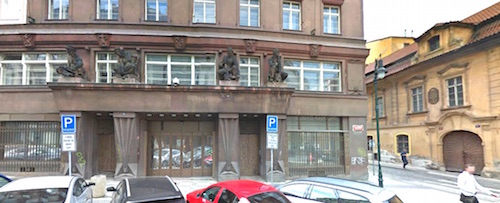 A very bad screen grab from Google maps because I didn't take a photo while there

I had kind of a "holy shit, look at that" moment and kept walking. There was a remnant of Soviet era Prague right there. Right there!
As we kept walking my eyes landed on souvenir shops with colorful marionettes, crystal shops, many pubs, restaurants and even a big ol' Burger King, and I knew that it was okay. I was not somewhere I wasn't supposed to be. I didn't need to rip up my passport and toss it into the murky blue waters of an airplane toilet.
No, rather, I was exactly where I needed to be. Instead of fear I felt proud that my ten New Mexico bred toes felt the pulse and music and life of one of deep Europe's most beautiful cities.
Now, in hindsight, of course I was being ridiculous. I mean, my brother has traveled right into the heart of Moscow, Americans are free to visit Cuba, and Dennis Rodman gets to visit his bestie in North Korea. It's a different world and a different view.
At the end of the day, it turned out that the Russians did (and do) love their children too.

I was out and about recently and ran into some friends who were with some other of their friends that I didn't know. We all got to talking, cussing and discussing over beers and a bit of wine, and the conversation drifted over to the show "Breaking Bad."
As a matter of fact, this happens to me a lot. Even though the show is no longer producing new episodes, it lives on in the world of Netflix. This show seemed to touch a nerve in people and it still relevant. People like to talk about it.
So I told one of my new friends that, "yeah, I'm finally watching it. I just started Season 2. It's kind of weird to watch, though, because Albuquerque is my hometown. It's where I grew up."
The person responded, "Really? That is so cool! I mean, really cool. Tell me about it! Tell me about Albuquerque."
This literally took the speech right out of me. "Uh, brr, eeeh, aauuugg" was about all I could manage.
Albuquerque? Cool? What?
Albuquerque is not cool!
Well, hell, maybe it really has become cool and it's time to admit it.
The Albuquerque I know was the place that either no one had heard of or said "Oh yeah, you mean like Bugs Bunny?"
Albuquerque is the place that Southwest Airlines used to fly planes that were only one third full because NO ONE went to Albuquerque. (side note: I used to really like that. Now on Southwest flights people are squeezed in so tight you can hardly sneeze.)
Albuquerque wasn't on anybody's radar and now it's in the zeitgeist. Just last night I saw an AT&T commercial that name checked Albuquerque. And it's not the only recent commercial I've seen that gave the 'Burque a shout out. Back in May I wrote this post about New Mexico being a part of not one but two popular movies.
When did this happen? I know, I know, this happened when "Breaking Bad" started airing.
I appreciate I haven't seen all of the episodes but so far, but I'm not sure that show portrays my hometown in the best light.
So far in Season 1 and the first part of Season 2 I can see it's mostly filmed in downtown. I think Jesse Pinkman lives somewhere off of Silver street. It's a pretty cool house, old style.
I lived around downtown ABQ for a while when I was doing a co-op job out of college with Sunwest Bank. I liked living there, but to be honest, that part of ABQ that doesn't always match my experience. I was more of a northeast heights kind of girl.
I often wince at the Jesse Pinkman character because he's so not anyone I would recognize from Albuquerque. Then I wince again because the bad guy character Tuco is pretty much an amalgamation of a lot of guys I went to school with.
Anyhow, I suppose I should be glad that Albuquerque is getting the love. Then again, the spirit of New Mexico runs deep within me. We often have been pretty damn happy when no one knows about our beautiful state. The less outsiders the better.
But alas, Albuquerque is on the map. I even saw a Twitter profile the other day saying, "Proudly living in the land of Walter White," and I just shook my head.
There's so much more to ABQ. But ya'll don't need to know any of that. When the glow of Breaking Bad fades off, we can reclaim our "not cool" town, and going on doing what we do and knowing what we know.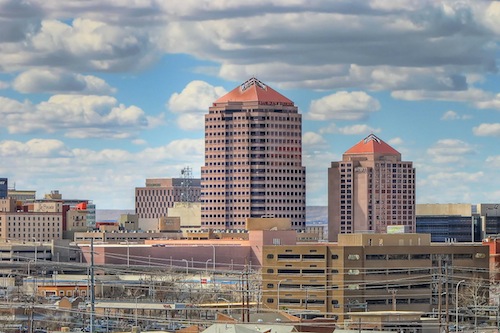 Image from Wikipedia and used here under a Creative Commons Attribution-Share Alike 3.0 Unported license.

Part V, and the conclusion of a five part series.
It was a short plane ride, take off, cruising altitude for something like a minute, then get ready for final descent into Las Vegas.
Las Vegas. My kind of town. Vegas and I go way back. Now you know my not so secret secret, I wasn't actually born in New Mexico, I was born in Las Vegas, Nevada.
My dad was working out at the Nevada Test Site and one thing led to another and…
Growing up some of my friends liked to tease me that my parents took a gamble and lost. Oh! Hey! Good looking crowd. We're here all night. Tip your waitress.
My folks loved living in Las Vegas, but for various reasons moved back to Albuquerque when I was very small. Really too small to remember much of life in Las Vegas. All I've ever known is New Mexico, so I still rightfully call myself a native.
I scrambled off that Southwest Airlines jet, through the jetway, and hit the carpet in McCarran Airport. I walked without hesitation to a bank of slot machines that were unoccupied and pulled up a seat.
My family likes to gamble. A trip to Vegas was my present for my twenty-first birthday. My folks used to get out there at least once, maybe twice a year and we kids often went along. I didn't grow up in Vegas but I grew up an awful lot on the many casino floors through the course of my life.
The Vegas I know is an old school Vegas, from the 1970's, and it always feels a little right to be there.
With twenty dollars in the slot machine, I managed to make it play for a little over a half hour. I'd get down to the last dollar then the machine would pay off again. I was on a nice hot streak. Not hot enough to cash out, but hot enough to have some fun.
When that was gone, I picked another machine and chased another twenty dollars around for about fifteen minutes.
When that was gone, I got up from the seat with a sigh. I felt hungry and went in search of something not airport-awful to eat. Over a really disappointing slice of Sbarro's pizza, I stopped chewing for a minute and smiled.
A thought occurred to me. In that same day, I had been in New Mexico, I was in Las Vegas, and I'd soon be in California. Those are all of the places I have ever lived. Those are all of the places I know.
Those are all of the places I belong.
Kind of cool, really. Kind of a nice way to end my journey. A full circle kind of a thing.
My trip to New Mexico was, all in, pretty good. I was so glad I made the trip, so glad to see my best friend and my goddaughters, so glad to go home and immerse myself in memories (and make new ones too).
My trip to New Mexico was also a little difficult. You see, my dad died in 2005 and he's buried in the National Cemetery in Santa Fe. There was no way I could live with myself if I was in Santa Fe and didn't go to the cemetery. And yet I really, really didn't want to go to the cemetery. It's not a joyful thing.
The last time I had visited was in 2009 and I was without a job and had lost my mind a little bit. I was scrambling to find a way to get back on my feet. That year I took a trip home to New Mexico to see if going back to my roots could help me find my compass needle.
I had cried a bit when my dad had died, but I was also a little stoic. My mom had asked me to be strong so that she didn't have to be, and I agreed. I was as strong as I knew how to be back then, and a few years later there may have been some pent up stuff that needed to come out.
In 2009 when I found the stone that marks the place where my dad's ashes are stored, it was a surreal experience. Gray skies opened up with rain and I stood there with my hand tracing the letters in stone and I cried, I keened, I howled. I scared the grounds crew. I honestly did, I freaked out this nice man taking care of the row of headstones nearby.
I guess back then I had some things I had to work out. On that recent spring day in March 2014, I was afraid that monster was still inside of me. I was terrified I'd find myself keening again at my father's graveside. When considering going to the cemetery, I balked, I stalled, and finally I borrowed the keys to my friend's new Suburban and set up Apple maps on my phone and took off on the highway, dreading it all the way.
Apple maps led me on quite a merry chase through the streets of downtown Santa Fe. That is a very old city, built by the Spanish Conquistadors so the roads are narrow and the sidewalks are high to accommodate horse drawn carriages.
With a little bit of axel grease and a shoehorn, I was able to navigate a huge Suburban through the streets, getting more lost by the moment.
Eventually, Siri found her head and I found my way, and there I was again, at the Santa Fe National Cemetery, both ready and not quite ready for what lay ahead.
That cemetery is always a difficult place for me. Rows upon rows of headstones mark all of my fellow New Mexicans who served in the military and who passed on, either in service of their country or later, as my dad had done. It is quite a humbling place for me, and that is even before I get to the place where I have to face my personal sorrow.
I had a bit of a false start, stopping at the wrong row of stones and realizing I was off by a bit. It didn't take me a long time to find the right row and my father's stone.
His ashes are in what is called a columbarium and it's covered with a lovely piece of what I think is marble and secured to the wall with these connectors that look, to me anyway, like conchos.
They are so beautiful and so New Mexico appropriate.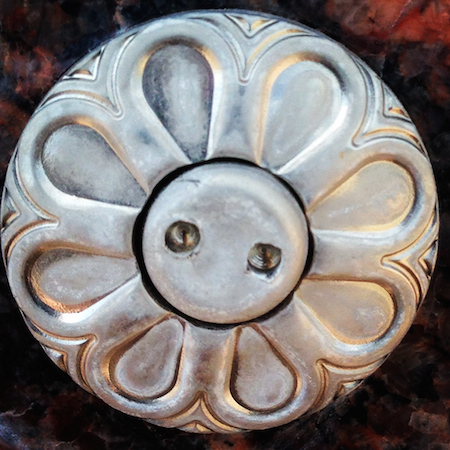 Copyright © 2014 Karen Fayeth

For personal reasons, I will decline to post the entire stone, but I wanted to share a nice photo of that fastener. It stands on its own as a useful reminder.
On this visit I didn't keen and I didn't wail, but I sure did cry an awful lot. I put my hands on the now weathered stone and I traced his name and the word "Korea," the war in which he participated. I felt the cold marble and I noted the sand blasted wear and tear and laughed at the unyielding New Mexico elements that caused the letters to already become faded. It's only been nine years.
"Well, dad, I guess I'm doing a lot better than I was the last time I was here," I said aloud. And I was.
Seeing my father's name carved into stone never fails to break me on some level. After pacing a bit and having a pretty hard cry, I walked up the row and sat on one of the benches. It looks out over the valley and has a gorgeous view.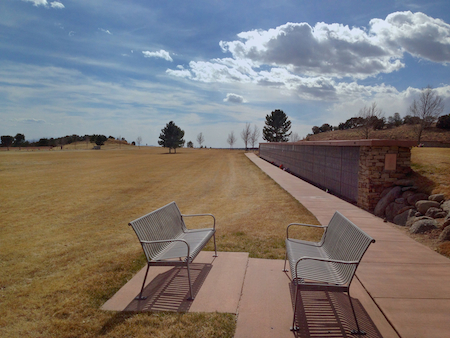 Copyright © 2014 Karen Fayeth


The mountains at my back and the dried grass and valley in front of me. The New Mexico unrelenting wind dried my tears the moment they slipped from my eyes. I laughed as the wind whipped at my hair. "Goddamn springtime wind," I said to no one as I sat there alone.
Tumbleweeds of thoughts bounced in my mind. Through tears of sorrow, I smiled, because of that view, that place, that moment.
I had spent the past three days wondering I was even a New Mexican anymore. Sitting there, letting the climate steal my moisture and feeling grounded, I remembered that I always was and will always be.
I can never not be a New Mexican. Just as I can never not be born in Las Vegas. And I can never not be a damn near twenty-year veteran of California.
I am all of that. I am none of that. I am more than that.
I am greater than the sum of all my parts.
My version of New Mexico may not exist anymore but it's mine. My particular brand of Las Vegas may not exist anymore, but I own it. My California is still telling me its story.
There is a lot left to learn about all of those places and as I gaze forward to the celebration of another revolution around the sun, I humbly admit there is an awful lot yet to learn about me.
What started as a fun trip to see my best friend in the entire world and my gorgeous godkids turned out to be something of a journey. A grounding moment in time that changed me, humbled me, reminded me and helped me grow.
I had no idea that was going to happen. I'm kind of glad I didn't know. To paraphrase one of my oldest goddaughter's favorite songs (that dates back to my college years), I might have missed the pain, but I'd have had to miss that dance.
And there is no way I'd ever miss out on a good dance with some of my most favorite people in the world, back home where I belong.

Both photos Copyright © 2014, Karen Fayeth, and subject to the Creative Commons license in the right column of this page. Taken with an iPhone5 and the Camera+ app. The fastener photo was further edited in Instagram.

Just a few snaps from this past weekend. On Sunday I got up all my courage and and went into London all by my little lonesome to have a look around. I just did the touristy thing but it was TOTALLY worth it.
Here's a few shots from the day. All taken with my iPhone4s and the Camera+ app.
—————


From Paddington Station comes a statue of Paddington Bear. It's an adorable little statue, so very endearing.
I had to do a bit of a close crop on this shot because The Most Oblivious Woman In The World was sitting on the base of the statue shoving sushi in her maw. There were plenty of empty seats around and a group of us wanting to take photos of the little bear, but she refused to move.
Ah well.
He is a rather handsome little bear, isn't he?

Copyright 2012, Karen Fayeth


After riding the train into Paddington station and befriending the bear, I caught the tube from Paddington to Westminster. As I came up from the underground, I saw a really pretty sunny London day. Then I saw a whole lot of people facing me snapping away at cameras. I vogued a little bit until I realized the lenses were all pointing skyward.
So I turned around.
And saw this.
Whoa! It's the Elizabeth Tower which contains the bell called Big Ben. Let me say this, ol' Ben sure has a pretty sound. At the top of the hour and at every quarter hour the bell rings out.
So delightful.

Copyright 2012, Karen Fayeth


From there I wandered around and walked among the buildings, admiring history.
Behind Parliament there is a little park that borders the Thames. While strolling there, a local (a security guard, actually) pointed out this little feature to me.
It's a carving into the stone at the perimeter of Parliament.
It's a high water mark showing the highest the Thames has ever been. The date is January 1881. Let me tell you this…the mark is pretty damn high. Scary to think what the flooding must have been like back then.
I was pretty intrigued by the carving both from a historical perspective and with a morbid point of view.
Yes, the photo is crooked. That's because to get the shot I had to put the phone on the ground and the ground is quite uneven.
I think the tilt gives it character.

Copyright 2012, Karen Fayeth

And finally….here is a naughty little gargoyle hanging off of Westminster Abbey. There are thousands of these little guys, all different. I liked the rude faces most of all. I understand that the imps with tongues out are actually downspouts for water. I think they are hilarious.
Obviously, this one has been run through an Instagram filter. This was shared on Twitter and Facebook too, earlier today.

Copyright 2012, Karen Fayeth

All photos Copyright 2012, Karen Fayeth, and subject to the Creative Commons license in the right column of this page. Taken with an iPhone4s and the Camera+ app.


That's a very popular question, I've found, among the people of Asia. It is like a badge of courage to pay a visit to many of the closely grouped countries.
There is a lot of hometown pride there, and I think I can appreciate that. (ahem, note the title of my blog fercrimenysakes)
As mentioned, my purpose for traveling to Singapore was to meet with a very large supplier who works almost like an aggregator. On this trip I was to meet individually with the representatives of fourteen different Asian countries and companies.
Without fail, after introduction, one of the first questions I was asked was "So, have you ever visited my country?"
Since this was not only my first trip to Asia, but my first international trip ever, the answer was always going to be no.
I felt that simply saying no straight out is a conversation stopper. Instead of saying no, I tried to find some way to create a common bond to keep the flow going.
So, for example, when the two ladies visiting from Malaysia asked me if I'd ever visited their country, I replied "No, but my brother lives in Kuala Lumpur."
"Oh!" they replied, and suddenly we had some basis for common ground.
When asked by the gentlemen from Japan, I replied, "I have not, but my husband has spent some time there and found it to be just beautiful."
"Oh? Yes!" they replied and we spoke of Tokyo and snow monkeys and moved with ease into business.
But there were two instances of this conversation that really stick with me, now some two weeks hence.
First was the conversation I had with the two gentlemen from Pakistan. We spoke, carefully at first, and later without hesitation, about the many troubles the country of Pakistan is facing and the challenges this causes us doing business together.
One of the two men had gone to university in Australia, so he'd spent time in the Western world and got the chance to step back and see his country with different eyes.
"Do you think you would ever visit my country?" he asked, then said, "It's very beautiful."
I smiled and said, "I would like very much to see your country." Then I looked him square in the eye. "Let me be very candid. Do you think it would be safe for me to make a visit?"
He paused, tried to smile, but a sadness washed over his face.
"I'm sorry to say this, but right now probably isn't a good time. It's very difficult for Westerners and especially Americans. I have a hard enough time explaining to my children why these people who do things I don't understand make it so that I can only go to work and then go home. We never go out because any event like sports or a concert are just too dangerous."
We were quiet for a moment.
I felt his sadness and I cannot even begin to imagine what that must be like. I really would like to visit Pakistan, to see the beautiful country he described. I often wonder if that could ever happen in my lifetime.
It seems unlikely.
And the other…
I sat at a table with three men from South Korea. One an older man, probably in his 50's with very limited English skills. The other two were young, probably in their mid to late 20's with full K-pop hair and dark rimmed glasses.
They were a funny trio, much like a dad and his two kids. One young man spoke pretty good English and he became the spokesperson.
"Have you ever been to my country?" he asked.
I smiled, and stopped to think if I knew anyone among my friends or family who had visited South Korea.
Yes. There is one. My dad.
He was in the Air Force and is a veteran of the Korean War.
Well, I didn't say that to these men as talk of war, even among allies, isn't always the best fodder for conversation.
But this fact hit bottom in my soul. I realized…What a difference a generation makes.
It took me a moment to regain my mojo. I smiled and said "No, but my plane will stop at the Incheon Airport on the way home."
They smiled back.
"You know, that airport isn't actually in Incheon," the young man said.
"Oh?" I replied. "That's like San Francisco. The airport is actually some distance away."
"I'd like very much to visit San Francisco" he said, and we were back on track.
But I can't stop replaying that conversation in my memory.
It's actually rather meaningful.
Every one of the fourteen face-to-face meetings I had was deeply powerful and incredibly worthwhile.
Each group expressed their gratitude that I had traveled such a long distance in order to meet with them.
The travel was good for my program and good for my company.
It was good for me personally, too.
Those fourteen conversations held on the 21st floor of a towering highrise on a sweltering Spring day in Singapore left a lasting impression on my soul.
I look at the world a little differently now.
All that learning to be had just on the other side of a passport stamp.
.
.
.
To my credit, I didn't ask a single person "So, have you ever visited New Mexico?"
I thought about it, though.