…and put on my cranky pants. The extra heavy-duty pants of crank.
Whoooo doggies am I cranky. And what's worse, I know I'm cranky and can't seem to step out of it.
I just blasted a coworker who sent a really inane request over to my team. To be fair, it is a REALLY inane request and something needed to be said. However, saying "this request needs additional definition and will be challenging to deliver in the time frame requested" is different from turning on both fire hoses to full blast.
Yeah. I did that. The full blast thing.
I apologized. Yes, I did. I said "I don't believe this is an appropriate request but I was wrong to blast you for that."
Being humble makes me feel bad about myself and my actions. It was the right thing to do, but also makes me a bit more cranky. Over the course of my now twenty year career I have been blasted right and left, and usually without remorse.
Leadership up to the CEOs of large companies have had some harsh words that landed on me. This includes one senior level executive who said to me and a peer as we presented a project we had worked on that needed approval: "You two are f—ed, your analysis is f—ed, now get the f— out of my office!"
Not one of my best days at work.
One might say, well, if you have been blasted by successful leaders who did so without remorse, then why do you feel bad about it?
Because I hated being blasted. I hated being treated like something lower than a piece of crud. I thought it was wrong every time it was done to me. It was inappropriate, and it was demoralizing, so why would I perpetuate this behavior?
Some might say that apologizing is a sign of weakness. Maybe. Or maybe it's a sign of strength to not act like a temper tantrum throwing toddler, or at least owning it and apologizing when one does. Who knows?
But, some might say, some of the great leaders of our modern times including Steve Jobs and Larry Ellison (among many others) are known for their profound temper tantrums. Sure. You don't hear the stories of the great leaders who acted with grace. That doesn't sell newspapers.
At this point I should admit that I don't know the right answer. I only have to live with myself today, tomorrow, years ahead. I have to lie down at night and decide if the way I treated people was the way I wanted to be treated. I have to own who I am and how I act.
I can't reconcile venting my cranky pants on someone and not owning that and apologizing. There is a difference in being firm and a bit demanding and being a jerk.
May I always work hard so I know where that line lands.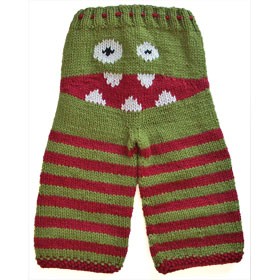 Image found here.

On or about the day of September 18 in the year of our Lord two thousand and twelve, the defendant was seen both loitering and malingering in the hallway at my place of employ.
Slouching fetchingly on the top of a lateral file cabinet. The tramp.
And on said date, on or about 3:42pm, the defendant stands accused of calling out in a beckoning, sultry, irresistible manner.
So alluring was this siren call that no reasonable man or woman, especially woman, could be expected to maintain even a modicum of self-control in the face of such raw, base power.
As a result of the defendant's irresponsible actions, the victim was thusly lured to the defendant and did partake of the goodies offered thereto.
And it was good.
However, the defendant now stands accused of gross misconduct, excessive deliciousness, and being the addictive combination of sugar, fat and salt.
The victim hereby claims damages to her waistline, thighs and double chin. And a big pile of guilt on her shoulders for all to see.
And so, you criminal, you plague of society, you vile tempter, how to you plead in the face of such strong allegations?
Peanut Butter M&M's, you sneaky bastards!

Playing silent eh? We'll see about that.
You and your little friends, you are going to be put away someplace for a very long time.
A very, very long time.
Git in mah bellay!
Image from Terribly Awesome.


It was, on a Fall day in 1988 that I first crossed paths with the girl who would become my best friend in the whole wide world. Mother of my god kids. Forgiver of all my aberrant behaviors. Supporter of my dreams.
She is the best.
It's now twenty-four years later and she's still closer than family and knows me better than I know myself.
Several months ago, over iced tea on her back patio near Radium Springs, she invited The Good Man and me to come out to New Mexico for a summer camping trip. Now I adore camping and was totally on board. The Good Man and I were already talking about flying or driving and how long we should stay.
And then life does what it does. It got in the way.
When my best friend asked me to spend some time in Quemado, it was February and I had nothing on the calendar that would inhibit a vist.
Five months, lots of overtime hours, and three countries later, my outlook wasn't as clear.
So I was a bit sad to have to tell my friend that no, I wasn't going to be able to go camping. I had just got back from London and The Good Man was up to his eyeballs in alligators with work too.
And money is always a question mark.
Damn it all to hell…we just couldn't swing it.
I was supposed to be out there charring marshmallows and hiking where there is no mobile signal over this past weekend.
*sigh*
When I was still in flux about going, I happened to get an email from a joint called The Uptown Theatre in Napa. This is where I saw Rosanne Cash and Hugh Laurie and it's rapidly become one of my all time favorite venues for live music.
Seems this little ol' band called The Mavericks have reunited and were doing a show at the Uptown. The same weekend I should have been going camping.
The Mavericks are more than a fantastically talented band, they are an integral part of my life and the life of my best friend and our friendship. Their album "Music For All Occasions" is a landmark in our world. We love this band. A lot. Their music sums up a lot of what the late 1980's and early to mid 1990's mean to both of us.
It's a soundtrack to our most cherished memories.
So when I saw they were playing a show nearby, I hedged my bets. All along, I planned to go to New Mexico, but I bought the not very expensive tickets too. If I lost out on the tickets in favor of New Mexico, so much the better. If we couldn't swing camping, then The Good Man and I would take in a show.
Eventually we had to make the tough choice to stay back in California while my dearest friend and family went out to the woods and enjoyed the best of New Mexico.
Which meant The Good Man and I went to Napa. Being Catholic raised, the guilt was overwhelming. Both my best friend and my best guy should have been with me that night. It felt wrong to be at a Maverick's show without her. Like I was being both a bad friend and a bad person.
That said, I still enjoyed the hell out of the show. This band is amazing! I last saw them back in 1998 when I had just moved to the state of California and seeing them live was a tonic to my confused, tortured soul. My friend and I lamented back then that she wasn't able to come out for that show.
And here I went and did it again.
Gah!
Every day I'm checking the band's webpage to see if they have added any dates. If they come anywhere near New Mexico or Northern California again, we're are going! No if's, and's, but's or international demands from my Boss.
We'll bring the godkids too. They need to know what we know.
Confession is good for the soul, right? I hope so. I called my best friend yesterday but her phone went right to voicemail. That means she's still out there where email and Facebook and all the rest don't really matter.
If I don't catch her by phone maybe she'll see this post and know that I went and saw our favorite band without her (again!), but I was thinking of her the whole time. And that's the truth.
Plus, I've done way worse things over the course of our twenty-four years and she's forgiven me. I think we'll be all good.
Should I tell her that I had tickets in the second row? Hmm. Maybe not.
Should I tell her that I met and had a nice chat with Robert Reynolds after the show? No, I probably shouldn't.
That might be pushing it a bit.

_______________
A couple photos from the incredible show: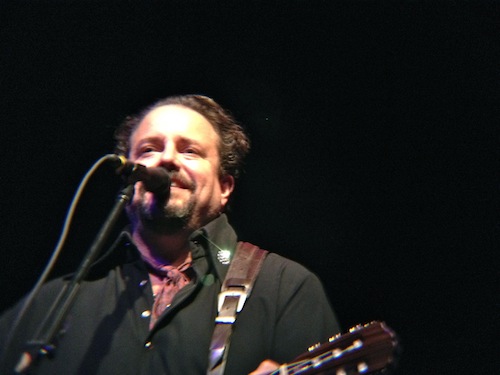 Lead singer, the amazing Raul Malo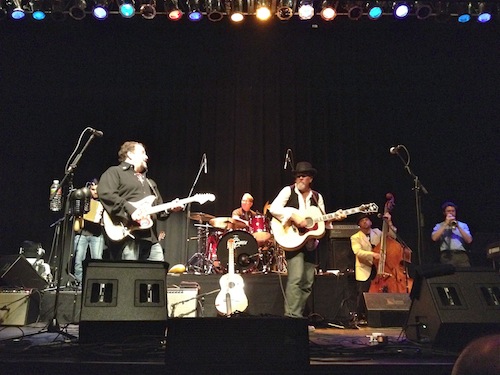 Original members, reunited. Raul Malo (l), Paul Deakin (c), Robert Reynolds (r)

All images Copyright 2012, Karen Fayeth, and subject to the Creative Commons license in the right column of this page. Photos taken with an iPhone4s and the Camera+ App.


Yesterday I drove to the small downtown section of a small town to meet with a group of photographers. It was our scheduled monthly get together.
I pulled into a parking spot and as I put 'er in park, I noticed a police car parked right behind me.
As I opened my door to exit the vehicle, I noticed a uniformed police officer approaching me.
Me: "Hello, officer."
PO: (stoic) "Hello."
Me: "What can I do for you?"
PO: "You can't make that left turn you just made."
ME: *puzzled look* Then I consider being a cutup and saying, "Oh, but I can! I just did! Wanna see me do it again?" But I rein in my inner smart alec.
PO: (looking at my puzzled look) "You made a turn across the lane to get into this parking spot. You can't do that."
Me: "Really? Oh shit." (<- yes, I actually said oh shit to a cop. Not the brightest bulb that Albuquerque Public Schools has ever turned out.)
PO: "Yes, really. It's painted there on the pavement (he points) and there's a sign on most of the light poles down the street. (he points again)"
Me: (now sheepish because I really hadn't noticed) "Oh. Ok. Do you need to see my license?"
PO: "No, that's ok. I'm just warning you. Don't do it again."
Me: (quavering) "Thank you, sir. I appreciate it. Have a good evening."
PO: (walking back to his car) "You too, ma'am."
Me: (inside voice) shiiiiiiiiiiiiiiiiiiiiiiiiiiiiiiiiiiiiiiiiiiiiit
Once I got done quaking in my rain boots, I realized...that police officer did me a solid favor.
See, my last encounter with the black and whites was less than 18 months ago. Why does that matter? In California, every eighteen months you can take an online driver's ed class which masks a point on your license. You only get one every 18 months. So if I got a ticket I was plum outta luck in terms of my insurance.
I was a little down and dour that day while headed to my meeting, but the rare kindness of the police officer brought a little decency to my gray and rainy day.
Plus, I recalled one of the few bits of advice I carry with me from driver's ed classes. A police officer came to speak to us. He said, "Always be courteous to a police officer. ALWAYS. It might make the difference between getting a ticket and getting off with a warning."
Thank YOU, McGinnis School of Driving.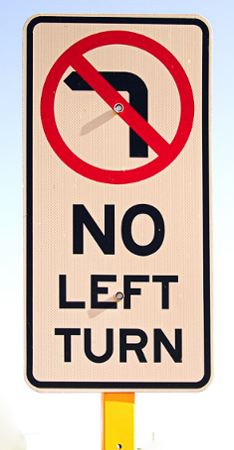 Photo by Nick Cowie and used royalty free from stock.xchng.

Today during my internet wanderings, I spent some time with my friends over at CNN where an article titled "7 digital mistakes to avoid in 2011" caught my eye.
The story prefaces itself by asking you nicely not to do the seven things listed.
So ok. If asked nicely, I'll consider it.
Let's check out my report card on the Thou Shalt Not list:
1. Send an unspeakably rude e-mail to one of my employees or co-workers.
Ok, yes. I've done this. I've gone to rehab. When I feel the vitriol spewing from my fingers as they fly around the keyboard, I usually finish the email, then hit "save as draft" and let it sit a while.
Also, when writing a tacky email, I always delete the name from the address field on the email so I don't accidentally send the unedited and unfinished email (done it! Lived to tell the tale).
So on item 1, I'm all good. Next!
2. Chase a messy breakup with sad-clown Facebook statuses and hours of sob-wracked ex stalking.
Ew. No. I hardly use Facebook, so no. Ok, I *have*…in the past…been known to mildly cyber stalk an ex. Mostly to see what they are up to these days, but those years are done.
I did have an ex contact me a few years back. We'd ended amicably and I was fairly happy to hear from an old friend. Then he pulled a Brett Favre and I got skeeved. I now avoid online contact with exes. Just better that way.
Next!
3. Waste everyone's time with inane tweets.
Yeah, I could be guilty of this. But then again, so can anyone who participates in Twitter. I recently read an article where a celeb compared tweets to mental farts shared with the world.
Fair enough!
Let's call this one, guilty as charged.
Next!
4. Keep my wedding photo as my Facebook profile pic for five months or more.
No worries there.
Next!
5. Leave offensive, sexist, childish or straight-up stupid comments.
Offensive? No.
Sexist? Nah.
Childish? Maaaayyybe.
Straight-up stupid? Certainly not! I'm sure my comments are always brilliant, insightful and add value to situation!
*ahem*
Next!
6. Drunk-text.
Yeeeah. I've done it. Was once a big offender. Just ask The Good Man, recipient of far too many drunk texts. However, now that he's usually around when I'm having a couple sips, I don't need to drunk text him anymore.
I am recovered (mostly).
And finally:
7. Peck away at my smartphone during dinner.
Ok. I'm guilty. I own it. There you go, my New Year's resolution. It might be the one I can stick to because, as the article says, "…let's face it, those whiskey binges and late-night Cheetos you swore off (of) on 1/1/11 aren't going anywhere."
True, true. Whiskey binges and late-night Cheetos are a thing of beauty.
On this post-holiday rainy day, I reserve the right to be melancholy.
Holiday blues, weeping gray clouds, and general lethargy. Sure. It's my prerogative.
I am loath to say the next seven words I'm about to say but…
I heard this great story on NPR.
You may not realize how pompous I think the people are who quote NPR. Now here I am committing the crime I rail against.
The story was of a musician named Shawn Camp who had a record set for release back in the year 1994.
Through a series of events, the record was shelved until recently. Camp met the new studio head at Reprise who gave Camp's record a fresh listen and it was finally released in September of this year.
What's got me going here, got me writing a whole blog post about this story, is one of Camp's songs that they played on the air.
It was a beautifully written song about being at the funeral of his grandfather. For some reason, the words reminded me of the incredibly sad funeral I attended back in August.
Despite the passing of four months, I find I still grieve for my friend. I guess there's still something left to grieve, because lately he's been showing up in my dreams.
Listening to Shawn Camp's song reminded me of a dream I had just last night.
It was me, and my friend, and we were dancing. Just a simple two-step, nothing fancy, but we danced and he was whole and healthy and grinning from ear to ear.
My best friend was there too, and before I was even done, she got the next dance with him. The three of us laughed like it was, well, 1994, and it was good.
Now, this dream was particularly odd because in real life, my friend wasn't much of a dancer. Oh, he was long legged and tall, a perfect partner. But he had a farmer's sensibilities and didn't dance that much. He could, and did, but it wasn't something he did a lot.
But there in my dream we danced. When I woke up, I remembered seeing my friend's body laid out there in a casket inside the El Paso First Baptist Church.
The old Southern saying is "now, don't he look natural?"
No, he didn't look natural. In my dream smiling and laughing and giving me seventeen kinds of heck…that was natural.
I've always been pretty glad that at the end of the line for my dad, one afternoon when my mom had run into town for errands, my dad and I had a talk. It was uncomfortable and weird, but in that talk, a lot of things were said that needed to be said. I can happily say I have no unresolved issues there.
But with my dear friend, I have something unresolved. It niggles at the corners of my mind and sits on my chest when I have another dream in which he plays a cameo. I owed him an apology. I'd planned to deliver that apology when he came home from the surgery from which he never returned.
Perhaps in dreams I can find the way to lay my issues to rest, to lay down the burden I carry around, to feel at peace with the loss of my friend.
Or maybe we can just dance and forget about I'm sorries.
After my best friend is done (which may take awhile), I got the next waltz.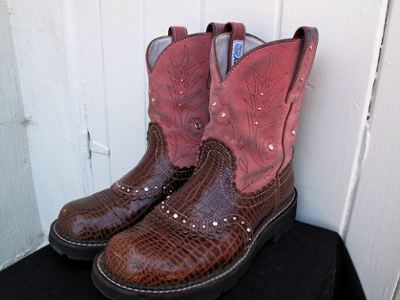 Cuz these Fat Babies were made for dancing
Photo by Karen Fayeth
Yesterday, early in the morning, I had my weekly one on one with the boss.
He's in the US this week, so it was nice to have a face to face meeting. I have such respect and yes, I'll say it, affection for my boss. He's amazing.
I had a long list of items to discuss, and we jumped right into the fray.
It was a good meeting, much cussed, much discussed. Decisions made. Strategy set.
When I'd exhausted my list of items, I said to Boss Man, "so, do you have anything for me?"
He said he did. There were a couple small items. "No problem, boss, I'm on it."
He continued,"Also, I wanted to let you know that I'm going to put you on a development plan."
Then the world went molasses on me.
Oooooh. Shiiiiiiiiiiiiiiiiiiiiit.
My hearing slowed down. My head swam.
I've been a manager for a long time. Development plan is a cute little Human Resources euphemism for "You suck, we're trying to fire you, but we have to do a 'development plan' first to document what a toad you are."
What had I done? In four months I already blew this gig?
Sure, I was a little blunt with that supplier, but damn, they suck at invoicing! And ok, I might have made a joke in a serious meeting, but that's just my way. Everyone seemed to appreciate the moment of levity! And fine, I might have been late to work a few times this week, but that's mainly because I was on seven in the morning calls with India, and I took them from home.
I'm not a perfect employee! But damnit! I work hard and my intentions are right!
While the edges of my eyes went wavy, and I tried to figure out where exactly I'd screwed the pooch, I noticed my boss was still talking.
"And so we'll be working on this over the next month. Being new, you may not know that development plans are only offered to our top performers, so be aware that not all of your coworkers will be doing this same activity."
Wait. What?
Oh. I see. "Development plan" as used at *this* company is a good thing.
Whew.
My heart can now regain regular rhythmic activities.
(And then I almost cried….but I held it in. A girl crying at work is sooooo uncool.)
Perhaps fitting given my post from over the weekend, I read an article today in CNN with the title: "Homesickness isn't really about 'home'"
Oh really?
The article is aimed at parents of new college students and tries to help worried folks get through it. For example, the article recommends that at the first sign of acute homesickness, parents might refrain from swooping and taking the kids back home.
I think that makes sense. The transition from home to college is a big one, and kids have to find their own way.
But because I'm me, and I'm here to talk about me, let's see how this might or might not apply to my situation.
I recently had a profound bout of homesickness for New Mexico. (Refresh your memory here)
From the article: …"homesickness is defined as 'distress and functional impairment caused by an actual or anticipated separation from home and attachment objects such as parents.'"
Um. I moved to the Bay Area thirteen years ago. This isn't about a new or anticipated separation.
I left my folk's home for college about twenty two years ago, so that's not it either.
And to be honest, I'm not sure I can rightly call New Mexico home anymore. It's where I was raised. It's where I'm from. It's who I am. But I have to say that where I live now is probably best defined as home.
"…it stems from our instinctive need for love, protection and security — feelings and qualities usually associated with home."
Yeah. But here's the weird thing, I have a happy home. I have an amazing husband and with him I feel loved and safe every day. I have up days and down days, but taken on the average, I'm pretty content with my life. So what's up with that?
I also know that if I didn't live in the Bay Area, I'd suffer a profound bout of homesickness for my Bay Area home. I'd miss the amazing art and culture and the family I have made here.
"'Yet despite the way it's coined, homesickness isn't necessarily about home. And neither is it exactly an illness, experts said.'"
It's not? Then how come I *long* to sit in the kitchen of my best friend's home, deveining green chiles, cussing and discussing and laughing with her kids? I get a pain in the center of my chest so bad it's sometimes hard to breathe.
If that's not a sickness, I don't know what is.
I'm a woman torn between my two homes. I am a New Mexican. I am part of the Bay Area. I'm both. Maybe I'm neither.
I'm still caught somewhere halfway in between. (Where would that be? Barstow? Cuz ain't no way I'm calling Barstow home, let me tell you THAT right now.)
I guess I'm what one might call blessed. Blessed to know two distinct geographic regions of the country where I have family and love and kinship and all the things that make life worth living.
So I'm still going to call it homesickness, no disrespect to the authors of the study.
Then I'm going to recycle my not very sophisticated image because it's the best visual representation I can manage to convey how I feel.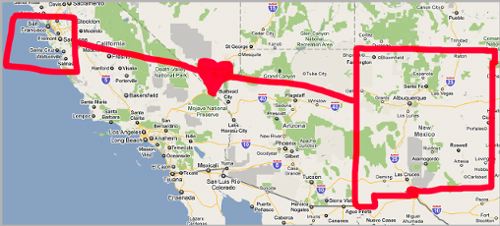 I wanted to take a minute to thank my usual readers for sticking with me through this week of a bit different sort of blog post.
I'm not going to lie to ya, this challenge has been a lot harder than I expected. I compete in contests where we have 48 hours to write a thousand word story, and even then, the time feels tight. I've been producing the stories this week in around five to six hours.
I'm pretty pleased so far. They all could do with more time and distance to allow for extra editing, but I'm not ashamed of anything I've written so far.
I hope at least a few of you are enjoying reading them as much as I am writing them.
My goal for this week has worked. I needed to shake things up to get back into my blogging head and it's working. I'm looking forward to getting back into my groove next week.
For now, here's Day Three's story.
Today's randomly generated is: representation
Top O' The World, Ma!
by Karen Fayeth
Alex was on top of the world. Six months ago, he'd been promoted to Senior Director of Sales and he was rolling. He was the fair-haired boy employed at one of the fastest growing companies just shy of Fortune's top 100.
Yesterday the Executive VP of Sales had called Alex personally to congratulate him on landing the biggest client in the history of Jackflash Software. The ink was barely dry on the deal.
Alex and his boys had properly celebrated the victory.
After just two hours of sleep, Alex now looked at himself up and down in the mirror because he knew he looked good. Not just "hey, that's a nice suit" but "damn! You look GOOD in that Prada suit" sort of good.
Even his hair looked good and his eyes weren't the slightest bit puffy. A little chin stubble told the tale, but hell, that would just make him look a little rugged today.
If asked, he could say he was up all night on an overseas call. They'd buy that.
This morning he had a date with the CEO of Jackflash, Bob Jackson. The invitation had come quite a few days before the new contract had settled and had been somewhat vague as to the agenda.
Jackflash was still a pretty small company, so meeting with the CEO wasn't entirely unusual. Maybe there was another big deal in the works? Or maybe there was even a big bonus coming his way. He smiled at the thought. Oh so many toys like boats and cars he would buy…
Alex looked at himself in the mirror. "God, it's a great day to be me," he said to his reflection.
Turning from the mirror and picking up his car keys, he felt the burn from lack of sleep around his eyes. Unacceptable, he told his wavering body.
Revving the engine of his brighter-than-the-sun yellow Porsche, his first stop on the way into work was a 7-Eleven. Two Rockstar energy drinks should do the trick.
Alex was guzzling the second Rockstar when he parked and walked into the office. Burping loudly from the fizzy drink and tossing the can in the trash, he put on his winningest smile when he saw people in the lobby turn to look at him with nods and waves.
News must be out, he thought. But not everyone was smiling. Jealous, probably, he thought to himself.
He smiled and made like a politician. If there was a baby in the room, he would have kissed it.
After all the schmoozing and stopping by to talk to friends along the way, it took him a half hour to get from the front door to his office. His heart was trip hammering in his chest from all the caffeine and he couldn't sit still. He glanced briefly at email and ignored the flashing message light on his phone.
A note was taped to his monitor. Terry, his boss, wanted to see him as soon as he came in. He checked his watch, 9:45. Terry was probably already in the day's meetings, but he figured he'd give it a try.
Alex walked so fast to the elevators, the back of his jacket trailed out behind him like a little woolen cape.
"Hey Susan! Is she in?" Alex said, putting on his charming voice for Terry's admin. Susan wielded all the power in the organization, including whether or not Alex flew first class, so he treaded lightly.
Susan looked at Alex with a face drained of blood. "No, Alex. She's gone."
"Gone? You mean meetings?
"No. I mean gone. Fired." Susan whispered the last word.
"Fired? What the hell?"
Susan shrugged.
Alex checked the Rolex on his right wrist and noted he had five minutes to get upstairs to meet Bob.
"Ok, I'm going up," Alex said, pointing toward the ceiling, the company recognized gesture to indicate Bob's office on the top floor.
Susan was VP of Sales. If she was gone, and with Alex coming off such a huge victory…well, the writing was on the wall. He was going to get promoted again.
Alone in the elevator, he did a little "yes!" fist pump dance/jig sort of a move.
When the elevator doors opened, he was met by Bob's Admin, Charlene. "He's here," she said into her boss' open office door, then with an out of character syrupy voice, "I believe Bob is ready for you. Go on in."
Alex walked into the office with his head high, but faltered when he saw Ellen Banks, VP of Human Resources and Stan Ingersol, Jackflash General Counsel already seated at the conference table.
"Hello Stan," he said, shaking the man's hand, "Ellen," he said, nodding. "Bob, how great to see you! You heard about the Techtron Telco deal, I assume?" Alex said, all smiles and sales training in his demeanor.
"Yes, I've heard. But that's not what we're here for. Alex, why don't you have a seat?"
Alex was still grinning ear to ear when he sat down at the head of the table.
Alex drummed his fingers on the table impatiently and looked at Bob who turned instead to Stan. "How about you take the lead on this meeting?"
Stan cleared his throat and shuffled through the stack of paperwork in front of him. He found the page he needed and held it up.
"Alex, this is a copy of the resume you submitted when you applied to Jackflash."
Alex leaned forward to squint at the document, then nodded.
"It was your representation at the time you were hired that you both attended and graduated from Yale School of Management. Your hiring manager failed to do a background check before extending the very generous offer. During a routine audit, Ellen's team found the lapse in procedure and conducted the appropriate check."
Alex swallowed. He knew what was coming next.
"Son, you never even graduated high school."
Alex closed his eyes.
Visions of Masaratis stopped dancing in his head.

"Top O' The World, Ma!" by Karen Fayeth is licensed under a Creative Commons Attribution 3.0 United States License.
You know, looking at a photograph of myself is always an interesting and somewhat humbling experience.
In a photo, I never quite look the way that I imagine I look.
Where did those lines around the eyes come from? Do my hips really look like that?
Ah well.
The other day, I received an interesting photograph that surely has me pondering some things.
Here, I'll share the photo with you, my fabulous readers, so you can see what I'm talking about.
It is a fun photo of me driving! Isn't that neat! A perspective one doesn't often get.
Look at me…intense expression on my face. Hands firmly at ten and two. Or maybe more like eleven and one, but no matter.
That's a concentrated and skillful driver, no?
Yup, that photo was kindly mailed to me by the Superior Court of the county where I live.
Wasn't that sweet?
It appears they are of the belief that I didn't stop fully before making a right turn at a red light into a very busy intersection.
And so for the luxury of a faboo photo of me behind the wheel, I was charged $500.
I'm *ever* so pleased about that. Tickled pink. And other euphemisms I can't think of right now to sarcastically convey that I'm not very pleased AT ALL!
Next step: onward to driving school. Yay me.
Have I ever mentioned how much I hate red light cameras? Oh I really hate them.
Whoa, man.
I mean, really.
Whoa.
So I've been having trouble sleeping. Don't know why. I got stuff on my mind, but no more than the usual suspects.
It's not waking up and worrying or thinking or whatever.
It's just waking up. And then not going back to sleep.
Exhausted, looking for some help, I decided I'd try some of that over the counter Tylenol PM.
Well, The Good Man astutely pointed out that Tylenol PM is just a mix of Tylenol and diphenhydramine, you know…Benedryl?
I already have Tylenol, so I bought a generic bottle of Benedryl.
Hoping for some quality rest, I followed the exact same doses from the Tylenol PM bottle, mixed up the recipe, swallowed it, then lay down in my bed.
It didn't take long before my head felt kind of thick and my eyes got heavy.
Awesome! Sleep is on the way!
Did I sleep? Yes, actually pretty well.
But the dreams. Oh the dreams!
Wild, vivid, lucid, long involved dreams.
In one dream, a carload of my friends and I drove over the Golden Gate Bride, but on the OUTSIDE of the asphalt roadway. We sort of floated alongside the bridge, over the water, as we cruised. I was in the passenger seat and I could see the bridge up close. It was the most amazing way to see the entire bridge.
In another I shook hands with Jesse Jackson because he saw me across the room and rushed over to meet me. Said he was a big fan. (not sure what corner of my psyche that came from. I'm not much of a Jesse Jackson person, but ok.)
In several I could run really fast and it felt so good.
In the best dream, turns out The Good Man could fly. If I held tight to his hand, I could fly too. He flew *fast*, we zipped all over, and the wind tugged at my shoes! It was awesome!
Wowowowowow maaaaaaahn. That is some freaky sh–! I had good sleep! Fabulous dreams! And clear sinuses!
Diphenhydramine! You can't beat this stuff!
So you know what I did, right?
I took it again the next night.
More wild, fabulous and fun dreams. Vivid, happy, trippy stuff.
Once again, I woke up feeling great. No residual antihistamine hangover, just calm and happy and best of all, rested.
So then, of course, owing to my Catholic upbringing or something, I realized that anything that feels that good can't possibly be good for me, right?
So I put the happy dreams away and tried to sleep on my own last night.
It worked. I actually slept pretty well.
You know, I had a few dreams. Nothing special. Very dull. No flying or anything.
*sigh*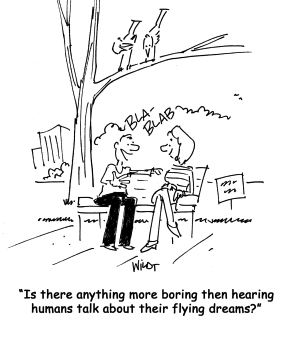 Yesterday was a weird day.
Sure, mid-December always gets a little bit dicey when going out to run errands, but yesterday was especially odd.
I had a list of things to procure and not a lot of time, so over lunchtime I started at the top of the list. First stop, Home Depot.
Oh Home Depot, I know so many people love you, but I rarely visit your orangey evil warehouse.
I needed some tools (I have a fun Christmas project for The Good Man's little sister in progress). Since Home Depot is the Wal-Mart of hardware stores, and I wanted to spend only a little green, I decided to give it a try.
Wow, did you know there is some sort of force field going on in Home Depot? As soon as I set foot in the lumber aisle, I became invisible! It was really instant and rather startling!
The U.S. military should look into this!
The secret to a true complete invisibility shield!
A girl in the lumber aisle.
I found that on the tools aisle, I was only partly invisible. If I said, "hey, I need help!" then they could sort of see me. It wasn't just me either, there was another woman trying to get help regarding a door knob she was considering.
She got the attention of one male employee who condescendingly answered her question then walked away…though she wasn't done asking questions.
Oh, I did discover that in the gardening section, by the small pink canvas pruning gloves? They could see me fine.
Something about hardware and lumber.
Weird, huh?
My next errand was to go to the post office. A gift ordered online had arrived. Yay!
Well, it being mid-December and at lunch, the post office was crazy busy. We use a very small postal annex with only two employees, so that makes things an even bigger holdup.
It was a very, very long line.
Well, you know, this is to be expected this time of year.
Except for the cranky old man and the horribly cranky old woman in line behind me.
The old man kept cranking about how he can't believe the lines and he had been there and hour before and the line was this long so he went and had lunch to wait it out and wouldn't you know it the line is still long and how can this be!
You get my drift.
Then the lady chimed in.
"There are just too many people these days. Too. Many. People. You know why it is so crowded don't you? Because of all the immigrants. Obama keeps letting all of those immigrants in. They all want the free stuff so those damn people keep coming in and it is just too crowded!"
Uh. WHAT!?!?!?
Crazy old bat continued on that line of rant for a bit longer, then went back to complaining about the line. She said, "Why is there only one person working, where is that [racial epithet redacted] who works here?"
I was horrified. Absolutely stunned into a horrified shock.
Evidently the "spirit of the season" is discrimination, racism and anger.
Once I picked up my package, I got in my car and made my way out of the parking lot. As I waited to turn out into traffic, I had the audacity to wait for a group of six kids from the nearby high school walking by on lunch break.
Audacity because the evidently impatient man behind me felt I shouldn't have paused. So he laid on the horn and yelled "GOOOO!"
Well, clearly the spirit of the season has infected me as well, because I unrolled my window and shouted "WHAT THE F–K IS YOUR PROBLEM!?!?"
Tis the season to be assholish, fa la la la, la la la la……
Look at me pass on the season's cheer….
I think I'll hunker down at the house for the remainder of the year. It seems better that way.
You seem to be having a skosh of trouble recently with your personal life, and you've managed to kick over the rock, allowing all the creepy, crawly, greasy things to begin speculating about you in the media.
The PR people say address it fast and be confident about it, then get it out of the way.
Well, you've tarried on the "fast" part of it, thus making the frenzy worse.
But now, my friend, you need a good story, and fast.
As I am a teller of stories, I have come up with a list of five stories you can sell to the media and thus get your fabulous self out of trouble.
You can thank me later.
Herewith, five good reasons why Tiger drove his Cadillac into a tree:
1. The baby was sick and I needed to go to an all night pharmacy to get medication. I was so very exhausted, having been up with her all night, that I accidentally ran into that fire hydrant. I had only the best interest of my daughter in mind.
2. I was sleepwalking. I'm seeing a doctor about this debilitating condition. Please respect the privacy of me and my family during this troubling time.
3. I shanked one! Heh, heh, no seriously folks, since my game has been off a bit lately (bad knee and all) and the Chevron World Challenge is coming up, I wanted to go for a drive to clear my head. Perhaps I was thinking a bit too much about my swing and not paying attention to where I was going.
4. My wife and I were having a disagreement. I stepped away to cool off and whoops, the car got away from me. I've since realized that my wife is the best thing in my life (thanks for breaking out that window, dear) and from here out I will strive to be a better man, a better husband and a better father. (an invocation of God at this point would really seal the deal)
5. My dad told me to. From the grave. It was a very mystical moment.
See? This isn't that hard!
C'mon Tiger, give us a good story and put this crap to rest, eh?
Thanks.
Your pal,
Karen
[evil, maniacal laugh] bwa ha ha ha ha ha hee haw heee….*cough, sputter, cough*….ahem.
I'm back now.
Anyhow, I seem to have learned to use a fabulous power first taught to me in my youth.
The power of guilt.
Oh yes.
First example:
The center dial on my bathtub is broken, meaning that it will only shower, it won't bath. This is upsetting. I am a fan of the hot bath. Especially in the winter. Particularly when it's cold and stormy outside as it is today.
This has gone unfixed for quite some time, despite reporting it dutifully to my landlord. He said, "I need to find a new set of knobs…I'll get to it."
And he didn't.
The landlord's son lives a street over and came by our place about an electrical problem two weeks ago. So I bugged him to bug his dad about the bathtub. The son promised he'd fix it himself.
He didn't.
A couple weeks passed.
This weekend, the son was mowing our front lawn. I said, "sorry to ask, but I need to remind you about the bathtub."
This young man was *immediately* doused deeply in sheepish guilt, he apologized a bunch and promised to fix the bathtub, which he did on Sunday morning. And apologized some more.
Aaaah. Guilt is good.
Next example:
After my dental work yesterday, I woke up with a swollen face and a nifty bruise on my cheek. I'm thrilled to have to explain this to my coworkers.
My dentist, being the kind sort that he is, emailed me today to check to see how I was doing after the work. I emailed him back a photo of my bruised face and suggested he won't be getting any new referrals from my coworkers.
He called me right away and apologized profusely and told me this sometimes happens (nicked a blood vessel when he did the injections) and that he felt terrible this had happened.
A man who inflicts severe pain for a living feels *terrible*.
Heh.
This feels gooood. I'm learning what my mom has known for years…guilt is quite the propellant.
In case you are still in training wheels and need to learn how to properly give the guilt, here's a wikihow to get you over the hump.
Only downside? This power can be used on me, too.
Damn my Catholic upbringing!