I have found myself in the city of Prague in the country of Czech Republic for only forty-eight hours. Well, a little less than forty-eight, but let's not quibble.
In forty-eight hours I have learned that the current leadership of the country wants their country to be referred to as Czechia, for reasons I don't fully understand.

"The Terminological Committee of the Czech Office for Surveying, Mapping and Cadaster officially codified Czechia in 1993 in its publication "Names of States and their Territorial Parts". Therefore, Czechia is the grammatically correct short name of the Czech Republic…" – from Go-Czechia.com
I have learned that occasionally I can understand a word or two in Czech, but then the diacritic marks give me doubt.
And I have interacted with Czech citizens, mostly the driver of my airport shuttle, hotel staff, and employees of the mall next door to the hotel. The clerks at the grocery store in the mall are probably the most Czech of the Czechs I have encountered. They have little to no English and can't care that I have no Czech. I admire this.
One habit I have cultivated in my bit of international traveling is that I like to go to grocery stores when I visit other countries. I like to see what everyday people buy and how everyday people procure their comestibles. Also because grocery store clerks are the most representative of the people of the country because they have no enthusiasm for making it easy on tourists. They are just being genuine.
In less than forty-eight hours I have come to appreciate and even feel a deep fondness for the people of Prague. Come with me on this tangent: Over the course of my life I have been fortunate enough to be friends with many Russian people. People from Russia have a very distinct cultural identity. Most Russian people I know can find a way to be unhappy even in the most incredibly happy of times. Not a sadness, but a deep disappointment tinged with world weariness. There is almost an enjoyment in unhappiness.
Obviously, owing to the long history of Czechia (see, I can learn), Russian culture has had a deep impact on the people who live here. I find some of that same slight sadness, irritation and fatigue with life in the people of Prague. At least the people older than say…thirty-five. It's almost kind of endearing.
Here's my best example. I went to the grocery to get some water, some chips and some cookies to stock in my hotel room for snack time. I had just a few items and I approached the register, feeling nervous.
I had learned two days ago that if I want a bag, I have to take one (paper or plastic) from the front of the register, and I have to let the clerk know I am buying the bag, and then I have to bag my own groceries. It's very common in Europe to bag your own groceries. I was proud to have learned the whole bag situation (a nice Czech lady helped me) and was ready to check out. (Czech out? Okay, bad pun.)
My sweet little American self stepped forward when it was my turn, and I held up the bag and pointed and nodded. The clerk sighed and began mumbling in Czech. Then the mumbling took on a ferocity. She riffled through some papers on her table and spoke more loudly, but not to me.
She shouted across the aisle to the clerk at the next checkout station. A conversation ensued. As near as I can decipher, she needed the code for the paper bag I had chosen. The other woman offered a suggestion that didn't work. My checker kept trying until after several attempts, she sorted it out.
She then began to scan the rest of my items, mumbling and gesturing in Czech. Not speaking to me, but clearly unhappy. Occasionally she'd shove at the papers that had let her down.
In my mind, I translated from a language I do not understand, but I think I understood the moment.
"This person wants a paper bag and they tell me I have to charge for it and if I'm supposed to charge you'd think they would at least give me the code on these damn papers," shoves papers, "but no, I have to guess and this goofy looking American is standing here, don't think I don't know you are an American. Just because you haven't said a word doesn't mean I can't smell it on you from a mile away. And of course the American wants a paper bag. Plastic bag, I know the code for that, but no she wants a paper bag and I don't know the code and I don't have the code here," shoves papers, "I have to scan all her stuff and I don't even care, I just am trying to make a living here and I have to charge for paper bags and what is the meaning of life anyway, but to be miserable, forced to charge for a paper bag and never really knowing the correct code."
Or, you know, I could be reading into things…just a teeny bit.
We concluded our transaction and I smiled and said "thank you." She looked at me like I was a developmentally latent child, and I walked away, a few Czech Crowns lighter, a bag of chips water and cookies in hand, and a story that felt like it needed to be told.
Tomorrow brings the most intense day of meetings, the whole reason my employer sent me to Prague. Once that is concluded, I can hardly wait to finally explore more of this beautiful city and learn more about the people and places of Czechia. I can't wait!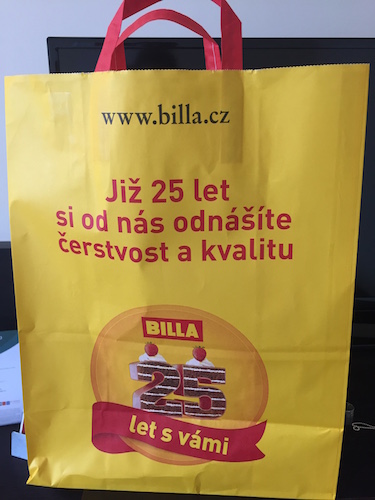 The Google translate app (using the camera, a very cool feature) tells me that this grocery bag says (roughly) "With 25 years, from us you take away freshness and quality." You can see how the last word really could be the word "quality." But beware of thinking you know something now, because you certainly do not. Your Czech is of no kvalitu.

Photo ©2016 Karen Fayeth, taken with an iPhone, the Camera+ app, amusement and jet lag. Subject to the Creative Commons license in the right column of this page.

With Thai Basil Tofu, potstickers and spicy eggplant simmering in my tum, I excitedly reached for my fortune cookie, ready to crack it open and read my fate.
I have a mild obsession with fortune cookies and the wise and occasionally silly words inside. I have several of the small slips of paper tucked into my wallet. A few are taped to my work monitor. Some just drift around in my writing workspace like tumbleweeds of clever words intended to poke and prod at my mind.
So it was on this day, celebrating the birth of the kind and patient woman who gave birth to The Good Man, that I cracked open a fortune cookie and found…
Well, this: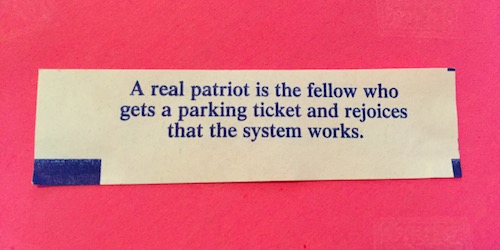 "A real patriot is the fellow who gets a parking ticket and rejoices that the system works."

Okay, okay, now wait just a second here. This is not fortune. This is propaganda.
Believe you me I've never, not once, rejoiced in a parking ticket. And living where I do, parking tickets are something that find their way into my life more often than I appreciate.
One short Google search later I discovered this happens to be a quote attributed to a man named Bill Vaughan.
Fine, okay. Who in the hell is this Bill Vaughan?
According to Wikipedia, he's an American columnist who wrote a syndicated column for the Kansas City Star from 1946 to 1977.
******
We break here for the requisite Roger Miller sing along.
I drive a big old Cadillac with wire wheels, got rhinestones on the spokes
I got credit down at the grocery store
And my barber tells me jokes
I'm the number one attraction every supermarket parkin' lot
I'm the king of Kansas City, no thanks, Omaha, thanks a lot

Kansas City star, that's what I are
Yodel-deedle ay-hee, you oughta see my car

Aaaaand we're back.
******
So I read the rest of the Wikipedia page trying to understand if this Vaughan guy is a communist or what. Because that quote, ooh damn. That runs a bit into a political spectrum that I'm not sure I run toward.
Turns out Mr. Bill Vaughan was sort of a quippy guy. Here's some others attributed to him:

"A citizen of America will cross the ocean to fight for democracy, but won't cross the street to vote in a national election."
"Suburbia is where the developer bulldozes out the trees, then names the streets after them."
"The groundhog is like most prophets; it delivers its prediction then disappears."
"If there is anything the nonconformist hates worse than a conformist, it's another nonconformist who doesn't conform to the prevailing standard of nonconformity."
Ok, I might be warming up to this guy. Still not sure what he's doing in my fortune cookie, though.
Maybe the business of fortune cookies has gone from slight puns and fake Confucius quotes to smart, scholarly, and thoughtful fortunes.
To that I say: Harumph
I may be a bit a traditionalist when it comes to the fortune cookie. I guess I'll just have to keep going to the kind of restaurants where they can be found in order to do additional (delicious) research.
While we're on the topic, here's one of my all time favorite fortune cookies. I got it almost a decade ago but it still rings true:


Birds are entangled by their feet and men by their tongues


Now that one is a thinker! And a little more fortune cookie-eque. With all due respect to Mr. Bill Vaughan.

Both cookie fortune photos ©2016 Karen Fayeth. Taken with an iPhone6, questionable light, questionable photographer and a song in my heart. Subject to the Creative Commons license in the right column of this page.

Recently I've been a little delinquent in spoiling The Good Man. Things have been crazy what with all of the international travel and working long hours and, well, life.
His birthday was last month and although we had a nice quiet celebration, I feel like I failed a bit to make the day something special.
The Good Man is a child of summer and it's easy to understand why his favorite fruit is the peach. Yesterday I found a nice ripe pile of the fuzzy stuff at the grocery store and brought several home.
"Cobbler or pie?" I asked after showing him the peaches. He began muttering the question over and over to himself like a philosopher mulling over the meaning of life.
"Or a crumble?" I followed, then, "Is that too many choices?"
For several hours after he wandered around the house "cobbler or pie…or crumble? Hmm…" This is a very big decision in Good Man Land.
Finally toward the late evening hours, I surveyed the ingredients I had on hand and began consulting cookbooks in preparation for his decision.
It was then I pulled out The Book of Love (dun, dun DUUUUUN!) to begin the search for recipes.
This Very Good Book: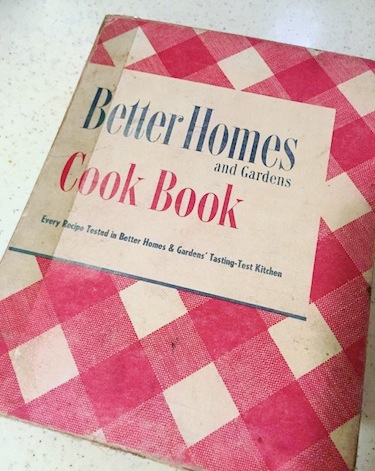 I think every person who likes to cook has a favorite or special cookbook that is the go-to for any circumstance, and this one is mine.

Taking a seat in a nearby chair, I opened the holy tome. I read the inscription inside the front cover. You see, this particular cookbook was a gift from my grandparents to my mother on the occasion of Christmas 1950.
My mom left it behind when she moved out and my grandmother kept updating the recipes inside. The Better Homes & Gardens magazines published recipes that the homemaker could cut out and add to the book, to keep it fresh. I love seeing my grandma's handwriting along with the food spots and spatters in its pages.
Some of the recipes are a little odd or outdated, but I'll tell you this, I've never made a recipe from this book that failed me.
As The Good Man walked by, he said in a voice a little quavery with anticipation, "I love it when you pull out that cookbook."
Oh yeah, he knows. Good things come from that 1950's made with yum cookbook.
Finally, after waiting for his answer and looking at recipes and thinking about my laziness factor, I decided for him. "Good news, you are getting cobbler."
He nodded, relieved the decision had been made and ready for the delivery on my promise.
That happens tonight. Oh yes and oh yum.
Best part about making baked goods for the one I love? I get to have some too!
A couple days ago I mentioned that I had been in Chicago for a writer's conference at the end of March.
I've been to Chicago many times (as in passing through on my way elsewhere) but I've never really been to Chicago. When a couple ladies from my class said they wanted to go into downtown for dinner I was totally on board.
We hopped on the L and headed from Rosemont into downtown and walked around.
The ladies were intent on seeing Cloud Gate, colloquially known as "The Bean" and I was onboard.
It just so happened that the March theme for my photography club was night photography, so I took along a camera just in case I saw something good.
The Bean is like any touristy object, it's been photographed thousands of times. I had no idea what I could do to improve on what's already been done, so I just had fun with this shiny reflective piece of art.
Here's what I got: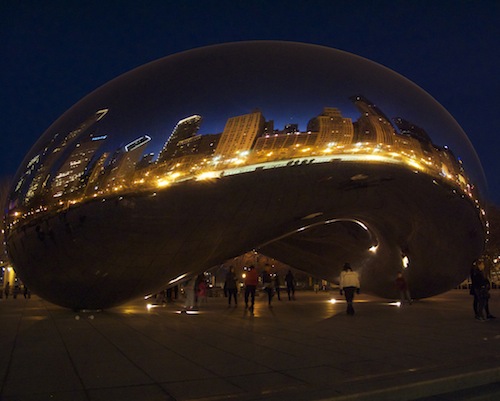 Image Copyright © 2015 Karen Fayeth

I think the Chicago skyline is so beautiful and a bit iconic as well. I love that at certain angles, the polished surface of the Cloud Gate just disappears into the sky like liquid silver. It's really cool!
My favorite part of the whole night was when my fellow travelers and I had found our way to Millennium Park and were a bit lost trying to find The Bean inside the park.
At one point, a bunch of kids came running and flowed around me like a stream while they pointed and shouted "El Frijol! Mira! Mira! El Frijol!" I smiled because I knew I was near. And I laughed because of course it's called El Frijol. My New Mexican pride stool tall as I found that big shiny bean.
I love the shot, but I wasn't sure anyone else would. Turns out this photo took second place in the voting for my photography club's monthly challenge, and that makes me happy (missed first place by one vote!).
After The Bean, we found our way to Giordanos because hello Chicago style pizza! Can you believe I forgot to take a photo of that delicious deep dish? Oh well.
This photo of Cloud Gate brings me good memories of downtown Chicago. I look at this beautiful bean photo and I smile.
Chicago is such a great city. Really top notch. I can't wait to go back.
It's been said before that I'm a little "different" from your average employee. The streetcar of my brain runs a little off the beaten path. I use words and phrases in unusual ways. Occasionally only words in Spanish can convey my sense of the sentiment and my coworkers don't always understand that.
With each job I've had in my life and each place I work, there always seems to be a breaking in period. A timeframe whereby things evolve from "what did she just say?" to "oh, that's just Karen."
I think today was turning point at my current place of employment. I just celebrated two years here and they are finally coming around to my unique way of looking at the world.
This group was a little more resistant than my last few employers, but I finally succeeded in breaking them down.
Here's how I know. Below is a real and genuine account of events that happened just moments ago:
Scene: The office breakroom. Several of my rock star employees and I are gathered around the new vending machine. The selections are different from what the old machine offered and we are discussing the merits of each.
At the moment where we tune into the scene, my employees and I are quite racously discussing the positives and negatives of sour gummy worms. And we are laughing…a lot (we tend to do that on my team).
A one level up management-type person (not my direct boss, but a bossish kind of person) and a rather serious sort walks into the room. My employees all go still and their eyes drop.
She says, "What are you all doing in here?"
Without missing a heartbeat I match her serious tone and reply, "We're negotiating with the vending machine."
She pauses. Says, "Oh." Then she spins around and walks out. I'm pretty sure she had a reason to come into the breakroom but I derailed her mental train. It was awesome.
Oh yeah, I'm going to be running this place soon. That kind of think of your feet, can-do attitude going to take me far.
Also, it's important to know that the sour gummy worms were delicious.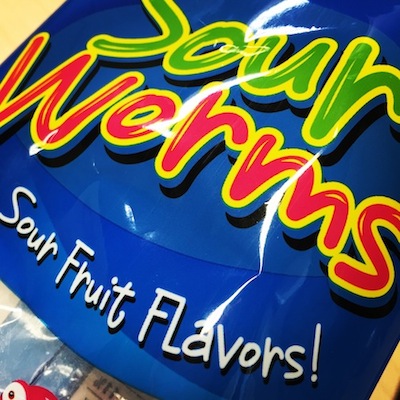 That there is my photo, Copyrighted by me in the year of 2015. © Karen Fayeth. Don't steal, though I don't know why you'd want to rip off a photo of an empty gummy worm bag. If you do want to appropriate my work, do pay attention to the Creative Commons license in the far right corner of this page. Taken with a iPhone6 and the Camera+ app.