This has been a weird year, right? I don't think anyone will disagree. As I came sliding butt first into December, I was already disorganized and suddenly bowled over by work. By all measures, we did triple the volume of work we usually do and it was no small bit of effort to simply make it through December. But make it through we did.
In the smoldering ashes of 2016, I am working hard to get some order back to the chaos of my life. I firmly believe that being a little bit stronger, quite a bit more disciplined (and organized) and filled with more optimism will carry me through the slings and arrows of 2017.
To that end, I have returned to Morning Pages. If you have read The Artist's Way, you are familiar with Morning Pages. The idea, according to Julia Cameron, is to prime the pump. Write three pages of stream of consciousness words every morning to get into the creative flow.
Instead of handwriting pages as suggested by Cameron, I use an online tool called 750words. That tool works a bit differently than the Artist's Way describes, but that is okay too.
So as I sit here now on my fourth day of vacation, hallelujah, I am working on today's words. I have fallen out of my writing discipline and I can tell I am rusty. Lots on my mind. It's good to get back into the habit.
The best part of the 750words is that every once in a while, while priming the pump and working through the silt to get back into the flow, some solid words, some bon mots, some worthy thoughts come through.
Wanted to share these, because they may become my motto for the new year (Warning: there is some salty language, it that offends, look away):

…doubt is a persistent little bitch. Hope slides off like you are made of teflon, but doubt sticks like tar, or used up chewing gum or one of those gluey mocos you can't quite get off your finger no matter how hard you shake. Patience and discipline, that is the kleenex to your glue moco and allows you to fly once more. The sturdy facial tissue that brings back hope.

Yeah, I have no idea what any of that means, but it made me feel good to write it. Like I was really tapping into something, so I decided to share it.
Hope your end of 2016 and planning for 2017 has better metaphors. I'll keep working on mine.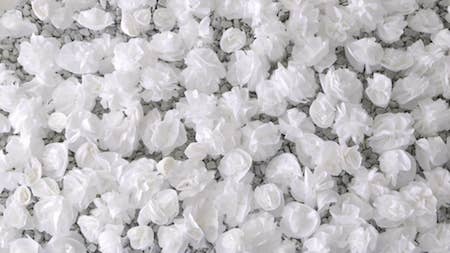 Inspiring flowers made of kleenex. Is that hope I'm feelin'?

Image found here.

…but you can't take the desert out of the girl.
So here's something that is grinding my gears lately.
It is the summertime here in the Bay Area and that is a complicated thing. As many know, the marine layer and I have long had a tempestuous relationship.
July looks like this: overcast morning gives way to a very hot and sunny day which is then doused by fog by the afternoon.
This phenomenon is why you see tourists shivering in their shorts down on Fisherman's Wharf. The Bay Area warms up quickly then is naturally cooled.
However….
Before the fog rolls in, it can get truly hot around here. Hot enough that a little air conditioning would be a nice thing.
Most of the Bay Area doesn't believe in air conditioning. I recall when I first moved here and was shopping apartments. I asked one landlord "where are the air conditioning controls?" and he laughed and said, "No air conditioning."
"Whaaat?!" Was my reply. That was when I lived in the South Bay and temps could climb into the high 90's during the day.
"Just open the windows. We get a cross breeze," he said.
I scoffed. And harrumphed. And muttered something like "I'll give you a cross breeze you rattin' smattin' rootin' tootin' son of your mother…."
As it turns out, very few homes in the Bay Area have air conditioning. No place I have lived since I've been here has had the sweet miracle that is air conditioning. Only some windows and a hope for a cross breeze.
Compare that to New Mexico where every home has some form of AC. It's only right. Just. Moral. Upstanding.
I've survived many a Bay Area summer season by working a few longer hours at work, sucking down their gentle corporate paid cool air, or riding in my car with the AC on max to cool off.
But what's grinding my gears lately is all of the retail stores that either don't have or don't use air conditioning.
Look, I learned as a young child about moving quickly from the freon cooled car into the refrigerated air cooled grocery store that was so frosty it would raise goose flesh on arms and my legs clad only in shorts. Malls and clothing stores and other retail shops are a respite from the heat.
Not here. Stores have no windows and no AC and no moving air at all and they become this stale pit of muggy heat. Bleah! I saunter around the store wiping sweat off my fevered brow.
My desert hewn body was made to be a wonder of convection cooling. I sweat, breeze passes over it, water evaporates and I'm cooled.
This is how nature made me!
But deep inside a Walgreens or a Safeway there ain't no breeze and only the sweat remains. Gross.
So then I take up residence somewhere near the freezer section where I crack open a door and it takes me a reeeeaaaalllly loooooong time to select which brand of frozen orange juice I would like.
It just ain't right.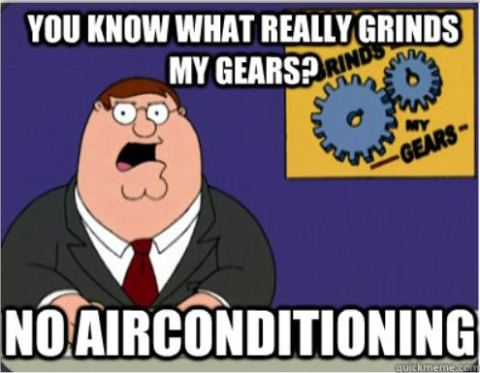 Image created by quickmeme.

Most everyone has heard tell of this fruit they have in Southeast Asia that is really stinky. Most people will give you some sort of description of what they think it smells like including rotting flesh, pee and other unpleasant adjectives.
And of course all of these people who think they know a little something, when pressed, will admit they haven't ever actually tried the thing.
So on a sultry Tuesday night in Singapore while drinking too much in a brew pub in the Boat Quay district, I was chatting with a coworker and native Singaporean.
He was asking me what were the things I wanted to see and try while I was in town.
I ran down a short list. Then he said to me, "so…do you like fruit?"
I grinned. "Yeah…are you talking about….?"
And he nodded.
Plans were made to get this American girl a taste of the stinky one, the King of Fruits, the Durian.
Thursday was the scheduled rendezvous and a group of us loaded up and headed for the Geylang District of Singapore, also sometimes called the Red Light District.
Despite being heavy on the laws and penalties, Singapore does actually allow prostitution. It's just one of the many dichotomies of that fabulous city that intrigue me.
But I digress.
After a real hard work week, some coworkers and The Good Man and I found ourselves wandering what I could only describe as the old town of Singapore. The ungentrified part of a very gentrified city. I said to The Good Man "I've been looking for the soul of Singapore and I think I just found it."
For among the clean streets and new glass and metal high rise buildings and a western sensibility in an Asian community, the Geylang showed me something different. A little more dirty. A little more dangerous. A lot more fascinating.
Dinner was an outside affair in a honest to goodness alleyway. The waitress told the ladies to watch their purses and anticipation for the meal ran high.
In addition to Durian, my Singaporean friend wanted me to try bullfrog porridge. I said ok.
We started with some Carlsberg beer to up the courage and soon the plates began flowing out of the open air kitchen.
We started with an oyster omelette (which The Good Man pointed out was like a Hangtown Fry without the bacon) and some beautiful sliced venison cooked in soy sauce and green onions.
I had to take a photo just so I could remember


While the chopsticks got to working and we discussed just where in the densely populated Singapore would actual wild deer be found, the main event landed on our table.
In two pots, one containing rice congee and the other chopped up chunks of bullfrog. I took some of the spicy variety and dug in.
Very tasty. Tender and quite mild like a very fresh scallop. No, it didn't taste like chicken and by the way this is not the first time I've eaten frog. The congee gave a nice backer to the spicy frog meat.
As we ate, even more food came out including grilled calamari, stingray (the second time I had this), prawns and a heaping plate of clams.
It was a feast and the company was great, the surroundings gritty (but good) and the weather was about as steamy as you can imagine.
In short, one of the most perfect meals ever in my little life and a memory that will linger with me for years.
After we stuffed ourselves silly then cleaned up with the aid of several tissue packs, it was time to take a walk.
Dessert lay ahead and we were ready.
Across a very busy road and in an open air stand backed only with hanging tarps, we found our destination.
The prickly Durian fruit, piled high, odor filling the air.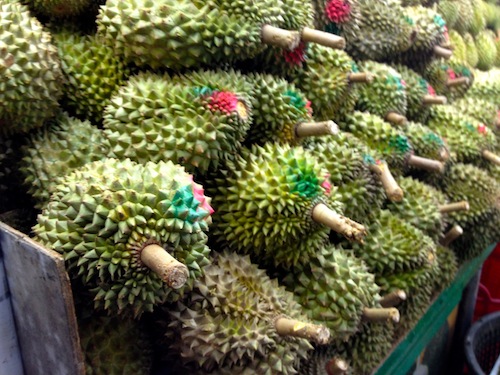 I don't know what the spray painted colors mean


My Singaporean friend went over to the vendor, a guy with a short, sturdy knife in hand, and began speaking in local dialect. He told us later he assured the guy that he wouldn't pay for the fruit if it was bad, he needed to see inside, they haggled over price, and so on.
A fruit was chosen, the guy hacked it with precision and it was presented to the rest of us who were seated at another plastic table in a Geylang alleyway.
Each of those long strips has three sections to it


First impressions: It doesn't smell that bad. It probably helped that we were outside and I understand some varieties of Durian smell more than others.
For me, it wasn't the smell I struggled with, it was the texture. The fruit itself is like a custard inside a thin skin. You grab a section of the fruit (it pulls apart easily as there is a large pit inside each section) and just bite in. First bite my mouth registered "this is not a fruit" because it tasted kind of, well, savory.
But as I chewed and swallowed, on the back of my tongue, I tasted sweetness. The second bite I tried tasted sweet. Not big time sweet, just a nice mellow custardy sweet.
The more I ate, the more I liked it. I found after two sections, I was done. It was strangely satisfying and quite good.
Someone at our table popped up and went over to the vendors and negotiated for a plastic bag full of another fruit, this time the Queen of Fruits, Mangosteen. Less stinky and easier to open, the fruit inside looked like garlic cloves but tasted tangy and sweet. It was an interesting counter balance to the Durian. I understand they are often served together.
After a few sections of Mangosteen and another bit of Durian I was done. Topped up. Full to the gills and supremely satisfied.
What an amazing meal. What an amazing night.
By experiencing truly local food with the guidance of a resident "fixer", I found the soul of Singapore.
It sang to the soul of me.
We are forever friends.
All photos Copyright 2012, Karen Fayeth, and subject to the Creative Commons license in the right hand column of this page. Taken with an iPhone4s and the Camera+ app.


According to the Hitchhiker's Guide to the Galaxy, a towel is the most "massively useful" thing you can bring along when you are traveling.
I suppose that covers all of the galaxy except that unique corner of the universe known as Singapore.
In Singapore, the tissue pack is king.
You see, the restaurants in Singapore don't provide napkins and the bathrooms don't have paper towels.
So every true Singaporean keeps a small pack of tissue handy in pocket or purse because some of the best food available involves getting your hands pretty dirty.
But the humble tissue pack is more than just a clean up device. It's a calling card, perhaps better described as a place holder.
In the many Hawker Centers in Singapore serving up fabulous street food, things can get pretty busy, especially at lunchtime. There are usually a lot of tables, but they fill up quickly.
The best way to hold an open table while you order up your food is to lay a tissue pack on the table or seat.
I'm totally serious.
There is a social contract amongst the people of Singapore that says if a table has a tissue pack laying on it, that table is reserved. And everyone honors this.
No one simply pushes the tissue pack away and sits down. The tissue pack carries clout.
I was told that the tissue pack hold can last for at least a half hour or possibly longer.
And then once you get your heaping plate of chilli crab you settle into your saved seat and dig in to crack claws and legs and extract every savory morsel. The tissues are there to help you clean up.
Tissue packs are relatively cheap if you buy them in a drug store, like five cents a pack, but so valuable that it'll run you up to a Sing Dollar (about .80 US) if you forgot your pack and have to buy one there at the Hawker Center.
It's best not to show up unprepared.
Oh yes, in Singapore the most massively useful thing is a good clean supply of tissue packs.
Image from the Musings on Communication blog.