December 24, 2014 by
Karen Fayeth
·
Comments Off

on I'll Be Homesick For Christmas
Filed under:
Albuquerque
,
amazing
,
anniversary
,
awesome!
,
backyard
,
Bay Area
,
blogging
,
Celebration
,
cha-cha-changes
,
cookies
,
egg nog
,
electricity
,
family
,
first world problems
,
gratitude
,
green chile
,
growing up
,
hellidays
,
home
,
homesick
,
latent childhood
,
life
,
Love
,
make it work
,
melancholy
,
mi corazon
,
New Mexico
,
nostalgia
,
Opinions
,
our happy home
,
play through
,
pondering
,
presents
,
sangre de karen
,
where I come from
,
winter
,
woo hoo!
,
zia
I'm a little late in getting this posted, but the sentiment is all the same. This list is an annual tradition here at Oh Fair New Mexico.
As I post this, I'm thinking about making a batch of biscochitos. Only, I couldn't find lard at the grocery yesterday. What the hell kind of place do I live that doesn't sell lard? Just gotta shake my head.
Anyhow, biscochitos or not, I wish happy holidays to you and yours.
Without further ado:

Top ten things I miss about Christmas in New Mexico (in no particular order):

Originally published December 11, 2007

1) An annual shopping trip to Old Town in Albuquerque. This was a longtime mom and me tradition. Every year I'd get to pick out my own ornament that would eventually be mine when I became an adult. I have every one of those ornaments stored in a Thom McAnn shoebox and they go on my tree every year. They are a glitter and glass history of my life. I remember buying each of them and it gives me a beautiful sense of continuity to have them on my tree.


2) Luminarias. I always was the one to make them for the family. Someone would drive me to an empty lot and I'd dig out two buckets worth of good New Mexico dirt, then I'd go home and fold down the tops on brown lunch bags. Each would get a candle inside and then at night I'd light them. It was my holiday job and I loved every folded bag and every bulk buy candle (and every small emergency when a bag caught on fire in the wind). I miss real luminarias.


3) The Bugg House, which, sadly, is no more. My sister lived over on Prospect and we'd go for a walk in the dark on Christmas Eve to take a look at the outstanding display of holiday spirit. On the way to Christmas shop at Winrock Mall, I'd take a detour to the Bugg house to take a look. No one does lights like the Buggs did.


4) Neighbors bringing over a plate of freshly made tamales as a Christmas gift. When there are three generations of Hispanic women in a kitchen with some masa and shredded pork, magic happens. Yum! I also miss that people would bring tamales to work in a battered Igloo cooler and sell them to coworkers. I was always good for a dozen or more.


5) A ristra makes a good Christmas gift. I've given. I've received. I love 'em. They'd become a moldy mess here, and that makes me sad, cuz I'd love to have one.


6) Biscochitos. My love for these is well documented.


7) Sixty-five degrees and warm on Christmas Day. Growin' up, I think one year there was actually snow on the ground for the 25th, but it was melted by the end of the day. Oh Fair New Mexico, how I love your weather.


8) Christmas Eve midnight Mass in Spanish with the overpowering scent of frankincense filling up the overly warm church. Pure torture for a small child, but oh how I'd belt out the carols. And when we came home after, we could pick one present and open it. Gah! The torture of choosing just one!


9) A New Mexico piñon, gappy, scrawny Christmas tree that cost $15 at the Flea Market and was cut from the top of a larger tree just that morning. Look, to my mind, it ain't a tree unless you are using a few low hanging ornaments to fill the obvious empty spots. These overly fluffy trees just ain't my bag. If you aren't turning the bad spot toward the wall, you paid too much for your tree.


10) Green chile stew for Christmas Eve dinner and posole for New Year's, both served with homemade tortillas. My mouth waters. It's weep worthy. I can taste the nice soft potatoes in the stew, the broth flavored just right. And posole to bring you luck with red chile flakes and soft hunks of pork. Yeah……


*sigh* Now I'm homesick.
Which is not to say I don't have happy holidays where I live now…but sometimes I feel melancholy. In a way, that's what the holidays are for, right? To remember.


Finally, in order to just really drive a homesick knife into my heart, I give you this, the beauty of Old Town Albuquerque: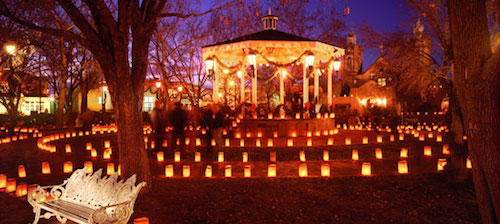 Image via Delta Skymag

April 15, 2013 by
Karen Fayeth
·
1 Comment
Filed under:
amazing
,
art
,
artist
,
awesome!
,
Bay Area
,
Bay Bridge
,
beautiful
,
bridges
,
California
,
electricity
,
Friday
,
gratitude
,
homesick
,
life
,
light
,
Love
,
make it work
,
New Mexico
,
Opinions
,
photography
,
photowalk
,
play through
,
San Francisco
,
show and tell
,
water
,
woo hoo!
,
zen
Kinda hard to be a resident of the San Francisco Bay Area and not sing Journey's little ditty a few thousand times.
This weekend my best friend in the whole wide world came to visit. On Thursday morning I felt lost, but by Thursday afternoon when her plane landed I was starting to find my center once more.
One of the things we did this weekend was have a knockout dinner Friday night at San Francisco's venerable Tadich Grill.
Then we wandered down to the Embarcadero to check out the new art display taking place nightly on the Bay Bridge.
It looked a little bit (exactly) like this: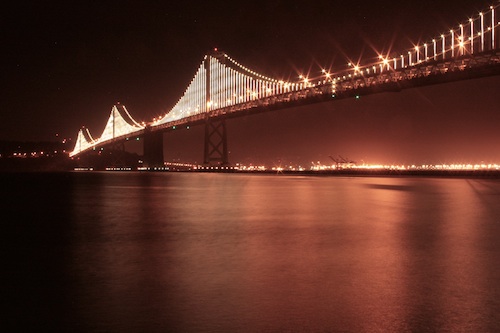 The Golden Gate Bridge usually gets all the love, with poetic odes to shimmering orange paint where the bay meets the sea, but the Bay Bridge is the real jewel of the Bay Area in my opinion. It is the hardest working bridge and still manages to be a knockout. Pretty, functional and smart. That's my girl.
This new light show by artist Leo Villareal is simply adding sparkle to an already gorgeous masterpiece.
It was a beautiful warm spring night in my City by the Bay. It's days like that where my New Mexico heart is filled with San Francisco joy, and every little thing seems just right with the world.

Photo Copyright 2013, Karen Fayeth, and subject to the Creative Commons license in the right column of this page. Taken with a Canon Rebel and a thirty second exposure. Touched up a little in Photoshop Elements.

June 10, 2011 by
Karen Fayeth
·
6 Comments
Filed under:
air
,
anxiety
,
awkward
,
Bay Area
,
big weather
,
California
,
crazy
,
creepy
,
drama
,
electricity
,
fire
,
gratitude
,
growing up
,
humility
,
learning
,
life
,
Love
,
love and marriage
,
luck
,
memories
,
Mom
,
New Mexico
,
Opinions
,
our happy home
,
overwhelmed
,
parenting
,
rain
,
safety
,
stories
,
stress
,
summer
,
sunshine
,
the feline
,
The Good Man
,
truth is stranger than...
,
walking
,
water
,
wayback machine
,
weirdity
,
where I come from
,
windy
Last evening, I sat curled up in the corner of my comfy couch, sleeping feline nearby, laptop lid up, idly surfing about, catching up on the news of the day. The Good Man did something similar in the next room. Giants baseball on the radio, the sounds of Duane Kuiper calling the game.
From out of nowhere, the lights flickered, and then went out. The instant it went dark, a loud whining sound could be heard outside. The unmistakable sound of a power transformer under extreme strain. It went on for a long time. Stopped, then started again.
And I slipped back into memory. It was the early 1990's. My folks were living in Carlsbad and I was home for a few weeks between summer school and the start of the regular school year at NMSU.
It was a beautiful, clear summer day. I decided to take a long walk and get some exercise in before my folks came home from work. I left the house about 3:30 in the afternoon and walked down long country roads. My folks were living on the outskirts of Carlsbad at that time (if you're from there, it was out on Cherry Lane near the CARC farm).
The first half of the walk was great. It was a gorgeous New Mexico day. On my return trip, things started to get ominous. In August in the southeastern part of the state, storms come in fast and furious. Emphasis on furious. Carlsbad is at the tail end of tornado alley, but being at the tail end doesn't mean the tornados are any less frequent.
As I walked a little faster, the sky turned deep black, and then green. The clouds started to boil. This was bad. Very, very bad.
The rain came quickly and the temperature dropped twenty degrees. The powerful winds whipped raindrops into my bare legs and arms. Then the hail started. Small icy bits at first, then growing larger.
My whole body shuddered when I heard the sirens I'd come to both fear and hate. Tornado sirens. That meant a tornado had been spotted and all we could do was wait.
I was still about a mile from home, on foot, and in the center of the storm.
I picked up the pace a lot more. I ran off and on, but as I'm not a runner, I had to slow down so I could catch my breath.
Already drenched, I groaned when the rain picked up intensity. Thunder shook the ground, the trees, the terrified girl by the side of the road.
Lightning cracked out of the sky and hit a power pole across the street and ahead a bit.
That's when I heard that sound. A power transformer under strain.
The power transformer exploded, sending flames and sparks into the sky.
I dove headfirst into a now very soaked alfalfa field, remembering my early training on "get low when lightning is around," and lay as flat as possible, hugging mother earth while lightning struck all around.
Soon the heart of the storm moved on and I could hear the thunder a couple miles away, counting "one Mississippi, two Mississippi" between lightning strikes and thunderclaps.
When it seemed I was safe, I leapt up and ran for my folk's home as fast as I could. I got home safely. I called my mom (a no-no in the storm, but I needed my mommy!) and since we had no tornado shelter, she recommended that I stay to the center of the house and if a tornado was coming to get into the bathtub and hunker down.
"Get ready to leave the house!" The Good Man commanded sharply, snapping me from my reverie. I was back in Northern California and that transformer sound had stopped.
I jumped to action, running to get the cat carrier out of the closet and once The Feline was secure (she loves the cat carrier and walks right in with no complaint) I ran room to room and unplugged every device that was attached to a socket. The Good Man was on the phone with PG&E advising them of the situation.
We dashed outside to see what was going on and the neighbors were all outside too, talking over what they saw and heard. Soon the sirens of a fire engine came racing toward us and the firemen let us know a powerline was down two streets over but no explanation as to why the powerline came down on a quiet evening. PG&E were on their way and we should go back inside.
We lit candles and got out flashlights and settled back into the couch. Safe. On that summer day back when in Carlsbad, I was also safe. Tornados did touch down, but several miles away.
This past April when an earthquake came along and the house and ground shook, The Good Man, a longtime veteran of the Bay Area, commanded "Get in a doorway!" and I did.
I'm grateful to have a partner who is the epitome of grace under fire, and I'm grateful for my Mom's wise support from two decades ago, too. Mostly, I'm just grateful when there is someone strong and wise to guide me through a crisis.
That makes me feel safe.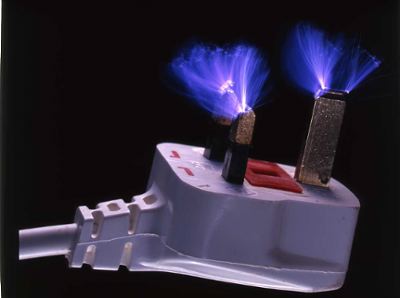 Image from Ring Electric's blog.