It was just a week ago yesterday that I found myself in the world class city of Prague with a personal day on my hands.
The work part of the trip had been both busy and exhausting. My coworkers all left for home that morning but I had a tourist Friday ahead of me. The challenge: To see as many of the must-see Prague sights as possible in one day.
Now just eight days later, it seems almost like a dream.
A week ago it was very real. So real I had a fair bit of anxiety and no idea what lay ahead. The Good Man managed to talk me down from nine timezones away and with a deep breath, I screwed up my courage and headed out of the hotel room.
As luck would have it, there happened to be a Metro station right under the hotel.
So this is where my journey began: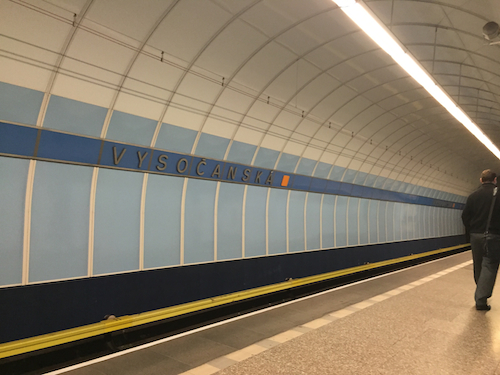 A simple suburban Metro station that would take me *everywhere*

The hotel where I stayed is in the suburbs of Prague, but the Metro is so damn good it was a less than fifteen minute ride and I emerged at the bottom of Wenceslaus Square.
I had done some reading before arriving in Prague and I knew a bit about Wenceslaus Square.
Well, I knew three things:
Thing 1) The square is dominated by a statue of King Wenceslaus. As in "Good King Weceslaus blah blah, on the feast Stephen, nuh nuh nuh nuh nuh nuh nuh, deep and crisp and even…"
What the hell is that song even about, anyway? Wait, let's hold that question for another time.
On that day, I knew that Saint Wenceslaus is considered the patron saint of the Czech Republic.
So I walked uphill and gawked at the shops and restaurants and soon found myself in the shadow of the Good King and his steed.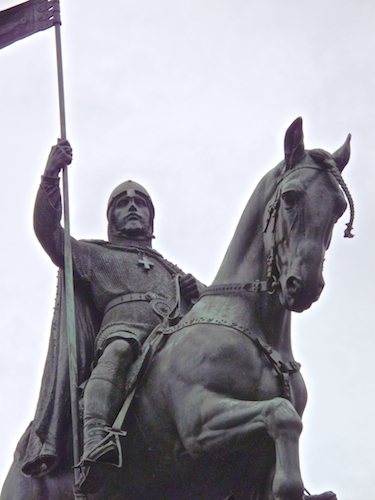 That there is a gooood king

Thing 2) Wenceslaus Square is incredibly historic, considered the very heart of the city of Prague, and it is a World Heritage Site because it was on that very square in 1989 that the Velvet Revolution happened.
What is the Velvet Revolution, you say? I'm so glad you asked.
The Velvet Revolution is when the then Czechoslovakia decided it had had just about enough (MORE than enough) and threw off Communist rule. They then became their own self-managed country with a parliament.
This is a very, very big deal. It utterly changed the course of the Czech people. For the better.
I have a coworker who grew up in Prague. She left as a teenager in 1984. She said, "We had to leave. We had so much despair. We believed it would never change."
It would eventually change, but it would take a few more years.
So I stood on this square, a lost little girl from New Mexico, and thought about how much happened right where my feet stood. How these people took back their own destiny.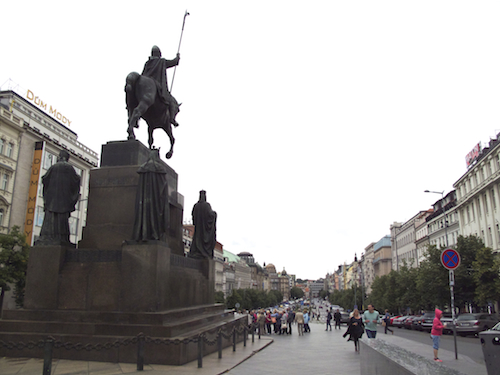 See where all those tourists are? History happened there.

Thing 3) At the top of Wenceslaus Square, behind the statue and in front of the museum something particularly sad and historic happened.
In 1968, a student named Jan Palach protested the invasion and eventual fall of Czechoslovakia by the Soviet Union during what was called the Prague Spring. He did so by committing suicide by self-immolation.
"…Palach did not set himself on fire to protest against the Soviet occupation, but did so to protest against the 'demoralization' of Czechoslovak citizens caused by the occupation." – from a doctor who treated Palach (wiki)
I think that sense of demoralization and despair runs strong through the history of the Czech people. In my experience, they are a very laid back and easy going people, but there is that sadness underneath. Well, maybe not sadness, just…world weary.
I wanted to find the small marker of Palach's history that is embedded in the brickwork in front of the museum. I have to say I was greatly moved. There were flowers at the site, meaning people still remember and still care about what he did.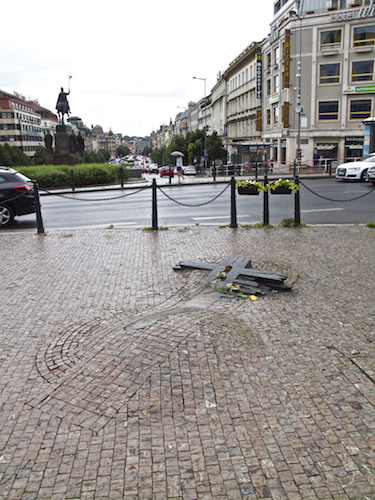 This is a simple but powerful marker

Well, that was a bit of a dark start to my day of exploration, but it also really touched me.
From there, I hopped back on the Metro and made my way to Old Town Square. The mood and attitude in the Old Town area could not have been more different.
The Old Town Square is beautiful, but incredibly overrun by tourists. Okay, sure, I was also a tourist, but you get what I mean.
Along with tourists there were an awful lot of flim-flam men (and women), grifters and pickpockets. At one point I stopped to look at maps on my phone to see if I was heading the right direction, and saw no less than three people make a move toward me.
San Francisco is a tourist town and I'm fairly used to this sort of untoward behavior, so each person got my patented City Stink Eye. The one that lets people know I am not to be trifled with.
They soon backed up, but that kind of predatory behavior was pretty rampant in the Old Town area. I was waving off sellers, beggars and all around questionable sorts left and right. I also kept a firm grip on my bag as I heard from several places that the pickpocketing is quite bad.
The main reason to be in Old Town, apart from admiring the amazing architecture, was to see the Astronomical Clock located at the Old Town Hall building.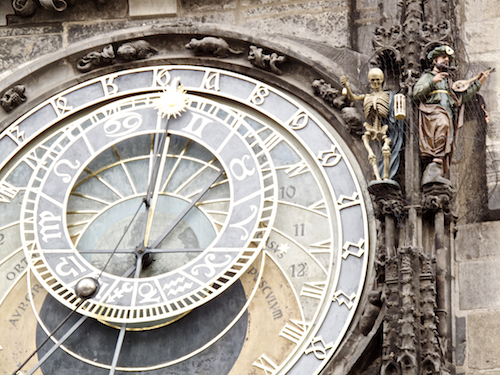 Of course my favorite part was the skeleton

This clock was installed in 1410. Um, what? 14 freaking 10? Wow.
As luck would have it, I was there at about twenty minutes to the top of the hour, so I waited with all of the many tourists, in the rain I might add, to watch the clock's mechanics at the top of the hour. A skeleton rings a bell, the animated figures come to life, and above the clock statues of the twelve apostles zip by and look out the windows.
It was very quaint and lovely, and I'm glad I saw it. Not much more to say than that. More than a Clark Griswald shrug, less than rapturous delight.
After taking some photos of the beautiful buildings on the square, I then made my way onward to the Charles Bridge.
The most famous of the bridges across the Vltava River, the Charles Bridge began construction in 1357.
You know how sometimes Europeans give Americans a wry smile when we talk about our deep history? Yeah, this is why. In 1357 they were building bridges that would safely transport my tired little toes across the same river some 659 years later. America wasn't even a twinkle in the eye of Columbus in 1357.
The stroll across the bridge was certainly lively. Lots of people, lots of selfie sticks (ugh), quite a few pickpockets and an awful lot of Catholic statues. Like, a LOT of Catholic statues.
Felt like I needed to go to confession when I got to the other side, ba-dum, tish!
It was hard to pick just one photo from my walk across the river, but let's go with this one: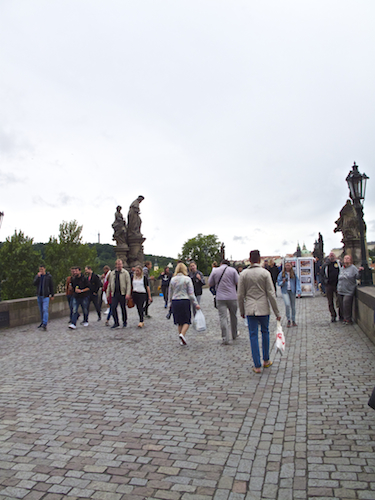 The walk across the bridge was quite pleasing especially since the rain had moved on and a bright blue Czech sky emerged. Quite lovely.
The part of Prague on the other side of the bridge is known as Lesser Quarter, which I find quite a rude name. There was nothing lesser about this side of the bridge in my opinion. It is much quieter, calmer and less busy. It suited me just fine.
At this point, my legs, feet and bladder asked nicely if we could stop, so I landed at a coffee shop.
Over a lovely icy coffee, I tweeted exactly how I felt in that moment on that day.

As my legs relaxed, I listened to a group of four Czech students argue and debate and I watched life happen outside the glass door. I felt enormously contented. It's those moments I will remember long after I've come back to my regular life. It's those moments I wait for on each international trip I take. It's what makes all of those long and ugly plane miles worth it.
Yeah. Seriously, may I never forget how good I felt in that moment.
Now fortified, I moved on to my last stop of the day, St Nicholas Church.
The guidebook I pondered over coffee told me that it was a beautiful example of a baroque church. I do like to see some of the old and over the top churches in Europe, so I was game.
The guidebook also mentioned the bell tower at the church. How it had been used by the communists to keep an eye on the American Embassy nearby, and that it offered some of the best views in all of Prague.
Impulse overtook me and I smacked down 90 koruna for a ticket and began climbing the stairs.
What in the utter hell was I thinking? One, my legs were already tired, two I'm in okay shape but stair climbing is tough, and three my asthma was like "hey, what's up?"
But I kept climbing the spiral stairs and narrow ladders until it got more and more exhausting and claustrophobia inducing (and I don't often struggle with claustrophobia).
At more than one point I had to remind myself that I managed to get myself into this situation and had to figure out how to get myself out.
My bullish determination kicked in and I made a promise I would make it all the way to the top.
Along the way I found the watchmen's quarters, a sparse room with a small bed, rough wood table and open brickwork fireplace.
When there were windows, I looked out then kept climbing. Finally, I could smell the fresh air of outside and found myself at a narrow deck that encircled the tower. There was a guide there and she told me to go outside (I didn't understand what the signs meant and had hesitated).
Wow. Truly. Wow. I was stunned at seeing all of Prague laid out before me.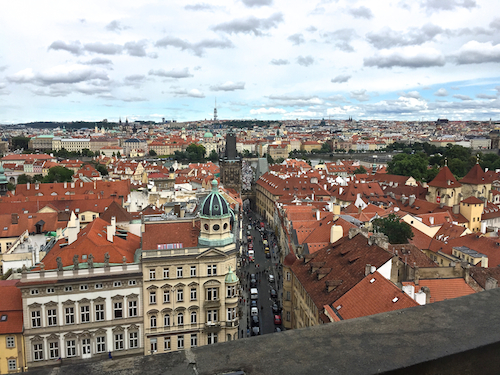 The sky stippled with clouds and the sun began its slow descent toward the end of the day and there I stood taking it all in.
And hey, I wasn't even at the top of the tower yet. After taking quite a few photos with both of my cameras, I kept climbing. The very, very top of the tower, at the end of 215 steps, was less interesting. It was low ceilinged, cramped, stuffy and the windows were small.
So I went back down to the narrow deck and took another spin.
With that, I declared myself done for the day. Ready to head back to the hotel.
I came down all 215 steps a lot faster than I went up and made myself dizzy. Wobbly on my pins, I chose instead to stop for some dinner and I'm glad I did. I found a funny little restaurant where they treated me nice and I ate something they called Slovak gnocchi, which a short Google search later assured me is actually a thing.
A very delicious thing.
I wanted to have a nice Czech beer alongside, but worried a beer would drop me right to the ground so I opted for something milder.
After eating my fill, I set out back across the Charles Bridge. The mood on the bridge had changed. I crossed east to west at about 2:45pm and came back west to east at close to 6:00pm. There were more people out and the Friday revelry had begun. It was funny how quickly the mood had shifted.
On the way back, I made sure I touched the two lucky spots on the bridge, once with my left hand for my husband, the southpaw, once with my right hand for me.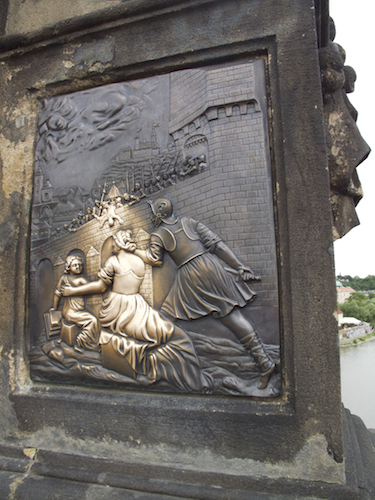 One of the two lucky spots, though a bit grim. So this priest was thrown in the water…

A nice twilight stroll and I soon found myself back at a Metro station waiting to head back to the hotel and the end of my stay in Prague.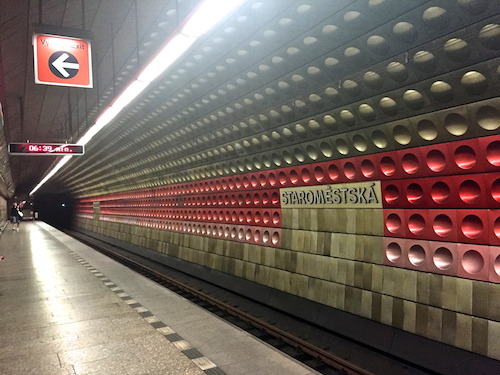 There are quite a few more things I wish I could have found time to see while in Prague. The Apple Museum, the castle, and the art gallery, to name but a few, but I was grateful to have one full free day to see the best of what Prague had to offer.
Prague is a gorgeous, easy and fun city. I loved every minute of my time there and wonder if someday I will ever find my way back.
I suppose I can dream.
Meanwhile, at a week later I think my legs have finally recovered. Seriously, 215 stairs? C'mon!
And to the good people of Prague, I say děkuji for treating me so very well.

All photos ©Copyright 2016, Karen Fayeth, and subject to the Creative Commons license in the right column of this page. Taken with either a Canon G10 or an iPhone6.

When I have had a big event, a big adventure or just something interesting happen in my life, I almost always have to spend a little time processing it, usually out loud and on these pages.
Having just returned from a weeklong trip to Ireland, I'm pretty sure that readers here will be treated to (tormented by?) several posts about my days in Dublin. I had such a wonderful time and I want to get all the stories out and onto the page.
The question is, where to begin? Some would say start at the beginning. Some would say start somewhere in the middle when things begin to get good. Others still say to start wherever you want.
The thing is, I usually don't get a say in where to begin telling a story. The Muse has a mind of her own and she tends to open one sliding door in my mind to show me what she's interested in, while keeping the other doors firmly closed until she's good and ready.
What I mean today is that there is one story, one experience, that keeps replaying in my mind. It is the sum of my entire view of Ireland and probably belongs at the end of the entire tale.
But why cave to the convention of putting the end of the story at the end? This is what I want to write, so this is what will be written. For today, at least.
Here we go…
The hotel where I stayed was in a rather upscale suburb of Dublin named Donnybrook. Back in the day, Donnybrook used to be the scene of an event called the Donnybrook Fair. And by "back in the day", I mean like the 1200's through the 1800s.
Evidently that event turned from a nice twelve-day fair, fun for the whole family, to a drunken brawling event. In fact the very word donnybrook has come to mean a brawl or fracas.
The Catholic Church took a dim view of this debauchery (as they are wont to do) and ultimately lobbied for the fair to shut down, mainly by building a church right at the event site.
This is a great story, I love it, but it's kind of tangential. Let me get back on track. In this wonderful Donnybrook neighborhood, there are quite a few shops, restaurants and a couple pubs.
One of the pubs, named McCloskey's, was about a half a block away from where I was staying. I could see it from the window in my hotel room.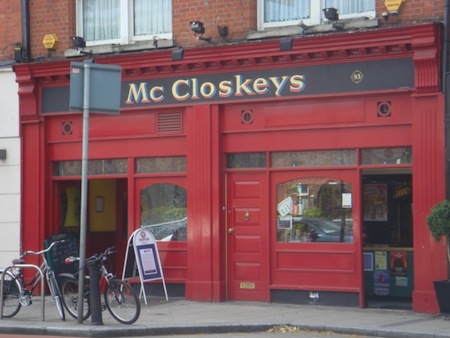 Image found here.


I had walked past the place quite a few times but was never brave enough to go in. Something about genuine pubs kind of intimidates me. It's a mix of the expected amount of hesitation being a woman going into a bar alone, and my propensity to overworry that I'll somehow say or do something that breaks the unwritten protocol of the pub.
I also never am sure how Americans are perceived so it's always a little tentative for me. Which is silly because of the pubs I've encountered in the UK and now Ireland, it's always been a lovely experience.
On Thursday after what had been a busy and intense workweek, I decided to go inside McCloskey's. I was hungry, I love pub food, and I was in desperate need of a pint.
With a deep breath, I opened the door and went in. I walked the length of the place to give it a look-see and decided to stay, taking up a corner seat at the bar.
The bartender was a fireplug of a man, in his early fifties, with a pugilistic look about him and a vibe that was clear he knew how to run a pub. He could and would toss your ass out without hesitation and with force.
He came over and slid a napkin on the bar like skipping a rock and asked, "What'll you have?"
"A pint of Guinness," I replied with confidence. He nodded with a grunt and poured the beer. In hindsight, I should have just said "A Guinness," the pint is understood.
What a lovely pint it was. A perfect pour, the perfect temperature, perfect creamy foam on top. Oh yes. I wanted to take a picture of it so I could always remember that beautiful moment, but thought better of it. It felt like the bartender may take a dim view of selfies and Instagram in his pub.
As he set the pint down I asked, "Can I order some food?"
"Er, yeah, we have a stew, the fish and something else I can't remember" he said.
"I'll have the fish," I said.
"Fish and chips, you know?"
"Yep!"
He grunted again and went off to the kitchen to place the order. I sat there feeling tense and sipping my beer. There were really only about four people in the pub, all quietly drinking and keeping to themselves. 1970's disco played from a small boom box to fill the atmosphere.
Next to me was a stack of local newspapers so I picked one up and read it, giving me something to do as I sat alone and tried to act normal.
After a bit my food came and it was so delicious. Light and crispy cod, perfect chips and slices of tomato. I ate it joyfully and drank my Guinness and suddenly everything was really right with the world.
During this time, the bartender mostly ignored me. He was friendly but distant. Gruff but fair, I suppose, and that was fine.
While I ate, a group of people came in. They were obviously all family, and they took up chairs and seats around several tables. Then more and more kept arriving. There were probably twenty or more people and one older gentleman with graying hair was buying all the drinks.
These folks were all in a good mood and talking excitedly. At one point someone teased the older man about "never being around" and he tipped his pint glass to them and said, "now that's one thing you can never say about my term! My opponent can't say the same."
It was then I sussed out that this might be a local politician. I heard someone call him by his first name and as I was texting the play by play to The Good Man, he did a quick Google search and we discovered I was in the pub with the local councilman. Elections were due to be held the next day. My guess is he was out celebrating the end of his campaign run with friends and family.
As the crowd grew, it became such a convivial atmosphere. I sat next to one of his daughters and we chatted and laughed. Her son, who looked to be about five, ordered a cranberry juice and wanted it served in a Guinness pint glass. Everyone bought and ate small cans of Pringles.
As ever more people kept piling in, I kind of felt like I needed to get out of there. I'm sure I could have stayed and been fine, but I started to feel like an outsider.
So I hopped up from my barstool and went over the cash register where the bartender stood. He turned to me and I said, "I'd like to tab out, please."
"Oh sure," he replied and began ringing me up.
"That will be twelve euros fifty," he said. I handed him a twenty euro bill.
He took it and looked me, touched my hand and said, "You doing okay, darlin'? Was everything all right?" with genuine concern in his eyes.
I replied, "Yes, it was great. I'm…I'm just a little jet lagged and very low energy."
He had a sparkle in his eye when he smiled, then tapped my hand again and said, "That's okay, darlin', you still look gorgeous!" He laughed like a schoolboy while he got my change.
He put the bills and coins in my palm and said, "now you have a good night, eh?"
I left the pub with a smile on my face. Now that, the whole story and everything in it, that's Ireland to me.
It is a wonderful, charming and friendly place. I loved every minute of the time I spent in the city of Dublin and the district of Donnybrook.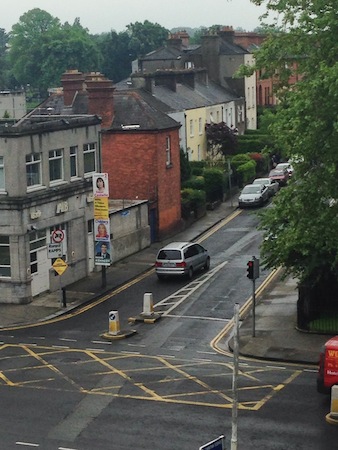 A view from my hotel room. Lovely! Copyright © Karen Fayeth, 2014

Dateline: April 23, 2014, 8:52am Pacific Daylight Savings Time
Location: An undisclosed intersection in what is known as the East Bay

It's morning and I'm waking up rough after some really painful dental work yesterday. I'm running late for work but I'm trying to stay calm and just get there.
I'm traversing a road that is something of an unofficial border. On one side is a series of slightly rough neighborhoods where gentrification is coming hard and fast. And painfully.
The other side is the "good" side of the road. Gentrification has already arrived, for both better and for worse.
I stop at a red light at a major intersection. I am first in line and there is a long line of cars behind me.
"Who Can It Be Now," plays from the oldies station on my radio. A popular song from my high school years is now an oldie. Don't get me started.
I tap my thumb on the steering wheel and hum along when to my left, a gentleman enters the crosswalk taking something of a slant route over the white lines.
In his hand he's carrying an open tall boy and holding it close to his chest. He's smiling, though his face and his skin looks like he's seen some things.
I am alternately like "right on!" because why not beer at almost nine in in the morning? Then "oooh, damn" because beer at nine in the morning maybe means a few demons in the mind somewhere around nine at night.
But I don't know this guy's story, so I don't judge.
As he ambles amiably in front of the grill of The Jeep, to my right an oblivious driver in a black Mercedes whips right into the crosswalk, intent on turning right and doing it right now, and damn near hits the guy.
Our beer drinking friend pulls up short, steps back and slightly bows, waving the Mercedes along. It pulls out in a huff, if I can attribute huffiness to a car.
Then the guy turns to me and smiles a lopsided smile and waves. I do what any decent member of the human race should do, I wave back. I briefly entertain a "I should not have done that" thought because I have learned through enough years living near and in big cities that sometimes it's just better not to engage.
But I was wrong for thinking that. As I wave, he smiles a little wider, peers around The Jeep to be sure the coast is clear, then makes his way to the other side of the road.
The light turns green and I drive on, thinking about the guy, this city where I now live, the ever growing division between rich and poor and the implications of gentrification. I also think about how delicious the lemon scone sitting in the passenger seat is going to be when I get to work and gobble it up.
I get to the place of my employment, find a parking spot, quick yank the parking break and start my day. Something about the man with the tall boy sticks with me and I can't quite figure out why.
One thing I know for sure is that I have to write about it, to capture the fleeting moment and memorialize it for myself as much as for anyone else.
And so I have.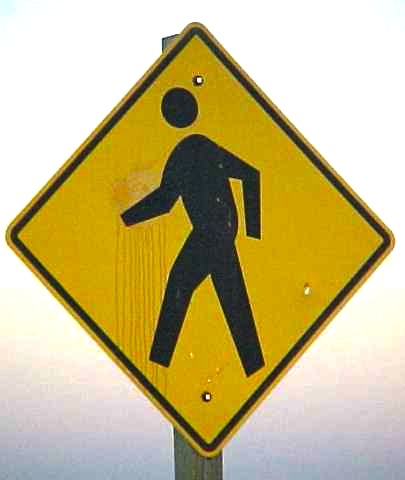 Image found here.


And so I am back, for now, to blogging.
I'll be posting soon about the agony and ecstasy of the insidious little (gigantic) hack on my blog.
It's been quite a ride and isn't quite over. The good news for my readers is that I have had several scans done and it appears my blog isn't serving malware, so I have that going for me.
For today, I think I am unhacked. We'll see how long that lasts. (probably not for long, as my internet research has told me)
And so today on a Happy St. Patrick's Day, let's do a throwback Monday.
On this day of the wearin' of the green and the drinkin' of the green beer, many people from a variety of different backgrounds will claim their Irish heritage.
I will authenticate my own heritage by posting this photo of me and my 100% Irish grandmother: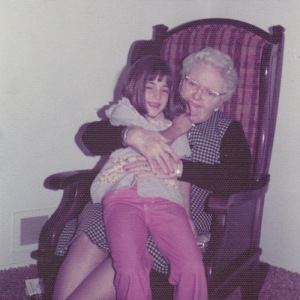 This day also matters as it is the day the first post landed here on Oh Fair New Mexico back in 2007.
Today I celebrate a lucky seven years of blogging.
I have to admit, with the recent hack-a-roni, I deeply considered giving up blogging. Or maybe taking a break. But I made a promise to myself in 2007 and I'd like to keep going.
If the hack-a-thon keeps up I may have to move to another forum, but for today, I'm here, I'm Irish and I'm blogging.
Now, despite my deep Irish roots, I was raised in the Great State of New Mexico. That means I am going to celebrate Éirinn go Brách by toddling over to my local Mexican restaurant and diving in on some mole.
Because why not?
Why not indeed.
Happy St. Patrick's Day to all of you Irish and all of you wanna be Irish. Today we're all from the Emerald Isle!
Sláinte!

The other morning I woke up a little fuzzy-tongued and slightly headachy. As I groaned and lifted myself up from the mattress I thought "now why in the heck is my head throbbing?" Then I blamed my pain squarely on the two glasses of wine I'd had with dinner the night before.
It was a brand I had heard some good reviews about. The grapes came from California's central coast. I learned from a wine tasting class that the central coast's warm foggy weather is better for whites and blah blah blah just give me some wine.
While this particular purchase wasn't a cheap bottle it also wasn't an expensive bottle. Nice enough to have with a homemade summer dinner, possibly nice enough to take to a friend's house for dinner, but nothing to give to the boss for holiday cheer.
For me I judge wine not by its "nose" or its "legs" but by my head. If I feel a little like my brain was extracted and cotton stuffed in, then I know it's not a good wine. If I have my usual one to two glasses and feel good enough to go into work without the assistance of copious amounts of coffee, then green light, that bottle is welcomed into my home.
So as I pondered fuzzy brain, I thought about what wines have given me the worst headaches in my life.
Well, of course, bar none was an evil bottle of Mad Dog 20/20 shared with my roommate in college. It was her idea and a fantastically bad idea. Cheap. Horrible. And I had the shakes the next day. Bad.
But….
I also got an awful headache the next day from sharing a top notch bottle of Dom Perignon with coworkers as we celebrated a huge success over dinner. I had, yes, two glasses of the stuff and it did quite a job on my head.
In the early days of my career, there was a C-level executive who invited a select group of employees to a holiday dinner. He took us to some very exclusive Bay Area restaurants and made it a point to order the most expensive bottles of wine on the list. On three occasions I was invited to these events and I drank wine massively out of my price range. Bottles I couldn't even look at without the help of a wealthy Fortune 100 executive. Some of those bottles were the most amazing wine I've ever had. Some were rather rough around the edges.
I suppose it just is a matter of taste, not cost.
Oh, and while the Mad Dog is probably my worst ever experience, I wouldn't actually call that wine. The worst bottle of actual (i.e. unfortified) wine I have ever consumed came into my life just over a year ago. I was in England on extended stay and I decided to buy a bottle to have with takeaway food in my hotel room. I went to the local Tesco and picked a bottle that came in around £15 (about $20). On that day I chose a South African sauvignon blanc. I'd never had an African wine so I thought that was cool.
Well, my love affair with South African wine was a brief one. That stuff was rough. I had a glass and a half and felt wobbly in the knees all the next day. The next evening I decided to try it again, got about two sips in and poured over half of a bottle down the drain. : shudder :
Life is too short.
So while all of this may sound like wine snobbery, it really isn't. It's just a matter of what tastes good and doesn't cause physical pain.
I've been to the top of the wine list and suffered. I've been to the bottom shelf and suffered. I've been to the top of the wine list and enjoyed. I've been to the bottom shelf and enjoyed. It's all a matter of personal taste I suppose.
So to wrap up my semi-wine snobby post, I'll conclude by saying I've also met the King (of beers) in Paris (Texas) and had a nice time, too.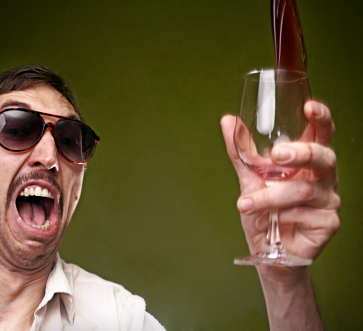 Image found here.