What follows is me working out some "stuff" up there in the ol' brain pan. A bit indulgent to do this publicly, but maybe putting it out there helps someone else. Or makes me accountable for my own crap. Either way.
So here it is… I have been taking part in a Flickr group that challenges its members to do a new macro photo every week based on a theme the moderators choose.
I started participating on December 4th with this photo: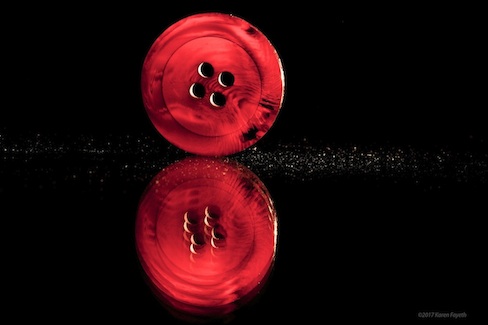 ©2018 Karen Fayeth

I felt clever. Sassy. Like my photo was more creative and of better quality than the others in the group. Go me! I was rewarded with well over one hundred faves in the first day. Hey, fun!
So I kept going. Each week working hard and having fun doing these weekly photo challenges. Creating a new image every week. Some weeks I worked really hard (or agonized) over executing my idea.
Other weeks it came easy to me, I snapped a photo that was exactly what I wanted and went on about my day.
But always having fun and not taking it too seriously.
Until two weeks ago. Two weeks ago I stopped having fun and got deadly (overly) serious about my weekly photo entry.
Let me back up. This Flickr group is huge, over 13,000 members. Each Monday between 800 to 1,200 photos are posted for the theme. This means in order to function, the group must be tightly moderated. And it is. Tightly.
I both like and respect that there are heavily enforced rules for the group. But I also HATE it because I'm an *artist* and The Muse can't be contained by your silly rules. I should be able to break them because MY work is the best.
Yeah, okay. I own it. I got weird. I hate it when I get weird.
The week's theme was monochromatic, and I turned this one in: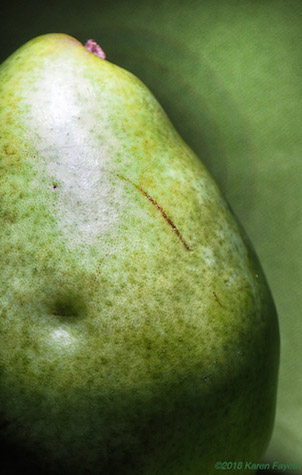 ©2018 Karen Fayeth

I really like this photo. I worked hard on it and felt really good about it. I feel like I did something worthwhile. Artistic.
Less than ten minutes after adding it to the group, a moderator pulled it, telling me "This is not monochromatic, I can see both brown and green."
I seethed. I stewed. I started looking at other photos in the group and found SEVERAL that also had tiny bits of another color that made it through the moderator's net.
I bellowed about how unfair it was. I started making a list of all the other photos that were let through. I prepared to launch my vitriol on anyone who would listen and demand answers for my mistreatment. How could they hate my photo so much!?!?! (I know, I know)
Then I went to talk to The Good Man, and as I detailed all the ways I had been wronged, I heard myself. I listened to my words and realized…aw damn…I'd stopped having fun. I was this worked up over a photo on Flickr in a group where the only prize is some eyes seeing the photo and some faves.
Yeah. I hit the wall pretty hard. This came just a day after struggling with a story for a writing contest that just would not gel for me. I hadn't given myself enough time to work on it and the story would not come together no matter how hard I tried. I tried to shotgun it and I failed hard. I did still turn in the story but I know it's not good.
You see, I wasn't mad at that stupid unfair moderator. I was mad at me.
And that's no way to create. That is the antithesis of creativity. This dampens The Muse.
So I went all the way there and now I'm reeling myself back in. I swear. I sat my Muse and my brain down and we had a talk. Feelings were felt and admonitions were issued. Promises to be better. To loosen up. To remember why I do any of my creative work…to have fun. To let the creativity out. To create something.
And I'm better. I am. The following week I swore I wasn't going to participate in the Flickr group again, but that was EXACTLY why I needed to get back in the game. So I made a photo based on the theme "in a bottle."
Here's my Valentine to myself. Green like the Hulk who gets very, very mad. Sweet like the victory of turning out a piece of art and something I really like. It also met the rules and made it past the moderators.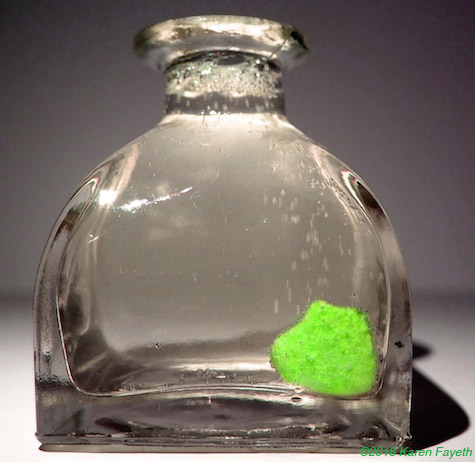 ©2018 Karen Fayeth

Lesson learned. Scars formed. Exterior just a little bit tougher.
And this week? Try, try again.

This has been a weird year, right? I don't think anyone will disagree. As I came sliding butt first into December, I was already disorganized and suddenly bowled over by work. By all measures, we did triple the volume of work we usually do and it was no small bit of effort to simply make it through December. But make it through we did.
In the smoldering ashes of 2016, I am working hard to get some order back to the chaos of my life. I firmly believe that being a little bit stronger, quite a bit more disciplined (and organized) and filled with more optimism will carry me through the slings and arrows of 2017.
To that end, I have returned to Morning Pages. If you have read The Artist's Way, you are familiar with Morning Pages. The idea, according to Julia Cameron, is to prime the pump. Write three pages of stream of consciousness words every morning to get into the creative flow.
Instead of handwriting pages as suggested by Cameron, I use an online tool called 750words. That tool works a bit differently than the Artist's Way describes, but that is okay too.
So as I sit here now on my fourth day of vacation, hallelujah, I am working on today's words. I have fallen out of my writing discipline and I can tell I am rusty. Lots on my mind. It's good to get back into the habit.
The best part of the 750words is that every once in a while, while priming the pump and working through the silt to get back into the flow, some solid words, some bon mots, some worthy thoughts come through.
Wanted to share these, because they may become my motto for the new year (Warning: there is some salty language, it that offends, look away):

…doubt is a persistent little bitch. Hope slides off like you are made of teflon, but doubt sticks like tar, or used up chewing gum or one of those gluey mocos you can't quite get off your finger no matter how hard you shake. Patience and discipline, that is the kleenex to your glue moco and allows you to fly once more. The sturdy facial tissue that brings back hope.

Yeah, I have no idea what any of that means, but it made me feel good to write it. Like I was really tapping into something, so I decided to share it.
Hope your end of 2016 and planning for 2017 has better metaphors. I'll keep working on mine.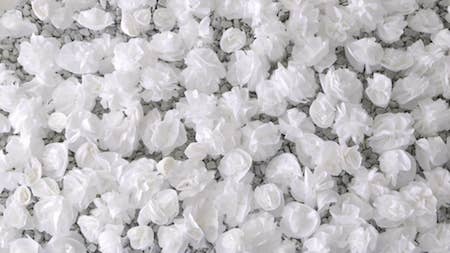 Inspiring flowers made of kleenex. Is that hope I'm feelin'?

Image found here.

The 26th of February. That what today is. February 26, 2016.
My, my, how time does fly.
Speaking of flying time, I see that the last time words were posted to this space was in November. That was like, yesterday, right?
Nope. 26th. Of February. Of 2016. Whew.
Well, okay, gotta try to shake that off and keep rolling. I've been thinking a lot lately about this little ol' blog. It used to be that I'd knock out a post every weekday. Then three times a week. And then nothing since November.
Been wondering what got in my way.
Three things, really. First, I got a little worn out. I'd pushed The Muse and it was getting harder to think of interesting ideas to write about. Eventually The Muse asked me to give it a rest.
Another contributor was starting a different job. I used have a free lunch hour where I both ate and knocked out the words for this blog. In my new job, I am in so galldarn many meetings each day that my lunch break is now me eating while my staff streams in the door to grab a few moments of my time.
Finally, I started wondering a little bit about the fate of so-called long form blogs in an ever-shortening attention span world. I read an article a few years ago declaring blogs dead in favor of tweets and Tumblr. I kind of took it to heart.
So I let my word field lay fallow. And maybe that is okay. It needed some rain and some decay and some time to become fertile again.
One of the most compelling reasons that I started this blog was to be a place for writing practice.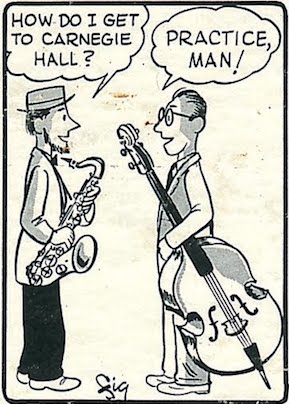 Practice, practice, practice. When I kicked off these pages back in 2007 I felt like I had something to say and needed a venue, so I made my own.
Over many years I wrote something every weekday and watched my writing both inside and outside the blog become stronger, sleeker, and more concise.
While I still benefit from all of that work, the last few times I've been working on a short story, I'm noticing the flow just isn't there. It's always an uphill climb but without the many days a week practice to keep me limber, the hill got a little steeper (and a lot more pedantic).
There is a widely debated theory that it takes ten thousand hours of practice to become a master at something. I am not sure that is true because any artist I know would say you never master your medium, no matter how much or how hard you practice.
But what I do know is that as of the moment I am putting these words into print, there are over six hundred thousand words that I created and added to this blog. That hasn't taken me ten thousand hours to create, but it's still not nothing. It's something that matters and something I am proud of.
Last weekend while I was sprucing up the blog and giving it a Spring cleaning (I'm kind of in love with this shade of blue) in preparation for my return to the words, I looked hard at that number in the footer of this page and thought to myself "I'm not done."
And so I'm not.
One added benefit is that I get to grab those crazy thoughts from my mind and get them down. There's good stuff in there. No more trying to blog it out loud to my kindly understanding spouse or my long-suffering coworkers.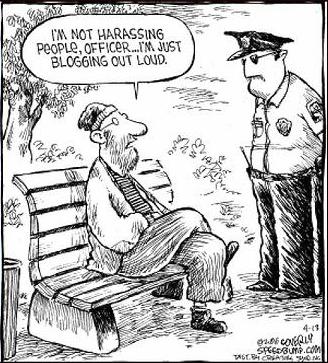 So here I am, back for today and hopefully back again soon. I want to push out my elbows and make the space in my world for the words, the practice, and the ever wonderfully agonizing quest to get better at what I love to do most.
Carnegie Hall cartoon found here.
Blogging out loud cartoon found here.
Hoo boy, back in the saddle again after a weekend trip to my Fair New Mexico. Let me tell you, it's hard to get into the ol' groove after being back in my homestate.
I found myself in southern New Mexico over the past four days for the occasion of my goddaughter's sixteenth birthday. She is amazing, beautiful, smart as a whip, sassy as hell and genuinely caring.
She has been easy to love since the day I first met her tiny little self. She was barely a month old when her mom brought her along and met me as I came off the plane at the El Paso airport. My world has not been the same since.
The occasion of her birthday celebration meant that I also got to see quite a few people I hadn't seen in years.
The thing that really sticks out to me from this past weekend was not just seeing a lot of dear friends who go back quite a few years, but getting to know their kids.
Time has marched along and many of these kids are now teenagers or older. So much more than a fun lump of baby or a capricious toddler. They are getting to the age where you really start to see who these kids are going to be.
What a lot of fun to see what so many of my now grown up and responsible friends have created. Look, back then I would have voted some of my tribe to the sidelines in the game of propagating mankind, and yet, their kids have turned out pretty damn awesome.
As I hear about these kids moving into their adult lives, getting married, graduating college, being responsible members of society, I also had to sit down for a moment and contemplate just how fast time marches on. And on. And on.
So many times I found myself saying "Really? Working a full time job? Getting married? Graduating college? Wow. I remember the day you had that adorable baby. Damn."
One old friend summed it up when she told me she'd just moved her youngest into her own place. "My husband and I looked at each other and said, 'Now what?'"
Now what indeed. Friends who are around my age, kids raised, possibility of retirement on the horizon and a new life awaits.
Wait a minute, aren't we going to a Corbett Dance tonight?
Oh no, Karen, that was twenty-five years ago.
Nina Karen needs to sit down. Bring your Nina a piece of cake, would you dear?
Those old hands on the clock keep pressing forward, ever onward, whether I'm ready or not.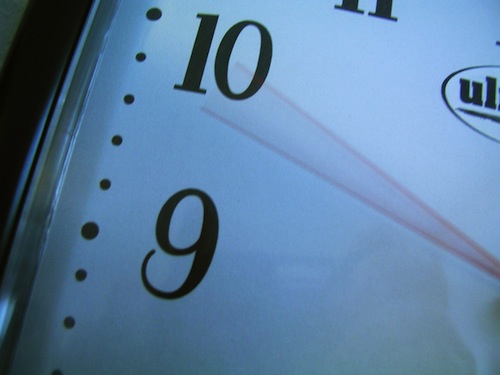 Image found on freeimages.com

Welcome to the sixth day of the year 2015 but only my second day back at the ol' place of work.
While technically the first of January is the first day of the New Year, it doesn't really feel like the New Year has begun until I go back to work, i.e. get back into the "real world."
My employer is ever so kind in that they shut down operations from December 24 through January 1. That means with a little planning and a little curation of vacation hours, I can eek out full two glorious weeks away from the office.
I look forward to this two-week break from work all year long.
All. Year. Long.
In my career, I've rarely taken two weeks of regular vacation time, so these two weeks at the end of the year feel beautifully indulgent.
My first priority for the break time is to sleep. Nap. Sleep more. Rest and then do nothing too taxing on brain and body. That usually lasts about three days then I'm rested and raring to go.
The rest of the break time is spent with family, exploring the world with The Good Man, cleaning up my home office/studio and working on creative projects.
I find I'm able to fully and completely forget about work and live the dream of a creative life. Sleep until my body is rested, rise and work on creative projects, fill my head with creative inspiration and plan forward for the projects I want to work on in the coming year.
It's a beautiful place to be, a place I'd live all year round if those darn lottery numbers would just break my way. It feels solid and satisfying and clean and pure.
And then sixteen days of being my own boss pass too quickly and Monday, January 5 arrives. I have to figure out how to get back into the flow of "regular" life. I have to metaphorically merge into speeding traffic with no running room and only two of four cylinders in working order.
Yesterday was that day. Yesterday I woke up with the help of an alarm clock (bleah, sixteen days of no chirping alarm was REALLY nice) and sat up in my comfy bed, bleary eyed and lost.
I tried hard to find the muscle memory to rise, to make some breakfast, to put on some clothes, where is my work badge?, move out the door and get to work on time.
When I arrived at the office it was all too familiar and all too unfamiliar.
It felt like I had changed. I was a different (and better) person as I swiped my badge and entered the office. Then I realized that work had not changed.
I came to my own little gray cubicle and there was all of my same stuff I'd left behind, but it looked alien.
The laptop machine asked me for a password and I had to think very hard about it. Took a couple tries at it and finally remembered.
Have you ever seen baby ducks when they are following their Mama Duck into the water? It often looks like this: Mama slides effortlessly into the water and her eight to ten ducklings slip, slide, belly flop, and unceremoniously plop themselves with a splash behind her.
For a moment, the water crests over the top of their head, then the ducklings one by one pop to the surface like popcorn and start swimming.
It was very much like that yesterday. I fell uncoordinated and perilously off the vacation ledge into the bracingly cold pool of work. I grasped for stability for a little while and then I found my feet and began to paddle. By the afternoon I was moving more or less in a forward manner.
So that's the New Year. A little bit new, a lotta bit old. I suppose all of the inspirational quotes are true. It's up to me to make 2015 a really awesome year.
Forward into battle! *splash*cough*splutter* Okay. Now, here we go.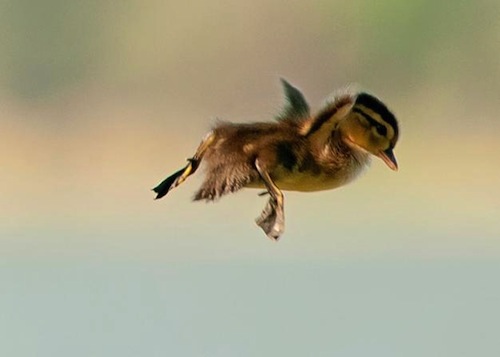 "Hoooooly craaaaap"

Image found here.