A leap day is observed because a complete revolution around the Sun takes slightly longer than 365 days. It compensates for this lag, realigning the calendar with the Earth's position in the solar system; otherwise, seasons would occur in a different time than intended in the calendar year. — Wikipedia


On my way into work today, I was listening to whatever morning radio station was not running commercials and landed on a crew of three djs discussing facts and trivia about today, February 29th. Better known as Leap Day.
Yeah, yeah, yeah, we all know the deal. The Gregorian calendar is nice and all, but doesn't *quite* work. Close only counts in horseshoes and hand grenades, as the saying goes. And, apparently, calendars.
While I have a degree in finance, I am not a finance person. Humorously, the work I do is slotted under the Finance organization, so I can confidently say that in the parlance of the Finance industry, Leap Day is better known as a fudge factor. A plugged number. A "what do you want the numbers to say?" kind of adjustment.
Let's just call it a rounding error.
I work in contracts and we have something similar. It's what one of my first and favorite bosses called "weasel words." This is where the person on the other end of the contract (usually a lawyer) is being petulant and you can't quite give them the language they want. Instead you can appease them with something in the vicinity of what they want. Words like "reasonably attempt" and "in accordance with best practices." Leap words, if you will.
Not to digress, but baseball has something similar. Called a "neighborhood play" it roughly means that the second baseman doesn't have to actually touch the base or runner to get the out as long as they are near to the base and in control of the ball.
Second basemen tend to stay a bit off the bag because lead runners like to come barreling in trying to disrupt a potential double play. The topic of the neighborhood play came to a head during the playoffs last year as a player got seriously injured.
So in this Leap Year, baseball looks to be changing up the rules. Which will likely make for a lot more leaping shortstops trying to stay off the DL.
In the spirit of both Leap Day and my favorite sport of baseball, I present to you my favorite Giants shortstop of all time, Omar Vizquel, doing what he did best.
Happy Leap Day!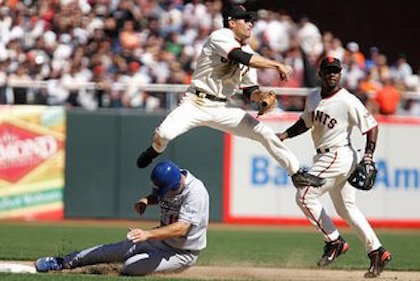 Leaping Omar image found here.

Or: Tales From The Upper Deck
When word came down at work that I had approval to travel to Porto, Portugal to participate in meetings with key folks from around the world, things began to follow a usual path.
Since the place I work for gets a lot of Federal funding, we're bound to abide by the Fly American Act, i.e. when on Federal business, fly US carriers.
No problem. I'm used to shoving my cookies onto a United Airlines jet and riding around the world, so per the norm I picked out my United flight pairs and the admin booked them. I was all set.
Because I am a little weenie and need more leg room, I like to pay out of pocket to upgrade my government bought United economy seats to United Plus economy seats.
My employer doesn't pay for business or first class and I don't fly enough to rack up the miles to get me there, so I ride in the back half of the plane. Economy plus at least gives my long legs a little room. A little less sardine-like.
However, when I logged into my United account and tried to upgrade my seats, I was told I could not. That I would have to wait until the day before the flight to pick out seats. What?
It took a little work but I figured out the deal. Three of my four flights on this trek would not be on United planes but a codeshare on Lufthansa.
Well hell, I'd never flown Lufthansa before so this was an adventure.
Doing some research on the Lufthansa site, I also figured out that my plane for the San Francisco to Frankfurt leg of the trip would be on an Airbus A380-800 airplane. A gigantic double decker of a holy-crap-that's-huge airplane.
In fact, it's the largest passenger plane flying today.
Looking up the specs of this plane online, I found people affectionately call it "the whale," and it's no wonder. The configuration I rode seats about 500 people.
When I was finally able to select my seats, I found that the second floor of the airplane (this airplane has two floors!!) was mostly first and business class, but the back of the upper deck had a small grouping of seven rows of economy seats. So yeah, I scooped up an aisle seat upstairs right away.
On the day I arrived at SFO, I let out an audible "wuh-huh-hoooooo" when I saw the airplane sitting at the gate. Then I became filled with anxiety. "How will that ever fly?" said my worried mind.
I wondered if my brain had anything I could compare this to. Many years ago I worked for a Lockheed Martin site that was right next to a military airstrip. Every once in a while the military would practice "touch and goes" with various planes and pilots. We'd drag our desk chairs outside and watch the show.
What I'm trying to say is, I've seen a fully loaded C-130 execute a touch and go, so yeah, I realized that the A380 could certainly fly. And I was going to get on it.
As I walked down the jetway to the plane, my heart began trip hammering. I always have a moment of pause before boarding any plane but this was different.
I stepped through the nice wide doorway and saw a beautiful gleaming white staircase front and center. "Ah, that must be how I get up there," I thought.
The oversmiling male flight attendant looked at my ticket and informed me that I needed to go all the way to the back of the plane and find a staircase there.
In other words, your economy-seat riding ass don't climb these stairs, honey.
Fair enough. I set off on my journey to the back of the plane. I stopped rest once or twice. I had snacks to keep my energy up. I may have camped out overnight. Jesus, that's a big airplane.
Finally I reached the end of the plane and scurried up the stairs, then slid into my seat.
It was still an economy class seat so it fit tight around the hips. I got snug like a bug in there as the plane began to push back from the gate.
The Lufthansa A380 features three live cameras, one on the nose pointing forward, one on the tail also pointing forward, and one on the belly looking straight down.
Here is a terrible quality image. It's a photo taken with an iPad of my screen on the plane as we are somewhere over the Labrador Sea. It's enough that you can see what the view from the tail camera looks like: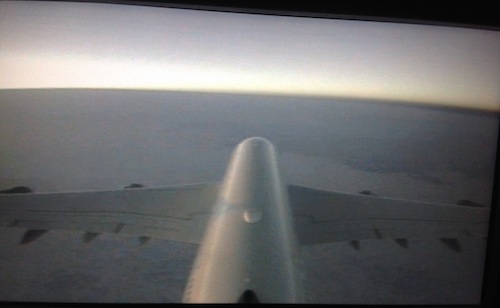 I wanted to stick my hand out the window and wave to the camera, but that's mostly frowned upon

It was mildly surreal to watch this behemoth take off from a bird's eye view but I was fascinated.
Once aloft, I began to realize why non-US carriers rock the casbah. It's one word: alcohol. The wine flows freely on non-US airplanes. I had flown a Singapore Airlines plane a few years ago and was gently surprised at the wine served with meals. The Germans have the Singaporeans beat. Wine with snacks, wine with dinner, brandy and irish crème after dinner.
All of this is a plot, however. They ply you with food and booze then turn down the cabin lights. Pretty much everyone falls asleep right away. Except me, I have a flaw in my DNA. I can't sleep on a plane. Not even a long haul. Nope.
The Good Man shares this flaw and it's good when we travel together because we entertain each other like little kids while everyone else sleeps. Sadly on this trip I was alone.
The flight attendant overseeing our little cozy area of economy class seats was a rockstar. He noticed I was the only one awake and didn't let up on the top-notch service. He checked in on me constantly and brought water, juice, snacks and some cookies that seemed way too delicious for economy class.
Even though I was packed into an economy seat I felt spoiled like a little princess up there, inside the white whale.
When she touched down in Frankfurt I was reluctant to leave my cozy little seat and my white glove service. It was a gentle landing as the plane beast docked next to its siblings.
That was one of the most comfortable and happy international flights I have ever known and I am sure I will reflect back on it for years. It has become the high water mark by which all other flights will be measured.
Sadly, when going home from this journey, the Frankfurt to San Francisco leg will be on a plain old United jet, a Boeing 747-400. That plane also has a second deck, but only the pish-posh get to sit up there.
I'll be seated among the cattle, in an economy plus seat but still among the unwashed. No first class cookies for Karen on the way home.
I think I'll write a nice letter to Lufthansa to tell them how much I appreciated the flight attendant. As I have learned in my short time in Portugal, I will extend a hearty obrigada (i.e. thank you or much obliged) for his attention and job well done.
And I will wistfully dream of my time inside the whale, a modern day Jonah high above the bustling world.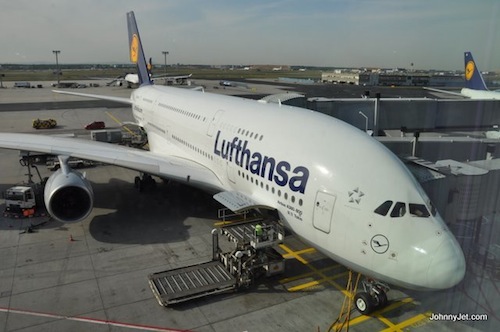 Thar she blows!

With a nod and a smile to Johnny Jet for the photo and for his awesome blog post about the Lufthansa A380. Read it here.

Oh me oh my oh. Sometimes I really have to step back and just wonder what in the hell is wrong with me.
I try to be a normal person, I really do. I try to keep the weird under wraps and show a normal, professional, got-it-together face to the world.
But I ain't got nothing together. It's all just a shuck and a jive.
On Friday, I managed to embarrass myself pretty good.
See, I've been feeling a little bit on edge about the new job. I really, really like the job and my manager and the people I work with and perhaps I've become almost too emotionally attached to this place.
It's an awesome gig! With how crazy busy things have been recently, I have made a few mistakes. One medium sized, one a great big whopper. Wheew. I do hate making mistakes on a grand scale.
I'm used to making mistakes. I always say, "It's not whether or not you make a mistake, it's how you get back out of the mistake that matters." And it's true.
Trouble is, I not only made these mistakes, but being so new I don't even know how to back out gracefully. So I've been flailing at it.
Flailing. Never a good look.
I suppose I am actually grateful that I got sick recently because it took me out of the game for several days. That flu laid me down not-so-gently and gave me respite. And perspective.
Coming back to work I felt humbled and ready to step back in and be more calm and methodical about how I approach my work.
Then there was Friday. For reasons I can't fully explain, I was totally out of sorts on Friday. Quaveringly low self-esteem, a bit of anxiety, and just all around trying and failing to keep it together.
At lunch I decided to head outside. My sister and I had been chatting about this fabulous under eye serum she found and I was off to Sephora to procure some of my very own. I thought it would be a nice bounce to my self esteem.
I got up from my desk and felt pretty ok. Threw my shoulders back and was doing my best "fake it until you make it" strut.
I went out the front door of the building and saw four coworkers (one of them an employee on my team), I smiled and said, "hey, that looks like trouble" and threw my head back and laughed just about the time the toe of my sandal caught the uneven concrete.
Then I went ass over teakettle. Right there. In front of a crowded foyer, lots of people outside, and four of my coworkers.
Oh, and everyone gasped and many people came running over. "Are you all right? Are you ok? Here I'll help you up" was like a loud chorus swarming around my head.
Now, here's the thing: I fall down all the time. My whole life. It's just something I do.
Usually falling down happens in one of two scenarios. 1) I am feeling pretty overwhelmed and "out of it" or 2) I am feeling overconfident.
Well, Friday's tumble definitely falls into category one. Overwhelmed. I tend to lose track of my feet and the results were incredibly humiliating.
Since I fall down so much, when I roll to a stop and quickly assess my limbs, and I realize I'm fine (and since I'm so well practiced at this I'm almost always fine) I start to laugh. C'mon! Falling down is funny!
But I think my sitting there on the ground cackling at myself makes people really nervous. I guess I'm supposed to be upset and crying when I fall. Hell, I'm not giving anyone that satisfaction! I'm going to laugh because falling is totally funny! Even my own tumbles are pretty dang hilarious.
Anyhow, I waved off all the hands reaching out to pull me up and repeated like a mantra, "I'm fine, I'm fine, no I'm not hurt, I'm fine."
I got to my feet and walked away, intent on going to my car and still having my fun lunchtime shopping break, despite the dirt and gravel stuck to my backside.
Then I walked past a picnic table out by the parking garage, near to where all the fuss had happened.
Two young women sat at the table. As I walked by, one said to the other, "It's because she's so fat."
Ouch. That's not funny. That's not ooops I fell down but I'm fine rocking good time Karen. That's just mean.
So I walked away from them and went around the corner and I called The Good Man, because he felt like the only person in the world who might actually be on my side.
And of course, he was. So I promptly started crying. Sobbing, actually.
Thankfully he was nearby to where I work and he came over quickly whisked me away. We had lunch and he said soothing things and he took me to Sephora and I got my eye cream anyway.
Then I went back to work and I was (mostly) fine.
Because when the world is mean and gravity isn't your friend, it's nice to know that no matter what all those people think, The Good Man still likes me and believes I'm an all right person.
I worked for a few hours quietly in my office then I left work a little early and enjoyed my Friday late afternoon.
Today, Monday, I still feel a little sheepish. I am a manager, fer chrissakes and falling and flailing don't inspire confidence from the troops.
Somehow I have to get my mojo back. Not sure how, just need to. And fast.
Maybe I should post an ad: LOST! One mojo. Last seen about a month ago. Really funky and fun. If found, please return to owner. Excellent karmic rewards upon return.

Image found here.

I think I'm being stalked. I'm not sure how to prove it or what to do about it but I am pretty sure I'm totally being followed. By an otherwordly entity.
I have shouted "what do you want?!?!" but the face of the man following along remains passive, as if my shouts are lost to the cosmos.
This stalker goes by a few names, but we'll go with Man in the Moon for the sake of ease and understanding. MITM keeps showing up everywhere lately, getting real close and glowy.
In the small morning hours when I head out to work, he's there, peering over the hills and looking quite chilly yet magnetic. As I ride the train, he rides along but fades away as I get closer to work.
In the evenings as I drive home, he's there hanging low on the horizon looking quite handsome. The evening attire is more of a warm and inviting yellow tone. He hangs out over the Bay and turns the tips of saltwater waves a golden amber. They wave as if beckoning me to dive in.
I try to ignore his intense gaze and then take a sharp curve in the road. For a moment I think he's gone but then voop! there he is again, a little less bigger-than-life when taken from that angle but still there staring down at me with persistence.
I thought it was just a couple coincidences, but I'm pretty sure that the moon is chasing me. And maybe flirting with me too, just a little.
For all the world that big shining Snow Moon looks just like a gigantic cosmic Snickerdoodle.
He's so charming, I just might take a bite.
———

Now tell me this doesn't look like a snickerdoodle.

The full Moon as seen in Japan on Feb. 25, 2013. Credit and copyright: Masashi Ito.

Photo from Universe Today.

While wandering the streets and pathways in another country, I always keep my eyes out for street signs.
Sometimes simple graphic depictions say things words cannot.
But this one has me stumped.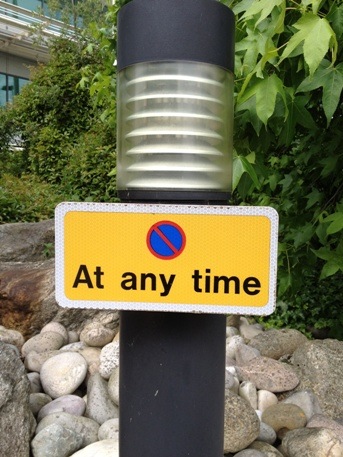 No blue dots?
No blues?
No blue color a'tall?
No blue marbles?
No bluing in my laundry?
No blue skying (for those marketing types)?
What?! What do the Brits got against the color blue?
Gah!
I showed this to The Good Man who is seriously a lot smarter than me and he told me it means no stopping (this sign is near a roadway).
How in the utter hell am I supposed to get no stopping from a blue dot with a red slash through it?
Now that I know what it is supposed to mean, this damn sign torments me.
I have to see it every day. It's located on the path that leads to the bus stop where I catch a public shuttle bus. Every morning and evening I commute with the locals on the bus.
It's a popular route and most of the time I can't get a seat, so I stand and hang on to a hand strap.
This isn't much of a problem, the trip only takes about fifteen minutes.
However.
These traffic roundabouts that British civil engineers seem to liberally scatter about make standing on a bus pretty challenging.
I am a rather sturdy girl but even I am not immune to powerful centrifugal forces. The bus drivers hit the multitude of roundabouts at considerable speed.
On the plus side, I'm building muscles in my upper body as I cling to the hand strap for dear life. My feet keep leaving the ground like Gilligan in a hurricane.
Whoooooaaaa!
Thus ends today's "things that are weird about England" lecture.
I hope we've all learned something.
Photo Copyright 2012, Karen Fayeth, and subject to the Creative Commons license found in the right column of this page. Photo taken with an iPhone4s and the Camera+ app.