Subtitled: An Open and Passive Aggressive Letter To A Jerk
Dear Festering Canker on the Butt Crack of Society,
On the weekend after the American Thanksgiving holiday I see that you managed to find yourself, and maybe a few of your slackjawed mouth breathing friends, in my neighborhood.
I can't blame you because I live in an awesome neighborhood. Those houses that line the block are old, pristine and outrageously expensive.
It's a neighborhood so nice I can't afford to live here. Well, I mean own here. My economic status is evidenced by the nearly fifteen-year-old vehicle that I have to park on the street in front of the building that houses my teeny tiny apartment.
One of my neighbors who also lives in a small but well appointed apartment had parked her nearly decade old Volvo behind me on that fateful day. I know her, she knows me. We park near each other a lot.
So yeah, there are some really rich people who live on my block, but my neighbor and I are not among them. We managed to slip our middle class selves unnoticed into this nice neighborhood and enjoy the benefits of tree lined quiet streets and a walking score of an outrageously high 93.
I can see how you might show up in this neighborhood and see the opulence and think to yourself, "I need to mess some sh– up."
And so you started with my neighbor's Volvo. About eight months ago this same very nice person had a different Volvo, but a drunk college brat came careening through our street and bounced of her car and several others (thankfully I had parked across the street from her on that night) thus totaling her beloved old Volvo. That thing was a classic. She was heartbroken.
But her insurance kicked in and she lovingly replaced it with this used but in good shape model. You decided to be "cool" and rip the side mirror off of her new/used car. Ripped it clean off and left it dangling by the electrical cords. Aren't you so clever?
Then you set your sights on my Jeep. You popped the passenger side mirror out and folded it over. It's an SUV so it's okay to do that. It's a tough offroad vehicle and I've moved past bendy Willow branches that were stronger than your weak sauce.
It appears you wrestled with it a little bit because the case is cracked but your underdeveloped arms weren't strong enough to twist it off of my Jeep.
Pause here, hand to heart in honor of my Jeep people.


So, since you weren't able to complete your impotent act of vandalism, you then moved to my radio antenna. Yes, my Jeep is so old it still has an old fashioned non-retracting antenna that stands tall, reaching far into the universe to pull down radio waves and send them to the interior of my vehicle.
I have listened to hundreds and maybe thousands of baseball games on that radio using that antenna. Jon Miller's voice so deep and bassy that it vibrates the cheap factory installed speakers in the doors. Well, speaker and door, singular. The driver's side speaker hasn't worked since 2005 and I never bothered to get it fixed.
But that's not the point.
You got your giggles satisfied by ripping the antenna off my car. I can see from the clean spot in the dirt on my Jeep you had to lean in a little to get that done. I hope my antenna gave you a valiant fight. I hope you tore some skin when you ripped the metal and then carried it off.
You know, I grew up in the kind of place where there was really nothing to do on a weekend when school was out. My friends and I did some seriously stupid shit, too.
The quest to steal lawn ornamentation comes to mind. As young bucks we'd get a little sloshy and then go on the hunt for lawn ornaments. The people and culture of New Mexico tend to lend themselves to neighborhoods littered with plastic and clay items purchased over the border and brought home then proudly displayed on patchy grass and dirt lawns.
So yeah, we took stuff, but we always treated it nicely and often we'd go out on another night to return the things we took. Not always to the same lawns, granted, but the intentions were good.
All that by way of saying that I get it, the need to be young and dumb and act like an idiot.
But for eff's sakes! There is A LOT to do in this town. We live in a hotbed of unique things to do, and not even all of them cost money.
Nah, you wanted to leave your little limpy mark on the world by destructing the property of some people who value our tired old hoopties the most.
Congratulations. You win. You got me.
I will rebuild. I will eventually have my antenna replaced. For now I listen to either scratchy FM stations or I pop in a CD. Yes, my car is so freaking old it still had a CD player.
And as the Christmas seasons dawns merry and bright, my wish for you, dear vandalist, is that Santa Claus takes a giant squat in your stocking while smashing your favorite ornament to bits.
And that someone takes something that you value very much and vandalizes it.
Happy Holidays!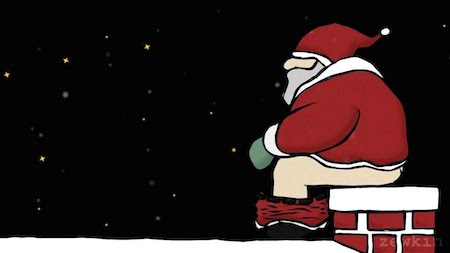 Image found here.

"Practice makes perfect," they say and, "If you do something for 10,000 hours then you will be a master."
Well, horse hockey is my answer to that.
If the delineator for adulthood is the age of 18, then I have put in a solid 236,682 hours at this craft, and I still haven't figure out how to be a master.
In fact, I may be worse at it than ever.
Sure, I get up in the morning and I go to work and I make a paycheck and I pay my taxes and I usually vote and I have insurance and a 401k and even a will. All the trappings of being a grown up.
But I still would rather have cookies for dinner and silly cereal for breakfast. I still throw little tantrums when things don't go my way. I still need naps and need to believe in Santa and I still want to play with toys and fly kites and occasionally I just need to melt down.
I can pay my taxes but the very thought of buying a house terrifies me. I can make decisions that impact millions of dollars at my job and then sometimes can't decide if I want orange or lime flavored candy at the store. Then I buy and eat both and cry because my tummy hurts.
This thing, this adulthood, it doesn't get easier.
And hell, I don't even know where the border lies, the place I can cross safely and know for sure I have arrived into adulthood.
Some might say it happens when you have kids. Fair play, I guess. But I have a lot of friends with kids that I wouldn't call the model citizens for grownup-itude.
When my dad died, that probably was the closest for me in knowing what it means to be an adult. I grew up pretty fast when, for better or worse, that was thrust upon me.
But even that wasn't enough to be the final frontier for me. (mmm, Frontier. I could go for a cinnamon roll right about now)
This past month some things happened with my "lady guts" that signaled the beginning of a long journey. When a woman's life turns from the dog days of summer into Autumn.
Discretion keeps me from going through all of the gory details, no one needs all of that. While I'm far too young for the "main event," my body has let me know that the pre-game show has started and the players are starting to take the field. (nothing like a sports metaphor to describe a lady issue….)
I'm not ready for this. I'm not grown up enough for this. I'm not an adult! I have put in the hours, many hours of long grueling practice and still…still I find myself at this age and at this earthly turning of a season far from being an expert at adulthood. I am jack of many aspects and master of none.
Maybe that is okay. Maybe that is what being an adult is about, the continually wondering if you are "grown upping" correctly. Paying taxes and eating ice cream sundaes with reckless abandon (while popping Lactaid, because that's a mature thing to do).
And on my next bubblegum ice cream sundae, I will be decisive enough to get both nuts AND sprinkles on top.
Because I'm young enough to want them both and old enough to pay for it.
So there. Take that! This is how I'm doing grown up and no one can make me do it differently!
Nanny nanny boo boo on you!
Adults are always asking kids what they want to be when they grow up because they are looking for ideas.

— Paula Poundstone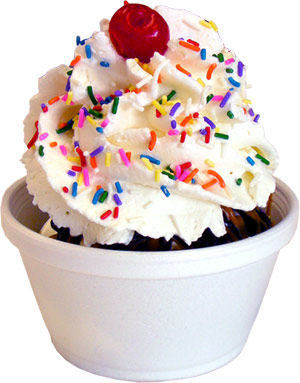 Image found here.

In the movie Tombstone, there is this scene where the bad guy Johnny Ringo and the bad but good guy Doc Holliday square off. It begins the escalation of their unpleasant association.
Here's a video clip.
The two are in a bar with their various friends and their mutual hatred begins with a war of the words.
Doc fires the first salvo by saying to his sidekick, "Look, darling, Johnny Ringo. The deadliest pistoleer since Wild Bill, they say. What do you think? Should I hate him?"
This of course isn't well received. From there Doc Holliday slides smoothly into Latin and Johnny Ringo follows suit without skipping a beat. This exchange goes on for a bit.
As the war of the words is broken up, Doc's eyes get a little steely and he says, "That's Latin, darling. Evidently Mr. Ringo's an educated man. Now I really hate him."
Bear with me here as I'm about to abruptly change course. I wanted to lay this down as useful context. Let it play in the background of your mind.
As I have noted I am the proud godmother (called Nina in the Hispanic tradition) to my best friend's two daughters. They are my light and my life and I love them enormously. I may not have kids of my own, but these girls are my kids.
However, Nina Karen is struggling a bit as these beautiful girls grow up. The oldest will be fifteen this year and the youngest will be thirteen.
Yeah. Teen. It's a whole thing I can't get into, and can't quite handle.
So my girls go about their lives back home in New Mexico and I follow them on Instagram so I can keep up with what is going on.
Several months ago, the younger of the two girls changed her Instagram profile to note that she was "taken" and put hearts around a boy's name.
Nina Karen lost her mind. Really, I was not ready to handle this. I got in touch with my best friend and grilled her. Did she know? Did she mind? Should I be worried? Can she come get me at the airport because I am flying out to New Mexico right this instant?
She assured me that it was fine. That she knew and was keeping an eye. My best friend is a wonderful mother so of course I had no reason to worry. But still, I did.
And I died a little inside when my girl would post photos of the boy and changed her username to reflect that she belonged to him by using his name and calling herself "hisname's girl" — Ugh. That one really got me.
I went on a long rant about how this burgeoning woman needs to learn to identify herself by her own name and stand on her own reputation and not identify herself simply by her association with a man.
As I stomped and ranted, The Good Man arched an eyebrow at me and said, "She's thirteen. Give it time. This will end."
And I stomped harder and said, "You don't understand! My girl! She's so loyal and true. What if she ends up marrying this guy?"
He arched his eyebrow harder and said, "She's thirteen."
So I did what any good Nina would do, I mildly stalked the kid by perusing his public Instagram feed. Photos of his family. Photos of his pets. Seems the kid likes to play sports.
I had a hard time deciding if I should hate him on principle, or learn to at least tolerate him because he was important to my beautiful, intelligent and amazing goddaughter.
After spending some time with my best friend and her girls over Spring Break, and getting some of my thoughts out, I realized that my girl has got to find her own way in this life, as much as this may pain me.
She really is a good person and growing up fast. Her parents have instilled good values and decent common sense and now is the time for her to put that to good use.
I still snarled when she would post a photo of this guy as her "Man Crush Monday," but kept all of my unkind comments tucked away inside. I had to just let this thing ride. Even if it meant heading in directions I didn't like.
I had reconciled myself to it. It was a burr in my saddle but not bad enough to stop the ride. Fine.
Until just this past week.
When I found out that this young man broke up with my girl.
Via text message.
Now I really hate him.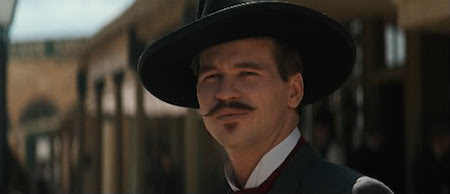 Okay, okay, fine. The Good Man was right. And I don't really hate the young man. He's doing what you do when you are thirteen and figuring it all out. He'll learn and my girl will learn and I will learn and maybe we'll all be better for it.
My heart breaks for my goddaughter because her heart breaks. I guess that's just how the game of life is played.
I can't spare her, I can only be there to catch her when she falls.

Image found here.

That is a great post title. It really is. I could go anywhere after that.
But I have something in mind and I promise I am sober as a judge as I tell my tale. (Then again, I know quite a few judges who like a little splash in the coffee mug.)
Yesterday afternoon, during the joy of a holiday from work, I went outside to take some photos. My photography club is back in full swing and this month's theme is black & white or contrast. I had already taken one photo that I really love and was looking for my second. We get two entries each month.
Lacking any good ideas, I went outside to see what I could see, snapping here and there and everywhere to find something.
My skills in black and white photography aren't that good (I like color), so I was shooting lots of different things so I could learn and enhance my ability.
About an hour into my backyard photowalk I remembered that around the corner is a magnolia tree in full bloom. I think the unseasonably warm California winter has confused the poor tree.
I headed over to take a look and found it still blooming, so I snapped and snapped lots of photos. I set up shots. I fiddled with my camera. I enjoyed the late afternoon golden light.
And then as I looked at these flowers through my viewfinder, I realized something…….
Some of the magnolia blossoms have faces.
Below I present my evidence.
This was the first face I saw. I thought it was just a one off:

Photo © Copyright Karen Fayeth, 2014


But wait, there was another. Less obvious, but definitely a face: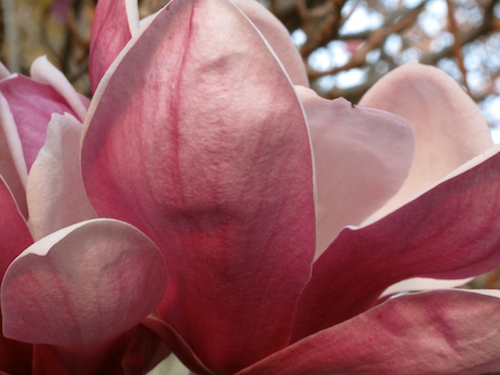 Photo © Copyright Karen Fayeth, 2014


And another. This one I thought looked scary at first. The more I looked, the more it seemed to be laughing with leafy arms spread wide open: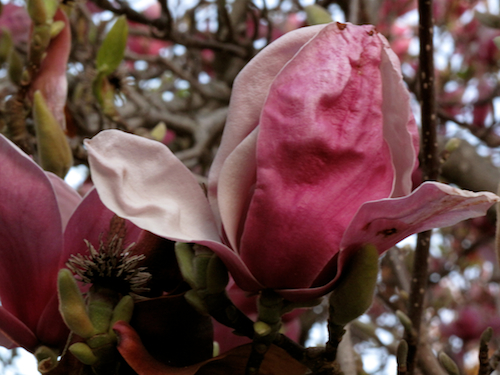 Photo © Copyright Karen Fayeth, 2014


And another, this one more cranky: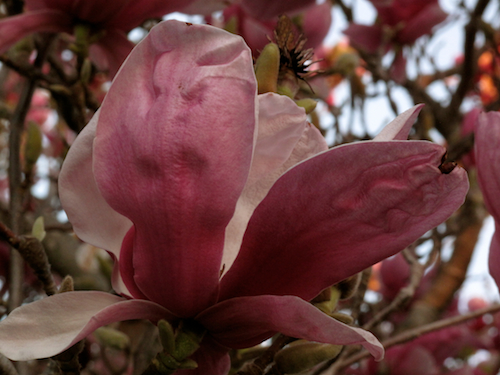 Photo © Copyright Karen Fayeth, 2014


Then this one, with a little bit of a surprised rounded O face: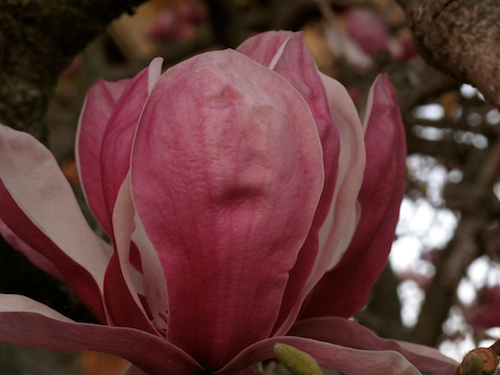 Photo © Copyright Karen Fayeth, 2014


I call this one the Picasso as it takes a little to see it and the face is a bit askew: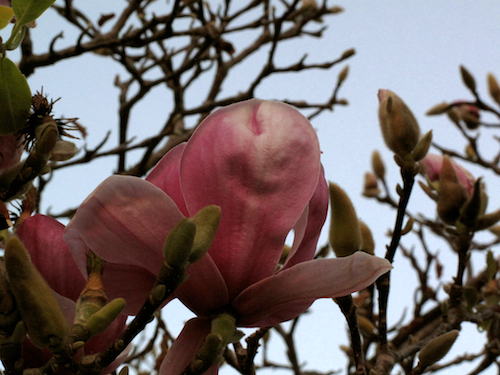 Photo © Copyright Karen Fayeth, 2014


Then I noticed that Laughy and Cranky seemed to be having a little party together: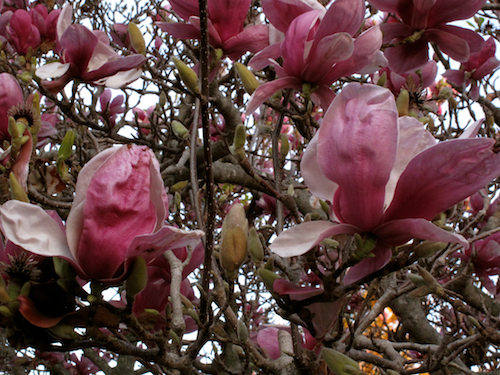 Photo © Copyright Karen Fayeth, 2014


Everywhere I looked, there were little magnolia faces looking back at me. Grumpy ones and happy ones and wilty ones and crazy ones. Little sweet smelling blossom faces everywhere my eyes fell.
I giggled with the joy of it all, reveling in the ridiculously silly ways of Mother Nature.
Then a couple pushing a stroller walked by. They looked at me from the sides of eyes, wondering at the crazy wild haired lady laughing with the tree.
Their toddler girl said to me, "Look! I have a Hello Kitty on my pocket!"
I replied, "You sure do!"
That toddler understands. She gets me. To a child with a Hello Kitty on her pocket, the lady laughing with the tree is just fine. Quite normal. To be expected.
I'm so glad someone understands.
Meanwhile, I'll never look at a magnolia tree in quite the same way again.

_________________

(side note: I believe the most definitive magnolia photo I have ever seen was taken by my friend and fellow New Mexican, Avelino Maestas. I knew whatever photo I would take of the magnolia blossoms would pale in comparison to the photo I used as my phone's wallpaper for well over a year. Salud, Avelino!)

All photos © Copyright Karen Fayeth, 2014 and subject to the Creative Commons license in the right column of this page. Taken with a Canon G10 and touched up a bit in Photoshop.

Oh yes, I am the rainmaker of ideas here in my place of employ.
The next big thing is what comes tripping off the end of my tongue.
I'm on the cutting edge.
Watch me work:
Yesterday my Boss Lady (who is the Department Big Boss) was in my office. She stopped by to say hi and happy New Year. She was also lying low for a bit as she can barely walk the halls of this place without being pounced on from all directions.
So as we sat and kibitzed, I dropped my next big idea on her.
Me: "So, I saw this info graphic yesterday. It showed that, like, the majority of the country has a ninety percent chance of freezing temperatures."
Boss Lady (BL): "Yeah, I know, isn't that crazy?"
Me: "It is…it is…really crazy. I mean…schools and businesses are closed down because of this crazy weather."
BL: "Really? Wow, I hadn't heard that."
Me: "Yeah, yeah…so don't you think that we should stand in solidarity with the rest of the country and stay home today?"
BL: "…"
Me: "I mean…doing our part as good Americans and all of that."
BL: "Karen."
Me: "Yeah."
BL: "You sit near a window."
Me: "Yeah."
BL: "Look out your window."
Me: "Yeah."
BL: "It's 65 degrees out there."
Me: "Yeah."
BL: "I can't really sell a snow day when it's 65 degrees."
Me: "I see what the problem is here."
BL: "What's that?"
Me: "I need to do a better job of managing my manager."


The best big ideas are the ones that seem weird at the start. The ideas that are easily pooh-poohed.
The crazy ones.
Sometimes the difference is not in the idea, but how you sell it.
Genius comes in many forms.
I shall continue to make my pitch on this topic as I continue to stand in solidarity with all the poor souls who don't have to go to work today.
I should be with you. I really should. Here's hoping my employer can make this right.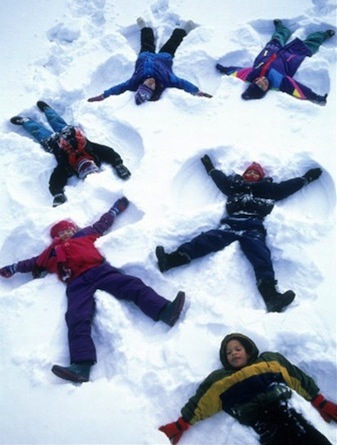 Image found here. Check out that page for one school principal's ritual guaranteed to net you a snow day.