Today I found an unexpected hour in my day. My new hire of just three weeks told me that he feels comfortable taking a regular weekly meeting off my hands. He said he had it covered and that I didn't need to attend.
I almost wept with utter relief. This is what I hired him to manage, but this progress is so much faster than I'd expected.
Hooray! Early Christmas gift to me!!
And so I could have used this found hour to do some other work or get caught up on email. Instead I decided to flake off.
Best and highest use of my time, in my humblest of opinions.
So I skated over to the Google News page to see what's doing back home in New Mexico. That's where I came across the Southern New Mexico fishing report.
Listed in today's report are some of my favorite lakes in Southern New Mexico, and some of my favorite places to be in the whole world.
As I read down the list I sighed and wallowed like a lovesick schoolgirl.
Bill Evans? Oh have I had some amazing times night fishing there.
Caballo Lake? So pretty.
Elephant Butte? Always a fun time and a crazy amount of boats on that lake.
Quemado? That's where I was supposed to go earlier this year and wasn't able to. *cry*
Oh muh lord. Here I sit while the rain pours outside. I'm tapping away at my work computer and feeling low and definitely not putting a worm on a hook and sipping a beer and watching the clouds float by on a clear New Mexico day.
Uh oh, here it comes…waves of homesickness crashing on my shores.
In related news: The husband of my best friend works for the New Mexico Department of Game and Fish. He's the guy in charge of Southern New Mexico fish. All of 'em. He has days at work that go something like "I put a boat in at Caballo, sent some shocks into the water, counted the stunned fish and then went home."
Basically, the guy fishes for a living. And then writes a few reports.
It may be the greatest job in the world, or at least in the top ten.
*whimper*
In case you are near a beautiful New Mexico lake today and need to know if they are biting, here's today's report courtesy of the Silver City Sun News:

*Bear Canyon: Trout fishing was very good using homemade dough bait, Power Bait, salmon eggs and worms.

*Bill Evans Lake: Trout fishing was fair to good using garlic cheese, salmon eggs, Pistol Petes, Power Bait, and homemade dough bait. We had no reports on other species.

*Caballo Lake: All boat ramps have been closed and will remain closed until such time as water levels rise and is deemed safe for launching. Fishing pressure was extremely light this past week and we had no reports from anglers.

*Elephant Butte: Fishing was sporadic. A few white bass, crappie and black bass were caught by anglers using jig and minnow combinations and spoons. We had no reports on other species. The water was murky and the surface temp was in the low 50s.The Monticello, Dam Site and Rock Canyon boat ramps remain closed due to low water conditions.

*Escondida Lake: Trout fishing was fair using homemade dough bait, Power Bait, Pistol Petes under a bubble and corn salmon egg combinations. We had no reports on other species.

*Gila River: Water flow on the Gila as of this past Monday was 62 cfs. We had no reports from angles this week.

*Glenwood Pond: Trout fishing was good using Power Bait.

*Lake Roberts: Trout fishing was good using rainbow and red Power Bait, garlic cheese, homemade dough baits, salmon eggs and worms. We had no reports on other species.

*Percha Dam: The water was low and fishing was slow for all species.

*Quemado Lake: We had no reports from anglers this week.

*Rio Grande: Water flow below Elephant Butte as of Monday was 3.4 cfs. Trout fishing was fair using worms and Power Bait. We had no reports on other species.

*Snow Lake: We had no reports from anglers this week.
This is a New Mexico fish, but from way up north at Navajo Dam

Image from FunFix.com.

The Good Man cautioned me about posting this because it's very squishy and quite soppy and over the top melancholy. He warned me that I am opening myself up to some teasing for being so weepy about a fish. That's ok. It's what was on my heart and so I wrote it. Then I decided to go ahead and post it anyway. So here goes.

***
The Good Man often says, "No one cares about the little things" when referring to pets and small animals. At first I thought he was just being overly dramatic, but over the years, I've come to realize he might be right.
As a child, my parents were not fans of animals as pets and the care that goes along with having a pet, and so I didn't have a pet until I was twelve years old. I didn't learn to own and care for a pet, and how to lose a pet, in my early years.
My first animal was a cat named Yoda and I adored that cat. She died when I was in college and I still remember driving home to my parent's place in Carlsbad crying my eyes out the whole way. A little girl racing home in a rattletrap car with big, sobbing tears, all over a cat. Yeah, that's me.
As I moved into my adulthood, I always lived in an apartment and most rental places don't want you to have a pet. So I didn't.
The Good Man, on the other hand, has never had a moment in his life where he didn't have a pet. He's really good at taking care of animals and reading their moods, and he also has a lot of experience dealing with the loss of beloved pets.
When this handsome man entered my life, he came with baggage in the form of not one but two cats. In the first year of our association, one of the two kittehs (who had a slight attachment to me) passed on and I was crushed with grief. Crushed, dumbfounded and heartbroken. I'd grown to love that orange cat in a very short time and it had been a long time since I'd had a little animal to love.
We still have one kitteh, the rasty Feline, and she's 14 and cranky and I can't imagine a day when she's not balled up behind my knees in the bed while I sleep.
And then there is my fish.
Who can be sentimental about a fish?
Me, that's who.
For reasons I can't quite articulate, a few years ago I decided I wanted to have some betta fish. I'd heard they were interactive and smart. I mean, a fish? All water and gills and scales. Interactive?
Turns out it is true. Betta fish are quite interactive and dare I say they have a good sense of humor too.
The downside of owning betta fish is that they have a pretty short life span. Three years is a good run. Some people get as much as five.
Last year, we lost our little girl fish, Margaret and I was saddened. She was the kindest, sweetest, most lovely little being. We joked she was the queen of our home, as she had a regal bearing about her.
Over most of this past year, my boy fish Benito has struggled. He's sick with some sort of ailment that has caused his kidneys to fail. His abdomen is distended and it's only a matter of (short) time before he shuffles off this mortal coil.
I look at my little betta and I see him suffering and I'm sad.
"It's just a fish!" a friend said, when I wanted to talk to her about my sadness.
Yes. Just a fish. But my fish. And he is loved. Watching any being suffer is tough to take.
So every day I talk to my little fish and I coax him to have a few pellets and I worry over him and I change his water a lot and I know the end is near.
I guess as I age I've become an old softie. The thing is, I really am sad. I wish I could hug my little fish and make him feel better but I cannot. I can only sit outside his tank and hold my finger up to the glass and he will chase my finger, even when he feels bad, because that's how we play.
————
All of the above was written about a month ago. I just had to get my thoughts out while I watched my cherished pet suffer.
Tuesday morning in the very small hours, I was up and making breakfast when I noticed my fish struggling. He had a little seizure and then he quietly died.
I can't believe I had to watch him die, even as I am glad I was there with him.
The Good Man and I talked. I don't think I want to have any new pets for a while. We're good with the one rasty cat.
In Spanish, the word benito means blessing. For a few years my little red fish was a happy little blessing in my life.
I'm happy I got to be his human.
Boy oh boy, this losing a pet just doesn't get any easier.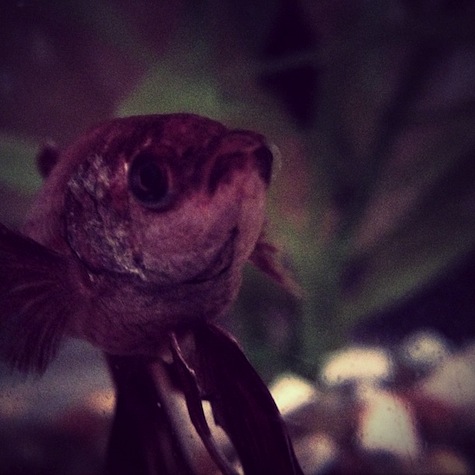 My beautiful cranky faced fish.

Photo Copyright 2012, Karen Fayeth, and subject to the Creative Commons license in the far right column of this page. Taken with an iPhone4s and the Instagram app.

While on my way out the door and quite ready to make a voyage to England, among the parting thoughts from The Good Man was:
"Enjoy the traditional English breakfast."
I'm a fan of all things breakfast so I readily agreed, despite not really knowing what a traditional English breakfast was all about.
My first morning in country, I stumbled downstairs to the complimentary buffet and started to understand.
It looks a little something like this.


I say "a little something" because this plate is missing a couple key components, mainly blood pudding (a sausage, also sometimes called black pudding), fried tomatoes and fried mushrooms. But other than that the main items are there. Griddled eggs. Hash browns. Bacon (center cut and YUM).
And the key component: Heinz Baked Beans.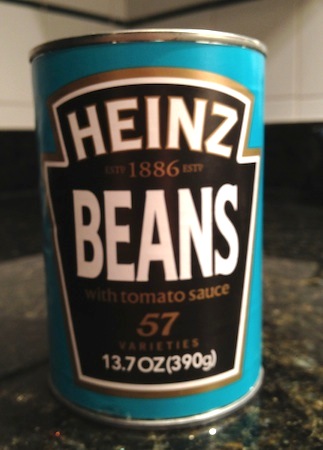 No other will do.
I'm no stranger to eating beans for breakfast. I've been eating pintos in many forms alongside eggs for years, so this was zero hesitation to me. That said, I usually hate baked beans because they are just too sweet. Too much brown sugar, I think (as if such a thing as too much brown sugar exists).
I really like the Heinz baked beans because they aren't especially sweet. They are tomatoey but not sugary sweet. A perfect compliment to eggs, in my humblest of American opinions.
Here's the thing…I started having the Full Breakfast every day. They even served it at the cafeteria where I reported for work the second week of my stay. This meal formed a good solid start to my days of battling with suppliers and the English rain and pesky coworkers.
I felt like I could climb mountains on that breakfast.
And now that I'm back home, I miss it.
Breakfast now just seems sort of…blah. Sad. Lacking. And without verve.
So I looked at a couple local grocery stores. Lo and behold, I found the key ingredient here locally.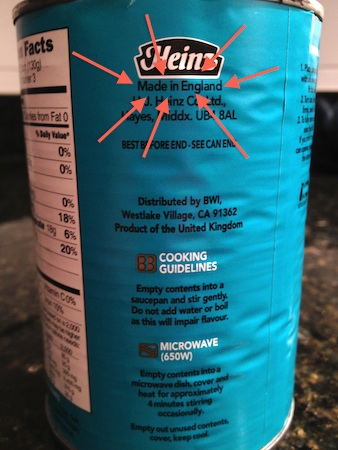 The real stuff! The good stuff. Ok, it's a little more work to make all the fixins myself rather than ladling from a hotel buffet bar.
But it's worth it.
Oh so worth it.
Now that breakfast is sorted, let's chat about British dinners too, eh? Here is a beauty shot from one night at the local pub. Big yum.
Though all of that on the table (except for the Pedigree, a proper English Ale) is quite readily available here in the US. Thank goodness!


So now I have quite a menu for my post travel life as there is plenty of can't-live-without-it food from Singapore (laksa, chili crab and kaya toast) and Costa Rica (tostones, Olla de Carne and Cas) and now the charms of Britain.
Tonight, however, I head back to my roots. We're cooking New Mexico style in my house. All that British culture made my green chile blood level get a little low.
Must fix that problem right away!

All photos Copyright 2012, Karen Fayeth, and subject to the Creative Commons in the far right corner of this page. Photos taken with an iPhone 4s and the Camera+ app.


I'm rather blown away at the recent rapid advances in the quality of mobile phone photography.
The art from has gone from a simple lo-res snap and upload to Facebook, to a genuine, respectable medium.
Today I'm going to gush like a lovesick schoolkid over a product from the Photojojo store that just happened to find its way under my Christmas tree.
Called a Macro Cell Lens Band on the store listing, it retails for $15 and is simply a small macro lens that fits on my iPhone by way of a sturdy rubber band.
Here it sits my iPhone (photo taken with The Good Man's iPhone):


Easy to install, easy to use.
Since the internet is loaded with budding photographer's photos of cats, I decided to turn my new lens on my other unsuspecting pet, my male Betta fish:
Here he is: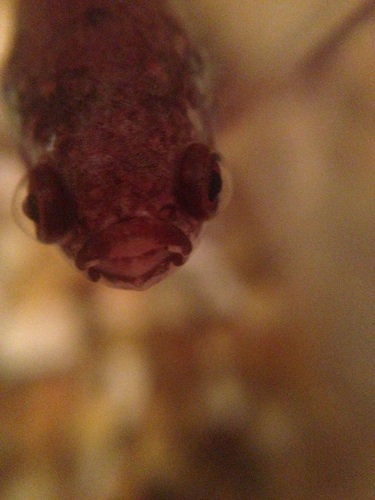 Photographing a fish is rather challenging, in that he is constantly on the move. The camera on the iPhone4s has a much quicker shutter and handles light so much better that previous versions, so I was willing to try.
One thing about this little macro lens, you gotta get close up on your subject. The little card that comes with the product suggests about 1 ¼ inches. That's pretty close. My Betta is terrified of my big DSLR but seemed curious about the iPhone, so that helped my cause.
I've noticed when shooting my very expensive macro lens on my DSLR, I struggle with focus. The macro lens will only make one part of the photo crystal clear and the rest is not.
This little rubber band lens is the same. I love that the little fishy's eyes are so clear and detailed. I just wish the rest of his face was too.
It's such a handsome face.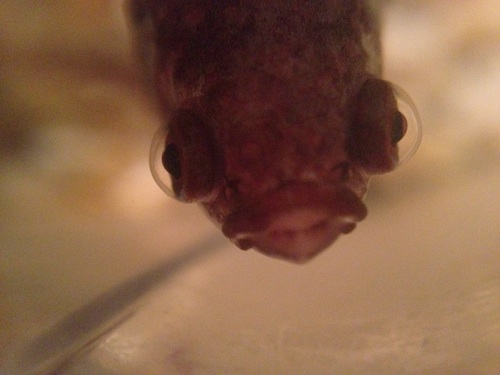 Due to the low lighting in the area where the fish tank is located, these photos are a bit noisy, but not terribly so. I think with more light that would be less of an issue.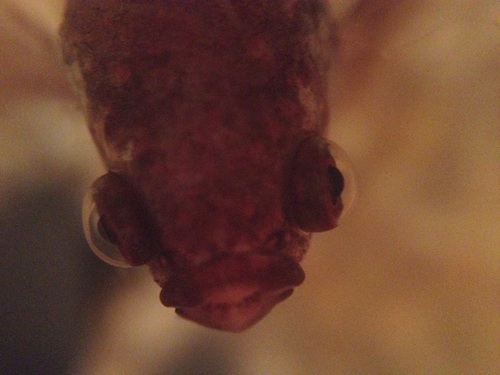 The Good Man says this one looks like Admiral Ackbar

Overall I'm deeply impressed with what this inexpensive little lens and an iPhone can produce. These photos were taken with the Camera+ app, by the way.
Just a little bit of magic on a blue rubber band. Brilliant!
My next mobile phone camera add on will likely be an Olloclip, which is considerably more expensive (about $70USD), but also considerably more advanced.
Look at this photo of a snowflake on a pine needle. It was posted on Facebook by Hipstamatic Rocky Mountain and he used the macro lens on the Olloclip and the Hipstamatic app.
Incredible!
And in my humble opinion, a huge leap forward for the medium of iPhoneongraphy.
Photo owned and copyrighted by Hipstamatic Rocky Mountain

This was not a paid review for any of the products mentioned in this post. This is simply my joy and enthusiasm for new techniques and tools for the art of iPhoneography.
Other than the snowflake photo, all photos in this post are Copyright 2011 by Karen Fayeth, and subject to the Creative Commons license found in the far right column of this page.

My friends over at Theme Thursday have had some upheaval in the past week, and the Theme Thursday fun hasn't been, well, fun. I'm happy to see there is new management. We're back on track!.
And that leads me to today's theme for this faboo Thursday: Fish
As usual, I started with a Google search to see what's what, and I stumbled across the latest fad in China and Singapore: Tattooed fish
Wait. What?
Yes indeed. Tattooed fish.
From my knowledge of Chinese culture, I do know that fish are seen as a symbol of good luck and also symbolize wealth, so to capitalize on this belief, someone has figured out how to laser dyed characters and symbols onto the side of parrot fish.
These tattooed fish are called "Fortune Fish" and are said to bring good fortune and happiness to their owners.
Here's an example:

Image from People's Daily Online

Evidently, a normal, unmodified parrot fish costs about 10 Yuan (about $1.50 USD) but a tattooed fish costs about 25 Yuan (roughly $4 USD), so this is a bit of a money maker. If you want your fish with a customized personal tattoo, it'll run ya more like 100 Yuan ($15 USD).
The tattoo is applied using a "low intensity" laser to apply dye which, it's claimed, doesn't cause the fish any pain. *ahem* Sure. Ask the fish, I'll bet he's got a different story.
Capitalizing on superstition is nothing new, but this one seems pretty gosh darn wrong to me.
What's next! Tattooed pigs!?!?!
Oh wait. Nevermind. (<- also found in China, I might add).

I have a fish. His name is Benito.
He's a Half Moon Betta and I paid the princely sum of $13 for him. (most regular Betta fish go for about $5).
This is what he looked like when I first got him at the fish store: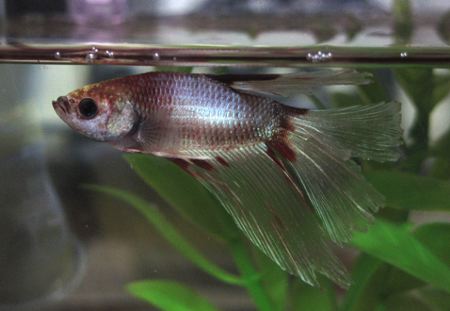 He was little. He was scrappy. He liked his food to be delivered with alacrity.
Way back in May 2010, Benito almost died. The Good Man saved his life and now Benito has been a happy, scrappy, crazy fish in our home for the past year.
This is what Benito looks like now. He's not only handsome, he's a work of art. Right at this moment, this photo hangs in a Bay Area photography show where all may come and worship the handsome fish.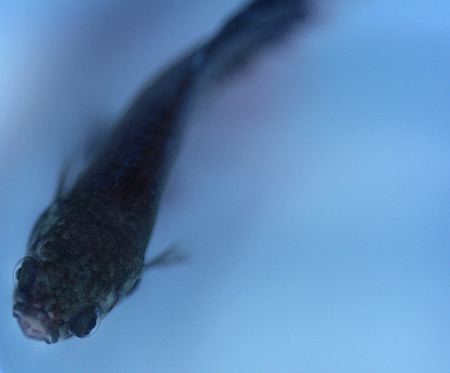 Last night, it was time to change out Benito's water. We are very responsible fish owners and work very hard to make sure our fish are happy and swim around in good clear and conditioned water.
Doing a full tank change is tough because it requires us to dip the fish out of the tank (which can be stressful for the fish) and hold them in a small container while we replace the water in the tank.
Last night, I had completed this water change and I had returned Benito to his home. He's always a little bewildered after the water change and has to reassert that his tank is truly his home. I decided to give him some food because if he can get a couple pellets down, he'll go calm and all will be well.
For some reason last night when I reached over the tank to drop a tasty Hikari pellet his way, he got spooked and started darting around the tank.
This is not unusual behavior for a frightened Betta. What is unusual, however, is that he dove straight down and slammed his tiny fish noggin on the rocks.
He was visibly stunned and floated there for a moment with blank eyes and hardly any movement.
"Honey?" I said worriedly to The Good Man, "I think we have a problem."
Benito did not look good. At one point, he stopped moving his fins at all and began to list to one side. Betta owners will know that laying on the bottom and listing to one side is NOT a good sign.
The Good Man and I crowded worriedly around the tank and watched him. His gills were still working and occasionally a side fin would flap. But it didn't look good. It didn't look good at all.
I became inconsolably depressed. My fish. My little fish! How could this happen?
The Good Man thought Benito was just stunned and would be all right. I wasn't so sure. I fully expected to find him floating at the top of the tank in the morning.
I'm happy to say I was completely wrong. About a half hour later, Benito seemed revived and back to his usual self. This morning he was swimming about and hungry as usual.
Whew.
When did I start to love a little $13 fish so gosh darn much? A silly, scrappy, easily startled, concussed fish?
I don't know. I just do. He may only be a pet store fish but he's a part of our family.

So I got to thinking about snakes the other day.
(What a way to start a blog post)
It started with this amazing photograph of a cotton mouth in the damp pine plantations of North Carolina.
Which got me thinking about how much I really, really don't like snakes. I mean, I'm not out to cause them harm, but I really deeply, profoundly dislike snakes.
Which makes it tricky to be a little ol' girl from New Mexico raised right smack dab in the middle of all sorts of robust desert wildlife.
By way of example….Scorpions? Ffft. I don't like 'em but they don't bother me that much. I dislike spiders but tarantulas don't bug me terribly. I mean, I stay away, but whatever.
But there's something about snakes. I don't care if it's "just an ol' harmless bullsnake," I'm NOT ok.
So this presented some, how would you call it, issues, during my summers spent in the rural paradise of Logan, New Mexico.
Logan, located a bit up and to the right of Tucumcari, is home to Ute Lake. My folks bought a mobile home that had the wheels taken off and it was placed permanently on a concrete pad.
We called this tin tube our "Lake House." It sounded kind of grand to say that my family had themselves an honest to goodness lake house.
During the hot Albuquerque summers, with three kids bouncing off the walls, my folks would plan a getaway to the lake. We'd usually get to go for at least a week at a time.
It was great to get out of the city and clomp up and down dirt roads. My mom would slacken up the Maternal Grip and let us run around on our own. It was great.
But since where our little house was located was truly rural, no paved roads, open lots, shrubs, tall grass and the guy across the road was a gentleman farmer, this all added up to, you know…snakes.
Many is the day I'd be meandering down the dirt road, my flip-flops both flipping and flopping, and I'd spy the last bit of a snake slithering off into the dry grass. I wouldn't stop to assess what exactly kind of snake that was, I'd simply take off running.
You gotta know something about me: I'm not a runner. This ample body wasn't build for speed. I'm more of a cruiser than a racer, ifyouknowwhatImean.
But just the whiff of a snake on the wind and I'd best Carl Lewis in his prime getting back to the house.
So all of this is to lay the groundwork as a positively perpendicular view to the event that has been on my mind.
While visiting The Lake, one of my main daily activities was swimming in said lake. All day, every day it was "mom, when are we going to the water? Mom? Mom? MOOOOM!"
I loved swimming in that lake. Before leaving Albuquerque, Mom would buy us each an inflatable swim mattress at the local K-Mart which was supposed to last the season, or longer if possible.
These vinyl mattresses often fell victim to the vast amount of underwater branches and stuff in the lake.
See…in 1963 a dam was built which created the lake. When the water rose, a lot of trees and underbrush were covered up, making swimming both a skosh dangerous and a little interesting.
In addition, the water in the lake isn't exactly clear. It's a nice muddy brown all of the time, so running aground in my hot pink swim mattress because I couldn't see what was below wasn't unusual.
So there on a hot summer day in something like the month of August, I was swimming and flopping and splashing and having fun. I was in the water but draped sideways across the mattress, kicking my feet below when suddenly I noticed very small greenish brown snake come swimming by. Like, right at me.
And in my abject fear of snakes, they are all rattlers to me.
I jerked back and got out of its way, but in those three seconds the following things went through my eight year old mind:
1. There is a snake in the water!
2. If it goes underwater it might bite my leg!
3. If it goes underwater it might bite my butt!
4. If it goes underwater it might bite both my leg and my butt!
5. I should just ignore it, it'll probably swim away.
6. But then I won't know where it is!!! (see points 2, 3 and 4)
What happened next is something I still don't fully understand.
I reached out, grabbed the hind end of this little snake, and I gave it a fling towards land. I may or may not have screamed "gaaaaghhghhh" as I did so.
Evidently I had a good arm back in the day, cuz I got a pretty good Tim Lincecum whipping action going and that baby snake traveled a good long distance, clearing the ten feet of water and a good eight feet of land. It bounced off the bluff and landed somewhere nearby my mother who was on a towel on shore, reading a book.
Uh oh.
So I hysterically informed my mother that I'd slung a snake her way, and she admonished me, but reported that she'd seen the offender slither on up the bluff and disappear into the grass.
The immediate danger was over, but I never could get comfortable again that day.
It wasn't until later that night that the gravity of the situation really came home to roost. I'd actually touched a freaking snake? Oh. My. Gawd.
Whatever in the world possessed me, I'll never be able to comprehend. I'd never do it again, I'm fairly sure.
I get an involuntary convulsive shudder just remembering it.
Photo found at Waymarking.com

There is so much I have yet to learn about making good photographs. Each step along the way seems like I'll never sort it out, but I keep at it. I snap photo after photo until I finally understand what makes a particular aspect work. It's usually one photograph that turns out just right, and I say "hey, maybe I'm starting to get the hang of this."
My current studies are about macro photography. I've owned a macro lens for a quite a while now, but have used it only rarely as I've never happy with the results. It's the photographer's fault, not the lens. It's a fine lens, but a macro in the hands of an inexperienced photographer can yield some funky stuff (and not in a good way).
To me, a macro lens is amazing because you can get such detail, but that detail can come at the cost of clarity if you don't have it focused just right.
Well, the practice continues, and since my pets must suffer their fate as the subject of my ongoing photography education, today I present to you another photo of my beloved male betta named Benito.
Last evening I pointed the macro lens his way when it was his turn to cool his fins in a holding cup. Freshly treated water in his tank was warming up to a comfy level while he waited.
Snapping him in the holding cup helps because he doesn't have as much room to move and spin and twirl and turn his body into a perfect u-shaped form, thus creating ever more blurry photos of half a fin or an out of focus gill.
He's very responsive when I speak to him and comes right up and looks at me. Sure, he wants me to feed him, but I like to think it's because he knows I'm his human and here to take care of him.
I like looking into his little eyes, and wanted very much to capture a photo where you could see the clear domes over his little fishy eyeballs.
I think I succeeded. He was very patient while I fiddled with the focus and turned the knobs on my camera and cursed and snapped away.
For this photo, I used a very shallow depth of field and I like how his head is very clear and the rest of his body blurs to soft focus.
Benito is not really a fan of having a camera aimed at him, so I only took about eight photos, but I'm pretty pleased with the results.
I'm learning!

click image for larger size

This week's Theme Thursday assignment is turn.

Photo by Karen Fayeth and subject to the Creative Commons license, as posted in the right hand column.

Oh hell, I did NOT just reference Van Halen for today's Theme Thursday topic of jump, did I?
Oh wait. Yes I did.
Ahem. Let's move on. Quickly.
The topic of jumping has been on my mind lately. The Good Man and I have been discussing this in hushed and worried tones.
You might remember this post from back in May where I described the miracle of my betta fish named Benito. Bubba almost died on us, but he was miraculously saved by The Good Man.
After that rough spot, our little Benito thrived but was fairly timid. The Good Man did some reading up and found that a male betta will become more aggressive as he becomes comfortable with his surroundings.
Well, we've had Benito for nine months now and Mr Fish has become VERY comfy in his own little fish house.
So comfy that he's become a very naughty fish.
When we feed him, he loves to make sport of it. He'll leap at the food nuggets like he's got Jaws-like delusions of grandeur.
He'll hide back behind his heater, and when I drop a pellet and then point to it with my finger, he'll come charging out ignoring the food pellet and leap to bite my finger.
I swear I hear a tiny "rowrrrr" every time he nips my finger.
Feeding him has become a chore because he's too busy trying to bite me or do a flying leap onto the food pellet that he misses the damn thing and has to chase it around the bowl.
The Good Man thinks this is funny and encourages him, making his own "rowrr" sounds. Must be a guy thing….
Anyhow, the other day, The Good Man was on feeding duty and he had the packet of pellets in his hand. TGM turned to say something to me, and when he turned back, Benito had jumped clean out of the water and landed on the table.
He'd seen the pellet pack and his buddy TGM and it was ON!
We scooped Benito up and put him back in his bowl and he's no worse for the wear, and no less ready to leap for his food pellets.
We have to keep his water level a bit low and keep the lid down so we can contain his exuberance. I knew that bettas were notorious jumpers, but come oooon.
An aside for you fish folks who might question: yes, we tested to be sure he wasn't leaping because his water was ammoniated. Nope, he was just being naughty.
This morning I decided to try to take a photo of my little fish. Having the camera near the bowl stresses him out, so I try not to do it very often or for a very long at a time. Plus, he's a fast little bugger and hard to photograph.
But here is my little bubba fish (terrible angle, makes him look huge!). Don't be fooled by the cute eyes…he's ready to jump. He'd already flared at the camera and leapt at my fingers by this point.
Boys can be so rude! Our other little fish Margaret is such a sweet little girl and easy to feed.
Not so with this troublemaker: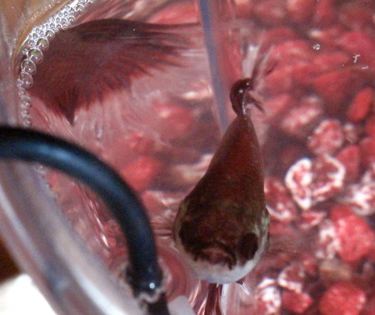 A few weeks ago, one of our beloved Betta fish took ill (as Bettas are wont to do).
At wits end wondering how to help our little female fish through the rough spot, The Good Man consulted with a fairly fish knowledgeable employee at the store where we got the Betta.
Most fish owners will just dump an antibiotic like Tetracycline into the tank and hope for the best. Not knowing exactly what is wrong, we didn't want to go that route.
The pet store guy recommended something called Betta Revive as a first defense.
It covers a broad spectrum of low-level medications to address a whole host of potential fish illnesses.
One of the main ingredients in this remedy is Methylene blue.
For those a little short on their anti-psychotic knowledge, Methylene blue, also known as Thorazine, became a heavily favored drug for psychiatric use in the 1950's and 1960's.
Apparently, it also has an antifungal effect, so is included in the fish remedy to ward off the dreaded Ich.
We got the Betta Revive and made up a fresh batch of water and added the remedy. Predictably, it turned the water a nice shade of medium blue. Pretty much the color of airplane toilet water.
We floated our sick fish in the blue water, changing it daily, for about a week. She's mostly recovered and is eating again, which is a good sign.
I'm blathering on about blue water to get to a point. It's coming, don't lose me now….
Over this past weekend my body decided to avoid the holiday rush and succumb to a nasty early winter cold.
It the usual stuff, runny nose, sinus pressure, achy joints, low-grade fever and a raging, uncontrollable cough.
I feel like crap and I'm a little depressed. In an effort to cheer myself up, I took a nice hot bath last night.
While soaking, I thought to myself, "Hey, I wish I had some of the blue water to soak in. I don't know if what I have is viral or bacterial, so a broad spectrum fix might be just the ticket!"
I mean hell, it'll make my scales lay down nicely and the Thorazine will help me feel aaallll right about the world.
I asked The Good Man if I could soak in some blue water. Gonna have to get a big container of the stuff, but I'm ready!
He gave me that one-eyed squinty look that says, "I'm just going to nod my head and walk away." And so he did.
I may be sick, but my creative brain is always working out the angles. Even if The Good Man doesn't buy into all of my (fabulous) ideas.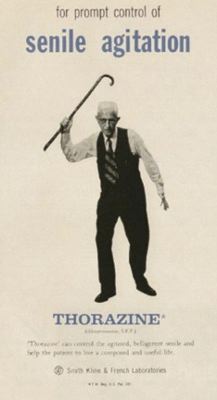 As a manager of employees in the State of California, I am required, by law, to attend and complete some very lengthy and detailed courses designed to keep the workplace "appropriate."
The courses are always very alarming because they teach to the worst possible examples, things that make you think "do people really do that?"
But it's good. Having a safe, conflict free work environment is essential. Everyone has a right to feel comfy at the place where they spend the majority of time during their weekdays.
As a new hire, I recently completed the mandatory training for my new company.
It's made me all very aware, very sensitive to potential "situations."
That said, I almost walked right through all my training to drop a big hug on a coworker.
That coworker is the nice man working the grill at the company cafeteria.
Today's special is fish and chips, one of my fave meals.
I figured they'd pull a pre-battered fish plank out of the freezer, dunk it in the fryer, and serve it up.
Fair enough, I'd still eat it.
But no.
After placing my order, the gentleman at the grill pulled two fresh fish filets out of the refrigerator. They were real fish filets, not some amalgam of fish parts.
Then he hand dipped them in batter and laid them gently in the fryer.
He then he served them golden brown over fresh-from-the-fryer, made just for me French fries he's hand seasoned by tossing them in a big bowl.
When he handed me the plate, he smiled and said, "enjoy."
Really, I almost wrapped him in a big bear hug.
He deserved it, California laws be damned!
….that living in the Land of Schwarzenegger, in the area of the Bay, there came to be a fish. A small fish. A fish who was filled with faith and hope.
A fish purchased under the accursed impulse-purchase vexation.
The fish was of the Betta clan, and was given the name of Benito, meaning "blessing" or "blessed one" in the Spanish culture (and meaning tiny little dictator in the Italian tradition).
And so it was that Benito came to live in the house of The Good Man and true to his name, blessed us all.
Benito swam and ate of the bloodworm. And it was good.
Until it wasn't good.
And forsooth, Benito ceased to eat, and lay on the floor of the tank, flat on his side, and took on a gray pallor.
Which only raised memories of Frank, also of the Betta clan, who came before Benito and expired so painfully.
And so it was that The Girl wept, felt necessary to rend her garments, gnashed her teeth and howled to the heavens, "Why! Why must I have the curse of killing helpless fish?"
Then The Girl resigned herself to the knowledge gained that she was not meant for fish ownership.
Another matchbox coffin was prepared, and sadness befell the house of The Good Man.
In the last, desperate hours, The Good Man proclaimed, "he who believeth in the bettas shall never die."
Thusly, The Good Man brought his mighty hand down and created freshly treated water and added the miracle of the antibiotic powder.
The limp body of Benito of the Betta clan was deposited into the fresh, medicated water and hope was not held out.
In the break of the morn, The Good Man, in his grace, went to the tankside of Benito of Betta, and proclaimed, "Yea, tho I believe this crazy fish is hungry!"
And chopped up pieces of bloodworm were deposited in the tank, and verily Benito of Betta did eat.
"No %$&#ing way!" came the cry from The Girl, who stared in disbelief at the miracle The Good Man had wrought.
"Yeah, don't get your hopes up," The Good Man admonished, but despite his downplaying the whole thing, The Girl did ignore him and did in fact get her hopes up.
And forsooth! Benito of Betta did continue to eat. And became more upright, and began to flap his fins in a normal manner.
And Benito of Betta was thusly nicknamed the Lazarus Fish, having risen from the dead.
So it is that some two weeks from coming to the house of The Good Man, Benito of Betta continues to live and eat and could almost be described as thriving.
And with the focus on a new, recovering fish, The Girl finds the sadness over the loss of Frank is beginning to ease.
With the help of The Good Man, guardian of the broken pets, The Girl may in fact learn to be a suitable owner of small helpless fish.
And for the moment, it was good again.
But don't get your hopes up.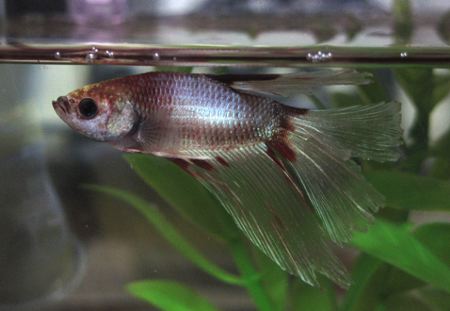 P.S. Margaret, female of the Betta clan, and The Good Man's fish, continues to thrive quite nicely, thankyouverymuch.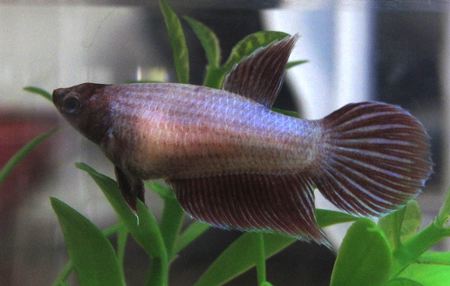 I'm sad to have to convey that last night, just past 11:00, my little fish Frank passed along.
It seems he succumbed to an internal bacterial infection, which was hard to diagnose, and the antibiotics we put in the water weren't enough or in time.
He was only my little fish for eight days, but he was a good fish and a member of our family.
Last evening at the grocery store, I ran into a longtime friend and when I confessed I was sad because I thought my fish would die, she said, "ah, no matter. Flush him and get another one."
I appreciate that many folks would feel that way. It's just a small thing, a $5.00 fish from the pet store.
And that's fine. We all go about life our own way.
For me, I'm not ashamed to actually feel very sad and even cry a little for my fish, who had to struggle so much for life so much there at the end.
I knew when I bought him that he might not be 100% healthy. The Good Man and I agreed to foster him at home so he would either recover, or if he succumbed, he would do so in a big tank with humans around to protect him.
And so we did.
I pimped out a nice matchbox coffin for my friend and gave him a proper goodbye in the side garden of our house.
He was just a fish, but he was my fish, and he was well loved.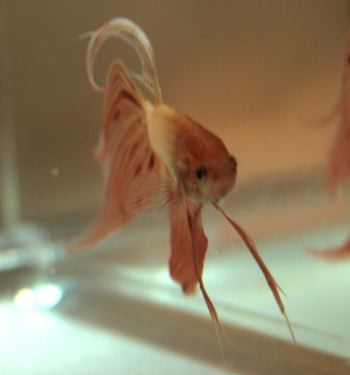 By the by, Margaret, the female betta who came home with us the same day as Frank is doing fine. She's happy and does a little fish dance when we walk up to the tank. I never before thought I could find a fish cute, but I have to say, she's an adorable little fish.
You wouldn't like him when he's angry.
Frank MAAAAAAAD! Rowr!