Do you remember the Sting song "Russians" from way back in 1985? An overly somber commentary on the state of the Cold War, Sting implored "I hope the Russians love their children too."
I have had occasion to listen to this song a few times over the past months. It keeps coming up in my consciousness. I do readily admit that in 2016 the song sounds almost quaint and old fashioned. I remember the first time I heard it in 1985 it felt deadly serious.
As a GenXer, the Cold War is certainly a part of my formative years. Growing up in New Mexico, I was acutely aware that "Oppenheimer's deadly toy" was largely created in Los Alamos. My dad was employed by Sandia Labs and he worked on nuclear weapons. Hell, my dad was one of those guys in the 1950's out on some Pacific island in the middle of nowhere setting off nuclear explosions just to see what would happen.
So the Cold War was a little more real to me than perhaps many of my classmates. I remember on the playground talking with some friends about this list that apparently the Soviets had. A list of the first places they would hit if the war began. We all agreed Los Alamos would be on the list and debated if Sandia was there too.
I remember saying to a friend that I'd rather be nearby if a nuke was dropped. I'd rather be vaporized than have to live with radiation poisoning. I was just a kid but I had worked out how I would get as close as possible to Kirtland Air Force Base to control my own destiny.
That was some heavy stuff for a little kid, but it was the reality of the world back then.
So when I learned in April of this year that I would be traveling to the Czech Republic, I was incredibly excited. I love international travel and Czech Republic is a really old and quite historic city. The Good Man calls it "deep Europe" and it sounded so dark and mysterious.
But I also pulled up short. Hesitatingly, I asked The Good Man, "Didn't…uh…Czechoslovakia used to be Communist?"
Then I took a look on Google, I searched "Iron Curtain" and found this map. There it is, Czech Republic behind that heavy line.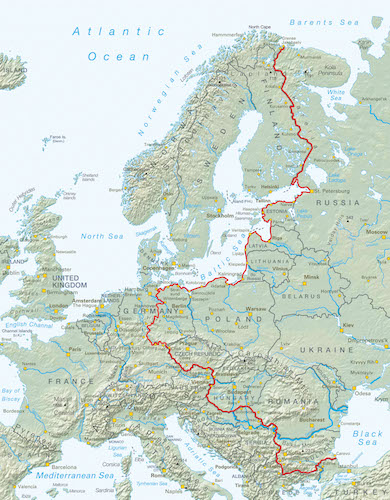 Map found here

I had a startling realization that I was preparing to travel to a communist country. This brought up an amazing amount of fear and almost guilt. Like I was betraying my country. Like I was letting down my father and all of those people he worked with back in the day. Or that I would surely find myself taken prisoner and subjected to intense KGB scrutiny simply for being an American in the wrong place.
Of course, all of that is patently ridiculous. The Czech people had taken back their country in 1989 and Americans visit Prague all the time. One of my coworkers had just been there and she loved it.
My weirdness was not helped when the guy who heads up the property team at work dropped a letter on my desk and told me to keep it with my laptop when I traveled. The letter assured that my employer owned the machine and that I was authorized to carry it.
I said, "This is my fourth international trip for our employer. I should admit I've never had a letter like this before."
He quickly replied, "That's because you've never traveled to a former Communist country before."
Oh.
Back in the day, I loved that movie "White Nights." What more could a movie do to pander to GenXer fears around the Cold War? Plus, I had enormous teenage tingly feelings for Gregory Hines (I can confess I actually got to meet him once and he was even more handsome in person, and also a true gentleman). Mikhail Baryshnikov was not exactly hard to look at either. But I'm wandering off topic…
That scene where Baryshnikov's character, a defector from Russia, realizes the airplane is going to make a crash landing in Siberia had a big impact on me. As he's tearing up his passport and flushing it down the toilet, I was terrified. When the inevitable straight out of central casting KGB agents arrived to harass our hero, I just knew that was EXACTLY how it really was. This was more documentary than fiction, right? <*smirk*>
It was with all of these thoughts and fears that I boarded a plane headed for the Czech Republic. Of course what I found when I landed was a beautiful country and very kind people.
My first foray into the center of the city of Prague was to attend a formal dinner at the historic Rudolfinum. One of my coworkers who knew her way around suggested we get off the Metro a couple stops early and walk about half a mile to the venue. Well of course, I was excited at this very idea. My first real exposure to the heart and soul of Prague.
I was immediately enchanted by the lumpy cobblestone streets and the very old buildings. We soon came across an odd building with four statues over the entrance depicting what appeared to be, to my eye anyway, communist era workers. The kind of thick neck and heavy features you'd find in a Diego Rivera painting.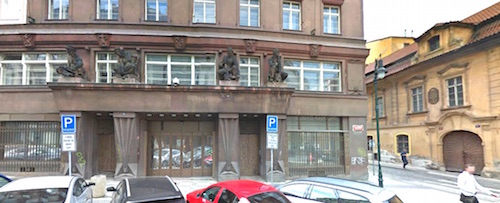 A very bad screen grab from Google maps because I didn't take a photo while there

I had kind of a "holy shit, look at that" moment and kept walking. There was a remnant of Soviet era Prague right there. Right there!
As we kept walking my eyes landed on souvenir shops with colorful marionettes, crystal shops, many pubs, restaurants and even a big ol' Burger King, and I knew that it was okay. I was not somewhere I wasn't supposed to be. I didn't need to rip up my passport and toss it into the murky blue waters of an airplane toilet.
No, rather, I was exactly where I needed to be. Instead of fear I felt proud that my ten New Mexico bred toes felt the pulse and music and life of one of deep Europe's most beautiful cities.
Now, in hindsight, of course I was being ridiculous. I mean, my brother has traveled right into the heart of Moscow, Americans are free to visit Cuba, and Dennis Rodman gets to visit his bestie in North Korea. It's a different world and a different view.
At the end of the day, it turned out that the Russians did (and do) love their children too.

(A conversation between the warring factions in my brain. From about an hour ago.)
What's this?

Duh, it's a screwdriver.
Go deeper.
A flat head screwdriver.
Keep going.
A Sears Craftsman flat head screwdriver.
Bingo. Now, why are you holding this in your hand and staring at it so intently?
Because this Sears Craftsman flat head screwdriver is not mine.
Yes. This screwdriver isn't mine. I mean, I found it in the bottom of my toolbox. I was looking for some electrical tape to repair my iPhone charging cable. Because I'm too cheap to buy a new one.
Yes, I have a toolbox. Mine. And I've got some nice tools. Only, I don't have any Craftsman tools. I'm also too cheap to buy good quality handtools. What, am I building a skyscraper? No. I have never bought a Craftsman tool because I make do with discount store goods.
Except for this screwdriver. My lone Craftsman in a sea of cheapies.
And?
And when I look at this tool, I can tell it's been used. A lot. It's not new. It's scuffed, the handle shows traces of white paint. The tip is scratched to hell and someone has used the base to try to hammer something.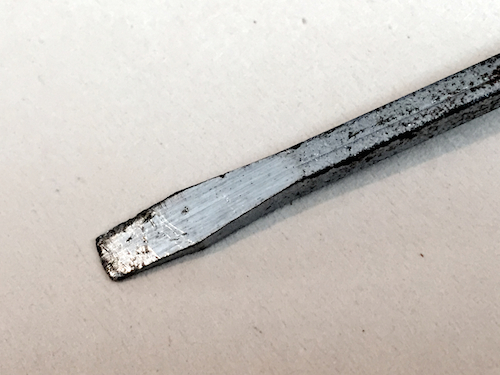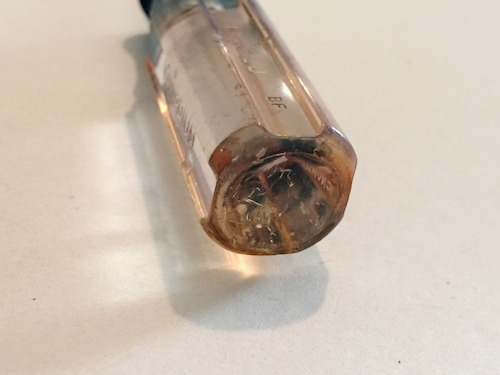 And?
And I just remembered where I got this Sears Craftsman flat head screwdriver.
I stole it from my father.
Okay, stole is probably too strong a word, but I did lift it from his toolbox and did not return it.
I kind of feel bad about that. He used to get so ticked when his tools didn't find their way back to his toolbox. Can you blame him?
I wish I could give it back. Only I can't. He's been gone for ten years and I've been carrying around this stolen property without even knowing I still had it.
But I do. Still have it. Now. Today. In the bottom of my toolbox, nestled next to the electrical tape and a bent hand saw blade. The saw blade is mine. All mine. Cheaply made, hence the wrinkle in the metal.
But that Sears Craftsman flat head screwdriver that came along with me from New Mexico to California. That's a quality tool. The logo has rubbed off and the metal is a bit rusty. And it's filled with memories, both good and bad. A lot of memories. So many I got a little lost.
What is Vanadium anyway? It says that word on the handle. Ah it's a mineral. It's a fancy word used to make this tool seem important. A simple Sears Craftsman flat head screwdriver.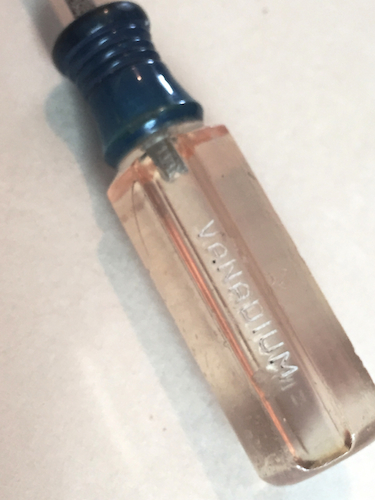 It is kind of important, in its own way.

All photos used are Copyright © 2015 Karen Fayeth and subject to the Creative Commons license in the right column of this page. Shot with an iPhone 6 and the Camera+ app.

Turns out I have a new neighbor. I had no idea the new tenant was moving in, but then *boop*, there was someone new trooping around the ol' neighborhood.
Not sure what unit this one lives in. In fact, I've never even set eyes on my new neighbor, but I know they live nearby.
You see, October in Northern California is gorgeous. Really, it's the best time of the year, bar none, to be here. The days are warm and pretty, and the evenings clear and cool. Indian summer lasts a real long time here and it's a wonderful thing.
Every evening after a long day of work, The Good Man and I throw open the windows and the back door and let the stuffy apartment drink in all of that cool, clean air. Perfect for a good night's sleep.
Over the past couple weeks, right around 7:30pm or so, the rancid odor of burning plastic and gasoline and the hinges of hell begins to seep into every room of the house. It hits one of us (usually me) first.
"Arrwhagggh!" is the approximation of the sound I make.
"What?" says The Good Man, alarmed, and then "Oh bleah!"
Yes, it's true. My new neighbor is…Dun dun duuuuuuuun
El Zorillo*
Pinche zorillo. I haven't been able to lay eyes on the beast, probably because by the time I get the eye watering jet wash it's moved on to the next yard.
I fear this cabrón lives under my front stoop but I can't be sure.
And every time this happens, like watching reruns of Lucy and Ricky, The Good Man and I have a conversation that goes a lot like this:
Me: "I just need a .22 and I can take care of this problem."
Then The Good Man reminds me that we live in California and this state takes a dim view of shooting varmits in its urban neighborhoods.
"A bb gun?" I ask, like that kid from the Christmas movie. "The pump action kind."
The Good Man says, "You really think you can hit a [insert rodent name here, we have this conversation a lot] from here?"
"Try me," I say, standing up straighter. "I've been shooting since I was a kid, my dad saw to that. I've shot everything from a cap gun to a Browning over and under and my aim is pretty damn good."
"No," he says.
"Pellet gun?" I plead.
"What the hell state do you think you live in? We don't shoot old hot water heaters out behind the Snappy Mart around here!" (I may or may not have introduced him to the rasquache joy of my home state.)
Then he tacks on, "We live in one of the most densely populated areas of the United States and the police, they have no sense of humor in this city!"
And then I sigh, and quickly cover my nose and cough because I took in too much skunk air when I started the sighing process.
Of course he's right. So I went online and did some reading and discovered that if I can figure out where my new neighbor lives, animal control might help.
Problem is, when I get the aroma, I kinda don't want to dash out there to get a good look at where the beast is going.
I think I'm going to need a trail camera. And camouflage. And maybe some other cool things like a Buck knife and a camp stove and a new tent! Oooh yeah…
And don't anybody tell me that it's a cute fluffy creature worthy of love and affection. When the original engineer designed the zorillo, it wasn't with a love of humans in mind.
Or dogs, I think our awesome next door neighbor dog got hit last night. Poor growly bear of an adorable dog.
(This just in: I was texting with The Good Man telling him I was writing this post and he said, "I trapped some skunk stink in my closet last night. Kind of surprised myself this morning.")
*a skunk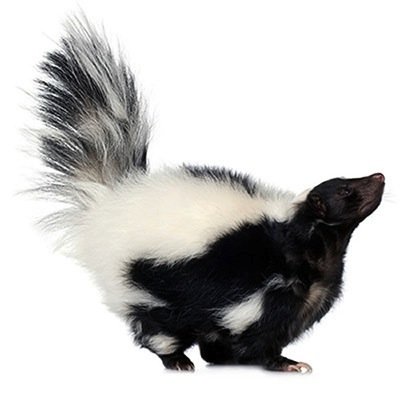 "Whatever. Haters gonna hate."

Image found here.

"Practice makes perfect," they say and, "If you do something for 10,000 hours then you will be a master."
Well, horse hockey is my answer to that.
If the delineator for adulthood is the age of 18, then I have put in a solid 236,682 hours at this craft, and I still haven't figure out how to be a master.
In fact, I may be worse at it than ever.
Sure, I get up in the morning and I go to work and I make a paycheck and I pay my taxes and I usually vote and I have insurance and a 401k and even a will. All the trappings of being a grown up.
But I still would rather have cookies for dinner and silly cereal for breakfast. I still throw little tantrums when things don't go my way. I still need naps and need to believe in Santa and I still want to play with toys and fly kites and occasionally I just need to melt down.
I can pay my taxes but the very thought of buying a house terrifies me. I can make decisions that impact millions of dollars at my job and then sometimes can't decide if I want orange or lime flavored candy at the store. Then I buy and eat both and cry because my tummy hurts.
This thing, this adulthood, it doesn't get easier.
And hell, I don't even know where the border lies, the place I can cross safely and know for sure I have arrived into adulthood.
Some might say it happens when you have kids. Fair play, I guess. But I have a lot of friends with kids that I wouldn't call the model citizens for grownup-itude.
When my dad died, that probably was the closest for me in knowing what it means to be an adult. I grew up pretty fast when, for better or worse, that was thrust upon me.
But even that wasn't enough to be the final frontier for me. (mmm, Frontier. I could go for a cinnamon roll right about now)
This past month some things happened with my "lady guts" that signaled the beginning of a long journey. When a woman's life turns from the dog days of summer into Autumn.
Discretion keeps me from going through all of the gory details, no one needs all of that. While I'm far too young for the "main event," my body has let me know that the pre-game show has started and the players are starting to take the field. (nothing like a sports metaphor to describe a lady issue….)
I'm not ready for this. I'm not grown up enough for this. I'm not an adult! I have put in the hours, many hours of long grueling practice and still…still I find myself at this age and at this earthly turning of a season far from being an expert at adulthood. I am jack of many aspects and master of none.
Maybe that is okay. Maybe that is what being an adult is about, the continually wondering if you are "grown upping" correctly. Paying taxes and eating ice cream sundaes with reckless abandon (while popping Lactaid, because that's a mature thing to do).
And on my next bubblegum ice cream sundae, I will be decisive enough to get both nuts AND sprinkles on top.
Because I'm young enough to want them both and old enough to pay for it.
So there. Take that! This is how I'm doing grown up and no one can make me do it differently!
Nanny nanny boo boo on you!
Adults are always asking kids what they want to be when they grow up because they are looking for ideas.

— Paula Poundstone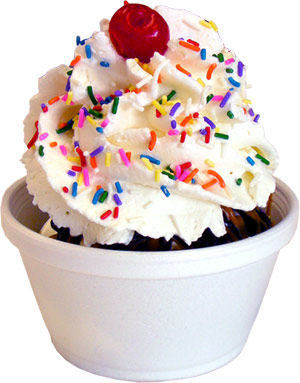 Image found here.

Part V, and the conclusion of a five part series.
It was a short plane ride, take off, cruising altitude for something like a minute, then get ready for final descent into Las Vegas.
Las Vegas. My kind of town. Vegas and I go way back. Now you know my not so secret secret, I wasn't actually born in New Mexico, I was born in Las Vegas, Nevada.
My dad was working out at the Nevada Test Site and one thing led to another and…
Growing up some of my friends liked to tease me that my parents took a gamble and lost. Oh! Hey! Good looking crowd. We're here all night. Tip your waitress.
My folks loved living in Las Vegas, but for various reasons moved back to Albuquerque when I was very small. Really too small to remember much of life in Las Vegas. All I've ever known is New Mexico, so I still rightfully call myself a native.
I scrambled off that Southwest Airlines jet, through the jetway, and hit the carpet in McCarran Airport. I walked without hesitation to a bank of slot machines that were unoccupied and pulled up a seat.
My family likes to gamble. A trip to Vegas was my present for my twenty-first birthday. My folks used to get out there at least once, maybe twice a year and we kids often went along. I didn't grow up in Vegas but I grew up an awful lot on the many casino floors through the course of my life.
The Vegas I know is an old school Vegas, from the 1970's, and it always feels a little right to be there.
With twenty dollars in the slot machine, I managed to make it play for a little over a half hour. I'd get down to the last dollar then the machine would pay off again. I was on a nice hot streak. Not hot enough to cash out, but hot enough to have some fun.
When that was gone, I picked another machine and chased another twenty dollars around for about fifteen minutes.
When that was gone, I got up from the seat with a sigh. I felt hungry and went in search of something not airport-awful to eat. Over a really disappointing slice of Sbarro's pizza, I stopped chewing for a minute and smiled.
A thought occurred to me. In that same day, I had been in New Mexico, I was in Las Vegas, and I'd soon be in California. Those are all of the places I have ever lived. Those are all of the places I know.
Those are all of the places I belong.
Kind of cool, really. Kind of a nice way to end my journey. A full circle kind of a thing.
My trip to New Mexico was, all in, pretty good. I was so glad I made the trip, so glad to see my best friend and my goddaughters, so glad to go home and immerse myself in memories (and make new ones too).
My trip to New Mexico was also a little difficult. You see, my dad died in 2005 and he's buried in the National Cemetery in Santa Fe. There was no way I could live with myself if I was in Santa Fe and didn't go to the cemetery. And yet I really, really didn't want to go to the cemetery. It's not a joyful thing.
The last time I had visited was in 2009 and I was without a job and had lost my mind a little bit. I was scrambling to find a way to get back on my feet. That year I took a trip home to New Mexico to see if going back to my roots could help me find my compass needle.
I had cried a bit when my dad had died, but I was also a little stoic. My mom had asked me to be strong so that she didn't have to be, and I agreed. I was as strong as I knew how to be back then, and a few years later there may have been some pent up stuff that needed to come out.
In 2009 when I found the stone that marks the place where my dad's ashes are stored, it was a surreal experience. Gray skies opened up with rain and I stood there with my hand tracing the letters in stone and I cried, I keened, I howled. I scared the grounds crew. I honestly did, I freaked out this nice man taking care of the row of headstones nearby.
I guess back then I had some things I had to work out. On that recent spring day in March 2014, I was afraid that monster was still inside of me. I was terrified I'd find myself keening again at my father's graveside. When considering going to the cemetery, I balked, I stalled, and finally I borrowed the keys to my friend's new Suburban and set up Apple maps on my phone and took off on the highway, dreading it all the way.
Apple maps led me on quite a merry chase through the streets of downtown Santa Fe. That is a very old city, built by the Spanish Conquistadors so the roads are narrow and the sidewalks are high to accommodate horse drawn carriages.
With a little bit of axel grease and a shoehorn, I was able to navigate a huge Suburban through the streets, getting more lost by the moment.
Eventually, Siri found her head and I found my way, and there I was again, at the Santa Fe National Cemetery, both ready and not quite ready for what lay ahead.
That cemetery is always a difficult place for me. Rows upon rows of headstones mark all of my fellow New Mexicans who served in the military and who passed on, either in service of their country or later, as my dad had done. It is quite a humbling place for me, and that is even before I get to the place where I have to face my personal sorrow.
I had a bit of a false start, stopping at the wrong row of stones and realizing I was off by a bit. It didn't take me a long time to find the right row and my father's stone.
His ashes are in what is called a columbarium and it's covered with a lovely piece of what I think is marble and secured to the wall with these connectors that look, to me anyway, like conchos.
They are so beautiful and so New Mexico appropriate.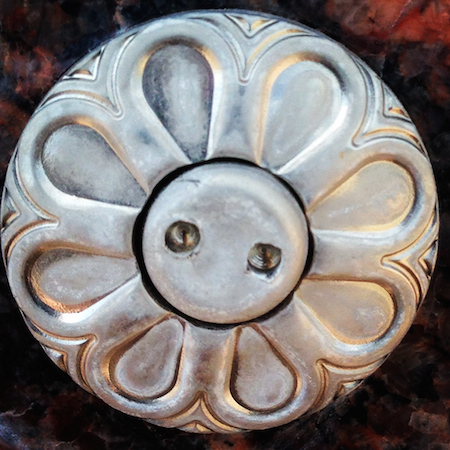 Copyright © 2014 Karen Fayeth

For personal reasons, I will decline to post the entire stone, but I wanted to share a nice photo of that fastener. It stands on its own as a useful reminder.
On this visit I didn't keen and I didn't wail, but I sure did cry an awful lot. I put my hands on the now weathered stone and I traced his name and the word "Korea," the war in which he participated. I felt the cold marble and I noted the sand blasted wear and tear and laughed at the unyielding New Mexico elements that caused the letters to already become faded. It's only been nine years.
"Well, dad, I guess I'm doing a lot better than I was the last time I was here," I said aloud. And I was.
Seeing my father's name carved into stone never fails to break me on some level. After pacing a bit and having a pretty hard cry, I walked up the row and sat on one of the benches. It looks out over the valley and has a gorgeous view.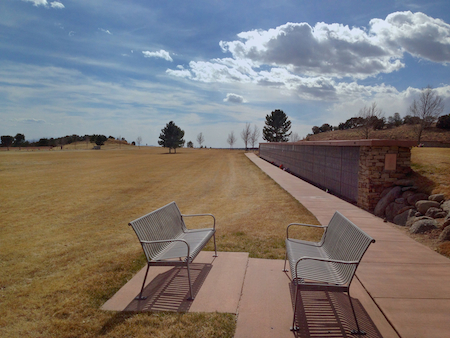 Copyright © 2014 Karen Fayeth


The mountains at my back and the dried grass and valley in front of me. The New Mexico unrelenting wind dried my tears the moment they slipped from my eyes. I laughed as the wind whipped at my hair. "Goddamn springtime wind," I said to no one as I sat there alone.
Tumbleweeds of thoughts bounced in my mind. Through tears of sorrow, I smiled, because of that view, that place, that moment.
I had spent the past three days wondering I was even a New Mexican anymore. Sitting there, letting the climate steal my moisture and feeling grounded, I remembered that I always was and will always be.
I can never not be a New Mexican. Just as I can never not be born in Las Vegas. And I can never not be a damn near twenty-year veteran of California.
I am all of that. I am none of that. I am more than that.
I am greater than the sum of all my parts.
My version of New Mexico may not exist anymore but it's mine. My particular brand of Las Vegas may not exist anymore, but I own it. My California is still telling me its story.
There is a lot left to learn about all of those places and as I gaze forward to the celebration of another revolution around the sun, I humbly admit there is an awful lot yet to learn about me.
What started as a fun trip to see my best friend in the entire world and my gorgeous godkids turned out to be something of a journey. A grounding moment in time that changed me, humbled me, reminded me and helped me grow.
I had no idea that was going to happen. I'm kind of glad I didn't know. To paraphrase one of my oldest goddaughter's favorite songs (that dates back to my college years), I might have missed the pain, but I'd have had to miss that dance.
And there is no way I'd ever miss out on a good dance with some of my most favorite people in the world, back home where I belong.

Both photos Copyright © 2014, Karen Fayeth, and subject to the Creative Commons license in the right column of this page. Taken with an iPhone5 and the Camera+ app. The fastener photo was further edited in Instagram.