Was sorting through all of the photos from my recent trip to New York when I found a set that I wanted to share. In fact I'd meant to share this a couple weeks back but I just got lost in the back-to-the-real-world on top of the hectic pace of the hellidays.
One of the days that The Good Man and I were in New York, I requested the chance to spend a few hours in the New York Public Library as I was still rap-tap-tapping away at my NaNoWriMo.
The Good Man indulged me and I had some time to sit in the Great Room and write, which was both fun and inspiring and is something I will never forget. The Good Man went exploring as I worked because there is much to see in that amazing library.
That was when The Good Man stumbled across something interesting. It turns out that in the basement of the NYPL, there is a children's books section, and in that area there is a display case containing several stuffed animals, but not just any stuffed animals.
In the case are the original stuffed friends that were the inspiration for Winnie-the-Pooh. These toys belonged to Christopher Robin Milne, the author's son.
The toys were brought to the United States in 1947 and remained with the publisher of A.A. Milne's books, which then donated the stuffed animals to the New York Public Library in 1987.
In this photo, from left to right, is Lottie the Otter who shows up in a more modern Winnie the Pooh book sanctioned by the Milne estate. Then we have Tigger, Kanga in the back, the small Piglet, then Eeyore and finally on the far right, the man himself Winnie-the-Pooh.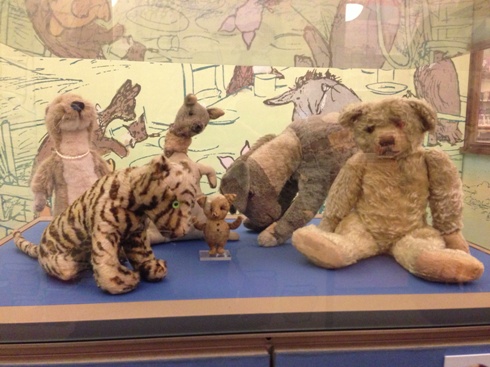 This photo is Copyright 2012, Karen Fayeth

Turns out the stuffed bear was bought at Harrods in London as a present for Christopher Robin's first birthday.
It also seems that this stuffed bear is named Edward. Who knew that ol' Winnie-the-Pooh was really a very posh Brit bear? I did not.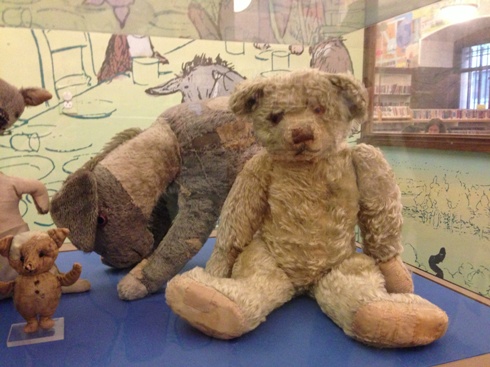 This photo is Copyright 2012, Karen Fayeth

This Winnie-the-Pooh looks much different from the Disney-i-fied version that we all are used to. This Mr. Pooh has very kind eyes and a pettable nose.
But still no pants.

This photo is Copyright 2012, Karen Fayeth

I was pretty excited after seeing the original Pooh gang. It was like meeting a group of celebrities.
As a writer it was pretty cool to see how inspiration can turn into a rich and beloved story.
Combined with a marathon writing session and then seeing Charles Dickens' pen and inkwell, it was quite a happy literary day for this little ol' writer.
All photos Copyright 2012, Karen Fayeth and subject to the Creative Commons in the right column of this page. Taken with an iPhone5 and the Camera+ app.

In 2011, I did NaNoWriMo, the writing challenge where you try to write 50,000 words in 30 days, and for the first time in seven years of participating in the annual event, I failed to cross the finish line.
I mean full on fail with sad trombones and tiny violins. I even blogged my lament.
Now here we are in November 2012 and it is NaNoWriMo time again. I ended October feeling nervous and remembering my big fail from last year. I wavered and fretted and finally decided to try again.
But I went ahead and jumped into the challenge. I squinched down my shoulders, hunkered down with my laptop, and by god, on Wednesday night, I did it.
Whew, it was a great feeling to cross the finish line again.
Rock on!
*With a nod to Bull Durham for the post title.

It is a mild and sunny Monday afternoon and I am happy and healthy here in New York City.
At the moment I'm working on my NaNoWriMo trying to increase a word count that currently sits at just past 45,000 words. I gotta get 5,000 more written by Friday to make it past the goal line.
I think I can I think I can.
In order to inspire myself, I'm sitting in the great room at the New York City Public library tapping away at the keys to my MacBook.
It really is a great room:

Copyright 2010, Karen Fayeth. Taken with an iPhone5 using the onboard app and the panorama function


Downstairs there is a free exhibition of some artifacts from Charles Dickens. Among these treasures is the late Mr. Dickens pen and inkwell. Now that really is inspiring.
Copyright 2012, Karen Fayeth. Taken with an iPhone5 and the Camera+ app.


Here I lament tapping away at the keys, trying to make the words accumulate into something good while our man Charles scribbled them all out longhand, dipping pen into ink every so often.
I suppose one might be a bit more thoughtful about the words if one had to write them out one by one in pen and ink, eh?
For me, I can't imagine going back to even writing on a typewriter. I remember having to type up papers for school on my mom's old manual typewriter and being so head bangingly frustrated at having to type each page perfectly with no mistakes. Argh!
No, I'll take my beat up old MacBook, words slopping out from the edges of my Word document like water in an overfilled and somewhat leaky bucket.
I can veritably shower in the words here as they fly free and easy from my fingertips.
Then again, he was Dickens. I have yet to fully be Karen Fayeth.
Back to tip tapping away in the great room.
Many words and many miles yet to go….
If today is Halloween, that must mean tomorrow is November 1. The first day of November is not only Dia de Los Muertos, but also ushers in the annual National Novel Writing Month, or NaNoWriMo.
Eight times I have successfully completed a 50,000 word story in the span of just 30 days. Last year was the first time I attempted and failed NaNo. And even in my failure, I learned a lot.
In the spirit of try, try again, I'm going to take a run at it again this year. This despite the fact that I have no story ideas and a lot of anxiety about it.
And so as an athlete stretches and runs wind sprints in order to get ready for the big game, I am going to run some wordy sprints.
With that, I turn again to Unconscious Mutterings for some random word prompts. I love this warm up.
So here we go!

Crying ::


What I will not be doing on November 30th if all goes well. That said, a good cry is cathartic and good for the soul. It might take a heavy bout of crying mid-month in the throes of writer's block in order to break through and make it to that 50,000th word.

It remains to be seen.




Reluctant ::


I am, truly, rather reluctant to have another go at this crazy month of writing. It's always awesome and I'm amazed at what I can produce in so short a time. It's also quite taxing on The Muse. I get creatively wiped out by the end of the marathon. Blisters on the brain pan or something. But it's also quite satisfying. That mind numbing creative exhaustion means I have created something and that is the coolest feeling in the world.




Decade ::


My first go at this crazy NaNo game was back in 2004. I'm closing in on a decade of this wordy abuse. Lots of words and time well spent. By writing this blog I know my writing has improved vastly and my ability to write on the fly has grown strong. So hey, rock on.




Mustache ::


So what's the deal with mustaches these days? They are not just facial hair anymore. Now a mustache is a meme. I mean, there are accessories, baseball logos and many Tumblrs.

Plus, let's just settle this right now. Rollie Fingers. Greatest mustache of all time. Boo-yah.




Water ::


Well now, not to bring down the language and mustache party, but water sure has been a topic of conversation lately, hasn't it? Water, so life giving, so essential, so gosh darn powerful. The photos of subway stations and buildings and streets filled with water in the aftermath of Hurricane Sandy are so profoundly scary and overwhelming. I know that New York and New Jersey are incredibly resilient and will bounce back. But as of today, it's just overwhelming to witness the power and destruction of simple H2O.




March ::


Let's see…the 2012 baseball season ended Monday. The celebration parade up Market Street in San Francisco was today. Baseball is officially over.

World Baseball Classic begins March 2.

*sigh*




Stripes ::


As I'm writing this, "It's The Great Pumpkin, Charlie Brown" is on the telly. Right now Linus is sitting in the pumpkin patch, wearing a red shirt with stripes, explaining to Sally about the Great Pumpkin.

Then he uttered something that seemed a little meaningful here in on the last day of October and six days before the end of election season.

"I don't see how a pumpkin patch can be more sincere than this one. You can look around and there's not a sign of hypocrisy. Nothing but sincerity as far as the eye can see."

Oh how I wish I could find a place, even a small pumpkin patch, where there is not a sign of hypocrisy and sincerity as far as the eye can see.

Sadly that's not the view from where I'm sitting. Maybe I'll check again next week.




Friendship ::


Recently I got to spend three days with my best friend of over twenty years. She is family and brilliant and each year of our friendship means everything to me. We may live miles apart but she lives right here in my heart every day. Being with her for a few days made me actually miss her MORE than I already did.

Time is the scarcest commodity of them all.




Weirdo ::


It's a testament to the kind of woman she is that for over twenty years she's put up with a weirdo like me.

Tomorrow also brings the anniversary of the day I met The Good Man. It's a testament to the kind of man he is that he puts up with my special brand of weird every day.

I'm very lucky and that's said with nothing but sincerity as far as the eye can see.




Contacts ::


As this Halloween night wanes on, time to pluck the contacts from my eyes and bid adieu the season of orange and black. An ABC TV interstitial just announced it is now officially the "holiday season."

This makes me sad. And scared. And reluctant.

Ok, for now, I must focus on NaNo. Freak out over the holiday season can wait until later.

Well there you have it. Whew. I'm winded and warmed up and ready to write!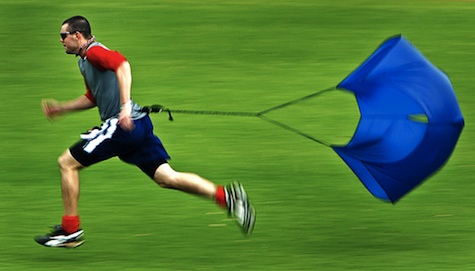 Image from Soccer Skills and Training.


I am the ape man. I am the walrus.
Ku-ku-kachu.
I am neither of those things. I am the fail whale.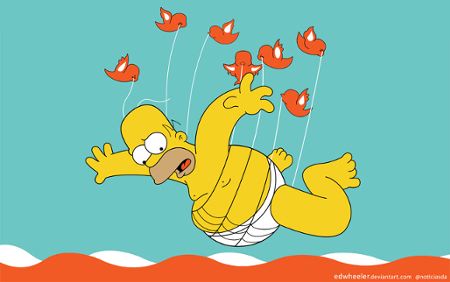 Yes. That is me, sad tighty whiteys and all.
Fail a' Fail-a-rino.
Today is November 30th. The last day of the festivities that are National Novel Writing Month.
This is the annual event where writers challenge themselves to write 50,000 words in 30 days.
2011 marks the sixth time I have had a go at NaNoWriMo.
My first shot was in 2004. I struggled, but made it the first time out of the gate. There have been years since then when I have skipped participation. But every one of the five years I have tried my hand at NaNoWriMo, I have succeeded in passing the finish line by the 30th of the month.
One year, I finished in 21 days. Yeah, that rocked.
This year, however. Well.
50,000 words are the goal. As of this moment, I have 14,239.
See. I didn't just fail a little. I failed a lot.
A big round blobby smelly unctuous fail.
That's me. Mz Failsalot.
I was going to simply try to hide this away. Pretend it didn't happen. Not say a word. Not mention it to anybody unless they asked.
Then I decided that confession is good for the soul.
Own it! Sing it! Love it!
Yes, yes…I'm one of those perfectionist kinda gals. It makes me happy to complete what I start. Completing a project matters.
Also, I'm excessively proud of my ability to produce words. Not just any words, but halfway decent words written at a rapid clip. Paragraphs with a good foundation that some powerful editing can improve and shape into literary magic.
But this year, way too many hours at work (a project is failing and I'm paddling as fast as I can to keep it a'float), a prolonged bout of writers block (see Monday's post), and an extraordinary amount of hubris (I had the audacity to TALK ABOUT my story idea…..that is certain death to creativity) came together in the perfect storm that smashed my tiny seafaring vessel to the rocks.
Oh, the drama! The anxiety! The shaaaaaaame.
Yep. I blew it. I firmly believe that owning it, giving my failure both light and air, and speaking of it publicly……Well, all of that takes the sting out of it. Draws out the venom.
Helps me be ok with it. And learn from it.
So today, I sing a song of failure. It starts off sad, like an Irish lament, but ends up peppy like a Rodgers and Hammerstein musical.
Fffffffffffffffffffffffailure where the agony comes sweeping down The Muse!
Whew. Now I just need to do an act of contrition, and the Universe will grant me absolution.
Right?

Fail whale image is by Ed Wheeler and found on deviantart.com. Follow him on Twitter @EduardoWheeler