Blame it on Facebook and its algorithms that like to remind me of things from the past. For the better and for the worse.
I re-read this one over the weekend and thought "yeah, that one needs a re-post."
So here we are, when Monday, January 30, 2017 feels a lot like Monday, January 28, 2013

A Treatise On Monday
Originally published January 28, 2013

Written this morning at something like 5:45am


And so we find ourselves back at Monday. Ah Monday, both the beginning and the end.
I have sad, tired, squinting, groundhog eyes as the alarm goes off. I'm begging the world not to pull me from my burrow. Please don't shine that bright light in my face.
But I'm pulled from my burrow anyway and instead of a prediction, the world anticipates my arrival at the train station and my seat on the next ride into the city.
The bright light turns out to be a beautiful ray of light, glimmering off the slowly rising sun.
All possibility is in Monday. Will this be a good week? Will this be a bad week? Will it rain?
Monday is everything and nothing. A blank canvas ready to take the paint.
What will I make of my Monday? What will I achieve? How will I stumble and will I recover gracefully?
It all exists here in these quiet pre-dawn hours. The sun hasn't even said hello yet and here I am, writing. Scribbling the words that want to exit my head.
There is already acrylic paint on my hands from a project that is due Thursday morning. I had to get some early painting done so I can hit that deadline.
In this Monday, all things are possible including finishing a painting that is due in just three days.
Oh my.
I feel strangely happy today. What the hell is this? How unusual for a Monday morning.
The weekend was weird. I was cranky and then he was cranky and then it was Sunday night and another two days of not working were jettisoned to the ether. Monday turned the corner and sat down for a visit.
So here I am again loading a backpack for work, stumbling around to find my badge and my phone and my sense of self-worth.
I look again at my canvas and already I fear I have screwed it up. Don't they say in art there are no mistakes? Just roll with it and incorporate the error. OCD and art are not friends. This major but fixable error must wait until later tonight to find its cloak.
There is a train to catch and a Monday to face. I'd rather stay home in my studio and put gorgeous turquoise paint on a willing canvas. Can I do that for a living?
You know, a girl can dream, and so I will dream as BART gently sways. When I disembark dreams stop so reality can start.
But no matter, I can dream again, later. Dreams don't die easy.
And dreams don't wait for the weekend.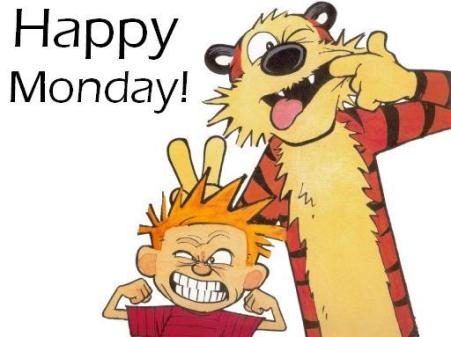 Image from The Miracle Journal.

On the way to work this morning, I listened to legendary San Francisco radio station KFOG. They've recently had a bit personnel shakeup and it turns out their new morning guy is former MTV VJ Matt Pinfield. I'm not totally thrilled with the change, but I will say this: he is able to pull pretty decent guests.
This morning it was Matt Nathanson and it was a good interview. They talked music and influences, and Pinfield asked what I thought was an intriguing question.
"What is the one song that changed your life?"
For Mr. Nathanson, it was "Closer to Fine" by the Indigo Girls. He said it made him want to play acoustic guitar and changed the course of his music. Pretty cool answer and song.
When they cut to commercial, I was left wondering what my answer would be. What is the one song that changed my life?
Well sheesh, that's hard question. Music is so integral to my life that it can't possibly be one song. There have been many songs that have changed my life and there are unwritten, un-thought of songs on the path ahead that will certainly change my life again.
As I drove and pondered, I was able to come up with a bunch. Here are just four of a much longer list.
Let's dig in:
1) It's 1991 and I've just gotten an undergraduate degree and about to start my MBA program. Right before the new semester began, my boyfriend broke up with me. I was quite into that particular boyfriend, pretty sure he was "the one," and the breakup hit me like a ton of bricks.
I wallowed deep into a lot of sad country music, but one song in particular was a constant companion.
"Are You Still Within The Sound of my Voice" by Glen Campbell
There was a place down on the Rio Grande where he and I used to go, so I would drive there, bring out a blanket and my boom box and find a place on the banks of the river. I would play that song over and over again while crying, sobbing, keening. I rose the level of that dusty ol' river with my salty tears.
Glen and that song got me through it. I can still hardly listen to that song, it's so etched into my memory and DNA. But that song helped me make the transition back to good. It made me stronger. It did, indeed, change my life.


2) It's 1994 and I'm living in Albuquerque, fresh out of college, gainfully employed and living that single girl life on my own. I'd lost a lot of weight and was feeling sassy and strong.
My musical tastes still ran toward country, but I was starting to listen to a lot of other music. In fact my musical education expanded a lot since there was a whole lot of music in the 90's that was changing the world.
I'd caught the end of a song on the radio that got my attention, but I wasn't sure what it was.
A few days later I was riding in an old Jeep CJ that was open to the wind with radio playing loud. That song came on, those now easily identifiable guitar chords, and I asked the driver to turn it up.
I was super late to the party on this song, but on that day, really hearing the song, my life changed.
"Smells Like Teen Spirit" by Nirvana
Oh muh lord. Of course we all know the impact of Nirvana now, but back then, it was unlike anything I'd ever heard. I just knew I needed more. A lot more.
I bought "Nevermind" on CD and played it over and over and over. I had never heard an artist express themselves like that. I sang along with angry lyrics while the music (and musician) spoke to me in ways I still don't understand.


3) It's 1997 and I've moved to the Bay Area and I'm spending all of my time in San Francisco's North Beach where my musical education took a turn toward the Blues.
There were a couple bars I knew how to get to and went to all on my own. A little girl with hayseeds in my hair, the employees and the musicians took me in. I became part of their family and they mine.
Blues music rolled in waves down Grant street back then and I'd start at the Savoy and work my way down. Grant & Green, Lost and Found, The Saloon.
Then there was a man named Willie who belonged to the street, but was still part of our family. More than once he protected me from the less kind aspects of city streets. He was a talented man with a bit of a drinking problem, but oh could he play that harp.
He'd tap his foot in time and play the blues. Then I'd go inside the bars and hear the musicians dive deep into history and play those same songs.
There was one that made me take notice, made me sit up. The beginning of what became a beautiful blues education. The door opened and I walked through.
"Matchbox" written by Blind Lemon Jefferson
On one night I heard four different musicians do the song, each putting their own fingerprint on it. This one song took a hold of me and never let go.


4) It's 2015 and I'm with the love of my life, the one who actually is the one, and we're attending a show at a small but awesomely funky venue in our new hometown. The act is Radney Foster and going to the show is like coming home.
I wrote a lot about why that night itself mattered right here on this little ol' blog.
But more than that, Radney's music was a core part of my college years and my life. A life I left when I moved to California. It was mostly the right decision, but damn I often feel like I left a huge piece of myself behind.
So many people here in the Bay Area. Crowded. Packed in. People who don't understand the emptiness you find in New Mexico. The wide open spaces. The ease.
A lot of people here who don't understand New Mexico, don't understand what matters to me, and sure as hell don't listen to country music.
And now here was Mr. Radney Foster standing on a stage in Northern California. There were even people other than me came to see the show. People who get it. It was a mind bender.
He did a lot of the familiar songs, and late in the show he introduced a new song. Told us that his wife grew up in Oakland. How he was at his in-law's house in the Oakland hills and watched a gorgeous Bay Area sunset. Then he told his wife "I'm going to be late for dinner," because he had to get down a song.
"California" by Radney Foster
It made me cry a little because it's a beautiful love ode to California, written by someone from West Texas. A desert rat like me who gets it, was there back in the day, and understands why California.
It's hard to explain to folks back home, but now I have the perfect musical explanation. In the following weeks I played it over and over again. This song let me know it's okay to have my heart in both New Mexico and California. This song brought peace. Healing.
Truly life changing.

——
Whew. Yeah. Okay. I could probably go on. This list expands and grows the more I think about it.
I bet you are thinking too. Running through the soundtrack of your life and remembering the songs that mattered. The songs that changed your life.
It's worth the journey. Feel free to share here or on Facebook. I'd love to know which songs changed your life.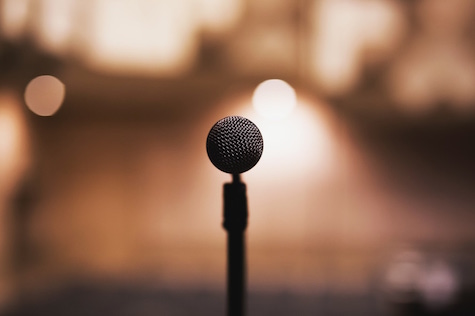 Image used royalty free and found here.

Or: Tales From The Upper Deck
When word came down at work that I had approval to travel to Porto, Portugal to participate in meetings with key folks from around the world, things began to follow a usual path.
Since the place I work for gets a lot of Federal funding, we're bound to abide by the Fly American Act, i.e. when on Federal business, fly US carriers.
No problem. I'm used to shoving my cookies onto a United Airlines jet and riding around the world, so per the norm I picked out my United flight pairs and the admin booked them. I was all set.
Because I am a little weenie and need more leg room, I like to pay out of pocket to upgrade my government bought United economy seats to United Plus economy seats.
My employer doesn't pay for business or first class and I don't fly enough to rack up the miles to get me there, so I ride in the back half of the plane. Economy plus at least gives my long legs a little room. A little less sardine-like.
However, when I logged into my United account and tried to upgrade my seats, I was told I could not. That I would have to wait until the day before the flight to pick out seats. What?
It took a little work but I figured out the deal. Three of my four flights on this trek would not be on United planes but a codeshare on Lufthansa.
Well hell, I'd never flown Lufthansa before so this was an adventure.
Doing some research on the Lufthansa site, I also figured out that my plane for the San Francisco to Frankfurt leg of the trip would be on an Airbus A380-800 airplane. A gigantic double decker of a holy-crap-that's-huge airplane.
In fact, it's the largest passenger plane flying today.
Looking up the specs of this plane online, I found people affectionately call it "the whale," and it's no wonder. The configuration I rode seats about 500 people.
When I was finally able to select my seats, I found that the second floor of the airplane (this airplane has two floors!!) was mostly first and business class, but the back of the upper deck had a small grouping of seven rows of economy seats. So yeah, I scooped up an aisle seat upstairs right away.
On the day I arrived at SFO, I let out an audible "wuh-huh-hoooooo" when I saw the airplane sitting at the gate. Then I became filled with anxiety. "How will that ever fly?" said my worried mind.
I wondered if my brain had anything I could compare this to. Many years ago I worked for a Lockheed Martin site that was right next to a military airstrip. Every once in a while the military would practice "touch and goes" with various planes and pilots. We'd drag our desk chairs outside and watch the show.
What I'm trying to say is, I've seen a fully loaded C-130 execute a touch and go, so yeah, I realized that the A380 could certainly fly. And I was going to get on it.
As I walked down the jetway to the plane, my heart began trip hammering. I always have a moment of pause before boarding any plane but this was different.
I stepped through the nice wide doorway and saw a beautiful gleaming white staircase front and center. "Ah, that must be how I get up there," I thought.
The oversmiling male flight attendant looked at my ticket and informed me that I needed to go all the way to the back of the plane and find a staircase there.
In other words, your economy-seat riding ass don't climb these stairs, honey.
Fair enough. I set off on my journey to the back of the plane. I stopped rest once or twice. I had snacks to keep my energy up. I may have camped out overnight. Jesus, that's a big airplane.
Finally I reached the end of the plane and scurried up the stairs, then slid into my seat.
It was still an economy class seat so it fit tight around the hips. I got snug like a bug in there as the plane began to push back from the gate.
The Lufthansa A380 features three live cameras, one on the nose pointing forward, one on the tail also pointing forward, and one on the belly looking straight down.
Here is a terrible quality image. It's a photo taken with an iPad of my screen on the plane as we are somewhere over the Labrador Sea. It's enough that you can see what the view from the tail camera looks like: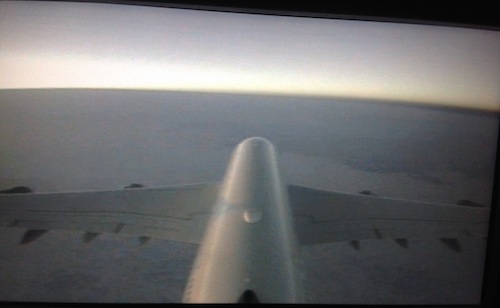 I wanted to stick my hand out the window and wave to the camera, but that's mostly frowned upon

It was mildly surreal to watch this behemoth take off from a bird's eye view but I was fascinated.
Once aloft, I began to realize why non-US carriers rock the casbah. It's one word: alcohol. The wine flows freely on non-US airplanes. I had flown a Singapore Airlines plane a few years ago and was gently surprised at the wine served with meals. The Germans have the Singaporeans beat. Wine with snacks, wine with dinner, brandy and irish crème after dinner.
All of this is a plot, however. They ply you with food and booze then turn down the cabin lights. Pretty much everyone falls asleep right away. Except me, I have a flaw in my DNA. I can't sleep on a plane. Not even a long haul. Nope.
The Good Man shares this flaw and it's good when we travel together because we entertain each other like little kids while everyone else sleeps. Sadly on this trip I was alone.
The flight attendant overseeing our little cozy area of economy class seats was a rockstar. He noticed I was the only one awake and didn't let up on the top-notch service. He checked in on me constantly and brought water, juice, snacks and some cookies that seemed way too delicious for economy class.
Even though I was packed into an economy seat I felt spoiled like a little princess up there, inside the white whale.
When she touched down in Frankfurt I was reluctant to leave my cozy little seat and my white glove service. It was a gentle landing as the plane beast docked next to its siblings.
That was one of the most comfortable and happy international flights I have ever known and I am sure I will reflect back on it for years. It has become the high water mark by which all other flights will be measured.
Sadly, when going home from this journey, the Frankfurt to San Francisco leg will be on a plain old United jet, a Boeing 747-400. That plane also has a second deck, but only the pish-posh get to sit up there.
I'll be seated among the cattle, in an economy plus seat but still among the unwashed. No first class cookies for Karen on the way home.
I think I'll write a nice letter to Lufthansa to tell them how much I appreciated the flight attendant. As I have learned in my short time in Portugal, I will extend a hearty obrigada (i.e. thank you or much obliged) for his attention and job well done.
And I will wistfully dream of my time inside the whale, a modern day Jonah high above the bustling world.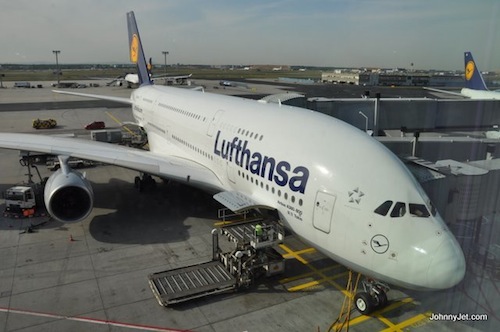 Thar she blows!

With a nod and a smile to Johnny Jet for the photo and for his awesome blog post about the Lufthansa A380. Read it here.

Turns out I have a new neighbor. I had no idea the new tenant was moving in, but then *boop*, there was someone new trooping around the ol' neighborhood.
Not sure what unit this one lives in. In fact, I've never even set eyes on my new neighbor, but I know they live nearby.
You see, October in Northern California is gorgeous. Really, it's the best time of the year, bar none, to be here. The days are warm and pretty, and the evenings clear and cool. Indian summer lasts a real long time here and it's a wonderful thing.
Every evening after a long day of work, The Good Man and I throw open the windows and the back door and let the stuffy apartment drink in all of that cool, clean air. Perfect for a good night's sleep.
Over the past couple weeks, right around 7:30pm or so, the rancid odor of burning plastic and gasoline and the hinges of hell begins to seep into every room of the house. It hits one of us (usually me) first.
"Arrwhagggh!" is the approximation of the sound I make.
"What?" says The Good Man, alarmed, and then "Oh bleah!"
Yes, it's true. My new neighbor is…Dun dun duuuuuuuun
El Zorillo*
Pinche zorillo. I haven't been able to lay eyes on the beast, probably because by the time I get the eye watering jet wash it's moved on to the next yard.
I fear this cabrón lives under my front stoop but I can't be sure.
And every time this happens, like watching reruns of Lucy and Ricky, The Good Man and I have a conversation that goes a lot like this:
Me: "I just need a .22 and I can take care of this problem."
Then The Good Man reminds me that we live in California and this state takes a dim view of shooting varmits in its urban neighborhoods.
"A bb gun?" I ask, like that kid from the Christmas movie. "The pump action kind."
The Good Man says, "You really think you can hit a [insert rodent name here, we have this conversation a lot] from here?"
"Try me," I say, standing up straighter. "I've been shooting since I was a kid, my dad saw to that. I've shot everything from a cap gun to a Browning over and under and my aim is pretty damn good."
"No," he says.
"Pellet gun?" I plead.
"What the hell state do you think you live in? We don't shoot old hot water heaters out behind the Snappy Mart around here!" (I may or may not have introduced him to the rasquache joy of my home state.)
Then he tacks on, "We live in one of the most densely populated areas of the United States and the police, they have no sense of humor in this city!"
And then I sigh, and quickly cover my nose and cough because I took in too much skunk air when I started the sighing process.
Of course he's right. So I went online and did some reading and discovered that if I can figure out where my new neighbor lives, animal control might help.
Problem is, when I get the aroma, I kinda don't want to dash out there to get a good look at where the beast is going.
I think I'm going to need a trail camera. And camouflage. And maybe some other cool things like a Buck knife and a camp stove and a new tent! Oooh yeah…
And don't anybody tell me that it's a cute fluffy creature worthy of love and affection. When the original engineer designed the zorillo, it wasn't with a love of humans in mind.
Or dogs, I think our awesome next door neighbor dog got hit last night. Poor growly bear of an adorable dog.
(This just in: I was texting with The Good Man telling him I was writing this post and he said, "I trapped some skunk stink in my closet last night. Kind of surprised myself this morning.")
*a skunk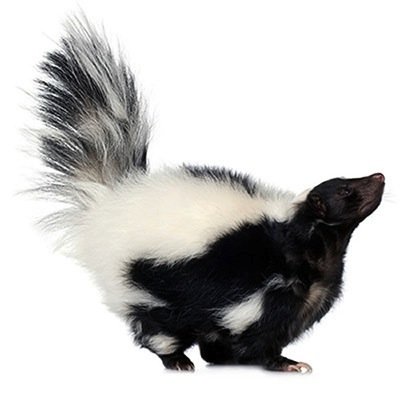 "Whatever. Haters gonna hate."

Image found here.

Over past few years of my life I have been fortunate enough to engage in some international travel. I have truly visited some of the great cities of the world.
Traveling outside of the borders of the United States has made me a better person in many ways, not the least of which is that I have come to appreciate my own country more by not being in it for a few days at a time.
I recall spending Fourth of July in England, gazing over the Thames while pondering that the Fourth of July is about so much more than hot dogs and sparklers. It really made the summer holiday mean something to me.
The other thing that international travel has done is give me a front row seat on gaining perspective of just how large this big blue marble really is. Gigantic. And how people are different and yet people are the same.
One aspect that I have experienced on each of my overseas trips has been a small moment of humanity, a connection, finding a shared place with another person even as I feel the dislocation of being in another country.
It happened in Dublin, and is such a fond memory. It also happened in Amsterdam, and I guess it's taken a little while for the beauty of the interaction to sink in.
Let me tell the tale:
I arrived in Amsterdam on Sunday at about 7:30am. Schiphol airport was quiet and calm in the early morning hours.
My fellow passengers and I came off our flight from Newark and walked into the airport, quickly cleared customs and stood by the baggage return waiting.
And waiting.
You see, in Europe, things don't always move on the timescale that Americans are used to. It's just how it is.
I hadn't slept in something like eighteen hours and I was wobbly on my pins, but resolved. Finally after the eternity of a half hour, the bags started rolling through the baggage return. Hooray!
People scurried to get their luggage and wandered off into the Amsterdam day. I kept watching bags go by that were not mine.
Finally the flow of luggage slowed to a trickle and I knew, I just knew. My bag didn't make it.
I had a very tight transfer time in Newark, less than an hour, and I had flat out ran to get between gates and onto the plane, so I was just certain my bag didn't make it as fast as I had.
Shoot. That was the word foremost in my mind. Only not the word with the two o's in the middle. The other word. I just kept saying that word over and over and over.
I looked around and saw I wasn't alone. There were about eight of us standing there with no luggage.
We all looked at each other, shrugged and walked in unison over to the United Baggage customer service desk.
I was toward the back of the line so I struck up a conversation with a dude standing in line with a guitar slung over his shoulder.
He told me that he and his wife had come from Cleveland and that they were in Amsterdam to see their son, who is in a band, play a show. They were going to follow him on a couple tour stops.
Then he pointed to his guitar and said, "I'm going to try to do a little busking while I am here. The quality of the people I've seen busking in Amsterdam is pretty low, so I know I can do better than that."
I spent too many years in the company of musicians to do anything other than laugh and agree. And I said, "That's cool. When I get some Euros, if I see you playing, I will throw some your way." He laughed and said thanks.
About that time the United customer service person said that the baggage handlers had failed to look in the "basement" of the plane, and our bags should be along directly. Lo and behold, my stuff showed up. I whipped it off the baggage return and stumbled my way out into the beautiful Amsterdam morning.
And then I settled into my little Amsterdam life, walking the canals, eating stroopwafels, visiting the Van Gogh museum, and work. Oh yeah, this was not a vacation but a work trip, and the work meetings were two full days (day and night) and massively intense.
On Tuesday evening, I stumbled out of the offices with my brain dead and my body exhausted. We had been through an intense day and were on a short one-hour break before meeting back at the offices to go to dinner.
I strolled along the Singel, which is the center of Amsterdam. I was so tired and concentrating on not turning my ankles on the cobblestones near the flower market. My hotel was only a few blocks from there.
As I walked, feeling out of my mind and brain dead, I heard someone playing guitar and singing. I remembered the guy I had met at the airport and wondered what had become of him.
As I rounded a curve, I saw a man in shorts and a porkpie hat busking at the end of an alleyway and in front of a closed store. He was putting a lot of gusto into the song, "Santeria" and had his backed turned to me.
I walked past and looked. Sure enough, it was my fellow passenger.
I pulled out my wallet and looked to see what I had to give. I found a five Euro bill, then walked up and said, "I promised I'd give you some Euros" and dropped the bill into his guitar case.
He looked puzzled and said, "Thanks. Are you an American?"
He didn't recognize me, so I said, "We've met. Remember at baggage claim in Sunday?"
His eyes went wide, "Heeey! How cool is this?" He pointed out his wife who was shopping one of the stores a bit down the path. He told me he had seen his son play the night before and that he and his wife were off to Brussels in the morning for his son's next show.
We chatted for a few moments, then I said, "I just had to stop and I'm so sorry for interrupting your song, that is rude of me."
"No, no! Here, let me give you something! Here, take one of our CDs."
So I did, and I thanked him and headed off with a smile on my face and a little more bounce in my step.
I get that Amsterdam is a small city and that the flower market is a popular place to be, but that one moment of humanity made this great big gigantic overwhelming world seem just a little bit smaller.
That felt pretty good to a little tired American girl wandering the canals of Amsterdam.
With a cheers from San Francisco to the fine city of Cleveland.
Here's the band if you are inclined to check them out: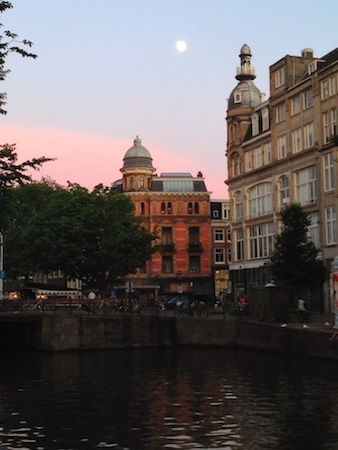 Copyright © 2014 Karen Fayeth

I took this photo later that same night with a couple of Dutch beers under my belt and a song in my heart. I call this one "Amsterdam Moon" for the The Mavericks song of the same name.

Photo Copyright © 2014, Karen Fayeth, and subject to the Creative Commons license in the right column of this page. Taken with an iPhone5 and the Camera+ app. Post processed with Snapseed.