When In Rome…or Reading
While on my way out the door and quite ready to make a voyage to England, among the parting thoughts from The Good Man was:
"Enjoy the traditional English breakfast."
I'm a fan of all things breakfast so I readily agreed, despite not really knowing what a traditional English breakfast was all about.
My first morning in country, I stumbled downstairs to the complimentary buffet and started to understand.
It looks a little something like this.


I say "a little something" because this plate is missing a couple key components, mainly blood pudding (a sausage, also sometimes called black pudding), fried tomatoes and fried mushrooms. But other than that the main items are there. Griddled eggs. Hash browns. Bacon (center cut and YUM).
And the key component: Heinz Baked Beans.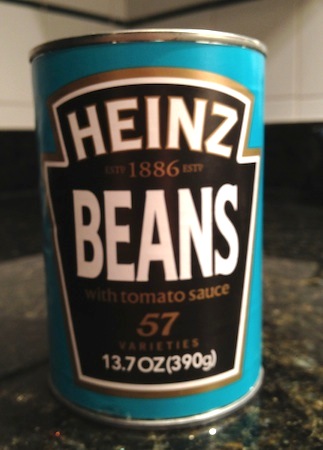 No other will do.
I'm no stranger to eating beans for breakfast. I've been eating pintos in many forms alongside eggs for years, so this was zero hesitation to me. That said, I usually hate baked beans because they are just too sweet. Too much brown sugar, I think (as if such a thing as too much brown sugar exists).
I really like the Heinz baked beans because they aren't especially sweet. They are tomatoey but not sugary sweet. A perfect compliment to eggs, in my humblest of American opinions.
Here's the thing…I started having the Full Breakfast every day. They even served it at the cafeteria where I reported for work the second week of my stay. This meal formed a good solid start to my days of battling with suppliers and the English rain and pesky coworkers.
I felt like I could climb mountains on that breakfast.
And now that I'm back home, I miss it.
Breakfast now just seems sort of…blah. Sad. Lacking. And without verve.
So I looked at a couple local grocery stores. Lo and behold, I found the key ingredient here locally.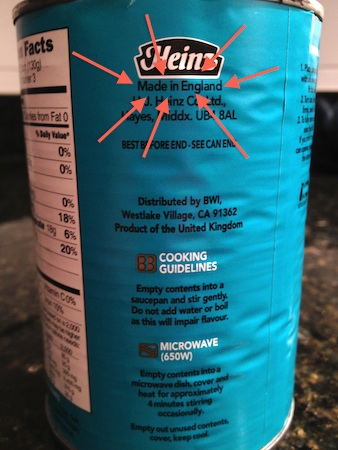 The real stuff! The good stuff. Ok, it's a little more work to make all the fixins myself rather than ladling from a hotel buffet bar.
But it's worth it.
Oh so worth it.
Now that breakfast is sorted, let's chat about British dinners too, eh? Here is a beauty shot from one night at the local pub. Big yum.
Though all of that on the table (except for the Pedigree, a proper English Ale) is quite readily available here in the US. Thank goodness!


So now I have quite a menu for my post travel life as there is plenty of can't-live-without-it food from Singapore (laksa, chili crab and kaya toast) and Costa Rica (tostones, Olla de Carne and Cas) and now the charms of Britain.
Tonight, however, I head back to my roots. We're cooking New Mexico style in my house. All that British culture made my green chile blood level get a little low.
Must fix that problem right away!

All photos Copyright 2012, Karen Fayeth, and subject to the Creative Commons in the far right corner of this page. Photos taken with an iPhone 4s and the Camera+ app.