In 2011, I did NaNoWriMo, the writing challenge where you try to write 50,000 words in 30 days, and for the first time in seven years of participating in the annual event, I failed to cross the finish line.
I mean full on fail with sad trombones and tiny violins. I even blogged my lament.
Now here we are in November 2012 and it is NaNoWriMo time again. I ended October feeling nervous and remembering my big fail from last year. I wavered and fretted and finally decided to try again.
But I went ahead and jumped into the challenge. I squinched down my shoulders, hunkered down with my laptop, and by god, on Wednesday night, I did it.
Whew, it was a great feeling to cross the finish line again.
Rock on!
*With a nod to Bull Durham for the post title.

When Apple introduced the new iOS6 for iPhones, it came along with a new camera feature called Panorama.
It's a way to take really wide angled photos. The OS has a pretty clever little interface to help make it easy.
As I've been traversing this big ol' city of New York, there are a lot of great views that are hard to capture in just one frame.
I posted a fun panorama view of the New York City Public Library a couple days ago.
And herewith, are a few more of my favorite panorama shots from the week:


This is the beautiful Lincoln Center where we saw War Horse. I took this as the show let out and New York was bathed in that magic hour light. This is by far my favorite shot using the new technique.

Copyright 2012, Karen Fayeth, and subject to the Creative Commons license in the right column of this page. Taken with an iPhone5 and the onboard camera app using the panorama feature.


Here is a shot from the American Museum of Natural History. I'd tried doing the panorama technique on the TRex skeleton, but the buggar was just too darn big. This was an awesome display of various skeletons ranging from a dino-era horse to a small dimetrodon. It was pretty nifty:

Copyright 2012, Karen Fayeth, and subject to the Creative Commons license in the right column of this page. Taken with an iPhone5 and the onboard camera app using the panorama feature.


And finally, we have Katz's Deli on the Lower East Side. You know, where Harry met Sally?
It's also about the most amazing deli in New York. Oh the corn beef! All piled high on a reuben with swiss and sauerkraut. Yum! The perfect egg cream. The knish to die for!
This photo just makes me drool. I may lick my computer screen…
This photo is also a bit of an amazing feat considering how many people are in the photo and everyone is moving around. That would usually cause weird pixel jumps and odd stuff, but other than one woman with a distorted head, it turned out pretty good.

Copyright 2012, Karen Fayeth, and subject to the Creative Commons license in the right column of this page. Taken with an iPhone5 and the onboard camera app using the panorama feature.


Digging this new feature! More NYC photos to come.

Today was pretty much a banner day in my little life. Here I am in New York enjoying the city life, eating good food and loving every minute of it.
Today just took it up an extra notch.
What precipitated this trip to the big city, as described here, was the chance to see the Tony Award winning stage show "War Horse."
After seeing this amazing show in San Francisco on its closing weekend, I suddenly knew I needed to see it again, and I wanted to see it in New York.
The Good Man and I had been batting around the idea of a trip to New York for a few years, but this idea of seeing War Horse on Broadway really put a charge into the idea.
And so today, all of those plans came together.
The show is staged at Lincoln Center for the Performing Arts at the Vivian Beaumont Theatre.
I had never been to Lincoln Center and in fact in my one visit to New York prior to this week, I hadn't really spent much time above 50th and Broadway.
Lincoln Center really is an amazing place.
I have much more to say about the show and about this magical day, but I just wanted to stop a minute and share one of those slice of life moments. This is a very telling story, indeed.
You see, we arrived a bit early for our 2:00pm matinee, and so The Good Man and I decided to stroll around a bit so I could see the layout of the Lincoln Center.
It's quite lovely.
And as I looked around, all amped up and excited to see the show and to be in New York and to be seeing all these things I've not seen before, my eyes fell upon this building: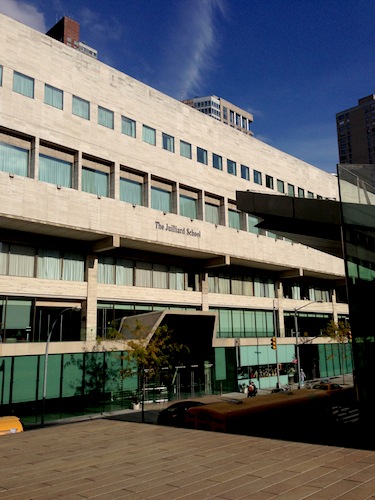 Now when I saw this building, in all of my geekery and excitement and still-got-a-little-New-Mexico-hayseed-in-my-hair, I turned to The Good Man and I asked "Is that THE Julliard?"
Now, pause here.
True confessions: That's a pretty dumb question. I'm not even sure why I asked it.
And yet….
My darling husband, a man of Brooklyn from his childhood and in many ways still a New Yorker probably should have turned to me and replied in deep New York accent (with much sarcasm), "No, it's the other one," and rolled his eyes.
But he did not.
My darling man replied, "Yes, honey. That is THE Julliard. Pretty cool, huh?"
Then I kind of laughed and shook my head and said "well, that was a silly question." Then I thanked him, because the right answer was probably the sarcastic one, but he is used to my propensity to geek out, so he gave me the best answer instead.
And when he's being that much of a Good Man, I just gotta let him know how much I appreciate it.
Then I told him I was going to blog about it.
Hi honey!
Photo Copyright 2012, Karen Fayeth. Taken with an iPhone5 and the Camera+ app.


It is a mild and sunny Monday afternoon and I am happy and healthy here in New York City.
At the moment I'm working on my NaNoWriMo trying to increase a word count that currently sits at just past 45,000 words. I gotta get 5,000 more written by Friday to make it past the goal line.
I think I can I think I can.
In order to inspire myself, I'm sitting in the great room at the New York City Public library tapping away at the keys to my MacBook.
It really is a great room:

Copyright 2010, Karen Fayeth. Taken with an iPhone5 using the onboard app and the panorama function


Downstairs there is a free exhibition of some artifacts from Charles Dickens. Among these treasures is the late Mr. Dickens pen and inkwell. Now that really is inspiring.
Copyright 2012, Karen Fayeth. Taken with an iPhone5 and the Camera+ app.


Here I lament tapping away at the keys, trying to make the words accumulate into something good while our man Charles scribbled them all out longhand, dipping pen into ink every so often.
I suppose one might be a bit more thoughtful about the words if one had to write them out one by one in pen and ink, eh?
For me, I can't imagine going back to even writing on a typewriter. I remember having to type up papers for school on my mom's old manual typewriter and being so head bangingly frustrated at having to type each page perfectly with no mistakes. Argh!
No, I'll take my beat up old MacBook, words slopping out from the edges of my Word document like water in an overfilled and somewhat leaky bucket.
I can veritably shower in the words here as they fly free and easy from my fingertips.
Then again, he was Dickens. I have yet to fully be Karen Fayeth.
Back to tip tapping away in the great room.
Many words and many miles yet to go….
Ever since I was a young girl in New Mexico, I always knew there was a big old world out there full of cities much bigger and much grander than my beloved Albuquerque.
Even as I was a small town girl and in many ways feared big cities, I was inexorably drawn to them as well. Always fascinated.
Once, The Good Man and I were talking about growing up. He in Brooklyn, me in the 'Burque. I summed it all up this way, he grew up in New York knowing he was in the center of the world. I grew up in Albuquerque knowing I was pretty gosh darn far from it.
I've gotten around this big blue marble a little this year and I've seen some truly world class cities, but to me, New York (and to be precise, Manhattan) really is the center of the world.
And now, after a very long year with a lot of hard work, I have a little vacation coming due.
So The Good Man and I are getting on an aeroplane.
I have a date with that little ol' island and I can hardly wait.
(Please forgive if the blogging is a little sparse this week. Just know I'm out there having fun!)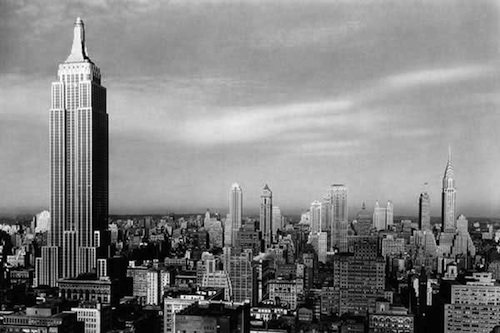 Image from Barewalls.com.