Here it is, Sunday, January 7th and I'm staring down the barrel of Monday.
It's time to get myself back into gear.
You see, not only does my employer shut down between Christmas and New Year, but I was also able to scrape up enough hours to take this past week off. I've just had seventeen glorious and fun filled days away from work. Days of setting my own agenda. Of not looking at work email. Of working on photography at midnight if that's where the fancy took me because I could sleep in the next day and the next one after that.
Last week I existed in a fabulous sort of limbo land. 2017 no longer, not quite 2018. It suits me.
All good things must come to an end, and so must my extended vacation. Tomorrow, reality slaps me across the chops, as reality is prone to do.
This morning The Good Man and I left our warm and cozy home to venture out into the rainy, wintry cold for Sunday breakfast. Pancakes to bid adieu to vacation and bonjour to 2018.
Through visible breath and rubbing hands together I looked up and saw a bright red maple leaf shellacked to the windshield. "Hey that's pretty," I said and took a quick snap.
Now, I realize that in this simple winter image I somehow exactly captured my mood. No more holly jolly songs and soft Christmas lights. No more Santa and wrapping presents and warm cookies baking in the oven.
It's now winter, plain and straightforward. No more looking forward to the holidays, instead we look to Spring. I have a lot of (needed) California rain to endure this year because that is what the Bay Area does in winter.
This is the long slog, when it's still dark early and foggy mornings and shivery cold.
But soon. Yes soon, the world moves into winter so we can know the spring. Daffodils and cherry blossoms are just around the corner, but for today it's a sodden leaf in cold rainy hazy blue surroundings.
So I won't lose hope. Tomorrow may loom large, but I will pop back to the surface like a bobber and keep swimming. I will have great successes and I will fail a lot too. I will be mad and sad and happy and grumpy and overtired and all the things I was on December 21 when this wild leave from work began.
Okay 2018. I put you off as long as I could, but you are now top of my To Do list and I'm going to tackle you.
Starting tomorrow.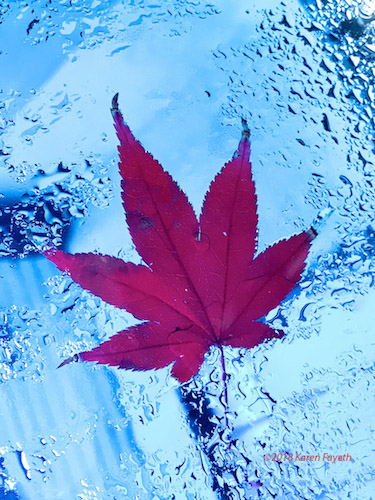 ©2018 Karen Fayeth

My parents were pretty strict when I was growing up, but I'm not here to complain about that. I think my brother, sister and I turned out pretty well, overall. Well, my brother and sister did, jury is still out on me.
But it's true, my folks were a bit old fashioned and handed down strict discipline. They kept us in line.
One thing my Dad was all about was his kids answering "yes, sir" or "yes, ma'am" when addressed by an adult. It's ingrained in me, automatic. It's a show of respect for elders, along with respect for a person's position.
And so when either of my parents would call out "hey Karen?" I would automatically drop a "yes, sir" or "yes, ma'am" without hesitation.
It's carried into my adult life and usually has served me well. On a recent visit with one of my favorite Aunties in Michigan, she at one point called out my name and I dutifully replied "yes, ma'am," and I knew it was right. I felt like a good kid.
As the digits in my age advance, however, I also notice that I get ma'amed here and there. At first I didn't like it, but then I began to appreciate that for those younger than me, their parents raised them with that same value. Yes sir!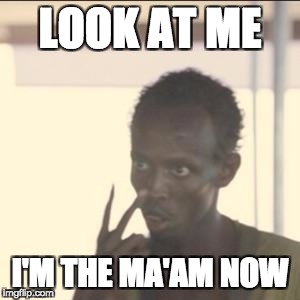 Here's where it gets weird: My new boss at work? She's my same age. In fact maybe a year or two younger. She was my peer for the past several years and was recently made the acting manager. It's also very likely that she will soon be the permanent manager. And I'm okay with that.
I have nothing but respect for her and we're working out the bounds of going from peers to boss and employee.
Yesterday, she came wheeling into my office, fresh off one of her many meetings each day and with something on her mind. "Hey Karen?" she said sharply.
"Yes ma'am!" I replied.
And she looked at me kind of strangely.
And I looked at her kind of sheepishly.
"Ahem. What can I do for you?" I revised.
It made me think maybe I need to change up the ma'am/sir thing. I mean, it still fits in many cases. For example, if I come across any of the distinguished scientists that I work with, I'm sure as heck going to ma'am or sir them, regardless of age. Or any dignitary.
But maybe I have to realize that I am the grown up now. I am the one to receive the ma'am treatment. I suppose it is time to finally own my own mildly elder status. Right?
It's just so weeeird! And will take a while to reprogram my brain.

This has been a weird year, right? I don't think anyone will disagree. As I came sliding butt first into December, I was already disorganized and suddenly bowled over by work. By all measures, we did triple the volume of work we usually do and it was no small bit of effort to simply make it through December. But make it through we did.
In the smoldering ashes of 2016, I am working hard to get some order back to the chaos of my life. I firmly believe that being a little bit stronger, quite a bit more disciplined (and organized) and filled with more optimism will carry me through the slings and arrows of 2017.
To that end, I have returned to Morning Pages. If you have read The Artist's Way, you are familiar with Morning Pages. The idea, according to Julia Cameron, is to prime the pump. Write three pages of stream of consciousness words every morning to get into the creative flow.
Instead of handwriting pages as suggested by Cameron, I use an online tool called 750words. That tool works a bit differently than the Artist's Way describes, but that is okay too.
So as I sit here now on my fourth day of vacation, hallelujah, I am working on today's words. I have fallen out of my writing discipline and I can tell I am rusty. Lots on my mind. It's good to get back into the habit.
The best part of the 750words is that every once in a while, while priming the pump and working through the silt to get back into the flow, some solid words, some bon mots, some worthy thoughts come through.
Wanted to share these, because they may become my motto for the new year (Warning: there is some salty language, it that offends, look away):

…doubt is a persistent little bitch. Hope slides off like you are made of teflon, but doubt sticks like tar, or used up chewing gum or one of those gluey mocos you can't quite get off your finger no matter how hard you shake. Patience and discipline, that is the kleenex to your glue moco and allows you to fly once more. The sturdy facial tissue that brings back hope.

Yeah, I have no idea what any of that means, but it made me feel good to write it. Like I was really tapping into something, so I decided to share it.
Hope your end of 2016 and planning for 2017 has better metaphors. I'll keep working on mine.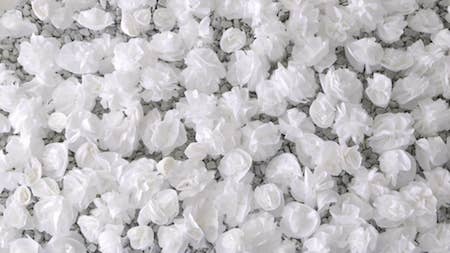 Inspiring flowers made of kleenex. Is that hope I'm feelin'?

Image found here.

This morning, like most weekday mornings, I hopped into my trusty old Jeep, fired 'er up and took off, careening toward my place of employment.
As I traversed one of my hometown's very busy main roads, I glanced into my sideview mirror, as any safe driver would do.
As I glanced, I saw a little leggy burble and a pop and this thing emerged: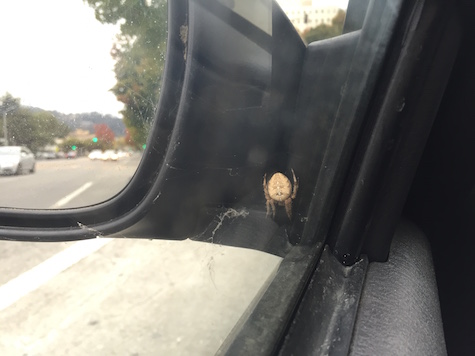 See the hinge for the mirror? It had somehow packed itself in there.
I should note that I was so startled that I had to pull over to the side of the street and consider my options. Also to take a photo to send to The Good Man. It was essential to document the situation in case my Jeep and I were later found suspended from a stop light, wrapped in silk and drained of fluids.
Let me zoom in a little closer for ya.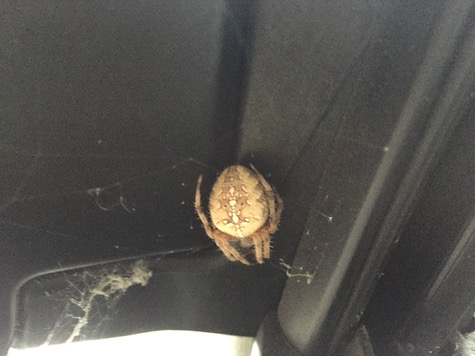 The Good Man refers to this time of year as "Chunky Spider Season." It's true, our current hometown is very, er, spidery. More than any place I have ever lived. And they are often quite big. And chunky.
At home, I park on the street near a tree and some brush. These eight legged demons seem to consider the Jeep part of their homestead. I often brush webs off every corner of the Jeep, including when they manage to string webs across my roof rack.
But this, today, goes beyond the pale.
How about an even closer look, because you need to know my fear.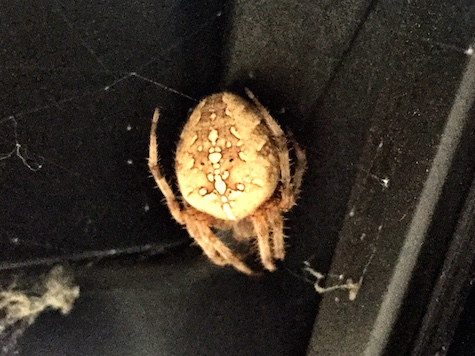 After snapping photos, I cinched up, put on my determined face, then re-entered the roadway at speed hoping this sumnabitch would fly off in the wind. No such luck. It first hunkered down, then feeling carefree (I assume), it later spread all eight of its legs as though surfing the breeze.
Hitting speedbumps at a hard pace didn't seem to help either.
Soon, I arrived at work and had to unroll this window to reach out and badge into the garage. Thankfully my new overlord didn't seem to flinch much.
But it's still there. Still hanging out like it owns my Jeep. Like I am just a pawn in its spidery game.
I am currently unable to exit the Jeep. This is my life now.
Someone please send help! To the passenger side, though.
Gah!
_____________

The Good Man did some research based on photos and determined this is a Cross Orbweaver and that it isn't poisonous. Fab. I'll remember that when it singsongs my name and tells me to "come out and play."

All photos ©2016 Karen Fayeth, and subject to the Creative Commons license in the right column of this page.

It seems as each year goes by, I get a little more awkward. I mean, I've never really been cool as the other side of the pillow, but over time it seems it's tougher and tougher to just, you know, maintain.
Yesterday, I heard that one of our young intern employees will be leaving the company. I don't know the guy that well, but he helped on a few projects I worked on and I found him to be an all around good person and hard worker.
As a manager and mentor, I wanted to stop by to thank him for his work, encourage him in his next role and offer to be a reference if he needed.
It's the kind of thing I wish a few more people in leadership roles would have done for me in my career. I certainly remember with much gratitude those that did.
So I had a good opportunity during the busy day yesterday. I walked to his cubicle and stopped to ask, "Hey, I hear you are leaving tomorrow?" When he confirmed, I said, "Just wanted to thank you for your hard work and support. You have been invaluable to us. I hope you are able to find a new position very quickly. You will bring so much value wherever you land next."
He thanked me and started talking about how he really loves the culture here at our company and how he has liked the job and hopes he finds something equally supportive. And how much he appreciates all of the leadership here and……you get the drift.
As he's talking, my left eye began to betray me. I have terribly dry eyes and it's also allergy season. Before I knew it, a tear welled up and slid onto my cheek.
And the kid noticed. He saw the tear and kind of stopped speaking.
"Um," *awkward laugh* "Yeah, sorry man," I said as I wiped the tear away. "I'm not crying, it's just allergies."
"Oh." He said, trying to be nice but now a little weirded out.
"Hey, you know, dry eyes, allergies, kind of funny right! Like I'm so broken up right now because you are leaving, ha ha ha…." Then I awkwardly reached out to lightly punch him in the arm.
Which he awkwardly took to mean I was going in for a hug.
So yeah. There was a clumsy punch-hug thing that happened. I quickly stepped back and said "Hey, yeah, good luck! Let me know if you need a reference or anything!" and then scuttled off like the bottom dwelling weirdo that I am.
Lots of people might say, "But Karen, these kinds of things happen to everyone sometimes."
I might reply with a maniacal laugh, "If only these kinds of things happened sometimes. How about all the time?"
So, let's bright side this thing: 1) No one else saw this sad awkward exchange, 2) the guy is leaving the company and so I only have to face him in the break room for one more day and 3) odds are low our paths will cross again soon. I mean maybe, but it's unlikely.
Okay, I'm grateful for my blog-as-confessional as a place to work out the feelings around these kinds of things.
Onward to my next awkward encounter!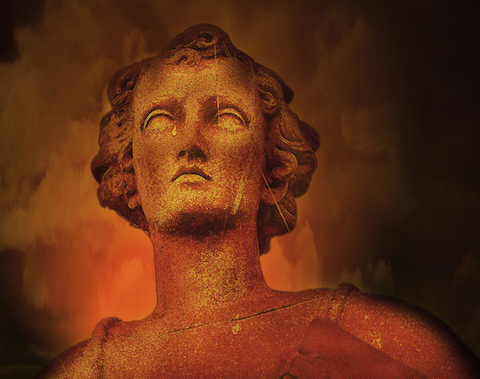 Nah man, it's totally allergies. I swear!

Photo by Fred Fokkelman and used royalty free from freeimages.com.