So yeah, I'll just cut to the chase, I've been having a hard time lately. Moving, work, life, storms, general state of politics, hades-like heat in the Bay Area, all of it. Stress. Anxiety. Insomnia. It all just got on top of me, and stood on my neck.
Some days I'm stronger than others, but last week the final drop of strong independent woman inside of me got used up, and I broke. I had been in a prolonged email squabble with a really challenging coworker and I hit a wall. I totally collapsed into tears.
Sobbing, heaving, inconsolable tears. Not in front of the coworker, at least. But still. It was what I believe the kids these days call an ugly cry. Full on.
For a while I was so down, ragged and lost that I thought I might be losing that small tenuous grasp I have on sanity. I was actually pretty scared.
But through some tough love from The Good Man, some actual sleep (I swear lack of sleep would make the most calm person into a raving psychotic), and doing a much better job taking care of myself, I found my way back. Mostly.
I mean, it's still there at the edges, the crazy I mean. This is the absolutely busiest time of year at my job and things always go a little pear shaped in September anyway. Tempers are quick for everyone and feelings are a little raw.
This too shall pass, it always does. I mean, October 1 is only three weeks away. I can survive three weeks, right?
Today, this lovely Saturday afternoon, when I should have been doing work but just couldn't bring myself to sit in front of a computer, I instead sat on my back deck with camera in hand, trying to photograph hummingbirds. Not an easy thing, and I'm learning a lot about both the birds and who I am as a photographer.
I shared one I really liked on all the social medias.
Here is another: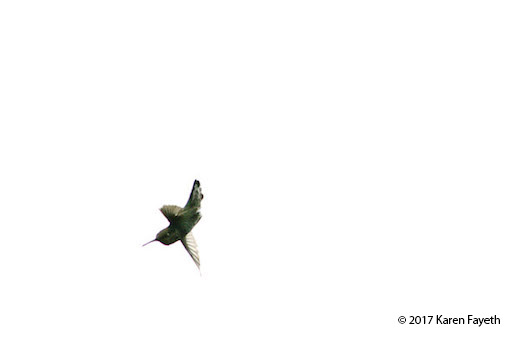 Today as I sat and watched and listened and kept my eyes open for the hummingbirds, another animal caught my eye: A Monarch butterfly.
A sure sign of pending Autumn, the monarch. They are special to me in so many ways, not the least of which is how closely tied they are to Dia de los Muertos in the Mexican culture.
I silently wished for the Monarch to land and let me get some photos.
Well, I got my wish, just not quite in the way I expected.
The butterfly flew in listlessly, bumped into a wall, ricocheted and then landed on the side of the deck.
As I got closer, snapping quickly with my telephoto, I soon realized the issue.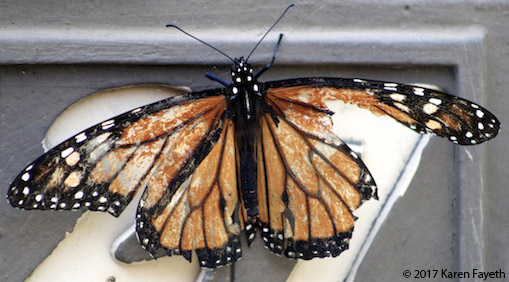 "We have an injured warrior out here," I texted to The Good Man.
I wondered what had happened to this beautiful animal. Did it go through a rough storm? Get batted at by a sporting cat? Fight for territory with another butterfly? Or was it just at the end of a good life?
What sort of hell had this little guy gone through, and how was it still flying?
After some Googling, I tried making some nectar and coaxing it into a box, but alas, no. It mustered up some of its last strength and flew off.
I was left sort of sad, wanting to give the injured insect a safe haven. Wishing I had just left it alone.
But as it flew off on one good wing, I couldn't help but admire its tenacity.
A tenacity I wish I could find. Or perhaps find a little more of.
May I (and you and we) find the strength to fly on our own battered wings. May my poor ragged butterfly inspire you as it did me.
Back in the yesteryear of 2012 I found myself constantly at various airports around the world, passport in hand. I was constantly aware of timezones and dial in numbers and etiquette in different cultures.
I worked a truly global job and had direct reports in five different countries. My days would begin at seven in the morning and end at ten o'clock at night.
That was a really good job and I liked my boss, himself a product of Sweden living in the UK. The gig worked my mind and my skills and my ability to work with different people in different countries with different rules.
It also worked me over pretty good. After almost three years in that role, I knew my mental health was suffering, my doctor told me my physical health was suffering and my husband asked nicely if we could spend a little more time together in person.
So I began a job hunt for a company I would like, a job that challenged me, and the travel and timezones would be kept to a minimum.
Then I found that job. A really wonderful gig, a perfect fit. This is one of the rare times in my life when I can say I love my job, and I do. It's awesome! Part of the reason I was hired was because I had that international background and could assist on a huge project with a European entity. My current employer is very small and they don't have a ton of background with international dealings. Great! Happy to help.
I was told I would work on this big project but it was highly unlikely I would travel. Nice! All of the fun challenges and none of the zombie jet lag shuffle through airports.
Until last month when I was asked, on very short notice, to take a trip to Ireland. Fun! That was my first thought. I kind of missed traveling and looked forward to getting back in the game. I loved every minute of Ireland and the work was very productive. Good stuff!
Came home exhausted but satisfied. Happy to have had a nice international trip and ready to settle back into my life.
Then came news that I now am needed in Amsterdam next week. Now, I've always wanted to go to Amsterdam, but you know what? There are few things I want to do less than get on another airplane right now.
But board a plane I will, passport in hand, zombie shuffle at my feet.
Don't get me wrong, I'm not complaining even though it sounds very much like I am.
I love to travel. I love to see things I have never seen before. I love learning new cultures and customs and doing business across the boundaries of language and culture.
But damn oh damn. I haven't even caught up on sleep and it is time to go again.
And so, here we go! Amsterdam here I come. Please be nice to me.
I won't have much free time while I am there so I have to do up my "must do" list. For those who have gone, what do you recommend?

Image found here.

These past few days have been a little harder than usual. I mean, the regular crap with work and traffic and laundry and all of the trappings of being a grownup are there. It's just…these past days have been a little more uphill than usual.
That's because my partner in crime, The Good Man, has been out of town on travel. So, you know, boo hiss on that.
Well, that's not entirely true. He took off early Saturday morning and in many ways I was pretty damn excited to be a bachelorette for a while. Whoo! All my limbs all over the place in the bed! I can watch sappy chick movies on Netflix without the ongoing sarcastic commentary in the background. I can eat whatever I want for dinner without explaining!
Yes!! Saturday I glued myself to the couch and watched way too many episodes of "How I Met Your Mother" (how am I just discovering this series?) and that night I had cookies and a crisp cold glass of chardonnay for dinner.
Yes I did!
The next morning I woke up with a tummy ache. And when I reached out for the comfort of my adorable husband, he wasn't there. Even the damn cat wasn't with me in the bed, she wasn't having any part of me.
I found her sleeping in the chair by the front door. This is the place she sleeps when she waits for us to come home. Note I said "us." I'm there in the house, she knows I'm there, but she is not having it. The cat is depressed and stays in this chair all day, waiting for her boy human to come home. Which does wonders for my ol' pet owner self-esteem, I can tell you that.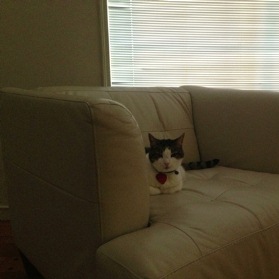 Sunday afternoon I ran some errands. WAY less fun to grocery shop without a cute boy there to hold up a funny looking vegetable to make me laugh or to get the last box of my favorite cereal off the very topmost shelf of the store.
Damnit! I don't wanna be a bachelorette anymore! I like being a couple. All those times I complain about his lengthy limbs encroaching on my side of the bed was all just joshin'. I wouldn't mind a big heavy arm across my tummy while I sleep. He can even steal all of the blankets, I'm ok with it!
*sigh*
Tomorrow. Tomorrow is when my joy comes home.
Ain't no sunshine when he's gone. Well there was, just one day. But then nothing but cloudy days since.

Sad cat image Copyright 2013, Karen Fayeth and subject to the Creative Commons in the right column of this page.
Lyric image found here.

Whew, and wow, and holy cow and other explicatives.
So here I am, back here at the ol' blog and oh-so-happy to be back.
This past week was the first time I've ever taken a break from My Fair New Mexico in the six years I've been at this game. It was really hard for me to step away. Really, really difficult.
Writing somewhere around a thousand words a day about whatever is on my mind is what keeps me sane. Well…as sane as I can be. Which isn't much.
Here's the low down on the time away:
As ya'll know, I've started a brand new job, in fact I've been here just shy of four months. Still a total newbie and trying to make a good impression.
From the day I started this gig, I was told that there was this really Big Deal coming up at the end of April. The big deal is an audit.
A big whopping audit that looks at our department top to bottom. The review includes our systems, our files, the cleanliness of our socks. All of it.
At the end, the head office decides if we get to keep doing what we are doing, or if we are so out of alignment that every project we do requires executive oversight and approval. (there have been entities that have failed the audit in recent history)
Yeah. This is a huge deal. Basically if we failed the audit, our department would face massive cuts, and being the new person on board, well…make your own conclusions.
Only a tiny amount of GIGANTIC stress.
On top of that, my own sub-team had a massive project due on Tuesday of the same week and one of my (senior level) employees was just not getting her job done. Worse, she seemed not to care one whit that we were going to miss the project drop-dead deadline.
Missing the deadline would mean incurring the wrath of the Chief Information Officer of the company, a formidable person. At four months of employment I am still on probation, so incurring the CIO's wrath now wouldn't be a good look for my future here.
And so I was worried. Really worried. Walk the floor at two in the ay em kind of worried. I was getting little to no sleep, working very long days, and filled with massive amounts of stress and worry. This of course, just a short week after The Good Man and I had finished moving to a new town. So no stress there either. *harumph*
To make the long story short, we passed the audit. Yay! And after some yelling and application of heavy doses of guilt my employee finished the project (just barely), so we dodged that bit of unpleasantness from the CIO. I did get a good butt chewing from my boss for letting it get to the very last minute.
So by the end of that week of hell, more precisely by Friday about 10:30am, I was sick with hundred degree fever and sinus pressure so bad I thought my head was going to pop like a kernel of corn in a frying pan.
Brutal. Just simply brutal.
From Friday until yesterday I haven't even been on the planet. Between fever and Theraflu I think I went on some sort of vision quest. I may have seen my spirit animal, I'm not sure. And the Theraflu dreams. My god the angels and gargoyles that haunt my fevered mind.
Today I am mostly back. Running at about 80% perhaps which is a damn sight better than where I was last week, but still not good.
And so, my dear and loyal readers, that is where I was when I urgently posted on April 30th that I wouldn't be writing on the blog for a while.
It made me sad to have to post that and walk away.
Let's not be apart like that again, ok?
Ok.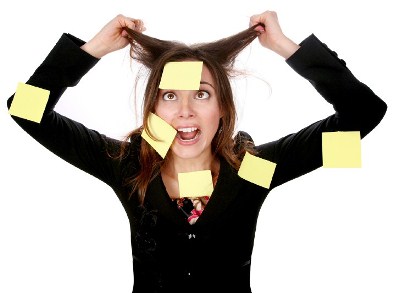 Image found here.

Today in the very small hours of the morning, I found myself wide awake.
Wide. Awake.
I do not know why, exactly, my body said, "hey, you know, 3:12 am is an awesome time to be awake. Let's do it!" I could only go along with the overbearing wishes of my body and try to get through.
So there I lay, staring at the ceiling and contemplating my life, and I noticed quite a racket going on outside. One mutha of a late winter storm came ripping through the Bay Area last night. Intense winds howled and pile drove raindrops into window panes.
But that wasn't the noise that had my dander in a full upright and locked position. Nope, it was the gall dang wind chimes that the neighbors above us have hanging from their balcony.
I really deeply profoundly dislike metal tube clanky wind chimes. The high pitched sound actually assaults my ears.
"But what about those cool bamboo chimes" you might be asking.
And I would reply, "No. No no no no no nonononononononono."
We have rules about not forcing neighbors to listen to your smooth Muzac jazz played loudly over a stereo. We regulate leaf blowers. We ask that noisy cars be muffled.
But clank makers are juuuust fine. Assault the ears of your neighbor all you want.
I DO NOT WANT TO SHARE YOUR CLANK NOISE!
I am a woman of New Mexico. Wind is not something we celebrate or entice to visit our balconies. Wind is something to be endured along with tumbleweeds, goat heads and rattlesnakes (see: safety training from yesterday).
With teeth gritting and bile rising, I tried to use my whirling mind for the greater good of all mankind and the 35 other units in the building. With my new harness training in mind (see: safety training from yesterday) I considered scaling the exterior of the building up just one floor and yanking those clank tubes clean off the deck.
But it was so cold and rainy outside I figured by the time that journey was done I'd really be wide awake. Plus the neighbors might be a tad cranky at my destruction of their property.
I considered using a high powered pellet gun to shoot them sumnabitches off the side of the building, but The Good Man had a long talk with me about the use of gun-like devices in an urban setting in a state that has no sense of humor about these things. So that was out.
So that just left me very awake, cranky and frustrated.
Rattin' smattin' windchimes.
Turns out my friends across the pond are with me on this:
Why wind chimes are the UK's most hated garden accessory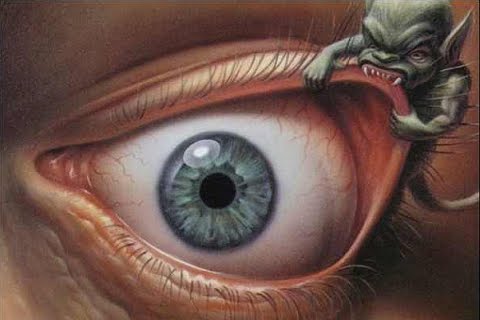 Photo from Notes From A Burning House.