A few years back, I participated in a flash fiction writing event and drew the genre of Historical Fiction as my prompt. Historical Fiction! I had no idea what to do with that. None. At all.
I believe the full prompt was Historical Fiction, a dentist's office, and a leather jacket.
Uh. Okay. Sure.
So off I went and wrote a story. My own little sort of baseball story and turns out it did pretty well in the competition, meaning it was good enough to get me to the next round.
After finishing the story, I'd had a bit wish that my sorta kinda baseball story would get to see the light of day, and be published during the baseball season.
Well, my wish came true. "The Dilemma" was published this past April in issue 13 of SLAB Literary Magazine.
My baseball story! Published in April! During Spring Training!!
So why am I telling you this in June?
Well, it came out in the print version in April and I decided to wait for the issue to be loaded up online before sharing. Well, Issue 13 is online, however…..my story is listed in the table of contents but it's not printed in the online version.
Grr.
I've sent a few notes but I think the editorial team is off on summer vacation.
While I love the folks and SLAB and am so very, very grateful they published my story, I don't really want to wait anymore to share my little story with the world.
So I scanned that bad boy and you can read my little baseball story today, a few weeks before the All Star Break.
Here it is: The Dilemma
You can also find the link in the right side of this page.
If you take a few moments to give it a read, I'd be quite grateful. If you don't wanna read but just wanna send "yay you" thoughts, also fine by me.
Either way, I'm going to be over here feeling pretty darn proud of myself for taking a bit of an oddball prompt and making something good.

Issue 13

Here it is, Sunday, January 7th and I'm staring down the barrel of Monday.
It's time to get myself back into gear.
You see, not only does my employer shut down between Christmas and New Year, but I was also able to scrape up enough hours to take this past week off. I've just had seventeen glorious and fun filled days away from work. Days of setting my own agenda. Of not looking at work email. Of working on photography at midnight if that's where the fancy took me because I could sleep in the next day and the next one after that.
Last week I existed in a fabulous sort of limbo land. 2017 no longer, not quite 2018. It suits me.
All good things must come to an end, and so must my extended vacation. Tomorrow, reality slaps me across the chops, as reality is prone to do.
This morning The Good Man and I left our warm and cozy home to venture out into the rainy, wintry cold for Sunday breakfast. Pancakes to bid adieu to vacation and bonjour to 2018.
Through visible breath and rubbing hands together I looked up and saw a bright red maple leaf shellacked to the windshield. "Hey that's pretty," I said and took a quick snap.
Now, I realize that in this simple winter image I somehow exactly captured my mood. No more holly jolly songs and soft Christmas lights. No more Santa and wrapping presents and warm cookies baking in the oven.
It's now winter, plain and straightforward. No more looking forward to the holidays, instead we look to Spring. I have a lot of (needed) California rain to endure this year because that is what the Bay Area does in winter.
This is the long slog, when it's still dark early and foggy mornings and shivery cold.
But soon. Yes soon, the world moves into winter so we can know the spring. Daffodils and cherry blossoms are just around the corner, but for today it's a sodden leaf in cold rainy hazy blue surroundings.
So I won't lose hope. Tomorrow may loom large, but I will pop back to the surface like a bobber and keep swimming. I will have great successes and I will fail a lot too. I will be mad and sad and happy and grumpy and overtired and all the things I was on December 21 when this wild leave from work began.
Okay 2018. I put you off as long as I could, but you are now top of my To Do list and I'm going to tackle you.
Starting tomorrow.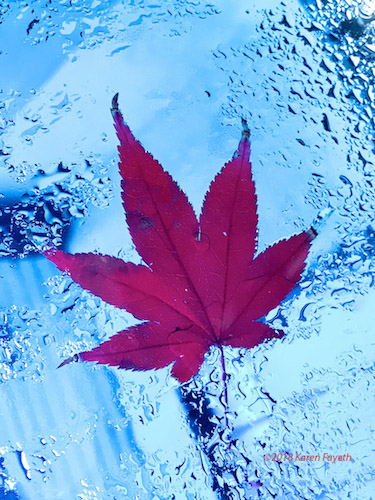 ©2018 Karen Fayeth

As I put in a few extra work hours in this crazy holiday season, I thought I'd reshare this photo I took a couple years ago.
I call it "After the Party" because, you know…I had thoughts of the remnants of a great holiday party, happy people, tree on the floor, ornaments askew.
This photo was so much fun to set up and SUCH a pain to clean up. It remains one of my favorite shots in my portfolio.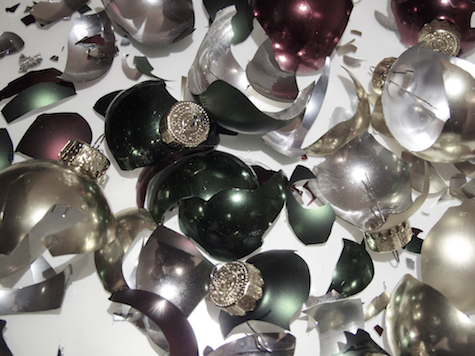 ©Karen Fayeth

See more of my stuff (including another Christmas photo) on my Flickr

Today was my first day back at work after a nice and relaxing weeklong vacation. Always tough to get back into the routine.
Last week, I missed a big event at work. It was The Great California ShakeOut, an annual earthquake preparedness event. On a set day, they sound the sirens and we take cover and hold for a period of time to simulate an earthquake. Then when that is over, all must evacuate the building.
It's getting us ready for "the big one" that we all keep hearing about. Practice like this has proven to be useful. We do this every year meaning once a year I get to check out what's going on under my desk.
Since was on vacation and I live pretty close to work, I heard the sirens, but I was driving in my car so I hunkered down in my mind.
Today upon unlocking the door to my office I see my employer has left me a little gift in the wake of the ShakeOut event.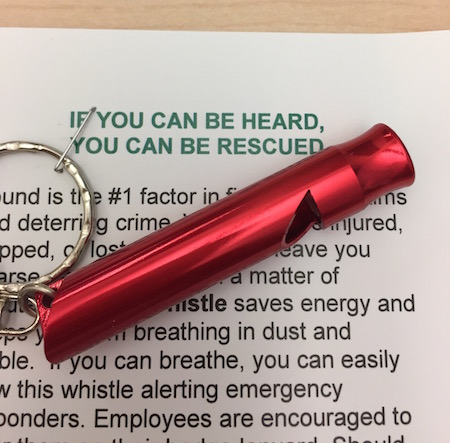 Lemme hear you whistle, baby…


Seeing this laying on my desk, I did what any mature, right-thinking adult would do when presented with a shiny red whistle. I picked it up and blew that sucker.
It's loud. A little piercing. The sound rattled off the high roof of the building.
You'd think this would be occasion for another one of those "talking to's" that my boss so enjoys providing to me. But alas no, she was in a meeting and missed it.
Instead the group administrator came over and stood in the doorway of my office, gave me the world record of stink eyes, then walked away.
I mean, if you didn't want me to USE it, then why didja give it to me?
Anyhow, my pretty red whistle is now safely stowed in a drawer. Guess I won't do that again.

Pretty whistle photo ©2016 Karen Fayeth, and subject to the Creative Commons license in the right column of this page. Taken with an iPhone6 and the Camera+ App.

A two pack of good news! No, not Tupac, may he rest in peace, but a jam-packed, happy, good thing, ain't-it-grand, times two!
I have been waiting a REALLY long time to share the news that over the summer two of my stories were accepted for publication.
Now both are finally published and out there in the world, flapping their little wings and taking flight.
I am SUPER proud!
Here's the details:
You can find the magazine cover and link to each of the stories in the first column on the right side of this page.
Or…
I'll just tell you.
The first is a story called "When Opportunity Knocks You Down" and it's published in The Griffin Literary Journal, 2015 edition.
I wrote this story over fifteen years ago and I have always just loved and truly believed in it. The words capture a lot of what I was feeling in those first years living in the Bay Area and prowling the streets of vibrant San Francisco.
I have edited and shopped and polished and shopped this story for so long, determined to find that one person who got what I was trying to say.
Turns out it was the editor of The Griffin, Dr. Donna Allego, who was the one I've been waiting for. Seeing this story finally make it into print is just beyond my wildest dreams.
It's a real testament to tenacity and accepting that a story will get a lot of no's (like about 150 of them) and can still eventually find a yes.
Whew!
Here's where you can go to read the story
Or go to the The Griffin Literary Journal main page for the link to download the entire edition.
Yay!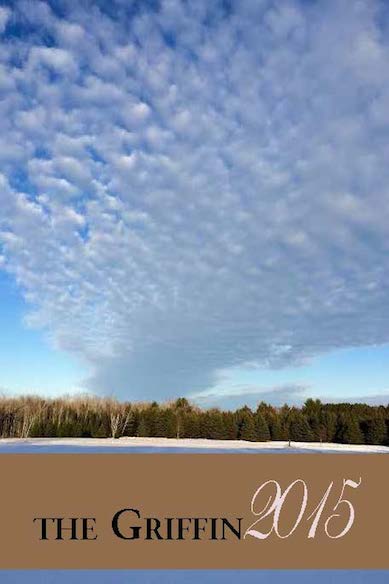 The second story is a little bit of a surprise. It's such a quirky little tale that even as I was submitting it to a lot of magazines, I was just sure no one would pick it up.
To my utter shock, it was quickly snapped up on it's first round of submissions by Ragazine.cc, The Global Online Magazine of Arts, Information & Entertainment.
This acceptance process was a one eighty-degree turn from the one above. Sometimes that one quirky story is just in the right place at the right time.
The story is called "The Seal" and the genre is a bit of a departure for me. It was written for the final round of the 2014 NYC Midnight Flash Fiction Contest. I loved the story and really believed it would do well in the final round of the contest.
We were just twenty writers who made it through to the final round, whittled down from a starting number of about 1,500. My odds were good.
Turns out this little story didn't even place in the top ten. I was irked. There and then I decided that the best revenge for that stinging loss was to have the story published. A royal eff you to those judges.
I just had no idea it would be accepted so quickly! Double eff you! LOL!
I had a lot of fun writing my story about the Inuit god of icebergs and I hope you have as much fun reading it!
You can find the story here.
While you are there, poke around the other corners of Ragazine.cc, it's a really cool place.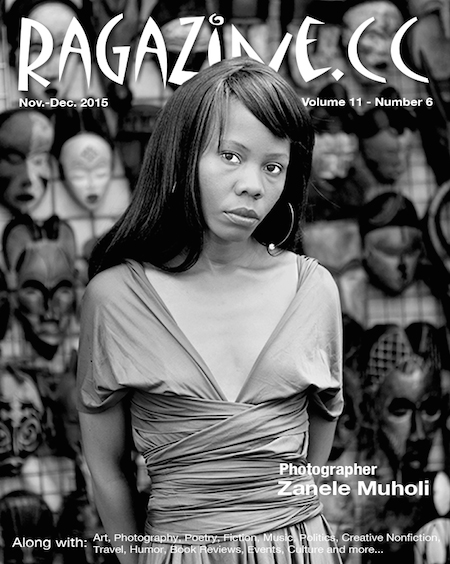 So yay! Give 'em a both read when you have a moment.
I'll be over in the corner celebrating times two!