If we make it through December
Everything's gonna be all right I know
— Merle Haggard

Every year "If We Make It Through December," a classic Merle Haggard song that was released for the first time all the way back in 1973 becomes the theme for my holiday season. I have been playing it on repeat in my car as I drive back and forth to my job.
I also play it when it's dark in the morning and when it's dark in the evening. As the rain comes down. As protestors shut down access to my home and helicopters hover in the sky. As my feet ache and my head hurts and I wonder why, for another year, I'm anxious, depressed and overwrought during the happiest time of year.
Every year I look forward to December and the holiday season, hoping to capture some small bit of that childhood joy and anticipation and magic. I watch movies like "White Christmas" that are filled with optimism and dancing and songs about snow.
Every year I feel crushed by an avalanche of end of year business activities. It's the nature of the profession I have chosen that December is just always going to be craptastic.
And then current political events put a little exponential anxiety to this year's festivities.

Now I don't mean to hate December
It's meant to be the happy time of year

Happy, yeah. Full of cheer. Ho, ho, ho. Yesterday should have been a really good day. My boss held a breakfast holiday celebration for all of her team. Then one of my main client teams had a holiday luncheon for us too. A day of eating? Hell YES!
But in between those two events, I had a bunch of other meetings. I was late to most of them and got chewed out. I was running hither and thither to get to these "fun" events where my attendance was fully expected.
At the end of the day I had an inbox full of emails and angry voicemails from people expecting me to get my other work done.
So I stayed late at work (again!) and tried to get somewhat caught up. I worked off most of the code red items and left the code orange for another day.
Then I went home exhausted and emotionally shut down. I was not a good spouse to The Good Man or a good human to my Feline.
Hell, I didn't even plug in our Christmas tree yesterday. Yes, last weekend I managed to get our fake tree put together, but it is not decorated. I usually love to make cookies for the holidays, but not this year.
Instead I made toast for dinner and then went to bed. Feliz Navidad.

If we make it through December we'll be fine

But as I whine on and complain loudly, I suppose all is not lost. This year I introduced The Good Man to December's theme song. This happened while we were taking a drive to go see Merle Haggard play a live show at my favorite concert venue in Napa.
How bad can my month be if I get to see one of my all time favorite musicians play live? A musician who has written songs that make up a lot of the soundtrack of my life.
The Good Man is going through his own turmoil this December and so the lyric we most often repeated to each other on our hour long drive was this one, "If we make it through December we'll be fine."
And we will. We'll be fine. This hell and highwater (literally, one of the highway exits in our town was flooded out so we had to seek an alternate route) will recede and we'll find our way back to level ground.
I don't mean to hate December. It's just sometimes it feels like December hates me.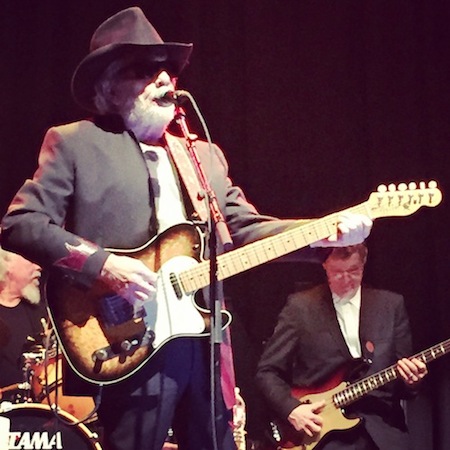 Photo copyright ©Karen Fayeth, 2014

Photo copyright ©Karen Fayeth, 2014. Taken with an iPhone 6 and run through Instagram. Photo subject to the Creative Commons license found in the far right column of this page.

"Hey baby, you smell nice!" she says.
He grins, "thanks, it's Calvin Kle—"
"ROWR" goes the leaping jaguar.
"Why can't I ever meet a guy who lives longer than ONE date?" she wails.
: cue sad trombones :
My little story is a parable. A lesson. A warning.
Seems that large kitty cats with big claws and big teeth get a little fired up for….
…wait for it…
Calvin Klein Obsession For Men.
Makes 'em nutty. Makes 'em curious. Makes 'em lusty. Serious, click the link and let the knowledge seep into your brain.
(Regarding the feline in your home, your milage may vary, but give it a try. Ol' Scratchy might just become Fluffy McLapcat.)
Jaguars, tigers, snow leopards, cheetahs, pumas, ocelots, tapirs, peccaries and coatis, oh my!
Hey baby, wanna see my ocelot?
I learned this random fact this morning while perusing the news over a onion bagel.
Now you know it too.
My work here is done.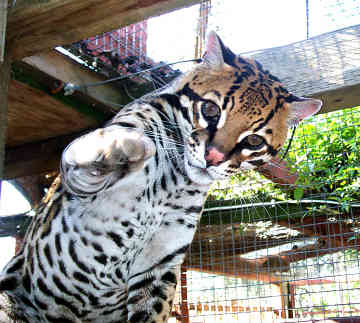 Hey baby, how YOU doin'?

Image found here.

Today feels more like New Year's Day to me than it did on January first. This is easily explained, as today is my first day back at work and the reality of 2014 is slowing sinking in.
Today was the first day back to old routines and old problems and that dratted alarm clock squawking at me at some unspeakable hour when even the sun doesn't want to be disturbed in his slumber.
But here I am, back in the grind, wondering how I can keep myself stress free and high energy for all of the many days that lie ahead until my next two-week break.
As such, it's time for me to turn my attention back to words and writing and the ol' blog.
I thought I'd kick off the New Year by doing an update post, addressing many of the things we've chatted about over the past month or so.
Where to start?


Oh Fair New Mexico


Well, let's be a little meta and start by talking about my little blog. March will mark seven years of writing words on Oh Fair New Mexico.
Total count (before this post) is 566,730 original words over 1,669 posts.
For the loyal readers, I give you a huge hug and lots of thanks for keeping up with the wild meanderings of my mind.
In the past I was able to consistently post every weekday, and did so for years. Lately that flow has slowed quite a bit.
Is it that I just don't have anything more to say? Hardly.
The nature of my job is such that I rarely have a free second of time during my days. This job is high energy and decisions required moment to moment.
In my former gigs, I was able to write up a post over my lunch or while on a break. Now, when I eat lunch (at my desk, usually) I have a line of people out my office door wanting to chat.
I often hear "Oh she's there!" outside my cubicle walls and an "Oh, are you eating lunch? This will just take a minute" when a face peeks around my doorway.
My employees are top-notch folks and I take working for them very seriously.
But dammit! Mommy needs some alone time!
I get quite frustrated sometimes over my lack of time. It's something I'm working on in this new year.
I'm telling you all of this by way of saying that even if a week goes by and I haven't posted something, don't give up on me. I'm still here and I'm still writing.


750 Words

Nice segue. Speaking of writing, lately I have been getting a nice boost from a website named 750words.com.
If you ever read the book The Artist's Way by Julia Cameron, then you learned the value of morning pages. Per Ms Cameron, morning pages are three handwritten pages about any topic you please. The intent is to help prime the ol' pump and get the creative juices flowing.
I have done morning pages off and on for years and they sure help, but it's easy for me to let them drop. They are kind of a pain in the butt sometimes, plus my handwriting sucks. Also, my hand can't go fast enough for my brain.
Enter 750 words. The creator of the website did the math and figured out that three pages is, give or take, 750 words.
So it's morning pages, online, with reminder emails and badges and statistics and fun.
Why I'm telling you this is because I have been working on words on that site and boy can I tell a difference.
Hopefully that difference will show up here on Oh Fair too.


The Feline
Just before Thanksgiving, I wrote a pretty sad post about my little fuzzy one.
She had just spent a weekend in the pet hospital and when we brought her home she was weak and quite skinny.
At the time, we didn't think she would make it to Thanksgiving.
She did.
Then I was just certain she would not make it to Christmas.
She has.
So here I am on January 6th feeling pretty amazed that The Feline is actually doing ok. Through the wonders of modern veterinary medicine, she is not only ok, she has gained a little weight and is clear eyed and feisty and full of vim and is feeling like her old self.
It's kind of amazing. The Feline will never recover from her ailment, what she has is terminal, but The Good Man and I now understand how to manage it. We got her steady and we have more time with the little punk than we thought.
She will be 15 years old in March, and now my hope is that she gets to celebrate her little cranky feline birthday.
Here's a photo taken about a week ago. This was the first time I really realized she was feeling better and it's become one of my favorite photos of her: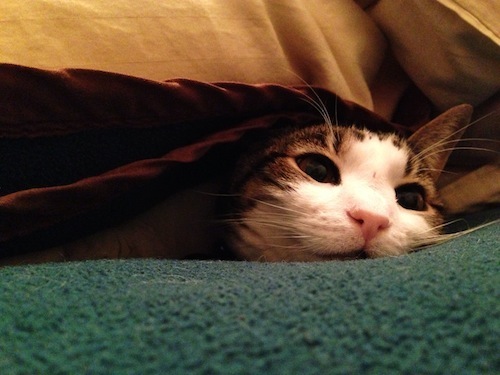 Copyright © 2014, Karen Fayeth


That Damn Chocolate Bear
You listened to my tale. You sympathized with my anxiety. You heard my cries.
The response was best summed up by a New Mexico friend:
"Snuff the Yogi."
And I want to. Oh. I want to.
Here is the status of the Bear as of this morning.

Copyright © 2014, Karen Fayeth

He sits there, mocking me. He is in residence on the shelf set aside for snacks. During the height of holiday madness, that shelf was cram packed with delicious treats and he survived by cowering in the back behind the biscochitos and the sugar cookies and the See's Candy and the rocky road treats made by The Good Man's little sister.
After the piranhas had their holiday feeding frenzy all that's left is that damn bear and a crappy candy cane.
Yes, people, I'm telling you that the bear is still intact.
I asked The Good Man, "What kind of maniac doesn't eat a freaking chocolate bear?!"
He politely responded that since things have escalated, he will be seeking a safe house where the bear can be granted asylum.
He's just doing this to torment me. He knows one day in the not too distant future I am going to tear the apartment apart and walk through that bear's gold foil restraining order and tear him chocolaty limb from chocolaty limb.
Oh it's happening.
Well there we have it. I think that gets us all pretty much current and caught up as of today.
I am through most of my first Monday back at work. All in, it was not bad.
Manageable.
Onward until tomorrow.
Feliz Año Nuevo my friends.
I just realized that it's only two weeks until the glorious three day weekend of MLK Jr. day.
I can hardly wait.

All images © Copyright 2014, Karen Fayeth, and subject to the Creative Commons in the right corner of this page.

"So, did you get caught up in the Black Friday stuff last week?" a coworker asked me this morning as we kibitzed about the Thanksgiving holiday break.
"No. Did you?"
"Yeah, we were at Target until 2am standing in line for an iPhone on Thanksgiving day. It was crazy."
"Wow."
That's all I had to say. Wow. There was no other answer I could muster. Why would anyone would want to stand in line at the ungodly hour of 2am to buy a piece of electronic gear?
And I'm a big fan of my iPhone. Still, I don't need to take part in that.
I know, I know. Because it was a deal. Because it was on sale. Because it means saving a couple of bucks.
I think that people forget that their time and their sanity also has a value.
This is something that The Good Man reminds me of with some frequency. I was raised by an engineer. Engineers are fairly squeaky with the wallet. The lure of a good deal is strong with me.
If I take a look at my paycheck and then divide down (I'm salaried) I can figure out how much my employer pays me by the hour. Then I can apply that to the time standing in line just to get 20% off an iPhone.
Or, I can try to figure out the value of time spent with family and friends.
My coworker left for Target at 8pm after having turkey and cranberry with the family. Stood in line to get in the door. Stood in line until 2am to get the phone and spent another hour waiting to have it activated. 8pm to 3am is seven hours.
Seven. Hours. That's dang near a whole workday.
Maybe I'm just a stodgy ol' fuddy duddy but I spent those same seven hours with The Good Man and the Mom-in-Law and petting the ailing Feline. Those were good hours and time well spent.
Ah well, rereading this post I realize that I am judging and that's not right either.
As my mom used to say, "To each their own."
Happy Kickoff to the Crazy Days leading up to the Holidays.
Don't forget to hug your sweetie a little bit before you run off to get in line. I'll hug mine twice for you.
Salud.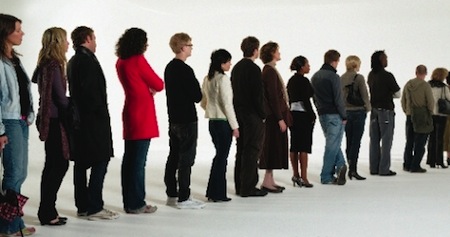 Image found here.

And here we find ourselves again on the eve of the Holiday of Big Eats. Of all the holidays each annual cycle brings, Thanksgiving and Halloween rank up there as my favorites. Mainly cuz of the snacking aspect so central to them both.
I do love a good day of eatin'.
So at this year's Thanksgiving fest as I nosh and nom, I have many things to be thankful for.
I'll start with gratitude for each and every reader of this blog. You may not be many in numbers, but you are huge in providing motivation. I love reading comments both here and on Facebook and each comment just spurs me on.
Thanks also for putting up with my most recent and quite maudlin post. I was in a pretty dark place that day. Writing the words out on the page always help me exorcise those demons. It is my greatest therapy.
I cried through just about every word of that post (a little awkward at work, so I had to stop and finish it up at home) but getting it all out really helped.
I've been a bit MIA since that post as I've been dealing with a lot of stuff. Work got really weird last week and of course I am already weird, so when weird is doubled down, it's not really a good thing.
The good news is that I am off work this week. I have to admit I didn't know how much I needed a vacation. Needed it so much. Yesterday I slept in to a reasonable hour, something like 7:30, and got up and started doing stuff around the house. Then I felt nauseous and had vertigo. So I did the only logical thing: I went back to bed. For the whole afternoon.
Turns out my body was saying "Lay it down sister, we need rest." I have been running full throttle for a long while and when I let off the gas, I needed to actually rest. So as much as I hated to lose a whole day of vacation, it was totally worth it.
Today I'm full of the usual quantities of both piss and vinegar, so it's game on. Look out world, I'm back! And grateful to feel good again.
So I'm thankful for my job, the ability to take paid vacation days, and for rest. All of these together make me a better Karen.
I might also mention here how thankful I am for The Good Man who puts up with my special brand of crazy including chronic rantings and frequent bad moods. He is the cream in my coffee, the salt in my stew, and he makes me a better person every day. Thanks for being you.
Also, looping back to my dark post from last week, I am thankful for the magic of veterinary medicine. The Feline is back up on her paws. She still has a chronic and quite terminal condition, but with some medication, some subcutaneous fluids and some love, she's almost back to her usual zippy almost 15-year-old self. Who knows how long we have left, but we have her feeling ok today. And I am very grateful.
And finally on this by no means all-inclusive list, I am thankful for my best friend who, earlier this year came to my home bearing bags of green chile that she had stowed in her suitcase. Yesterday I discovered them in my freezer and realized that two of those bags were chopped chile, just perfect for making a green chile stew.
As the chiles and cumin and potatoes roiled and boiled, I was thankful that I am a New Mexican, grateful for the mouthwatering food, and thankful that my New Mexican by way of Texas best friend in the whole wide world cares enough to share her chile stash. That's love.
Most of all on this sunny and warm California Wednesday, I'm just happy to be alive, to be loved, and to have my place here on my little blog where I can be weird or depressed or lame or just simply be me, and that's ok.
Happy Day of Gobble Gobble to you all! May you have a wonderful holiday, wherever in this big ol' world you may be.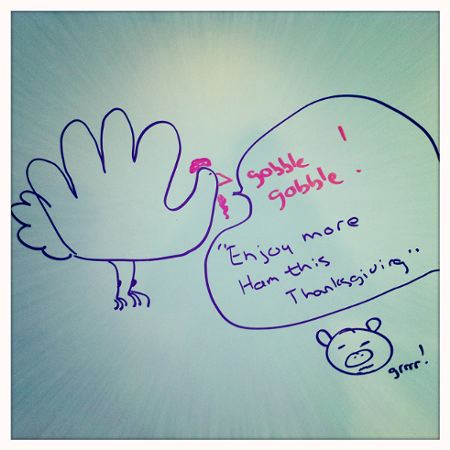 Had to post this image, it's tradition.

Photo and doodle Copyright 2010, Karen Fayeth, and subject to the Creative Commons license in the right column of this page. Photo taken with an iPhone 4 using the Hipstamatic app.