It's funny the things that stick with you. The seemingly forgettable details or moments that you look back on with fondness.
This past weekend, I returned home to New Mexico after a far too long two-year personal drought. Life, work, whatever, gets in the way (no excuse is good enough).
The occasion of my return was the high school graduation of my oldest goddaughter. At almost 19 she is no longer that curly-haired blonde toddler who captured our hearts. She is a smart, sassy, funny, talented and gorgeous woman and I'm a bit weepy right now just typing that. I'm so proud of her.
I have been working too many hours and it's fair to say I dragged my ragged self onto a plane, glad to go home. Sometimes I feel like I wander a little too far away from New Mexico. I forget the foundation of my soul and going home never fails to readjust my mind, my very DNA. It gets me back to remembering who I am and what matters.
Plus I eat good when I'm there, and green chile itself will help anyone get right.
Each time I go home, I'm overwhelmed at all of the things that have changed since the last time I was there. El Paso is growing fast. The area around Las Cruces too. More cars, more buildings, more people. It's crazy.
So then I start to seek the familiar. What hasn't changed. What is there that I remember so I can have a touchstone. A "hey, there that particular thing is, just where I left it."
The feedlots in Vado, for example. I was pleased to find them there, cows huddled under the water misters. The inevitable cow scent on the breeze.
The Organ Mountains. Craggy, uneven, and absolutely gorgeous. I see those mountains that once watched over my college education and smile, glad to say hello again.
So today at work when I was homesick, missing my best friend and the peace of her back patio, I started going through the photos on my phone to help me with the pain.
Did I find photographs of vast mountain landscapes? Did I see the faces of my loved ones? Did I have a whimsical photo of a cow?
No I did not.
All of those sorts of photos are on my actual camera. Weirdly, I took very few photos with my phone on this trip.
So I will share with you the two photos I did take. Memories I'm carrying in my pocket to remind me of home. This gives you an awful lot of insight into my muddled mind:
First, a photo of my goddog. I may have taken one or two photos of him in the past.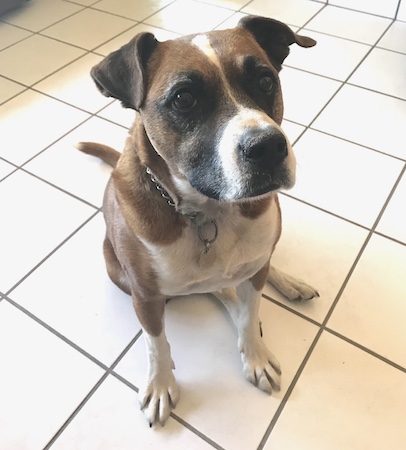 The gray hair around his eyes and in his muzzle makes my heart hurt, just a little

The second will take a little more explanation.
You see, to get back to Las Cruces, I have to fly into El Paso and while that's not my town, over the years I've even grown a bit fond of that crazy place.
When I stumble off the airplane and into the terminal I find that nothing much has changed. Then my heart softens a little when I see the genuinely godawful carpet in ELP's main terminal. Seriously, it's so bad, it makes me sentimental.
Nothing says "welcome home" like lizard carpet. Apparently, I was so overcome I had to take a photo.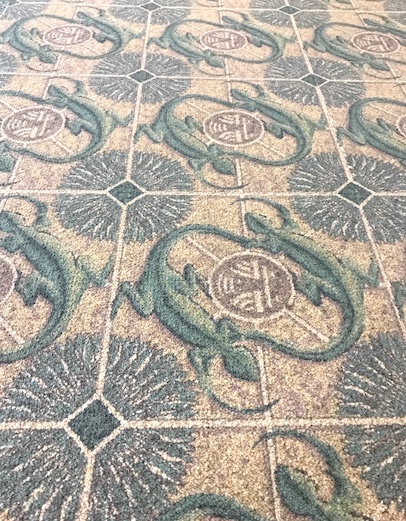 Not conducive to overcoming a hangover

And now I'm glad I did, I just found out today that the infamous ELP carpet is due to be replaced, like this month! Yipes.
That means next time, I won't be greeted at the door by the funky lizards. And as my goddog isn't getting any younger, one day I'll roll up to my best friend's house and won't get to experience his side-angled lope and velvety soft ears.
That's too much to consider. Right now, I will rest easy knowing that hideous lizard carpet and beautiful brown dog eyes remain just where I left them. I feel my connection to home, which makes sitting in this dull gray office just a tiny bit easier to take.

Both photos ©2018 Karen Fayeth, taken using the Camera+ app on an iPhone. Don't steal 'em. Thanks!

There I am, a random sunny weekend day in suburban Northern California, with a bag of groceries in my arms and holding hands with my husband.
We're headed to the car in the parking lot when a low, slow Honda Civic rolls by. The car has been lowered, the wheels are miniscule and from inside the car comes some techno music. Not the multilayered computer-mixed techno of this modern era, but a thin synth-pushed techno that was quite reminiscent of the dance club music of the late 1980's.
And suddenly I am no longer on a grassy knoll outside of Whole Foods in suburban California, but I'm wandering over the Paseo del Norte bridge and stumbling down Avenida de Juarez.
And I am inside Alive, a bar just over the border in Juarez, Mexico. If I listen hard enough, I can hear the sound of tequila slammers hitting the bar, syncopating with the terrible music blaring from the terrible sound system.
Alive, a venue located underground (the irony was not lost on me) with a tan blown-foam covering on the walls and a trip-worthy ramp leading to the bowels of the nightclub. I'd remind myself as often as possible not to touch anything and mind my own business.
But a bucket of Coronitas and a few slammers later and hey, let's dance!
And me with my walnut sized bladder begging myself to hold it because the bathrooms at Alive were awful. Just…frightening.
But who cares! I was young! I was invincible! I was the only responsible person in a group of very irresponsible college kids. We were having fun. In another country. With no parents in sight! Freeeedom!
Yes, I was young and in my prime and not something like 43 and worried about jobs and money and is that cereal I just bought gluten free because wheat gives me tummy rumbles and oh yeah, did I get hemp milk because by god I'm lactose intolerant too. And can you read the label on this box because the print is too tiny and I sure as hell can't read it.
It was a fleeting memory and I told it all to The Good Man. He replied "You and I had very different lives."
And I suppose that's true, we did.
But I can't shake the memory. It's not that partying in Juarez was a particularly good time. I was always the "good kid" and worried to death about all my friends and how to get them all back home safe and intact. I worried that one of the guys would get in a fight and we wouldn't have enough money to pay the Federales to let him go. I worried my pockets would be picked clean by the kids (I had fended off more than a few). I worried that if the time came to run that I would be the one not running fast enough.
None of that really sounds like fun.
Those times are long past, something of stories and fairy tales as I wouldn't go near Juarez for all the tequila in the world now.
I guess that memory on that sunny California day was something like fond reminiscence? I think it is more my youth that I miss than the crappy bars like Alive and Spanky's and The Tequila Derby.
While searching for photos of Alive, I found this story on CNN. The author perfectly describes what it was like then and what it's like now and does a much better job than I did.

Juarez was fun – before it was dangerous.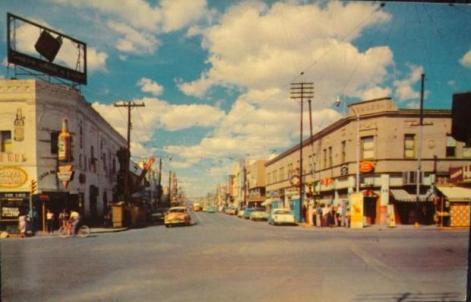 This 1950's (or maybe 1960's) era postcard, oddly, comes closest to my memories of Avenida de Juarez. In the late 1980's that big bottle over the liquor store on the corner (left side of the photo) was still there.

Image from an eBay posting selling the original postcard.

As a New Mexican who has spent a lot of time in that infamous border town of El Paso, I'm always more than a little amused to find traces of the familiar in another country.
Ya'll will recall my find at Mustafa Market in Singapore:

It's made in Spain which veers dangerously into "get a rope" category.
But then imagine my giggling surprise while deep underground at the Mornington Crescent tube station in London's Camden neighborhood:
The bejeweled gloved hand. The Brit flags. Juxtaposed with, well, El Paso.
Surreal.
Now I've never thought Old El Paso brand was all that authentic anyway, but it gives me a swell of pride to find the city of El Paso representin' across this globe.
Saaaalute!
"You learn a lot about our society, who we are and where we are headed…and you learn a lot about yourself when you board a Southwest Airlines flight."
— Bob Fitzgerald, on his Feb 14th afternoon KNBR radio show.


To which his partner, Rod Brooks responded, "There's a lot of truth to that."
To which I replied, out loud, to my car radio "There's A LOT of truth to that!!!"
Today I'm going in there for the sake of science, entertainment and friendship.
Yup, I'm testing that theory.
I'll be boarding a flight headed for the garden city of El Paso. I gots me a social engagement in Las Cruces and some godkids to hug.
I hear there's some green chile that needs eatin' too. I'm on it.
Watch out New Mexico, here I come!!
Whoooo!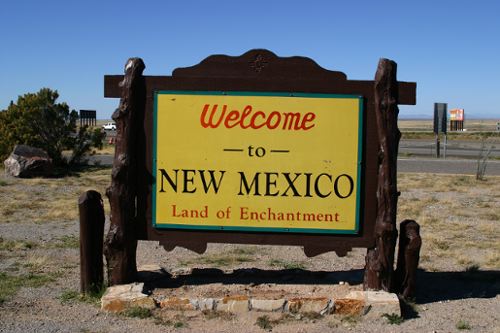 Photo Copyright 2007, Karen Fayeth. Taken just outside of Deming, eastbound on I-10.

Yesterday afternoon when I arrived at the El Paso Airport, I was heartened to see sunny skies and no snow on the ground.
"Ah," I thought to myself, "it's back to normal." After reading reports of New Mexico's state of emergency last week, I didn't know what to expect.
Feeling happy to be home, I gathered my things and walked off the plane. Just outside the door I discovered that gap between the jetway and the plane's door when a cold gust of wind whipped through and made my eyes water.
Brr!
Once inside the airport, I checked the weather widget on my phone. It reported that at that very moment, it was thirty degrees in El Paso.
Thirty. A three followed by a zero. That's all you get. Just 30 small degrees.
I'd just come from a connecting flight in San Diego where it was positively tropical.
Brr!
Today I'm at my best friend's place somewhere in the rural land outside of Las Cruces. It was a frosty night and this morning I, like all of the animals they posses, am lingering close to their beautifully old fashioned source of heat, a wonderful, magical wood burning stove.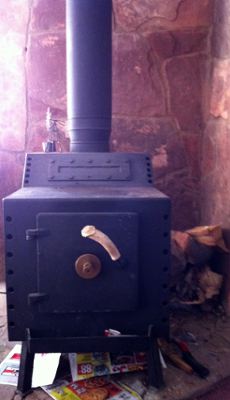 As I sit here, I am reminded of the many ways that life is easy peasy where I live now. I want heat, I work my thermostat and the heater kicks in.
Simple. No effort.
Today I have a great warmth in my heart (pun intended) for the curative powers of fire and the simply beauty of a wood burning stove.
As the fan behind the stove kicks in to send toasty air to all corners of the room, let me take you on a journey.
It takes a lot of work to make enough fire to heat a good sized home.
To start with, just building a fire takes the use of tools.
My goddaughters are expert fire builders. They start with this small hatchet, on the ground by the stove.
They use this to ease slivers off a log for kindling. That along with some bits of newspaper help get the flames started.
Then small logs are added. The logs, of course, come from here, the ubiquitous woodpile.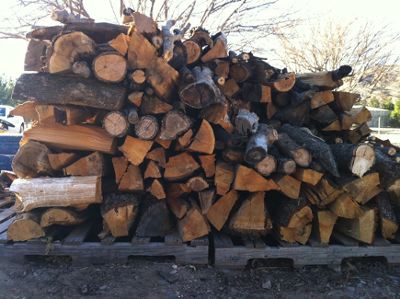 I remember well (and not especially fondly) the call for "Karen! Go get a load of wood for the fireplace." Yeah, it's *cold* out there. I didn't wanna brave the cold and the spiders and the rasty roadrunner living in the woodpile to bring dirty splintery wood into the house.
But I did it because the payoff was hot chocolate in front of a fire (and the consequences too hefty to ignore).
A woodpile takes work. A lot of work.
Now here's something you don't see in the backyard of Bay Area homes…
(not to worry, it was not left that way, I laid the axe on a stump for photographic purposes)
Off to the side is a sledgehammer and a wedge for splitting logs.
And oh hey! A bucket of pecans!
Whoops, I digress.
Back to the wood splitting. My brother did the hard work of swinging the axe and sledge. My job was to take the newly split pieces of wood and pile them up in the corner.
This work was usually done in the heat of August or September. Bleah, who wants to think about fire in the summer?
But come December I was always glad we thought about fire in the summer.
And right now, I'm very, very grateful that my best friend, her husband and kids thought about fire during the summer.
Because me, two dogs and one chatty orange cat are relying on the heat.

Baby it's cooooold outside! C'moooon Spring!

All photos by Karen Fayeth, taken with an iPhone and subject to a Creative Commons license. Details in the far right column of this blog.