I admit it, I'm a fool for iPhone apps, especially camera apps and particularly when they are free.
So yesterday when I stumbled across the free Manga-Camera on the top 25 list, I hit download purty darn fast.
It doesn't have a lot of bells and whistles, but it's a lot of fun. Choose a frame, take a photo (no front facing camera availability yet and no importing other photos yet) and the app transforms the photo into manga fun.
Here, of course, the ubiquitous kitteh photo.
The Feline is always the first model for any new camera or camera app.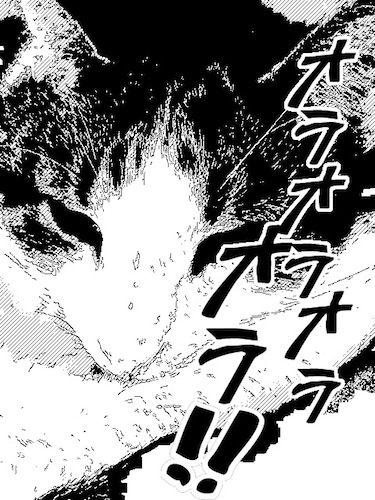 And then, the all important selfie.

Fun!!
Except I have no idea what those Kanji characters say. Probably something odd.
Ah well. I won't let that get in the way of my fun.
Ignorance is bliss?

Photos Copyright 2012, Karen Fayeth, and subject to the Creative Commons license found in the right column of this page. Taken with an iPhone4s and the Camera Manga app.

My homestate is on *fire* this week!
Today, news from the burg known as Vaughn. However, if you are a NM native, you might actually refer to the separate entities of Vaughn and Encino and simply VaughnandEncino.
Because honestly, aren't they the same place?
My favorite part about VaughnandEncinco is that if you are traveling north out of Roswell headed toward Albuquerque on highway 285, you adore VaughnandEncino because the road actually curves. And it's a good curve too!
After hours of straight as a stick road, a curve is pretty damn cool.
True story.
My second favorite part about VaughnandEncino is the one gas station in Vaughn. When you go inside to use the ladies room, there is a HUGE buck mounted up over the door to the ladies room. You have to walk under this beast to have a wee. It's both terrifying and cool.
Ah, VaughnandEncino. Making national news.

_________________

Police chief resigns, NM force has gone to the dog

VAUGHN, N.M. (AP) — A drug-sniffing dog now is the only certified member of the police force in the small eastern New Mexico town of Vaughn.

Police Chief Ernest "Chris" Armijo decided to step down Wednesday after news stories reported that he wasn't allowed to carry a gun because of his criminal background.

"He decided the attention was distracting," said Dave Romero, an attorney for the town.

State officials said Armijo couldn't carry a gun since acknowledging that he owed tens of thousands of dollars in delinquent child support payments in Texas. Armijo also faces new felony charges after being accused of selling a town-owned rifle and pocketing the cash.

Romero said Armijo is working to clear up the latest case. He said Armijo has not ruled out seeking the police chief's position again if his case is resolved and the position is open.

According to records, the only qualified member of the Vaughn Police Department is Nikka, a drug-sniffing dog. Vaughn's other officer isn't certified and pleaded guilty to charges of assault and battery last year. Noncertified officers can't make arrests and can't carry firearms.

But Romero said not having an officer qualified to carry a gun didn't put Vaughn at risk. "England doesn't allow police officers to carry guns," he said. "Sometime the strongest weapon in law enforcement is communication."

Vaughn, a town of about 450 located 104 miles east of Albuquerque, is a quiet town that is an overnight stop for railroad workers. And while residents say there is no crime problem, the town is set deep in what U.S. Homeland Security Investigations officials say is an isolated region of the state popular with drug traffickers. Officials say the desolate roads in Guadalupe County make it hard for authorities to catch smugglers moving drugs from Mexico.

Guadalupe County Sheriff Michael Lucero said since news about the police chief's record became public his department has helped patrol Vaughn. But he said those efforts have put a slight strain on his already short-staffed department.

"I visit the town at least once a month," said Lucero. "The important thing is to keep a presence so residents know we're there to help if we're needed."

Romero said town officials are considering whether to hire another police chief or keep the department staffed with just one officer. He said it's unclear whether the town will keep the police dog, which had been in Armijo's care.

When approached by a reporter from The Associated Press at his Vaughn home, Armijo said he had no comment, and he declined to grant access to the canine for photographs or video.

The dog's kennel could be seen in Armijo's backyard, and a police truck marked "K-9" was parked in his driveway.

At Penny's Diner, residents said they were embarrassed by the attention the episode has put on the small town.

"There's just a whole lot of nothing going on here," said cook Joyce Tabor. "We have very little crime. It's quiet. So this really doesn't matter."
Yesterday on my lunchtime walk with Worm Girl she had a story she was so excited to tell me.
She lives in the same house where she grew up and when both her folks passed, she inherited it. Over the past year she has been renovating the place and updating the furniture. She's making it her own home.
Part of that process has been uncomfortable for her. She's been pulling everything down from overhead storage in the garage, including boxes that haven't been opened for decades. It's been a sad but fulfilling process to go through things that belonged to her folks along with family memories.
Over the weekend, she found a box that she thought had been long missing. It contained much of their family's photo collection, her parents wedding photos, and a big stack of letters.
Her parents were married quite young. Her mom had moved to the US from Australia and was something like 18. Her dad was a couple years older and was in the military. After they married, he was deployed overseas and so for the first years of their marriage, their relationship existed solely via written letters back and forth.
She said, "They were so cute!" as her dad fretted about her mom learning to drive a car and the fact that "That ol' Plymouth" kept having to be taken into the shop.
He told her the events of his days in details, almost boring minutiae, then would end with a shy proclamation of love.
At one point he was rather bold. It seems that the young wife was quite thin, too thin, and was trying to put on some weight. "I hope you've gained a little weight. I want you to be hale and healthy for my return, if you know what I mean."
This part made me laugh right out loud. I said "You dad was a bold one, wasn't he!" and she laughed too.
Then I told her I have some of my parents' letters too. It was a lot along the same lines. Several pages of "what I did today" and wrapping up with a few love words. They are fun to read.
Which got me thinking about how great the art of letter writing used to be. It was such a valid and important means of communication and staying in touch. But it also provided a written history of the lives of these people. Something tangible to hang onto which helps the reader feel a little closer to to the past. I have letters from my Great Grandfather to my Grandfather. I never met my Great Grandfather but I sure know a lot about him by reading his stern words.
I also have one of the most beautifully written love letters I've ever seen that was written by my paternal Grandfather to my Grandmother. In his words I know he truly, deeply loved her.
Not that I have any kids who will pull my mementos out of storage one day, but I got to thinking about the early days of my own beautiful romance and marriage. We have a few notes and cards that are very dear to me, but I have to be honest, in those first blushing days of our relationship, we exchanged most of our correspondence over email, text message and chat.
I guess you can't really clutch an iChat log close to your chest and cherish the memories of simpler times, can you? My godaughters won't be able to learn about the love of Nina Karen and Uncle Good Man the way I did, by exploring old scrap books.
Time marches on, but I can't help but feel that over time we all will have lost something of our personal and enduring history by losing the art of handwritten letters sent in an envelope with a stamp. Just not the same as a click on a screen.


Comic found on People I Know.

Another news story to make me proud shake my head.
Oh Fair New Mexico, how I love you AND your government minions.
_______________________________________


Homeland security official tried to take loaded gun on plane.
(CBS/AP) ALBUQUERQUE, N.M. – "Have Gun – Will Travel" was a popular TV western series in the late 1950s and early '60s.

It is not, however, a recommended way to travel today, as New Mexico Homeland Security official Anita Tallarico discovered when she tried to take a loaded gun past an Albuquerque airport security checkpoint.

Tallarico, the state's Deputy Secretary of Homeland Security, told Albuquerque Sunport police that she forgot to leave the weapon at home when TSA agents spotted it in her purse passing through a scanner.

CBS affiliate KRQE reports Tallarico says she was on her way to a funeral, was upset, and simply forgot about the gun. She was cited for unlawful carrying of a deadly weapon.

Airport police chief Marshall Katz says he's not sure how a person of Tallarico's position could make such a slip-up, but added that it happens frequently nationwide.

Tallarico's gun was turned over to city police as evidence.
This morning I had a doctors appointment at 9:30, which was the same time the Space Shuttle Endeavor was due to fly over the Bay Area.
This made me very cranky. It's so hard to get in to see this specialist, so I simply accepted my fate.
Today is one of the few days I've been grateful for the Bay Area's marine layer. The fog delayed the takeoff and am I ever glad it did.
After finishing my appointment, I climbed up in the Jeep and listened close to the radio. I chose a course on southbound 101 hoping to catch a glimpse.
I turned off at the exit for my mid-peninsula place of employment, and on the radio they said "Endeavor has just left Oakland and is making it's way to the Golden Gate."
That meant I had maybe 15 minutes. I saw a few people milling around in a grassy public space so I turned quick into the parking lot, tugged the parking brake, and joined them.
"Do you think it will come by here?" I asked the older couple already there, setting up their camera gear.
The man who so profoundly resembled my dad talked me through his reasoning as to why where we were standing would be a good viewing spot. His logic was spot on.
I teared up a little. How cool it would have been to share this with my dad. He used to take me to all the air shows at Kirtland Air Force base as I grew up. It's probably his fault I've always been fascinated by fighter jets and the Space Shuttle. He would have dug this flyby a lot.
As the time passed, more people started showing up, all asking the same thing "do you think this will be a good spot?"
Then suddenly, "There it is!!"
And there it was.
The plane carrying the shuttle moved so slow, seemingly impossible to stay aloft moving that slow, and at a pretty low flight deck too.
I tried to take photos but the haze was no photographer's friend. So instead I put my camera down and just watched. As I said to a friend on FB, it was like a slow funeral procession for a much beloved icon.
I teared up a lot. I'm not even embarrassed to say it.
The shuttle was a big part of my growing up and for me its retirement is met with sadness and a bit of frustration at how, over time, NASA mishandled the program.
Onward to the next adventures, old friend!
Hey, you know what? The next step in space travel may just hit a little close to where I come from.
Here's a few photos of today's flyover from the local paper:
Two icons together, Endeavor and the Golden Gate Bridge

Endeavor and its fighter jet escort near one tower of the Bay Bridge

Images from SFGate.com