I am the ape man. I am the walrus.
Ku-ku-kachu.
I am neither of those things. I am the fail whale.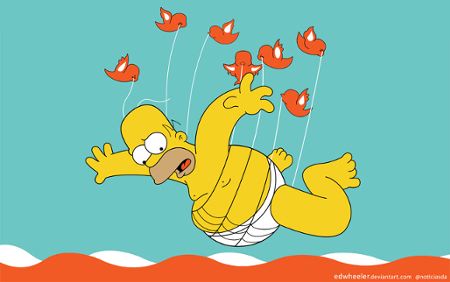 Yes. That is me, sad tighty whiteys and all.
Fail a' Fail-a-rino.
Today is November 30th. The last day of the festivities that are National Novel Writing Month.
This is the annual event where writers challenge themselves to write 50,000 words in 30 days.
2011 marks the sixth time I have had a go at NaNoWriMo.
My first shot was in 2004. I struggled, but made it the first time out of the gate. There have been years since then when I have skipped participation. But every one of the five years I have tried my hand at NaNoWriMo, I have succeeded in passing the finish line by the 30th of the month.
One year, I finished in 21 days. Yeah, that rocked.
This year, however. Well.
50,000 words are the goal. As of this moment, I have 14,239.
See. I didn't just fail a little. I failed a lot.
A big round blobby smelly unctuous fail.
That's me. Mz Failsalot.
I was going to simply try to hide this away. Pretend it didn't happen. Not say a word. Not mention it to anybody unless they asked.
Then I decided that confession is good for the soul.
Own it! Sing it! Love it!
Yes, yes…I'm one of those perfectionist kinda gals. It makes me happy to complete what I start. Completing a project matters.
Also, I'm excessively proud of my ability to produce words. Not just any words, but halfway decent words written at a rapid clip. Paragraphs with a good foundation that some powerful editing can improve and shape into literary magic.
But this year, way too many hours at work (a project is failing and I'm paddling as fast as I can to keep it a'float), a prolonged bout of writers block (see Monday's post), and an extraordinary amount of hubris (I had the audacity to TALK ABOUT my story idea…..that is certain death to creativity) came together in the perfect storm that smashed my tiny seafaring vessel to the rocks.
Oh, the drama! The anxiety! The shaaaaaaame.
Yep. I blew it. I firmly believe that owning it, giving my failure both light and air, and speaking of it publicly……Well, all of that takes the sting out of it. Draws out the venom.
Helps me be ok with it. And learn from it.
So today, I sing a song of failure. It starts off sad, like an Irish lament, but ends up peppy like a Rodgers and Hammerstein musical.
Fffffffffffffffffffffffailure where the agony comes sweeping down The Muse!
Whew. Now I just need to do an act of contrition, and the Universe will grant me absolution.
Right?

Fail whale image is by Ed Wheeler and found on deviantart.com. Follow him on Twitter @EduardoWheeler

Ooooh, it's getting a bit raven-y outside my office door right now. You see, there have been recent changes in my organization. Some of our team moved to another location, and then some people left the company entirely and weren't replaced.
The result is, for the past three months or so, we've had about four open hard wall offices along my row and about six open cubicles.
Now, if you've ever worked at any corporate entity, you know that office space is *always* a big deal. Especially hard wall offices.
For us, it's been great, the open offices have been used as conference rooms in a pinch, and we have plenty of hotel cubes for when people are visiting. Also, when my UK Boss comes to the states for three months every quarter, he's able to have space to work.
It was great to have a little open space around here. But I knew it wouldn't last.
It couldn't last.
At this very moment, there is a coven of crows Executive Admins outside my office squabbling over the space.
My Big Boss got dragged into the middle of this since technically he owns the empty space. It should be noted that Big Boss is only about 5 foot 5 inches tall on a good hair day.
Poor Big Boss, he never stood a chance. He listened patiently for a while then said, "Just let me know what you decide" and walked away (that he can pull that off is what makes him the Big Boss…just sayin' )
He left much cawing in his wake:
"But I need two offices for my team!"
"No! I need all of the offices, I have all directors! They can't sit in cubes!"
"What about my team? We can fit into that space which means they can all sit together!"
"But then you have to move everyone!"
"But you can have my old space!"
"Then my team doesn't sit together!"
Lest anyone every think differently, the true power of this company lies right there in the center of that circle of post-menopausal women.
They are negotiators, leaders, deal makers and will claw your eye out for a hard wall office on the right floor in the right corner.
They own everything that happens around here and everyone in it.
Which means I'm hunkering down in my office. Except when they look in here to check out my space. Then I sit up quite tall and make my little room look VERY occupied.
I'm scared, mommy!

Photo by Justina Kochansky, and found on the Articulate Matter Flicker photostream.

Despite the yoga, the muscle pain, the ooooohming and the visualizing, I'm still massively creatively blocked when it comes to writing, especially of the fiction variety. This is the most painful and prolonged period of writer's blockage I've ever experienced, and I can see why some of the greats like Hemingway would drink themselves into a stupor over a situation just such as this.
It's brutal.
Amazingly, I'm still able to crank out blog posts. That's probably because my blog posts are mostly whatever random weirdness happens to be on my mind on any given day. To me, writing a blog post is like I'm having a conversation with you, the reader.
I always was a good talker.
I imagine if you knew me in real life, you'd find I talk much like the way I write here on the ol' blogarino. I'm quite grateful that I am able to keep these blog posts going. They are a lifeline. Proof that I'm not completely over, left with a life of envying somebody else's art and not making any of my own.
As I often do when the ol' noggin is backed up, I'm going to the random word generator to help boost me along today.
I clicked and it presented me with the word: Phoenix.
Should I get all literary and talk about the bird that bursts into flames then rises from the ashes?
Nah. Too metaphorical. And a cheap one at that.
Let's talk about that wacky town, shall we? A place I tend to refer to as "The Surface of the Sun" when discussing it amongst friends.
Phoenix and I have a weird relationship. There are things about the town that I absolutely adore. Attending a Spring Training game at Scottsdale Stadium is chief among them.
Watching baseball on an 80 degree day while wearing shorts and knowing it is rainy and bone chilling cold back home in the Bay Area is something I truly, madly, and deeply love.
But then there are times like, oh say…August, when there is really very little to love about Phoenix. Now, I am a desert girl, but I come from high desert where when the sun goes down, the heat becomes tolerable. 100 degrees at midnight isn't cute and it isn't funny.
Sometimes when I visit Phoenix, I feel like I am in my groove.
Sometimes I visit Phoenix and I feel like I couldn't be more out of place.
Phoenix confuses me. It's an incredibly large conglomeration of mini-neighborhoods trying to be just like Los Angeles when it grows up. This makes me mad at Phoenix, because parts of that town have their own personality, and it's a good personality.
But then I turn a corner and there is another adobe colored stucco'd strip mall gone up and I think "Really, Phoenix? You're better than that."
Or as my dad would say, be yourself fer chrissakes!
I'd bet that there are Phoenix denizens who would take umbrage to what I've just said. I'm not here to offend, just trying to understand why a town with so much going for it is so confusing sometimes too.
Well, I'll love it for the good stuff like baseball, visiting my Mom, and the occasional visit to the Sugar Bowl. And I'll leave the overly stucco'd strip malls for someone else to love.
That seems fair.

If you haven't been to the Sugar Bowl, you are missing out.

Photo by Patricia Drury and found on Flickr.

…means something else entirely to me.
November 25th isn't just the day after Thanksgiving, at least not in my family.
Today isn't shopping in my world. What this day means to me trends more toward apple pie. No, not pumpkin. Apple.
That's because today would have been my father's 80th birthday. He was a rather cantankerous fella, and he didn't like celebrating holidays or birthdays much. He didn't like cake either.
Ice cream worked just fine. And occasionally an apple pie. That was his favorite. A simple apple pie and vanilla ice cream.
Dad always got a bit of short shrift by having a birthday that was either the day of Thanksgiving, or right nearby. Since he wasn't much of a holiday kind of guy, I guess that didn't matter.
Never one to be deterred by crankiness, mom would whip up an apple pie. Then after we ate dinner but before bedtime, we'd each get a slice of pie with some vanilla ice cream. If we were lucky, the pie was still hot from the oven and the ice cream would melt and we'd eat and have something like a nice family moment together.
Not long after I moved to the Bay Area, my mom, dad and sister came to visit me in my tiny apartment. I made Thanksgiving dinner, the full spread, in my ancient kitchen. And of course, I made an apple pie for dad.
It's at the holidays when tradition seems to matter the most. So even though it was sometimes a little rocky living in the house with the incredibly strong personality that defined my dad, having pie on his birthday is still tradition.
Today, while the world shops and fights over deals on big screen TVs, I'm a little quieter. A little more thoughtful.
I asked The Good Man if he wanted me to make another pie (we already finished the pumpkin pie from yesterday). He said "maybe cherry?"
Yes. Cherry. Perhaps our new tradition begins today.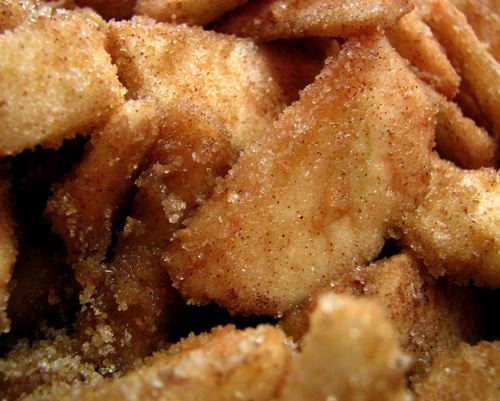 Photo by Crystal Woroniuk and used royalty free from stock.xchng.

A Holiday rerun, but the sentiment is all the same:
__________
First published November 25, 2010:


To celebrate the holiday, I present to you a doodle from my marker board at work.
I was on a *really* long conference call. It was boring. I got distracted.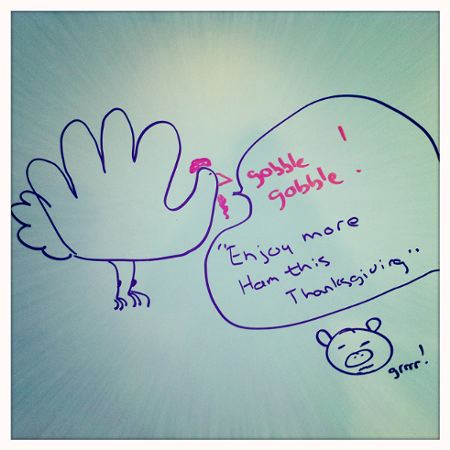 May you and yours have a fabulous, gluttonous day!