What's that old platitude, something like "you're not the best judge of your own work?"
The more I give over to my creative side, I keep learning that lesson over and over. I think I have a good eye for editing my own work, and of course I'm usually wrong.
I've also learned that the best way to really see something objectively is to give it time.
Time is the great mediator.
(wow, I'm chock full to brimming with platitudes today!)
Anyhow, I got to thinking about this recently while sorting through my iPhoto library. As an amateur photographer, I take *a lot* of photographs. This is the advice of my friend, mentor and teacher, Marty Springer, so I follow her advice.
But this means my iPhoto library fills up fast with fair to middling to downright awful shots. Since all of this dreck was slowing down my iMac, I decided to save the photos elsewhere and start again.
Oh, and also…my New Year's resolution is to get better about tagging all of my photos as I download them so I can search more quickly.
So in cleaning out my old photos, sifting through the pile, I came across the shot at the end of this post.
The Feline had climbed into the laundry basket that was lying on the ground, so I grabbed my camera and took a few snaps. I considered them throwaway photos. Less than throwaway. I downloaded them to my iMac and never looked back.
But something about this photo…it really works. It was taken probably two or more years ago when I was just learning my camera and had no idea about depth of field. And yet, the depth of field is what makes this photo interesting. It's not a perfect photo but it's also not bad. A little imperfect Photoshop adjustments and I'll be damned…not too bad at all.
Because not only with time comes perspective, but also…I can learn some lessons from three years ago me. The one just learning about photography. The one who just snapped and didn't think.
A careless shot can be magic.
I guess that's why my photography teacher tells us never to delete photos. "You never know" she says.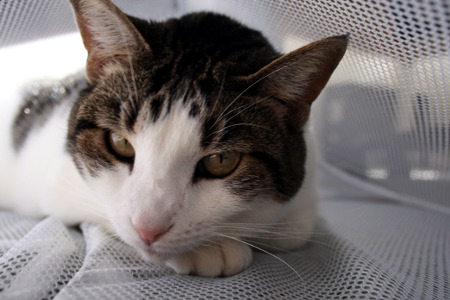 click photo if interested in seeing a larger size
Photo by Karen Fayeth and subject to Creative Commons Attribution 3.0 License.
Every year in December my local paper, the San Francisco Chronicle, solicits reader suggestions for the word of the preceding year.
From those suggestions, the staff picks the annual word with an eye toward choosing the word that best sums up the year in news.
In 2009 the word was Tweet. In 2008 the word was Bailout. In 2007 the word was Subprime.
Getting the trend here? Something popular, perhaps overworked by the media. The word on everyone's minds.
This year, the staff of the Chron went a little less global and a little more local.
Here's the back story:
The San Francisco Giants baseball team has an award winning local broadcast team made up of former SF Giants pitcher Mike Krukow and former SF Giants shortstop Duane Kuiper, known together as "Kruk and Kuip."
Neither of these men had stellar baseball careers, but in their retirement gig as broadcasters, they have really made their mark.
These two are colorful, fun and knowledgeable. They are revered here in the Bay Area.
At the end of every game, the television broadcasters (usually Kruk and Kuip) and the radio broadcasters (usually Jon Miller and Dave Flemming) will get together on the radio for a post-game wrapup.
It's their chance to talk about the game, pick their favorite players of that game, and generally cuss and discuss. These post game shows have become very popular, mainly because the style is very casual and conversational. The listener feels like they are sitting in at the table with these four guys (and sometimes former first baseman JT Snow) having a beer and discussing the day's work.
Over the course of the 2010 baseball season, it wasn't always a smooth ride for my lowly Giants. They played in a lot of tough games that were often decided by just one run.
Out of eighteen games over the season with the Padres in 2010, eight were determined by one run. In the month of May, the Giants had ten games decided by one run out of 28 total versus all opponents.
At the end of April, just the first month of the season, the Giants had lost two games back-to-back. The Monday game was a ten inning loss, and the Tuesday game was a one hit game lost on a walk off run by David Ekstein (who had so plagued the Giants in the 2002 World Series).
It was emotionally taxing.
So, when Kruk and Kuip hit the air that next day for the third game of the series (in which the Giants were ultimately swept), Kuip used the San Francisco Giants own PR slogan in an exasperated way.
The long running ads had proclaimed, "San Francisco Giants baseball…(pause)…there's Magic Inside!"
On that day in April, Kuip said, "San Francisco Giants baseball…(pause)…Torture!"
The phrase resonated with weary fans and the word Torture! was applied to every game, every moment, every second of agony we endured…including every single game played in the post season.
Torture became the theme of our World Series winning season. An anguished cry. A rallying cry.
And so the 2010 word of the year from the San Francisco Chronicle is…you guessed it:
Torture
What a lovely way to suffer.
(for the record, from the SFGate: ""Vuvuzela' and 'hacktivist' finished second and third. 'Refudiate' and 'patdown' were the other finalists…")
Trophy image taken by a corporate photographer from my place of work and used with permission.
On this post-holiday rainy day, I reserve the right to be melancholy.
Holiday blues, weeping gray clouds, and general lethargy. Sure. It's my prerogative.
I am loath to say the next seven words I'm about to say but…
I heard this great story on NPR.
You may not realize how pompous I think the people are who quote NPR. Now here I am committing the crime I rail against.
The story was of a musician named Shawn Camp who had a record set for release back in the year 1994.
Through a series of events, the record was shelved until recently. Camp met the new studio head at Reprise who gave Camp's record a fresh listen and it was finally released in September of this year.
What's got me going here, got me writing a whole blog post about this story, is one of Camp's songs that they played on the air.
It was a beautifully written song about being at the funeral of his grandfather. For some reason, the words reminded me of the incredibly sad funeral I attended back in August.
Despite the passing of four months, I find I still grieve for my friend. I guess there's still something left to grieve, because lately he's been showing up in my dreams.
Listening to Shawn Camp's song reminded me of a dream I had just last night.
It was me, and my friend, and we were dancing. Just a simple two-step, nothing fancy, but we danced and he was whole and healthy and grinning from ear to ear.
My best friend was there too, and before I was even done, she got the next dance with him. The three of us laughed like it was, well, 1994, and it was good.
Now, this dream was particularly odd because in real life, my friend wasn't much of a dancer. Oh, he was long legged and tall, a perfect partner. But he had a farmer's sensibilities and didn't dance that much. He could, and did, but it wasn't something he did a lot.
But there in my dream we danced. When I woke up, I remembered seeing my friend's body laid out there in a casket inside the El Paso First Baptist Church.
The old Southern saying is "now, don't he look natural?"
No, he didn't look natural. In my dream smiling and laughing and giving me seventeen kinds of heck…that was natural.
I've always been pretty glad that at the end of the line for my dad, one afternoon when my mom had run into town for errands, my dad and I had a talk. It was uncomfortable and weird, but in that talk, a lot of things were said that needed to be said. I can happily say I have no unresolved issues there.
But with my dear friend, I have something unresolved. It niggles at the corners of my mind and sits on my chest when I have another dream in which he plays a cameo. I owed him an apology. I'd planned to deliver that apology when he came home from the surgery from which he never returned.
Perhaps in dreams I can find the way to lay my issues to rest, to lay down the burden I carry around, to feel at peace with the loss of my friend.
Or maybe we can just dance and forget about I'm sorries.
After my best friend is done (which may take awhile), I got the next waltz.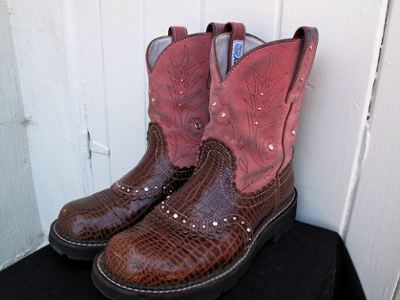 Cuz these Fat Babies were made for dancing
Photo by Karen Fayeth
Today, the alarm clock went off and I groaned. Champagne, ham, prime rib, potatoes of all sort and way too many desserts slowed my senses and made me weak.
A Christmas hangover if there ever was one.
But this is December 27th. Christmas is over.
I knew what I needed to do. It was time to confess my sins.
Rising from my warm slumber, I put on the appropriate raiments and went to face the only entity that could absolve me from my indiscretions.
TM* looked at me with that one cold eye. He knew what I'd been up to. The last time we'd visited had been eight days ago.
Eight days.
A lot of bad behavior can happen in eight days.
A lot of bad behavior DID happen in eight days.
There was no turning back now. I entered the confessional and slowly began my ablutions.
The iPod went into my ears and shuffle fired up. No need for a hymnal, I know the words by heart.
Five minutes passed. Hey, I thought to myself, this is not so bad!
At about the fifteen minute mark, my left calf piped up. "Pardon me, but with all that booze you had, we're a skosh dehydrated. Potassium low and all that. I believe I'll go ahead and cramp right up."
I said to myself, "just keep walking."
At about the twenty five minute mark, my lower back chimed in. "Yes, yes, cramping does seem to be the thing to do. Huzzah!"
"Just keep walking."
Then my feet had something to say, with a backing chorus from my knees.
"Just keep walking."
My hip flexors asked, in a rather snotty tone, "Why *exactly* are we doing this?"
The very sweat glands of my body began exhaling stale booze and toxins.
I replied by turning my iPod up louder and putting an ever more determined look on my face and then I…
Just kept walking.
At the fifty minute mark, I'd said all the metaphorical Hail Marys and Glory be to the Fathers I could manage. I'd done my act of contrition.
I was absolved.
Kind of.
I suspect that tomorrow, I'll need to go confess again.
You know, New Year's Eve is just there on the horizon.
And the confessional is waiting.
*TM = Treadmill
The condition of vacating.
That would be me.
Vacating work.
Just for one day, but still.
"Vacation all I ever wanted, Vacation have to get away…."
Oh the Go-Go's. So 80's, yet so applicable today.
Enjoy the holiday! I'll be back on Monday.