The weather outside yesterday was what they call "low cloud cover". Low ceiling, gray clouds, occasional sprinkling rain.
This makes most people think, "brr, cold" and toss on all matter of arctic gear.
This is not true for me. Low cloud cover means the heat is held in and the drizzly rain means humidity.
See, I was brought up in New Mexico and my body has been attuned to be a convection cooled device. Or, more accurately, an evaporative cooled device. I sweat. The dry desert air slurps that up, thus cooling my rig and allowing me to continue on.
I'm attuned to this and it suits me just fine.
When it's warmish and humid, I cannot effectively evaporative cool my hard working human mo-chine.
You can ask anyone who knows me, my internal temp tends to run a little hot anyway. The frosty pawed feline doesn't favor me as a sleeping device because she thinks I'm nice, ok?
So what all this means is, even on a cloudy drizzly day like today, I don't want anything to do with a jacket.
This tends to make the biddies and would-be work moms crazy.
"Aren't you cold!?!" they shriek.
"Where is your jacket?!?!" they demand in harpy voices.
Look, I have a mother. She's a fine, upstanding lady. She taught me to be self-sufficient. If you are cold, put on a jacket. If you aren't cold, don't. If you are cold and don't put on a jacket, it's your own damn fault.
Mom and I have been in agreement on this for years.
Yesterday, I was wearing a sweater dress with a long sleeved sweater over, tights and knee-high black boots. That is practically Nanook of the North for me, and yet, one of my menopausal coworkers eyed me up and down and screeched "Aren't you cold!?!" because I was sans jacket.
It was close to sixty frapping degrees outside, but it was drizzly, so that must mean everyone should wear an overcoat.
An overcoat? Hell. No. I was hot in what I was wearing!
But if I had said to her, "Hey, you look a little hot, why don't you take some clothes off" I would have been reported to HR.
It's a bizarre up world out there, and I'm but a passenger on this carnival ride.
Image via FreeFoto.com
You can employ them at a Fortune 500 company, but you can't make them think.
Found this today in the copy room where I work.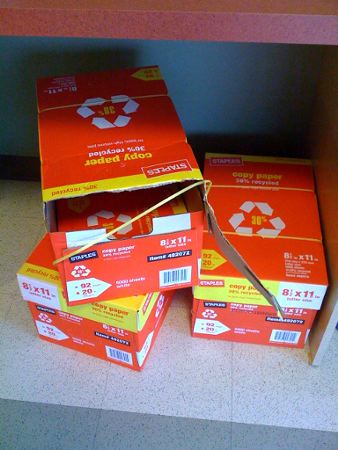 See, what's happened here is that someone needed to get at some paper, and were foiled by those sturdy yellow bands around the box. I get that. They suck.
And yes, there isn't a pair of scissors to be found in the area, which has often perplexed me.
Right above those reams of paper, there is a staple puller, which is my usual tool of choice to hack and nip at the confounded yellow band until it comes loose.
But that right there is just the work of savages. I mean it's like an animal got at it and tore away, struggling for their very life for….a packet of copy paper.
Last time I saw something that brutal was a picnic lunch left in a car in Yellowstone.
I'm all the more ticked because I'm collecting those paper boxes. There is a MASSIVE home clean out and storage project underway, and a sturdy box with a lid is useful. This one is now rendered useless to me. And it is, after all, all about me.
Although, if I step back and take a different perspective, that was sort of an ingenious "I shan't let you beat me, confounded yellow band" tactic. Sort of raccoonish, really. Tear a hole, reach in and get the goods, slip away unnoticed.
Ok, I've gone from thinking this person a buffoon to thinking them a quiet genius.
I can talk myself into or out of just about anything.
Goodbye.
Ok, not goodbye, but welcome to bankruptcy.
From CNN:
This story is a couple weeks old, so I don't know how I missed it.
Ah Muzak. That bastion of elevators and department stores everywhere. Making the artistically fascinating into dreck.
Sure, bastardizing Beatles and Creedence Clearwater tunes is bad, but the first time I heard "Smells Like Teen Spirit" done up Muzac style, I was not only appalled, I was angry.
I fear they will crawl out of debt restructuring like the oily swamp monster that they are, reaching out a webbed hand to assimilate Flo Rida and Beyonce and Lady Ga Ga and all the other Top 40 pop crap, coming soon to a Seven Eleven near you.
Once upon a time, in my former job, I had the opportunity to interact with the beast that is Muzac. They were entrenched as the on-hold music for our busy call center. The telecom team found a supplier they liked better and asked me to pull the ripcord on the termination clause in the contract.
Is it wrong that I giggled the whole time the pages fed through the fax auto-feeder? I stood there giggling like Beavis and Butt Head for the whole time the machine made high pitch squeals, and gladly took the confirmation page from the paper tray, confirmed all pages were sent, and filed that bad boy with satisfaction.
One of those "I love my job" kinda days.
If that kind of glee is wrong, I don't wanna be right.
Ah well, even oily swamp monsters have to make a living.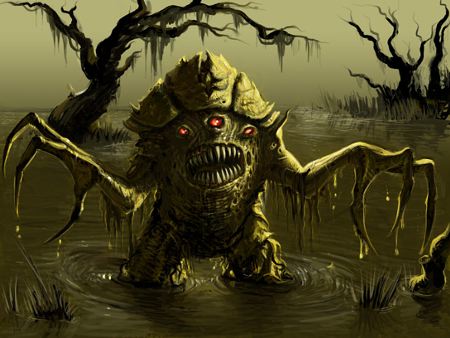 Far be it from me to be short sighted, but there is one issue I discussed recently that, as of today, I've seen a whole different view on.
See, I've found a way this can benefit me, and that's a horse of a whole different color.
The topic was about the guy in my office snack shop talking wildly to himself. I thought he was on a Bluetooth headset. He was not. Original post here.
Well, today, driving to work, I had my iPod shuffle rigged up in the Jeep. See, while in New Mexico, I begged, borrowed, and *ahem* borrowed some music from my best friend's extensive collection of classic country tunes.
Many of them made their way to my iPod, and as is my way, when a real good song comes on, singing along isn't just a choice, it's a mandatory.
So as I rolled into the parking lot at work holding a car concert, I was in full voice along with Gene Watson. (If you are a fan of country and don't know Gene Watson, well…you should…).
Anyhow, I turned the corner into the parking lot as a lady who had already parked her car skittered in front of me. She looked my way and I didn't even miss a beat, I kept singing along. The lady just looked away and kept walking.
I thought, "Wow, she didn't even give me a strange look."
Then I realized…she probably thought I was talking on a Bluetooth headset.
Crazy cuts both ways.
Image is of Latvian mezzo-soprano Elina Garanca and a pretty extensive web search could not net me the attribution on this photo. I found photos from that same event on the European Commission page which allows for the use of photos with attribution.

Or maybe a little self-awareness?
At my place of employment, we have a bank of five elevators that get all us little minions to and from the multitude of floors in our fabulous office building.
Every day I ride in these elevators, and it gives me time to notice some stuff.
Like the fact that the interior of the elevator cars is mirrored. Yup, to a high polish. What this means is each person's visage is clearly reflected back into the car.
Meaning…if you are standing in the back surreptitiously picking your nose, you are not surreptitious at ALL. We all have to just look forward to see what you are doing back there. You aren't hiding.
Most people get in there and lock their eyes on the television screen scrolling headline news. You know, the ol' don't make eye contact elevator rule.
I sometimes watch the headline news, and have become a repository for useless trivial information that I can whip out at random times to the utter disinterest of The Good Man.
But lately I've been watching the show in the reflected doors. People really are odd little creatures.
I've caught *numerous* male colleagues checking out the backsides of the comely young ladies who work here. And who can blame them, really?
I've also caught quite a few roll eyes or scowls as someone apparently unliked gets on the car.
There are the salespeople on the elevator who try to read the names on people's badges, I guess perpetually making a sales contact list.
I've witnessed some personal grooming that is best left for a private moment.
On Friday, as I got on the elevator and found my spot, I saw the lady to my side and a step back look my Friday casual outfit up and down, roll her eyes, then put her hand to her stomach and smooth it down, as though to assure herself that her midsection was smaller and flatter than mine. It was, she has nothing to worry about.
Evidently people seem to go through life believing, "If I can't see you, you can't see me." Except when your every move is reflected back.
Believe me, I'm all too aware of this little feature of the elevator and make sure to keep my hands away from my nose, my errant underwear or my boiling zit.
I kinda want to put up a sign that says, "Objects in mirror may be you."
PS Yes, I really did take an iPhone photo in my elevator at work…….don't think that wasn't odd to explain to the guy who got on two floors down.
PPS Yes, I'm wearing my kicking Fat Babies to work today. Saaaalute! Since Fat Babies are one of the highest searched keywords on my blog, I figured I'd give them another plug.