…that we find ourselves on the final day of the year 2017. I'm both a little surprised it is here already, and a little relieved too. It is as though I have been anxiously awaiting the arrival of a delayed guest.
So many people are saying, "Ugh! I can hardly wait for 2017 to be over!" and "Good riddance" and bon mots like that.
Sure, 2017 has been a trying year, but remember when we all bid 2016 goodbye with a gruff hacking noise and an emphatic *patooey*?
I keep reminding folks of that, of how everyone was eager to flush 2016. One very nice lady recently asked me to cease reminding. She didn't want to remember that narrative, I suppose. She was too content to be down in her hacks and patooeys and other rude noises regarding the year 2017.
Recently, the musician Taylor Swift was publicly and roundly lambasted for saying she had a good 2017. I mean, she won a pretty ugly court battle, released an album that sold over a million in one week and spun off several number one hits. I don't particularly care for Ms. Swift's style of music, but all in all, I'd say she had a pretty good year. But no one wants to hear it.
Celebrating what is good from 2017 doesn't fit the hack-patooey narrative. We must all be miserable! Blame the year! Blame the world!
I don't think that is quite fair. 2017 has certainly tried the patience of the most gentle of souls, but there is still good to be found through adversity. Not to get all quoty and stuff, but isn't it through fire that mettle is tested? Isn't that which doesn't kill us makes us stronger?
And don't we win by remembering the good even through dark skies?
There are a lot of horrible things to recount from the year. Fires, floods, earthquakes, famine, Congress, hunger, poverty and people treating their fellow humans horribly. I'm sure many a news source will remind us of all of this and more in bright Technicolor photos and videos.
But what if…and bear with me here…what if on the eve of the new year dawning, instead of remembering what was bad, we celebrate what was good? What worked for us in our own lives?
I mean, I'll start. In 2017 I had five short stories published. FIVE. This is the most success my writing has seen in any year. I was boggled as the acceptances rolled in. In 2016 guess how many of my stories were published? I won't make you wait, it was zero. I received zero acceptances of my work in 2016. And I kept on writing. Kept on hustling. And 2017 rewarded my hard work.
By the by, all five are linked in the right column of this page, in case you missed any of them.
In 2017 I completed one of the most intricate and challenging projects in my work life. It was a slog, and I had very little support and help from coworkers or direct management. But I did have a lot of expectations from senior leadership that I'd get it done. And on December 21 I did just that.
In 2017 I went to a photographer's retreat where many professional and experienced photographers looked at a portfolio of my work and congratulated me, gave me good and honest feedback, and began to treat me as one of their own. I went from dabbler to serious photographer in the span of twelve photographs. I was utterly terrified to present in front of that group, but I did it and it was incredibly inspiring. I'm working that much harder on my photography now because I took that chance.
In 2017 I celebrated nine years married (and twelve years total) to The Good Man. Nine years is both not that much and a whole lot. Every day that I wake up and he still loves me and I still love him is a victory.
In 2017 I accompanied my eighty-three year old mother on a tour of the Midwest to visit family. I was scared that something would happen, that I would break the Mom, that it would be a terrible trip, that all of my plans would go awry. Instead we had a fantastic and utterly memorable trip. I both grew closer to many of my cousins and felt so happy to have that time with my mom.
In 2017 I opened my eyes every day and got out of bed and went out in the world with the thought and the wish that today might be another good day in my life. And the vast majority of them were.
And so while it's unpopular to celebrate the year of 2017, I am going to swim against the tide and say Thank You 2017, for giving life, for the journey, for the trials and tribulations. I won't send you off with a hack-patooey, I will instead say, thank you for the lessons, the gifts, the challenges and for showing me that I am much tougher than I give myself credit for.
Thank you, 2017. Rest easy old friend. 2018 just rolled around the corner and will be here in a minute. I'm going to be all right.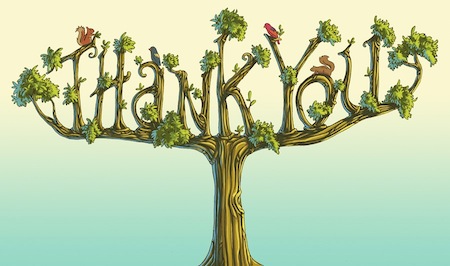 Fabulous image by tsugami on Deviant Art, which allows downloading of images. I believe in giving artists credit for their incredible work, and this image is deeply inspiring to me. Thank you, tsugami.

Recently, as I perused the pages of Facebook, I came across a Newscastic (read clickbaity) article with a New Mexico topic. I took the bait so you don't have to.
The title of the article is:
Pick A Side: 11 Famous ABQ Rivalries Since The Day You Were Born
They said to pick a side, so I did.
Herewith, the 11 so called rivalries (many of which came well after the day I was born, by the way) and my pick for each.


1) Comanche vs Candelaria


We can all agree not Montgomery, right? My preference always was and will always be Comanche, since it was quite close to the house where I grew up.
Sideline here, I looked up the house where I grew up on Google Street View. Wow, hardly recognize it. Brought a little tear to my eye.
Back in my day Comanche had way less traffic than Candelaria and made it worth taking, even with all of the stoplights. Who knows how it goes today? Maybe my ABQ folks can let me know.


2) Twisters vs Golden Pride


Have I been out of the state so long I don't know what Twisters is? Had to look it up. Established in 1998. Psh! No.
Golden Pride (est 1972) all the way.


3) Sadies vs El Pinto


Isn't the right answer first one then the other?
Okay, okay, look, I grew up in the days when Sadies was located in a bowling alley. That's the kind of clientele they drew. El Pinto was always nice, a little more upscale (and pricey).
So to me it's Sadies if you want casual and El Pinto if you want nice. Even with the lovely Sadies stand-alone restaurant, I stand by that rule of thumb.
Verdict: No pick, love 'em both in different ways


4) Rio Grande vs Alameda


Shrug. No opinion. I was a Northeast Heights girl. Didn't get down either very often. Probably Alameda, based on my limited memories.


5) The Shins vs Brokencyde


Who? I thought this was "rivalries since the day you were born."
Let's go with neither. How about Joe King Carrasco, who is not from ABQ but played the hell out of it back in my day. Yeah.


6) UNM vs New Mexico State


I believe my feelings are this matter are abundantly clear.

And when we win this game, we'll buy a keg of booze, and drink it to the Aggies til we wobble in our shoes.

Best. Fight song. Ever.


7) Eldorado vs La Cueva


Richie rich versus the really Richie rich. Who cares? Not me.
Del Norte for the win.


8) Sandia vs Rock Quarry


For skiing? Sandia. Oh Sandia and your bare dirt patches. Your hard icy spots. Your imperfect but nearby skiing, how I miss you.


9) La Cueva Skatepark vs Los Altos Skatepark


Hey! You children get off my lawn!


10) Scorpions vs Dukes


Those Dukes are comin' up swinging. No contest whatsoever. Love the Dukes. Likely because I am a huge fan of the sport of baseball.
While I love the sport of hockey and have nothing against the Scorpions, it just never seemed…right…to have hockey in the middle of the desert. (Yes, yes, I know about the Coyotes)
Side note, the Dukes used to have dollar dog and dollar draft days. Wow there are some games I can't remember but had fun.


11) Sandhill cranes vs Balloons


Stop it Newscastic, you're drunk. This is a ridiculous question. What, because they both fly?
Here's the answer, hot air balloons in the morning, sandhill cranes at sundown. Owl burgers all day long.
Solved.


Okay, ABQ folks, what are your picks?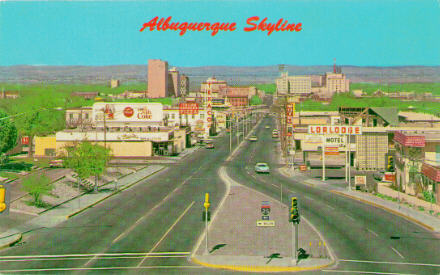 Image found here.

How does one eulogize a legend? I'm certainly not qualified, but my sincerity, hopefully, will win the day.
Over the weekend Major League Baseball lost a Hall of Famer, and it's given me quite a few moments to pause and reflect.
Lon Simmons didn't play the game but is as integral to the sport as any home run champion.
Simmons started out calling San Francisco 49er games in 1957 and then also began calling games for the San Francisco Giants with longtime partner Russ Hodges in 1958. This was just after the Giants had moved west from New York.
Lon's deep resonant voice is iconic in its own right as is his very dry sense of humor. So dry that occasionally athletes and other broadcasters didn't quite get it when he'd lay down a quip. In my opinion that sometimes led to awkward encounters, but Simmons was so affable that he could always save the moment.
Any baseball broadcaster worth a damn also has a signature homerun call, and I believe Simmons' call is the foundation for any good call you hear today.
It went something like this *crack of the bat* "…that ball is way back, way back….tell it good-bye!" and he said with a rising inflection that built the tension, made you clutch the steering wheel in your car, hug a loved one or just squinch down waiting for the payoff. Then yesss! Tell it goodbye! Now that's iconic.
In the early 2000's Lon was still broadcasting pretty regularly for the Giants. I have a confession to make, back then I was starting to get pretty frustrated with Simmons. He was of course legendary but his game calling had lost a step. Perhaps it was the impatience of youth, but I used to turn it off if he was calling the game and listen a different way. Sad but true.
When he retired from the Giants broadcasting, I was relieved. I believed then as I do now that it was time. There are other legends, Jon Miller among them, ready to carry on the legacy that Lon Simmons began.
Over the last decade or so, Lon could often be seen at the ballpark and we'd always give him a hero's welcome. Retirement seemed to suit him and when he'd come on the air, I was a lot more forgiving of his slow style and sometimes awkward pauses.
There is not a doubt in my mind that Mr. Simmons deserved his Ford C Frick award and his place in the Baseball Hall of Fame.
His voice, his storytelling, his homerun call, they are all a part of the fabric of the game that I love so much.
So on this second day of the 2015 Major League Baseball season and the first day of the San Francisco Giants season, I salute Lon Simmons for his service, for his style and for bringing baseball to life for me with his voice and his words.
I tip my cap to a great man. May he rest in peace.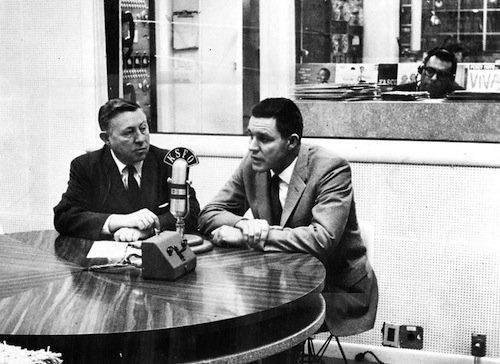 Russ Hodges (l) and Lon Simmons (r)

Image found here

I miss my best friend today. Autumnal Equinox makes me think of harvesting hay and Dickerson's dances.

That was a text message I sent to my best friend yesterday afternoon. I was at work and found myself with a few moments of pause. What I felt in that silence was an aching sense of melancholy.
The angle of light has been changing for a while and yesterday the world looked a little different bathed in early Autumn sun.
A beautiful sunny yet hazy day as I found myself at a high elevation gazing across the amazing view, Oakland to my left, Golden Gate center, Albany to my right.
It's hardly original to feel melancholy in the Fall. I will follow the old poetic trope and go there anyway.
Since I know I have a "thing" about Autumn, I started looking back in the archives of my blog and found something that perfectly captures how I feel today. I'm nothing if not consistent.
Autumn is, after all, my favorite season in Oh Fair New Mexico.
So here's a repost to get me through the day. The words still ring true, even as time goes by.
___________________

Get outta the wayback machine!

Originally posted April 15, 2009


It was Fall, had to be. Slight crispness to the evening air. Anticipation thick as the fog of Aqua Net in the sorority house where I lived.
It was 1989, probably. Or somewhere close to that. The campus of New Mexico State University. I was a sophomore, maybe a junior, I can't remember. Doesn't matter.
What does matter is that I was getting ready to go to a dance at Corbett Center on the NMSU campus.
The woman who would become my best friend for what is now over twenty years was the driving force that night, and many just like it. Her parents had met at a Corbett Center dance, so she was especially incentivized to go scoot a boot and see what's doing. Family history.
I nervously pulled on my too shiny, too new, gray goatskin round toe ropers and jeans that didn't really go with the boots, but were at least long enough to be acceptable. "You should buy some Rockies," I was told, and they were right. I would, later, in quantity. But then I had neither the money nor the courage. I wasn't sure what I was going to get into, I just knew I was going to be there come hell or high water.
It wasn't my first Corbett dance. It wouldn't be my last. This story isn't about one actual night, more an amalgam of a lot of great nights.
The gaggle of high-haired women walked out the back door of our home, a sorority house containing twenty-eight women of different backgrounds, and one understanding house mom. What bound us together was our choice of educational institution. A land grant institution. To the uninformed, that means an agricultural college.
It was a short shuffle over to Corbett, up the stairs to the third floor where they had the ballrooms. Pay the entrance fee. Five dollars I think? Maybe less back then. Get a stamp on your hand. Look around, see who is there already. Talk about who you hope shows up.
Hear the opening strains of music. Usually The Delk Band. A group of musicians, brothers, and their dad on fiddle. I went to school with most of the boys. I remember I thought one of the Delks was cute. I remember one of the Delks was the drummer and back then had a tendency to speed up the tempo as a song wore on. Hard to dance to a wildly varying tempo. But we did it. (note of update: Saw the band not that long ago and that is no longer a problem.)
They were our people, and we embraced them. And we danced. Oh did we dance.
The two-step. Not the Texas double up kind, no. The slow kind, keeping time to the music.
And a waltz. My favorite, how I love to waltz. The rhythm of a song set to the beat of a waltz still paces my heart a little differently.
The polka. If done right with the right boy (he had to be tall because I'm tall and otherwise we'd just bump knees) you felt like you were flying, feet hardly touching the ground.
Then of course the Cotton-Eyed Joe (stepped in what?) and the Schottische, played back to back, often enough. Linking six or eight of us, arm in arm, facing forward, laughing our fool heads off.
The ladies, my friends and I, would stand on the sidelines and take a look at the scene. My best friend would always get asked to dance first. She's beautiful and a great dancer. Who could blame the boys for flocking to her blue-eyed, dark haired gorgeousness? Not me, certainly.
As I got better at dancing, I got asked often enough, too. The boys liked the girls who could dance, who liked to dance, who didn't turn up their nose at dirty fingernails and cow sh*t on their boots.
There is something special about dancing with a boy who knows how to dance, a strong lead, who looks you in the eyes. The boys who had the right fold in their hat and smelled faintly of Copenhagen and beer and Polo cologne.
I got to know those folks. All of them, the boys, the girls, the dancers, the musicians, the laughers, the people who liked to swing each other around the dance floor.
They became my family. We traveled in packs, dancing until we were sweaty, then heading outside into the cool air to take a breath, drink a beer, laugh a lot and occasionally find someone to spend a little time with.
Well not me, not then. I was still too awkward and mixed up to attract much in the way of boys at that point. I was more "one of the guys" than one of the girls the guys would chase. Don't feel bad for me though, I eventually figured it out. (cover your eyes, mom)
Over time, we all aged a little, got to be over 21 and started to migrate from dancing at Corbett center to dancing at the local country bar. It was fun but seemed a little more complicated. Add more than a couple beers to the night and weird things happen.
But still we danced. By that time, I'd moved off campus and lived with my friend from TorC. She was crazy and fun and taught me a lot (cover your eyes, mom), and she loved to dance as much as I did. She coined the phrase "big bar hair" and gave me an education on how to get it, and keep it, despite dancing so hard sweat ran down your face.
Then we all aged a bit more, and we graduated and found respectable jobs. My best friend, her husband (a fine dancer, I must say) and I are all actually employed in the same area that's listed on our diplomas. One might scoff at country folks, but all three of us hold a Master's degree in our chosen fields.
Now, on the verge of turning forty well past forty, I find I still miss those days, mightily. I wished I'd enjoyed them more at the time. The stress of school and classes and "what do I want to be when I grow up" cast a pall on my days.
My own fault. A worrier by nature, a tendency that I fight tooth and nail every single day I take a breath.
When I'm having a bad day, when I doubt myself, when I realize I don't fit in at my new place of employment, when I don't feel heard or understood or very well liked, I can always go back to those days in my mind and smile.
I can't get together with my best friend and her husband and NOT talk about those days. Magical. I'm blessed to have been able to have them. Once upon a time, I knew where I belonged.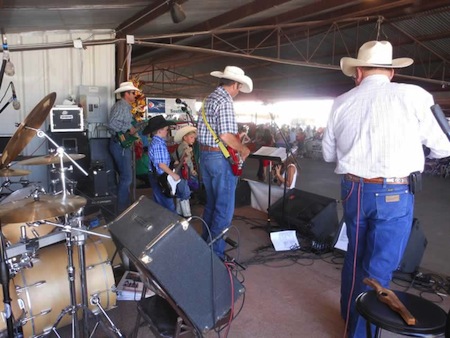 Photo of The Delk Band in action

Image from The Delk Band website and found here.

Over the weekend, after another rough week at work, The Good Man and I found our way to the big main branch of our city's library. It was like an awesome haven from the mean old world.
I immediately found my way to the fifth floor where they keep the art books. I needed an infusion of art and creation in my life to erase the financial and business blues of my workweek. I decided I wanted to look at some Frida Kahlo prints. I am a huge fan of Frida.
As I plucked a slim book of her paintings off the shelf, I found another small book hiding behind it. It was a book of letters written by Frida to her friends and family.
I love reading old letters. You learn a lot about who a person was (or is) by reading their handwritten letters.
I had always thought that Frida was so strong, powerful, fierce and uncompromising.
Boy was I wrong. Through her letters, I found her to be very sweet, quite insecure, and almost childlike.
She often would write letters to friends and ask their advice on big life decisions. For example, at one point her husband, Diego Rivera, had a terrible infection in his eye that had spread to the side of his face. She asked a friend, a fellow painter, if he though she should take Diego to New York to see American doctors or stay in Mexico and take the guidance of Mexican doctors.
Now that seems like a pretty big life crisis, something you would want to decide along with your husband and instead she was soliciting, nay begging for, the advice of a friend. She actually did this quite a lot, begged her dear friends to tell her what to do.
I found that so counter to the fierce woman I see through her paintings.
And then, over time, as she got older she did seem to become a lot harder edged. A lot more sarcastic and passive aggressive.
Clearly the philandering ways of her husband and his over bearing need to be controlling had taken a toll on her psyche.
That and years and years of immense pain in her spine, leg, and foot, all massively unresolved injuries from an accident in her teens.
Her physical and mental anguish become so forceful, it drove a little bit of the lightness out of her words. She became more bitter. And so maybe that is the Frida I came to know, the rough around the edges and hard woman who had been hurt too much.
But even then, as I understood how she could come to be that way, I was a bit shocked to read (in the book) a quite long essay that was to accompany an exhibition meant to honor Diego Rivera.
I came across this section and burst out laughing. I mean, wow.
Here, read it and see what you think. She is describing Diego's physical form from many angles. In this section she refers to his chest:
"Diego's chest — of it we have to say, that had he landed on an island governed by Sappho, where male invaders were apt to be executed, Diego would never have been in danger. The sensitivity of his marvelous breasts would have insured his welcome, although his masculine virility, specific and strange, would have made him equally desired in the lands of these queens avidly hungering for masculine love."
Um. Did she just say her husband had moobs? Cuz I think she did.
In another section she describes seeing him naked as looking something like a child frog. Paraphrasing here, she said that his skin takes on a greenish tone and is pale under his clothes and only tan in his face and hands.
Yeah. Green moob guy. Awesome.
This was, I'm sure, taking a bit of her own pound of flesh from him for the years of unkindness. And also a bit of the ol' anti-bourgeoisie taking the piss out of what might have been a flowery ode to her husband.
I'll tell you what, that image is sure going to stick with me for a while.
Actually, the whole book will stick with me for a while. The letters so quaint, so childlike and such a deep glimpse into one of my creative heroes. Quite something.
Oh, and she liked to invent words of her own. My favorite was when she would refer to her life or other things that were not working out as expected as fuc-bulous. Oh yes. I can use that. I may have to adopt it myself.
Next up, I have on my bedside table a book of letters by Vincent Van Gogh. He was quite prolific in his letters to his brother, and it is a thick tome. I am both wary and excited to dip in.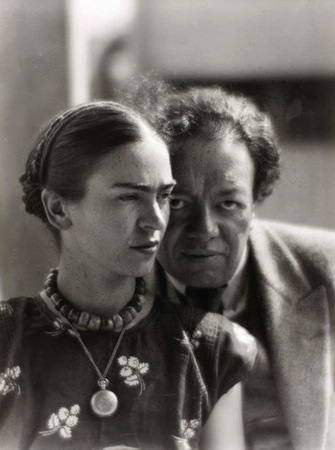 Photograph by Martin Munkácsi

Image found here.