A two pack of good news! No, not Tupac, may he rest in peace, but a jam-packed, happy, good thing, ain't-it-grand, times two!
I have been waiting a REALLY long time to share the news that over the summer two of my stories were accepted for publication.
Now both are finally published and out there in the world, flapping their little wings and taking flight.
I am SUPER proud!
Here's the details:
You can find the magazine cover and link to each of the stories in the first column on the right side of this page.
Or…
I'll just tell you.
The first is a story called "When Opportunity Knocks You Down" and it's published in The Griffin Literary Journal, 2015 edition.
I wrote this story over fifteen years ago and I have always just loved and truly believed in it. The words capture a lot of what I was feeling in those first years living in the Bay Area and prowling the streets of vibrant San Francisco.
I have edited and shopped and polished and shopped this story for so long, determined to find that one person who got what I was trying to say.
Turns out it was the editor of The Griffin, Dr. Donna Allego, who was the one I've been waiting for. Seeing this story finally make it into print is just beyond my wildest dreams.
It's a real testament to tenacity and accepting that a story will get a lot of no's (like about 150 of them) and can still eventually find a yes.
Whew!
Here's where you can go to read the story
Or go to the The Griffin Literary Journal main page for the link to download the entire edition.
Yay!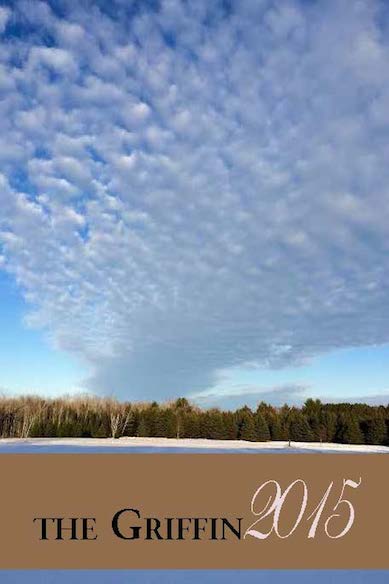 The second story is a little bit of a surprise. It's such a quirky little tale that even as I was submitting it to a lot of magazines, I was just sure no one would pick it up.
To my utter shock, it was quickly snapped up on it's first round of submissions by Ragazine.cc, The Global Online Magazine of Arts, Information & Entertainment.
This acceptance process was a one eighty-degree turn from the one above. Sometimes that one quirky story is just in the right place at the right time.
The story is called "The Seal" and the genre is a bit of a departure for me. It was written for the final round of the 2014 NYC Midnight Flash Fiction Contest. I loved the story and really believed it would do well in the final round of the contest.
We were just twenty writers who made it through to the final round, whittled down from a starting number of about 1,500. My odds were good.
Turns out this little story didn't even place in the top ten. I was irked. There and then I decided that the best revenge for that stinging loss was to have the story published. A royal eff you to those judges.
I just had no idea it would be accepted so quickly! Double eff you! LOL!
I had a lot of fun writing my story about the Inuit god of icebergs and I hope you have as much fun reading it!
You can find the story here.
While you are there, poke around the other corners of Ragazine.cc, it's a really cool place.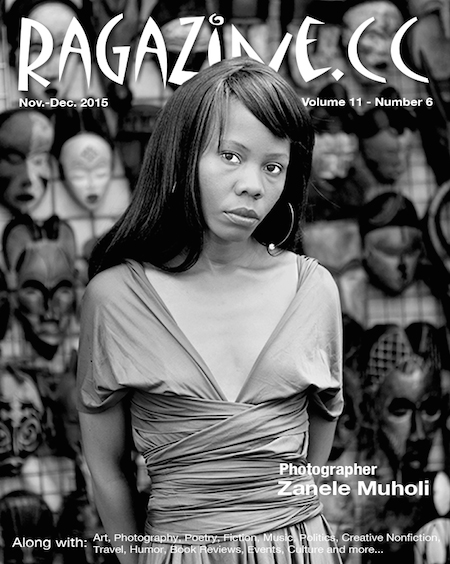 So yay! Give 'em a both read when you have a moment.
I'll be over in the corner celebrating times two!

This one goes out to all of us who found ourselves attending New Mexico State University back in 1989. Maybe it was 1990. Memory is funny.
This one is for the Ag College kids. I'm about to drop a memory on you. Come along with me.
I can't really recall what time of year it was, but it was sunny. That much I recall. Then again, it's sunny in Las Cruces an awful lot.
The band Foster & Lloyd were on the radio. Remember them? Back then we were all listening to Foster & Lloyd. A lot. And Dwight Yoakam. And the Mavericks. And more.
So along came the news that Foster & Lloyd were opening for a Los Lobos show at the Pan Am Center. Yeah, I wanted to go to that show real bad. Alas I was a broke college kid and couldn't afford tickets. I heard the ads on KGRT over and over and pined, but knew it wasn't meant to be.
So instead I popped my Faster and Llouder cassette tape into the boom box I carried in the car. Or maybe it was Verision of the Truth. Or maybe first one then the other. And I held my own car concerts as I rolled around Cruces.
Then something unbelievable happened. My best friend called, out of breath and excited, to tell me that Los Lobos had to cancel the show and Foster & Lloyd were going to do a free concert just outside of Corbett Center (the student union building at NMSU) in this little amphitheater area.
We gathered up all of our friends, an armful of blankets and made sure we went to that show. My best friend walked with confidence right to the front of the small stage area and staked out our place. Up close and personal. We sat, we listened, we sang, we were a bunch of kids feeling an awful lot like family on that day.
For a bunch of Ag College kids from NMSU (hands up now, "I believe in the Future of Farming…") having a national act come out and do a show FOR FREE was, well, that was about the coolest thing in the world.
That was a best-day-ever kind of a day. Back then anyway. Sitting here today I do have to admit that my wedding day is my best day ever, hands down. But back then to this New Mexico kid wearing dusty beat up goatskin ropers, that sunny Las Cruces day was really the best day ever.
My best friend and I slip into the Wayback Machine an awful lot when we get together, and that free concert is one we land on quite a bit. What I wouldn't give to have a real Wayback Machine and dial it to back to that day. I might never come back.
Toward the end of the show, Foster & Lloyd were really swinging. We were all riding a sonic high and at one point, Mr. Radney Foster wandered out into the audience and put a hand out to my best friend's little sister. He plucked her from our blanket and spun her around a little bit with the music.
My best friend and I were both elated and jealous as hell. In fact in the now twenty-five years hence, I know for sure that my best friend has never really gotten over it. Neither have I, if I am honest.
My best friend's little sister was and is a beauty. Gorgeous and sweet and funny as hell. She is pure awesome and I love her madly, so of course I can't be upset with her. Just jealous, I guess.
When we were in college, Little Sister was in high school and she'd find her way to Las Cruces and we'd take her out with us. When a cowboy would start to get a little too interested in her, my best friend would wander by and whisper "Um, just thought you should know…she's sixteen." That usually put an end to things.
So we were used to her getting a lot of the attention. On that day after Mr. Radney Foster twirled her under the bright New Mexico sky we laughed and hugged her and loved every second of that show.
It is a beautiful memory. Were you there too?
A few months ago I happened to stumble across Radney Foster's Facebook page and hit "like" so I could see what he was up to. I'd lost track of him after his Del Rio, TX 1959 album.
Then came the fateful day where he posted that he'd be playing a little venue called Freight & Salvage in mid-July. That's not too far from where this New Mexico kid is living these days.
Well, I hopped on those tickets so fast my credit card started smokin'.
And that live show happened just a week ago, July 15.
The Good Man had never heard of no Radney Foster until I showed him a bunch of YouTube clips in the days before the show. Then he was totally onboard. We stood at the front of the line when the doors opened and found second row seats in the general admission venue.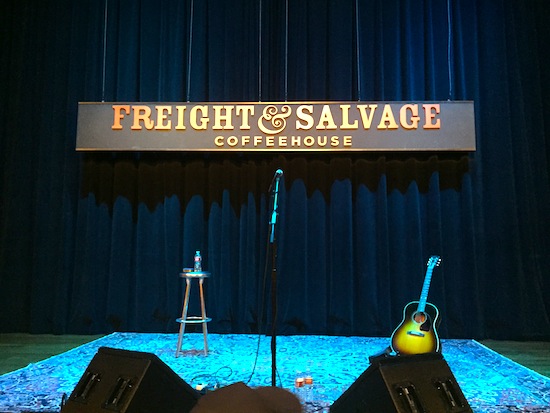 Photo Copyright ©2015 Karen Fayeth

It was just Mr. Foster and his acoustic guitar and he put on one hell of a show. Storytelling, songs, laughter. Man alive, it was really profound. It was like seeing a really dear old friend and picking up right where we left off twenty years ago.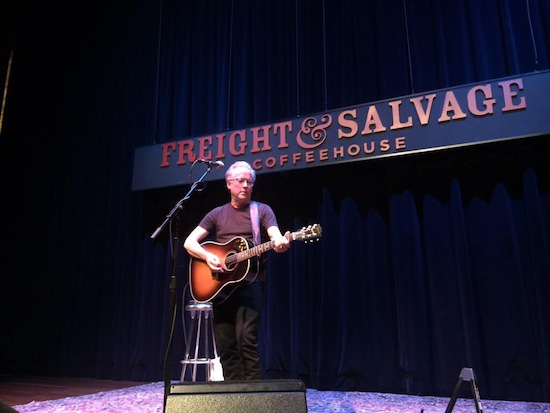 Photo found on @valisaschmidley Twitter stream because I was too gobsmacked to actually take a photo myself during the show.

I almost started crying when he hit the first notes of the first song. It felt so right.
And then…oh and then…
After the show, Mr. Foster came out to the front lobby to sign a few autographs and I jumped in line.
I practiced what I was going to say and when I got there, I let roll the story of that day, 1989 (or was it 1990?) in the grass outside Corbett Center in Las Cruces, New Mexico.
Given the sheer number of shows he has performed in the last 25 years, I was surprised that he actually remembered that one day. But he did.
"Oh yeah, we were rocking that day," he said.
"Yeah you were!" I replied.
Then I thanked him, I told him how much that free show meant to all us New Mexico college kids.
Then I reminded him about coming out into the crowd and dancing with my best friend's little sister. About how my best friend has never quite gotten over it.
Then I held out a copy of his new CD and said "Her name is Kate and you are going to sign this for her."
(The album is titled "Everything I Should Have Said" and it's awesome and you should pick one up. Here is the Amazon link and here is the RadneyFoster.com link ($3 cheaper!) Go on, click one of those links. You know you wanna)
And he did sign that CD. Oh boy did he ever.
Here's what it looks like. In case you can't read it, it says "Kate, You get the next dance."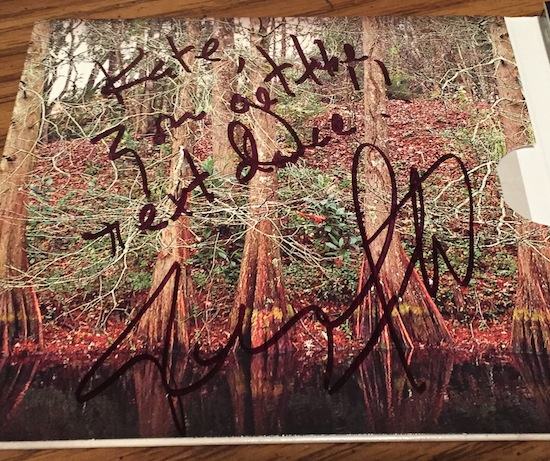 Photo Copyright ©2015 Karen Fayeth

C'mon! How awesome is Radney Foster? The correct answer is amazingly awesome!
I told him that he had just created some healing twenty-five years in the making and he laughed. Then I had that "hey, let's go grab a beer" moment and of course thought better of it. He's just the kind of musician you feel like you know well because he writes the kind of songs that feel personal.
Then I asked him to sign a CD for The Good Man and me, and he did.
I walked out of that venue smiling from ear to ear and remembering and laughing and just at peace with the world.
And so this entire post today and all of these stories are intended to bring all of my NMSU Ag College friends along with me into that Wayback Machine.
Were you there? Do you remember? Wanna reminisce?
This post is also to thank Mr. Radney Foster for helping create another amazing memory.
Whew. Today as I wrote this I listened to The Essential Foster & Lloyd album and it was almost hard to hear. So many memories both beautiful and sad captured in all of those songs.
Well, thanks for staying a while and reading all of these words. I'm serious about you grabbing one of those new albums. Get to clicking! And if you can catch Radney Foster live? Well even better.
____________

P.S. If you have ever wondered how a New Mexico girl could ever live in California, I suggest you obtain a copy of Mr. Foster's new album and listen to the song "California." (I believe it is also on YouTube) Then you will understand. According to the story, that song was inspired by a beautiful Bay Area sunset as viewed from the Oakland Hills. Saaaalute!

Part IV in a series.
There are a lot of times during my days, walking through this world, where I have small flashbacks or quick images that come into my brain. Not a hallucination, just a snapshot of a moment or a place or person.
A lot of the time the photostream of my brain shows me something about New Mexico. Some little atom or quark that is a building block of who I am. Meant to ground me, I think.
One image that seems to show up on rotation is being in either Old Town Albuquerque or at the Palace of the Governors in Santa Fe and buying beautiful handmade jewelry from the Native American artisans who display their wares on beautiful blankets.
Heck, in the early days (like the 1970's) you would also find Native American artisans selling beautiful jewelry at the airport in Albuquerque. This was well before anyone called it a Sunport.
On this trip I made to Santa Fe at the end of last month, one thing I definitely wanted to do was see the Palace of the Governors and visit the row of Native American artisans with hand woven blankets laid out, selling handcrafted jewelry. I can remember being a fairly young kid and negotiating for beautiful pieces of silver, turquoise and coral.
The one moment I remember most was being something like nine or ten and using my allowance money to buy a really pretty green malachite ring set in silver.
I remember that the artisan was dressed in traditional Navajo clothing with her hair wrapped in leather and a huge and gorgeous turquoise bracelet on her arm. She either didn't speak much English or chose not to. She was quite stoic, I recall, but I had watched my mom buy jewelry so I emulated her way, right down to the speech pattern.
I found the ring, tried it on, and liked it very much. I caught the artisan's eye, held up the ring and asked, "How much?" I think she said ten dollars. I replied, "Would you take eight?" and she nodded. Thus, I now owned a beautiful handmade silver ring.
I wore it for many, many years.
In fact, I still have it.
This is it: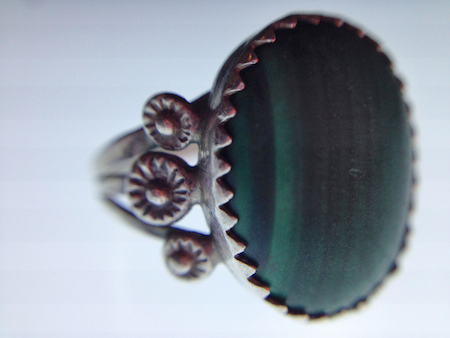 The ring is so tiny, it barely fits on my pinky finger. As you can see, the stone has a small nick. I really did wear this ring everyday for a long time. I loved it. I still love it.


So on that sunny Spring day on the Plaza a few weeks ago, after stuffing ourselves to the gills at the India Palace buffet, I was ready to walk around and my best friend and her girls were ready to sit.
They found a bench in the bustling center of the Plaza and I walked with purpose to the line of artisans with their creations on blankets.
My heart raced a little because I was excited. I mentally calculated how much cash I had on hand and what budget I would allow. I love beautiful silver and turquoise jewelry.
I had heard a few years back that there was some controversy about people who were not of Native American heritage selling jewelry on the Plaza, so I wasn't sure what I expected.
I was pleased to see that indeed, the majority of the artisans seemed to be Native American. They wore modern dress, but the look, the speech pattern, the very vibe of the artisans let me know these were my New Mexico Native people, and I was happy.
As I walked down the row, I became less happy.
The quality of the jewelry I saw was not what I had hoped. The beautiful hand crafted chunky silver and turquoise, coral, jade and malachite jewelry had given way to items that were cheap looking, manufactured not handcrafted, meager and not bold and beautiful.
In some cases, I half expected to pick up a piece and see a stamp showing me it was manufactured in another country.
To be honest, not even the blankets seemed to be handmade. The image, the memory, it all looked the same as I crossed the street, but under the adobe and vigas of the Palace, everything really had changed.
On the plus side, I noticed that the artisans were very friendly with all of the tourists, inviting them to pick up pieces and try them on. Asking where they were from and how they liked New Mexico. The stoic artisan seems to be a thing of the past as I'm sure being a bit friendly sells more items. Even as I type that it feels a little like selling out.
So there was a plus and a minus to the experience. I ended up buying a pair of earrings from a vendor across the street on the plaza. They are small inexpensive dragonflies and I hold no illusions that they are genuine Native handcrafted.
I walked away a bit depressed and I remembered that I get a catalog from Southwest Indian Foundation, and they call the style of jewelry that I love "pawn style."
Pawn style. There were some people that I knew who got really amazing deals on Native American crafted jewelry from the rows and rows of pawn shops in Gallup and other New Mexico towns. I never did that. I shopped a few times, but couldn't get over the sad feeling in my gut. These pieces of jewelry were given up because someone needed fast money.
As I made a loop around the Santa Fe Plaza, I saw a shop that claimed to have old pawn jewelry, so I went inside.
They weren't kidding. Inside the huge retail space half of the store was quite literally filled with pawn jewelry. The shop buys dead items (meaning the time has expired and no one was able to come back and claim the pieces) and resells them.
Resells them at a gigantic markup.
I found a case full of earrings and at a quick glance found three pairs that I either own the exact pair or something very, very similar.
Earrings that I know I paid somewhere between fifteen and forty dollars for were now marked anywhere from $125 to over $200.
I felt a little sick to my stomach. On the one hand I thought, "Hell, I should get out all of my old jewelry and sell it!" and of course I knew I'd never part with it. On the other hand my heart broke as progress has to come to all things, even Native American jewelry.
In my personal collection is my mother's stunning New Mexico Native American handcrafted squash blossom necklace. Would I ever sell this? Hell no.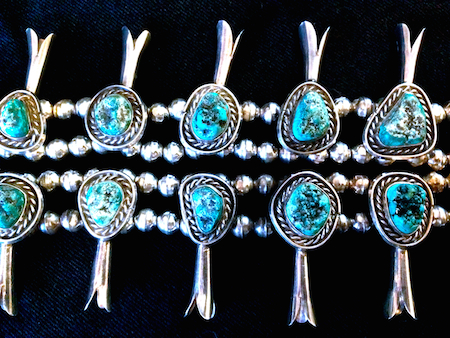 This is a really profound piece of jewelry. My mother often wore it and she was always beautiful wearing it, too. The turquoise is quite rough and each individual squash blossom is different, to match the stone.

But I wish I could have strolled the Palace of the Governors and seen pieces more like that chunky squash blossom for sale. The product of training, silversmithing, craftsmanship, and a deep Native American tradition.
Alas no, like that hammered tin clock that used to hang over the Albuquerque Airport, my memories are only nostalgia. Museum pieces. They no longer represent what is meaningful for today's children growing up in New Mexico.
I guess I understand now. Sometimes as a kid I used to jokingly say that New Mexico was forgotten, wasn't important, backward. Now I know it really was something good. I got to grow up in a beautiful culture and a beautiful state that is like nowhere else in the world.
I am hardly the only person who has ever come to realize this about the time and place that they were born and raised. It's a common lesson. You really can never go back. I can be in New Mexico again, and I can love it, but it's never going to be what I hold in my memories.
That hurts inside. I yearn for something that doesn't really exist anymore, except in my mind and have to find a way to be okay with that. As of today, right this moment, I'm not okay. Not yet.
I suppose the answer is that I need to spend more time back home in New Mexico. I have to learn to know what she was once and love her as she is now.
It's my failure that it's been so long since I was back home. I hope to improve a lot over the coming years.
There is so much I know about New Mexico, and so much I have left to learn.

Up next, the conclusion: Part V, The Roots of My Raising Run Deep

Images Copyright © 2014 Karen Fayeth, and subject to the Creative Commons license in the right column of this page. Taken with an iPhone5 and the Camera+ app.

Part II in a series.


Today I continue my New Mexico storytelling with Part II. I guess my short trip to New Mexico last week takes more than one post to discuss.
At four days, it was a quick trip, too quick if you ask me, and even though time elapsed fast, there was an indelible impression left upon me. New Mexico kind of does that to a person, right?
The last time I had been north of Las Cruces was in 2009, so it wasn't that long ago, but certainly long enough ago to change my worldview.
Back then I was newly married (yay!), had endured one of the worst years of my professional life (boo!). I found myself without a job, without any leads, and a little dislocated as I learned how to be both unemployed and married. Both being something I had never before experienced.
I returned to the homeland last week on a warm Spring Saturday with almost six years of marriage tucked under my belt and a really good job that I love very much. Time really does heal wounds.
To be honest, sometimes I still feel very dislocated. Caught somewhere in between. I am a New Mexican, through and through, but it has now been almost seventeen years that I have lived in California. My god. Seventeen. Where the hell did all those years go?
So I am not really a New Mexican anymore, but I'm seriously not a Californian either. What, exactly, am I? I don't know and that's the problem.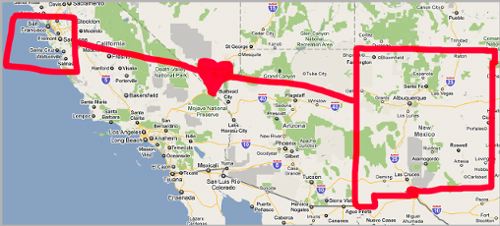 (Apparently this is a long running theme for me, here's something from the archives.)


My best friend and goddaughters were on their Spring Break and wanted to make a trip to Santa Fe. As near as I can recall, the last time I was in Santa Fe I was somewhere in my twenties. Well, that's not entirely true. I went to the outskirts of Santa Fe in 2009 because my father is buried there, at the National Cemetery.
But that last time I had been on the Plaza? Yeeks. I was of drinking age, but not old enough to know better, certainly.
Let's just say, it's been a while.
Santa Fe was, well, Santa Fe. She has changed in many ways. She has not changed at all in other ways.
Of course, one of the first places I had to visit was the Loretto Chapel. I have always loved that place, from the time I was a small child to now.
I had wanted so much to get married there, I mean, I really wanted that, but logistics being what they are, it just couldn't happen.
(I am more than thrilled with where and how we did get married in California, by the by.)
In my mind, my child's mind, the Loretto chapel was teeny tiny and the stairs were at the very back wall of the chapel. I was pleasantly surprised to see the chapel is actually larger than I remembered, with several rows of pews behind the very famous staircase.
So of course I took an unremarkable photo of the remarkable treasure. A photo from the same vantage point where everyone snaps the shutter, from behind the worn velvet ropes. It's a bit like the Golden Gate Bridge. It's been done. To death. It's hard to do it any differently than the thousands who came before.
But that's ok. I took the photo for me. A memory. An image that I don't have to expend a calorie trying to conjure up in my mind. I can ease my brain and rest my eyes and smile fondly to see this photo.

Copyright © 2014 Karen Fayeth

While in Santa Fe, we also went to the Cathedral Basilica of Saint Francis. Where Loretto is small, the Basilica is gigantic. Overwhelming in its proportions.
I took a lot of photos and absorbed all of my surroundings.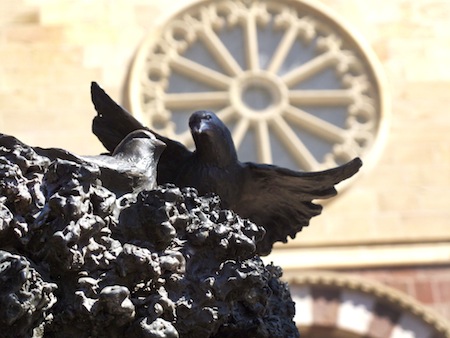 A bird at the base of a statue of Saint Francis and the Basilica's rose window in the background.

Copyright © 2014 Karen Fayeth

Of course, I have a lot of mixed feelings about being raised Catholic, but that is not something to discuss here. I do try to stay away from religion and politics on the blog, though I don't always succeed.
That said, I have always loved the iconography of the Catholic church and being raised in the Hispanic culture means all of those images hold a lot of power for me. The images are not just religious but part of our culture and folk art. It has shown up in a lot of my own work.
I have been obsessed for a long time with the image of a flaming heart and also a heart with a crown over it. Of course this is the Sagrado Corazón, found on paintings and statues and sculptures.
Being in such a beautiful space and being in Santa Fe and seeing all of these reminders of my childhood made me need to sit down. Just sit and be quiet. And think. And absorb.
My two godkids had a lot of questions for me about the Catholic Church and what some of the images mean. The Stations of the Cross proved to be a place of fear for my younger godkid, and I tried to explain that it was telling a story, certainly a sad story, but that it had a happy ending.
Meanwhile my thoughts raged with questions like, "Who am I?" and "Why don't I know?" and "Why have I had this lost feeling for such a long time?"
Questions as unanswerable as some of the challenges posed by my beautiful girls.
I love New Mexico and inside of me something is able to rest when I am there, but to be honest there is another part of me (that has been there all of my life) that cannot rest, and needs more than New Mexico can give.
The only place that I truly know is home is anywhere The Good Man happens to be. That, I think, was my best comfort while the thoughts and feelings swirled like an eastern New Mexico tornado through my brain.

Part III: ¡Comida! There is Indian and then there is Indian

Images Copyright © 2014 Karen Fayeth, and subject to the Creative Commons license in the right column of this page. The Loretto staircase was taken with an iPhone5 and the Camera+ app. The little bird was taken with a Canon G10 and some crawling around on the ground.

"Baseball is a lot like life. It's a day-to-day existence, full of ups and downs. You make the most of your opportunities in baseball as you do in life."

— Ernie Harwell, Hall of Fame Broadcaster for the Detroit Tigers
As a longtime baseball fan, I've often spent time pondering this very notion, that baseball is an awful lot like life. I have even written yards of stories and words on this very topic. After watching thousands of games, I personally believe that across the nature of nine innings of baseball, in each and every game, a story is told.
One of the most curiously fascinating concepts to me is that a player can make a terrible error in one inning (thus making him the goat) and then be the hero of the game in the very next inning.
Local broadcaster Mike Krukow has often commented that it's just an unwritten fact of baseball, the guy who bobbles the ball in one inning is going to be at bat the next inning. Or, the guy who made a spectacular catch will also be up in the next inning.
It's an odd philosophy but I've observed that it is pretty spot on. Baseball with all of its flaws and issues is an awfully democratic game. Second chances are given. Third, fourth and fifth chances too. The player who is a super star can slip into an 0 for 42 slump. That guy who can't seem to hit a damn thing can suddenly make a key play that propels him to a 40 for 42 streak.
You just never know. And that is pretty much like life.
It was with this in mind that I joyfully watched a guy on a real bad downswing named Tim Lincecum, who plays for the San Francisco Giants, complete a no-hitter against the San Diego Padres on Saturday night.
Tim burst on the baseball scene in 2007 as a first round draft pick. Everything about him does not scream baseball. He is a very small person, running about 5'11" on a day he's standing up very straight and clocking in at maybe 170 pound soaking wet. He is an unlikely pitcher compared to the usual broad shouldered and well over six-footers that dominate the mound.
In addition, Tim's delivery style is rather unique and eyebrow raising among followers of Major League Baseball. In order to get speed from his small frame, he contorts and twists his body back and delivers a pitch with a whipsaw motion. This delivery and his ability to baffle quality hitters has earned him the nickname "The Freak."
As no major league batter had ever seen this kind of delivery, Lincecum dominated MLB for his first several seasons, racking up two Cy Young awards, several trips to the All Star Game, and much respect.
But as baseball is the great equalizer, major league hitters began to get used to how Tim pitched. They watched hours of tape and they started to work him out. Suddenly the phenom fell to earth and his pitching was not so freakish anymore. He was, as they say, getting "touched up" pretty regularly.
Over about three years, Lincecum has struggled mightily, and last year in the post season leading to the World Series, he was taken out of the starting rotation and placed in the bullpen. This is an ego bruiser for even the most easygoing of pitcher.
But Tim took it in stride, pitched well in relief and helped the team win the 2012 World Series.
This season, Lincecum has been showing marked improvement, but his teammates are batting so poorly in support of his outings that his record looks dismal. His quality outings have been a bright spot in a pretty terrible season for the San Francisco Giants.
Recently everyone (especially this Giants fan) has been wondering if this is the end of the era of Tim Lincecum.
So it was unlikely to see our small Mr. Lincecum on the mound pitching for his life on Saturday night. He worked his way through all nine innings and threw 148 pitches to close out his first no-hitter.
To be honest, I felt certain he'd throw a no-hitter in the first few years of his career, his stuff was that baffling. But in many ways, it has to be almost more satisfying to have been a phenom, then struggle, then battle back to show Major League Baseball that maybe the era isn't ending, but simply starting a new chapter.
What a great story. What an amazing game. What an accomplishment.
Lately I have been wavering a little in my allegiance to the San Francisco Giants, as they have been playing sloppy baseball and embarrassing themselves left and right. I was becoming bored with this season's story. Saturday night I turned the page and a new chapter filled with twists and turns greeted me. I'm now back in the game.
Thank you, Mr. Lincecum, for winning back my heart and mind and for telling me, a storyteller in my own right, one hell of a tale.
Much deserved.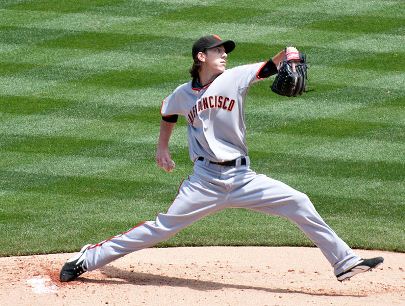 Bonus!

Another priceless moment from that no hitter game: A pitch accidentally hits the umpire in the gut, right at the bottom of his chest protector. Ow. Watch Lincecum's reaction. Awesome.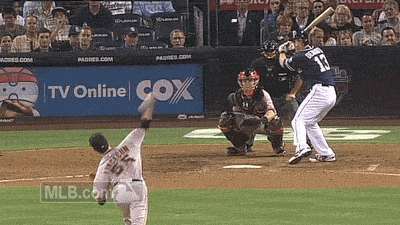 Image from Wikipedia and used under a Creative Commons 2.0 licensing agreement with attribution.
Footage belongs to MLB, .gif was found here.