What follows is me working out some "stuff" up there in the ol' brain pan. A bit indulgent to do this publicly, but maybe putting it out there helps someone else. Or makes me accountable for my own crap. Either way.
So here it is… I have been taking part in a Flickr group that challenges its members to do a new macro photo every week based on a theme the moderators choose.
I started participating on December 4th with this photo: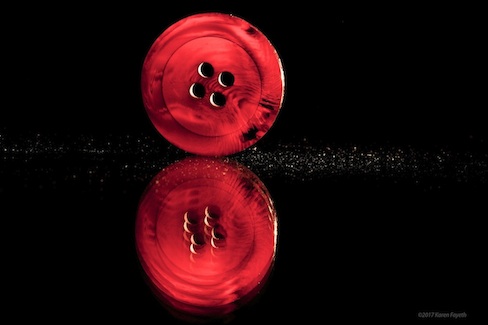 ©2018 Karen Fayeth

I felt clever. Sassy. Like my photo was more creative and of better quality than the others in the group. Go me! I was rewarded with well over one hundred faves in the first day. Hey, fun!
So I kept going. Each week working hard and having fun doing these weekly photo challenges. Creating a new image every week. Some weeks I worked really hard (or agonized) over executing my idea.
Other weeks it came easy to me, I snapped a photo that was exactly what I wanted and went on about my day.
But always having fun and not taking it too seriously.
Until two weeks ago. Two weeks ago I stopped having fun and got deadly (overly) serious about my weekly photo entry.
Let me back up. This Flickr group is huge, over 13,000 members. Each Monday between 800 to 1,200 photos are posted for the theme. This means in order to function, the group must be tightly moderated. And it is. Tightly.
I both like and respect that there are heavily enforced rules for the group. But I also HATE it because I'm an *artist* and The Muse can't be contained by your silly rules. I should be able to break them because MY work is the best.
Yeah, okay. I own it. I got weird. I hate it when I get weird.
The week's theme was monochromatic, and I turned this one in: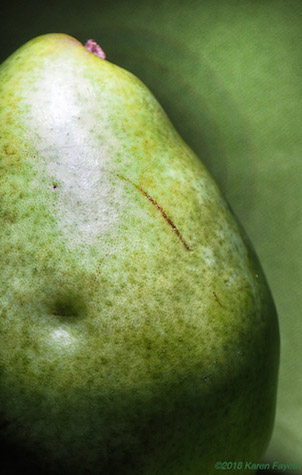 ©2018 Karen Fayeth

I really like this photo. I worked hard on it and felt really good about it. I feel like I did something worthwhile. Artistic.
Less than ten minutes after adding it to the group, a moderator pulled it, telling me "This is not monochromatic, I can see both brown and green."
I seethed. I stewed. I started looking at other photos in the group and found SEVERAL that also had tiny bits of another color that made it through the moderator's net.
I bellowed about how unfair it was. I started making a list of all the other photos that were let through. I prepared to launch my vitriol on anyone who would listen and demand answers for my mistreatment. How could they hate my photo so much!?!?! (I know, I know)
Then I went to talk to The Good Man, and as I detailed all the ways I had been wronged, I heard myself. I listened to my words and realized…aw damn…I'd stopped having fun. I was this worked up over a photo on Flickr in a group where the only prize is some eyes seeing the photo and some faves.
Yeah. I hit the wall pretty hard. This came just a day after struggling with a story for a writing contest that just would not gel for me. I hadn't given myself enough time to work on it and the story would not come together no matter how hard I tried. I tried to shotgun it and I failed hard. I did still turn in the story but I know it's not good.
You see, I wasn't mad at that stupid unfair moderator. I was mad at me.
And that's no way to create. That is the antithesis of creativity. This dampens The Muse.
So I went all the way there and now I'm reeling myself back in. I swear. I sat my Muse and my brain down and we had a talk. Feelings were felt and admonitions were issued. Promises to be better. To loosen up. To remember why I do any of my creative work…to have fun. To let the creativity out. To create something.
And I'm better. I am. The following week I swore I wasn't going to participate in the Flickr group again, but that was EXACTLY why I needed to get back in the game. So I made a photo based on the theme "in a bottle."
Here's my Valentine to myself. Green like the Hulk who gets very, very mad. Sweet like the victory of turning out a piece of art and something I really like. It also met the rules and made it past the moderators.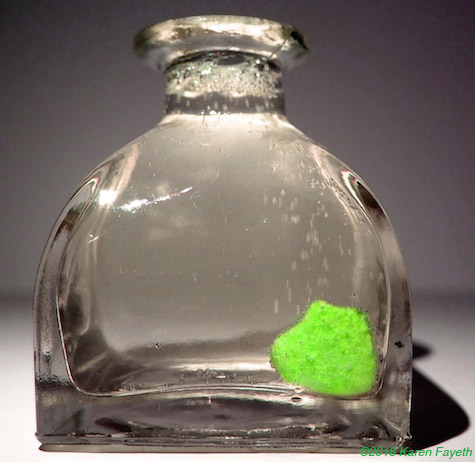 ©2018 Karen Fayeth

Lesson learned. Scars formed. Exterior just a little bit tougher.
And this week? Try, try again.

So without going into specifics (because it's the internet and who knows what people do with facts anymore) the job I do every day is, essentially, a customer service gig. We don't support the general public, but support the operations of my employer. We serve all of my coworkers as customers. Confusing enough?
Anyhow, since we have a focus on customer service and have standard corporate performance measurements to maintain, on a regular basis we send surveys to our customers to ask how we did so they can grade us and provide feedback.
Fairly standard stuff. If the surveys for my team come in good, then fabulous. It's logged and reported and so forth. If a survey comes in bad, then a member of the team that collates responses will discreetly make a copy and slide it onto my desk. This usually happens when I am off in a meeting or something so they don't have to make eye contact. It's all very clandestine.
Bad surveys happen. It's normal. I usually review them, see what the beef is about and move on.
Except for yesterday. Yesterday gave me pause. I returned to my office to find the dreaded folded sheet of paper on my desk. "Ugh" was my first thought as I unfolded and read the survey.
It was a good time. Suffice to say, my team was blamed for everything wrong in this person's life, including (and I'm not kidding) the reason the person is leaving our institution to go work somewhere else. All our fault.
The words "byzantine" and "Kafkaesque" were used. And after looking up what those words meant, I was really offended.
Just kidding, I wasn't offended. To be honest if bureaucratic, surreal and nightmarish processes aren't your bag, then working anywhere that receives federal funding is not going to be a fun time.
This unhappy person did wrap up by saying they thought my employee that they worked with lovely, but the processes were ugly.
Fair enough.
To be honest, I appreciate this customer for giving me the first good laugh I've ever had over a bad survey response.
And the search for just the right image for this post was also a nice distraction from my byzantine day.
I think I nailed it:


**An actual Franz Kafka quote that just supremely fit this post
Here it is, Sunday, January 7th and I'm staring down the barrel of Monday.
It's time to get myself back into gear.
You see, not only does my employer shut down between Christmas and New Year, but I was also able to scrape up enough hours to take this past week off. I've just had seventeen glorious and fun filled days away from work. Days of setting my own agenda. Of not looking at work email. Of working on photography at midnight if that's where the fancy took me because I could sleep in the next day and the next one after that.
Last week I existed in a fabulous sort of limbo land. 2017 no longer, not quite 2018. It suits me.
All good things must come to an end, and so must my extended vacation. Tomorrow, reality slaps me across the chops, as reality is prone to do.
This morning The Good Man and I left our warm and cozy home to venture out into the rainy, wintry cold for Sunday breakfast. Pancakes to bid adieu to vacation and bonjour to 2018.
Through visible breath and rubbing hands together I looked up and saw a bright red maple leaf shellacked to the windshield. "Hey that's pretty," I said and took a quick snap.
Now, I realize that in this simple winter image I somehow exactly captured my mood. No more holly jolly songs and soft Christmas lights. No more Santa and wrapping presents and warm cookies baking in the oven.
It's now winter, plain and straightforward. No more looking forward to the holidays, instead we look to Spring. I have a lot of (needed) California rain to endure this year because that is what the Bay Area does in winter.
This is the long slog, when it's still dark early and foggy mornings and shivery cold.
But soon. Yes soon, the world moves into winter so we can know the spring. Daffodils and cherry blossoms are just around the corner, but for today it's a sodden leaf in cold rainy hazy blue surroundings.
So I won't lose hope. Tomorrow may loom large, but I will pop back to the surface like a bobber and keep swimming. I will have great successes and I will fail a lot too. I will be mad and sad and happy and grumpy and overtired and all the things I was on December 21 when this wild leave from work began.
Okay 2018. I put you off as long as I could, but you are now top of my To Do list and I'm going to tackle you.
Starting tomorrow.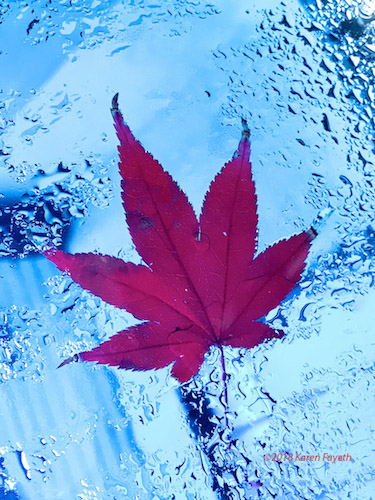 ©2018 Karen Fayeth

…that we find ourselves on the final day of the year 2017. I'm both a little surprised it is here already, and a little relieved too. It is as though I have been anxiously awaiting the arrival of a delayed guest.
So many people are saying, "Ugh! I can hardly wait for 2017 to be over!" and "Good riddance" and bon mots like that.
Sure, 2017 has been a trying year, but remember when we all bid 2016 goodbye with a gruff hacking noise and an emphatic *patooey*?
I keep reminding folks of that, of how everyone was eager to flush 2016. One very nice lady recently asked me to cease reminding. She didn't want to remember that narrative, I suppose. She was too content to be down in her hacks and patooeys and other rude noises regarding the year 2017.
Recently, the musician Taylor Swift was publicly and roundly lambasted for saying she had a good 2017. I mean, she won a pretty ugly court battle, released an album that sold over a million in one week and spun off several number one hits. I don't particularly care for Ms. Swift's style of music, but all in all, I'd say she had a pretty good year. But no one wants to hear it.
Celebrating what is good from 2017 doesn't fit the hack-patooey narrative. We must all be miserable! Blame the year! Blame the world!
I don't think that is quite fair. 2017 has certainly tried the patience of the most gentle of souls, but there is still good to be found through adversity. Not to get all quoty and stuff, but isn't it through fire that mettle is tested? Isn't that which doesn't kill us makes us stronger?
And don't we win by remembering the good even through dark skies?
There are a lot of horrible things to recount from the year. Fires, floods, earthquakes, famine, Congress, hunger, poverty and people treating their fellow humans horribly. I'm sure many a news source will remind us of all of this and more in bright Technicolor photos and videos.
But what if…and bear with me here…what if on the eve of the new year dawning, instead of remembering what was bad, we celebrate what was good? What worked for us in our own lives?
I mean, I'll start. In 2017 I had five short stories published. FIVE. This is the most success my writing has seen in any year. I was boggled as the acceptances rolled in. In 2016 guess how many of my stories were published? I won't make you wait, it was zero. I received zero acceptances of my work in 2016. And I kept on writing. Kept on hustling. And 2017 rewarded my hard work.
By the by, all five are linked in the right column of this page, in case you missed any of them.
In 2017 I completed one of the most intricate and challenging projects in my work life. It was a slog, and I had very little support and help from coworkers or direct management. But I did have a lot of expectations from senior leadership that I'd get it done. And on December 21 I did just that.
In 2017 I went to a photographer's retreat where many professional and experienced photographers looked at a portfolio of my work and congratulated me, gave me good and honest feedback, and began to treat me as one of their own. I went from dabbler to serious photographer in the span of twelve photographs. I was utterly terrified to present in front of that group, but I did it and it was incredibly inspiring. I'm working that much harder on my photography now because I took that chance.
In 2017 I celebrated nine years married (and twelve years total) to The Good Man. Nine years is both not that much and a whole lot. Every day that I wake up and he still loves me and I still love him is a victory.
In 2017 I accompanied my eighty-three year old mother on a tour of the Midwest to visit family. I was scared that something would happen, that I would break the Mom, that it would be a terrible trip, that all of my plans would go awry. Instead we had a fantastic and utterly memorable trip. I both grew closer to many of my cousins and felt so happy to have that time with my mom.
In 2017 I opened my eyes every day and got out of bed and went out in the world with the thought and the wish that today might be another good day in my life. And the vast majority of them were.
And so while it's unpopular to celebrate the year of 2017, I am going to swim against the tide and say Thank You 2017, for giving life, for the journey, for the trials and tribulations. I won't send you off with a hack-patooey, I will instead say, thank you for the lessons, the gifts, the challenges and for showing me that I am much tougher than I give myself credit for.
Thank you, 2017. Rest easy old friend. 2018 just rolled around the corner and will be here in a minute. I'm going to be all right.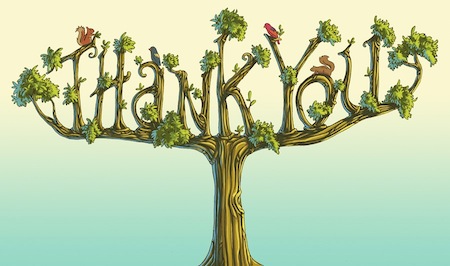 Fabulous image by tsugami on Deviant Art, which allows downloading of images. I believe in giving artists credit for their incredible work, and this image is deeply inspiring to me. Thank you, tsugami.

It was just a week ago yesterday that I found myself in the world class city of Prague with a personal day on my hands.
The work part of the trip had been both busy and exhausting. My coworkers all left for home that morning but I had a tourist Friday ahead of me. The challenge: To see as many of the must-see Prague sights as possible in one day.
Now just eight days later, it seems almost like a dream.
A week ago it was very real. So real I had a fair bit of anxiety and no idea what lay ahead. The Good Man managed to talk me down from nine timezones away and with a deep breath, I screwed up my courage and headed out of the hotel room.
As luck would have it, there happened to be a Metro station right under the hotel.
So this is where my journey began: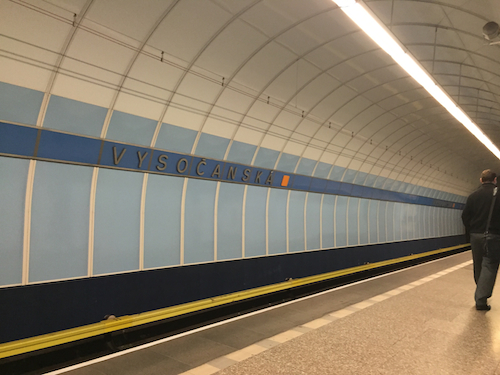 A simple suburban Metro station that would take me *everywhere*

The hotel where I stayed is in the suburbs of Prague, but the Metro is so damn good it was a less than fifteen minute ride and I emerged at the bottom of Wenceslaus Square.
I had done some reading before arriving in Prague and I knew a bit about Wenceslaus Square.
Well, I knew three things:
Thing 1) The square is dominated by a statue of King Wenceslaus. As in "Good King Weceslaus blah blah, on the feast Stephen, nuh nuh nuh nuh nuh nuh nuh, deep and crisp and even…"
What the hell is that song even about, anyway? Wait, let's hold that question for another time.
On that day, I knew that Saint Wenceslaus is considered the patron saint of the Czech Republic.
So I walked uphill and gawked at the shops and restaurants and soon found myself in the shadow of the Good King and his steed.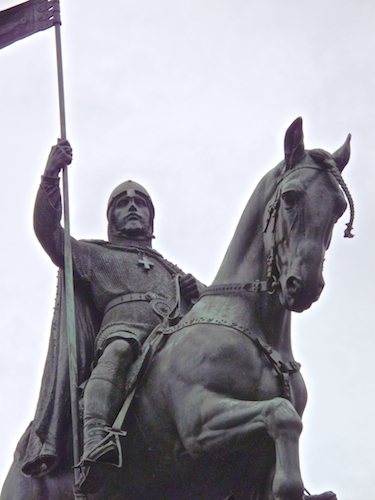 That there is a gooood king

Thing 2) Wenceslaus Square is incredibly historic, considered the very heart of the city of Prague, and it is a World Heritage Site because it was on that very square in 1989 that the Velvet Revolution happened.
What is the Velvet Revolution, you say? I'm so glad you asked.
The Velvet Revolution is when the then Czechoslovakia decided it had had just about enough (MORE than enough) and threw off Communist rule. They then became their own self-managed country with a parliament.
This is a very, very big deal. It utterly changed the course of the Czech people. For the better.
I have a coworker who grew up in Prague. She left as a teenager in 1984. She said, "We had to leave. We had so much despair. We believed it would never change."
It would eventually change, but it would take a few more years.
So I stood on this square, a lost little girl from New Mexico, and thought about how much happened right where my feet stood. How these people took back their own destiny.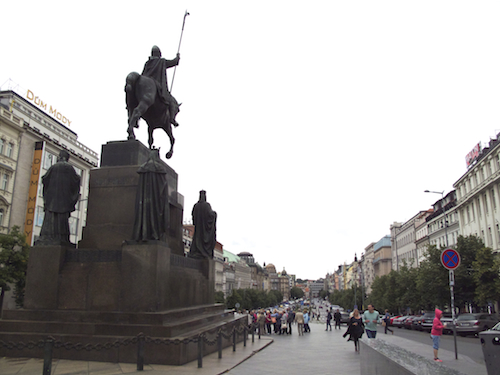 See where all those tourists are? History happened there.

Thing 3) At the top of Wenceslaus Square, behind the statue and in front of the museum something particularly sad and historic happened.
In 1968, a student named Jan Palach protested the invasion and eventual fall of Czechoslovakia by the Soviet Union during what was called the Prague Spring. He did so by committing suicide by self-immolation.
"…Palach did not set himself on fire to protest against the Soviet occupation, but did so to protest against the 'demoralization' of Czechoslovak citizens caused by the occupation." – from a doctor who treated Palach (wiki)
I think that sense of demoralization and despair runs strong through the history of the Czech people. In my experience, they are a very laid back and easy going people, but there is that sadness underneath. Well, maybe not sadness, just…world weary.
I wanted to find the small marker of Palach's history that is embedded in the brickwork in front of the museum. I have to say I was greatly moved. There were flowers at the site, meaning people still remember and still care about what he did.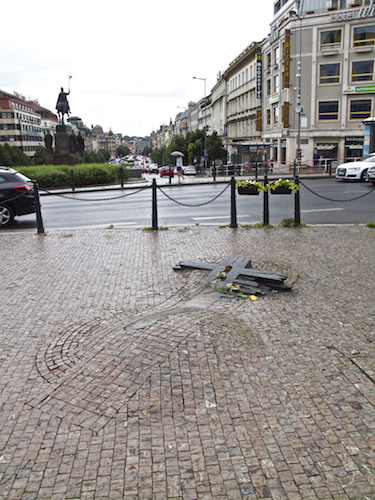 This is a simple but powerful marker

Well, that was a bit of a dark start to my day of exploration, but it also really touched me.
From there, I hopped back on the Metro and made my way to Old Town Square. The mood and attitude in the Old Town area could not have been more different.
The Old Town Square is beautiful, but incredibly overrun by tourists. Okay, sure, I was also a tourist, but you get what I mean.
Along with tourists there were an awful lot of flim-flam men (and women), grifters and pickpockets. At one point I stopped to look at maps on my phone to see if I was heading the right direction, and saw no less than three people make a move toward me.
San Francisco is a tourist town and I'm fairly used to this sort of untoward behavior, so each person got my patented City Stink Eye. The one that lets people know I am not to be trifled with.
They soon backed up, but that kind of predatory behavior was pretty rampant in the Old Town area. I was waving off sellers, beggars and all around questionable sorts left and right. I also kept a firm grip on my bag as I heard from several places that the pickpocketing is quite bad.
The main reason to be in Old Town, apart from admiring the amazing architecture, was to see the Astronomical Clock located at the Old Town Hall building.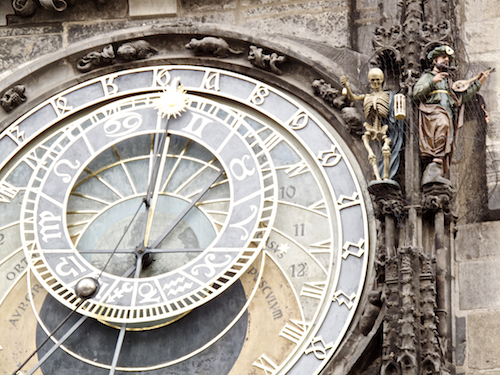 Of course my favorite part was the skeleton

This clock was installed in 1410. Um, what? 14 freaking 10? Wow.
As luck would have it, I was there at about twenty minutes to the top of the hour, so I waited with all of the many tourists, in the rain I might add, to watch the clock's mechanics at the top of the hour. A skeleton rings a bell, the animated figures come to life, and above the clock statues of the twelve apostles zip by and look out the windows.
It was very quaint and lovely, and I'm glad I saw it. Not much more to say than that. More than a Clark Griswald shrug, less than rapturous delight.
After taking some photos of the beautiful buildings on the square, I then made my way onward to the Charles Bridge.
The most famous of the bridges across the Vltava River, the Charles Bridge began construction in 1357.
You know how sometimes Europeans give Americans a wry smile when we talk about our deep history? Yeah, this is why. In 1357 they were building bridges that would safely transport my tired little toes across the same river some 659 years later. America wasn't even a twinkle in the eye of Columbus in 1357.
The stroll across the bridge was certainly lively. Lots of people, lots of selfie sticks (ugh), quite a few pickpockets and an awful lot of Catholic statues. Like, a LOT of Catholic statues.
Felt like I needed to go to confession when I got to the other side, ba-dum, tish!
It was hard to pick just one photo from my walk across the river, but let's go with this one: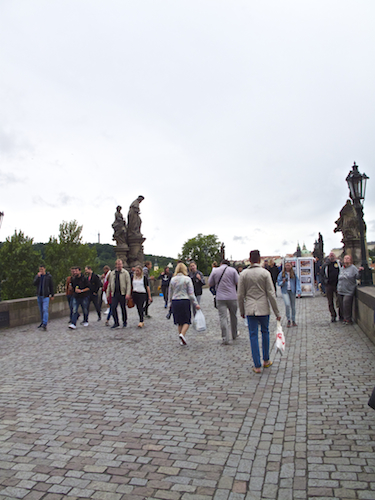 The walk across the bridge was quite pleasing especially since the rain had moved on and a bright blue Czech sky emerged. Quite lovely.
The part of Prague on the other side of the bridge is known as Lesser Quarter, which I find quite a rude name. There was nothing lesser about this side of the bridge in my opinion. It is much quieter, calmer and less busy. It suited me just fine.
At this point, my legs, feet and bladder asked nicely if we could stop, so I landed at a coffee shop.
Over a lovely icy coffee, I tweeted exactly how I felt in that moment on that day.

As my legs relaxed, I listened to a group of four Czech students argue and debate and I watched life happen outside the glass door. I felt enormously contented. It's those moments I will remember long after I've come back to my regular life. It's those moments I wait for on each international trip I take. It's what makes all of those long and ugly plane miles worth it.
Yeah. Seriously, may I never forget how good I felt in that moment.
Now fortified, I moved on to my last stop of the day, St Nicholas Church.
The guidebook I pondered over coffee told me that it was a beautiful example of a baroque church. I do like to see some of the old and over the top churches in Europe, so I was game.
The guidebook also mentioned the bell tower at the church. How it had been used by the communists to keep an eye on the American Embassy nearby, and that it offered some of the best views in all of Prague.
Impulse overtook me and I smacked down 90 koruna for a ticket and began climbing the stairs.
What in the utter hell was I thinking? One, my legs were already tired, two I'm in okay shape but stair climbing is tough, and three my asthma was like "hey, what's up?"
But I kept climbing the spiral stairs and narrow ladders until it got more and more exhausting and claustrophobia inducing (and I don't often struggle with claustrophobia).
At more than one point I had to remind myself that I managed to get myself into this situation and had to figure out how to get myself out.
My bullish determination kicked in and I made a promise I would make it all the way to the top.
Along the way I found the watchmen's quarters, a sparse room with a small bed, rough wood table and open brickwork fireplace.
When there were windows, I looked out then kept climbing. Finally, I could smell the fresh air of outside and found myself at a narrow deck that encircled the tower. There was a guide there and she told me to go outside (I didn't understand what the signs meant and had hesitated).
Wow. Truly. Wow. I was stunned at seeing all of Prague laid out before me.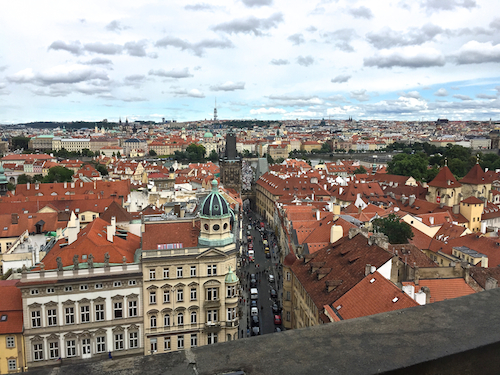 The sky stippled with clouds and the sun began its slow descent toward the end of the day and there I stood taking it all in.
And hey, I wasn't even at the top of the tower yet. After taking quite a few photos with both of my cameras, I kept climbing. The very, very top of the tower, at the end of 215 steps, was less interesting. It was low ceilinged, cramped, stuffy and the windows were small.
So I went back down to the narrow deck and took another spin.
With that, I declared myself done for the day. Ready to head back to the hotel.
I came down all 215 steps a lot faster than I went up and made myself dizzy. Wobbly on my pins, I chose instead to stop for some dinner and I'm glad I did. I found a funny little restaurant where they treated me nice and I ate something they called Slovak gnocchi, which a short Google search later assured me is actually a thing.
A very delicious thing.
I wanted to have a nice Czech beer alongside, but worried a beer would drop me right to the ground so I opted for something milder.
After eating my fill, I set out back across the Charles Bridge. The mood on the bridge had changed. I crossed east to west at about 2:45pm and came back west to east at close to 6:00pm. There were more people out and the Friday revelry had begun. It was funny how quickly the mood had shifted.
On the way back, I made sure I touched the two lucky spots on the bridge, once with my left hand for my husband, the southpaw, once with my right hand for me.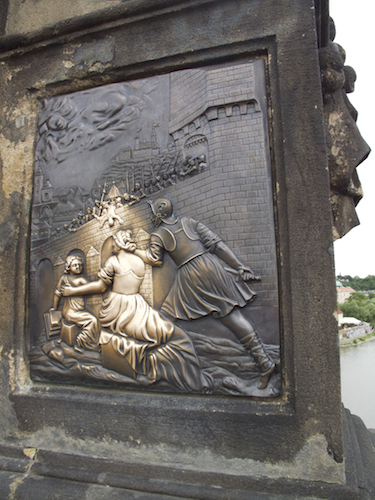 One of the two lucky spots, though a bit grim. So this priest was thrown in the water…

A nice twilight stroll and I soon found myself back at a Metro station waiting to head back to the hotel and the end of my stay in Prague.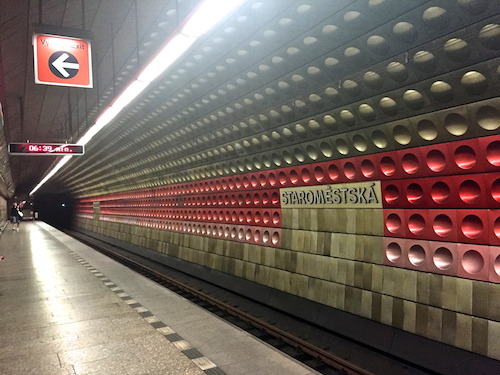 There are quite a few more things I wish I could have found time to see while in Prague. The Apple Museum, the castle, and the art gallery, to name but a few, but I was grateful to have one full free day to see the best of what Prague had to offer.
Prague is a gorgeous, easy and fun city. I loved every minute of my time there and wonder if someday I will ever find my way back.
I suppose I can dream.
Meanwhile, at a week later I think my legs have finally recovered. Seriously, 215 stairs? C'mon!
And to the good people of Prague, I say děkuji for treating me so very well.

All photos ©Copyright 2016, Karen Fayeth, and subject to the Creative Commons license in the right column of this page. Taken with either a Canon G10 or an iPhone6.