The holidays are over. Tinsel and paper all swept up and gone. Yesterday the trash men hauled away bones of the Christmas ham.
And Monday, I go back to work. Rather, I drag myself reluctantly back to work.
Here in the heart of winter, there are cold days ahead. And rain. And grim skies to match my grim demeanor.
What's this, then?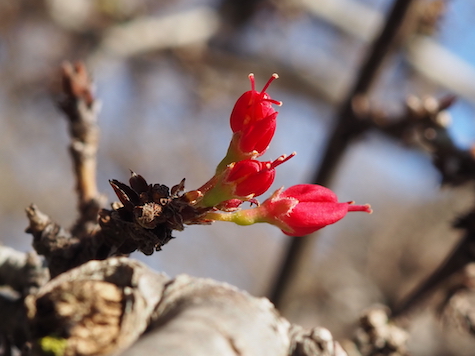 ©2019 Karen Fayeth

A tiny blob of bright pink in my yard that I noticed today when returning from the grocery store, where candy canes and festive platters have given way to "healthy selections" and Valentine hearts.
I stepped closer, peered in between the branches to discover…
A single cherry blossom. Ahead of its time, but ready to be kissed by today's warm California sun. Soon the rest of the tree will follow suit. Soon. But not yet.
And what is that over there?
©2019 Karen Fayeth

A little cocoon, snug in a fur coat, warding off the shiver. A magnolia blossom, in very early stages. What is gray and fuzzy now will soon be creamy pink, fragrant and bold, seemingly overnight. Soon. But not yet.
Oh, and look at that!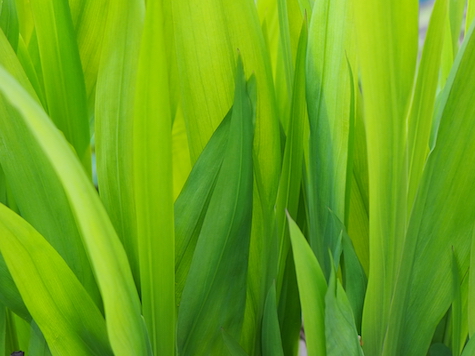 ©2019 Karen Fayeth


In that one corner of the yard, I'd forgotten the daffodils that grow wild. Their leaves have come on bold and green with the promise of emerging stalks soon carrying butter yellow blooms. Soon. But not yet.
I stop and smile. I remember that December 21st was the shortest day of the year, a milestone that now lies in the past. Even though this weekend promises torrential rain (which the California soil will gladly drink up), gray skies, and gloom, the fact of the matter is that Spring is on its way with rush of color and fresh leaves, activity, joy and warmth.
The sunshine of my favorite season will soon come to push back the gloom and cobwebs in my mind and replace it with tulips and lilacs and California poppies.
I will photograph and paint and pick and sniff all of the riotous wildflowers that California has to offer. I will smile when I see them growing in the unlikeliest of places.
Oh so very soon I will bask in the Spring warmth and smile at the clear skies and feel happy as the sun sets later and later each day.
Soon. But not yet.
A few days ago I posted the refreshed for 2018 Top Ten Things I Miss About Christmas In New Mexico, which has become something of an annual nostalgia trip for me.
As I was writing it, I thought to myself, you know….I've lived in the Bay Area for twenty years. Maybe it's time to write a top ten for my current home.
I mean, I am an ex-pat New Mexican and will always be a New Mexican, but I've lived in the Bay Area long enough to also call it home. I guess I'm lucky in that way, to call more than one place my home.
And so without further ado:
Top Ten Things I Love About Christmas In The Bay Area


1) San Francisco's buildings lit up like presents. Around Thanksgiving the buildings on and near the Embarcadero turn into glittering holiday presents and the Ferry Building lights up red and green.
My first Christmas living here, I'd taken a ferry over to Sausalito to buy presents. When I came back over on the ferry, just as the sun was setting, I saw those gift-wrapped buildings for the first time I couldn't stop staring. It's so beautiful and an annual tradition.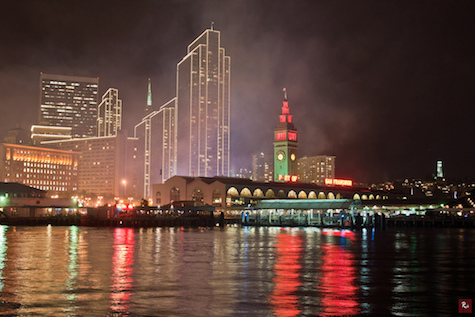 This was taken just after New Year's Eve fireworks last year, hence the smoke, but the view can't be beat. Image found here


2) And while we're talking about things down on the Embarcadero, how about the tradition of Palm trees wrapped in Christmas lights? Other than one sickly Palm tree doing its best to grow by the NMSU library, there aren't really a lot of Palm trees in New Mexico.
But there are plenty here and I love that they get in on the holiday fun. The Bay Area is hardly the only place to feature lit up holiday Palm trees, but it is the first place I ever saw the style and I've always loved it.
Here's an example of the Palm trees outside of AT&T park (there are 24 Palm trees to honor legendary #24, Willie Mays).
Image by Fuzzy Traveler and found on Flickr.

3) To stay on the theme of trees, the Bay Area hosts and awful lot of offbeat Christmas trees each year. I don't recall seeing a lot of weird trees back home in New Mexico, mostly normal trees decorated in the traditional way (which I love). But since living here in the Bay Area, I've seen a variety of trees including one decorated with only the heads ripped from dolls (weird), a tree decked out solely in Star Trek gear (nerdy), trees made of alternative materials like lab supplies, computer servers and routers, and then this one found at an architecture firm by internet friend, UPS driver extraordinaire, and longtime San Franciscan, Rafael Monterrosa.
Photo copyright Rafael Monterrosa (@rafael415 on Instagram), and used with permission. Give Rafael a follow, he is a fantastic photographer and posts photos from his travels all around the city of San Francisco. He's got a sharp photographic eye and knowledge of the City like no one else.


4) Okay, one last tree thing: Another fine Bay Area holiday tradition is tree lighting ceremonies. Usually happenig the weekend after Thanksgiving, every town has at least one. From the Union Square and Ghirardelli Square events in San Francisco, to Jack London Square in Oakland, to Christmas in the Park in San Jose, and lots of smaller neighborhoods and businesses in between, people love to come out to see trees light up for the first time of the season, drink hot chocolate, and get into the holiday mood.
Here's a photo from my little neighborhood's second annual tree lighting event this year: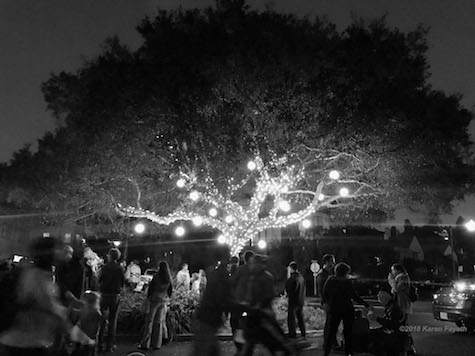 ©2018 Karen Fayeth

5) Now it's time to move on to the fantastic Bay Area food traditions at the holidays. Let's talk about Lumpia which can be found at just about every holiday potluck. Living in the Bay Area has opened me up to the traditions of so many cultures that I just never experienced back home in New Mexico.
I have been honored to know and work with so many amazing people from the Philippines, and they have lovingly introduced me to their food, most notably lumpia, which can roughly be described as a Philippino egg roll. More colloquially it's been called the food equivalent of crack, and I can't disagree.
Nothing more joyful than a huge pile of lumpia at the holiday party. No matter how many are in the pile, they will certainly ALL be gone within no time, and I will do my part to make them disappear. So freaking good.


6) Let's keep talking about holiday pot lucks because the Bay Area likes to eat, something I have always loved that about living here. In addition to lumpia, holiday eating in the Bay is an enormous cross section of diverse foods, all of them delicious.
This year my loaded down holiday plate included lumpia, pork buns, chow mein noodles, Italian seafood lasagna, samosas (delicious little savory pockets from Indian culture), German stollen, Hungarian floating island dessert, pecan pie (hello pecan producers in NM!), enchiladas, guacamole, ceviche (done in a Brazilian style), and much more.
I mean, come on! The amazing diversity of the Bay Area means the best of foods from around the world. What's not to love?


7) I'm not done talking about food either. Holiday season is also Dungeness crab season. Starting roughly in November (start dates depend on a lot of things), this is the time of year where the commercial crab season opens, and oh what a season.
For many Bay Area families, it's tradition to go down to the wharf or to certain places at the coast on Christmas morning to buy crab. Fresh caught that morning, and you can take it home and cook it yourself, or pick one out from the steaming vats.
As a single gal, I used to celebrate holidays with a dear friend, and she loved this tradition. She'd go out early in the morning to buy crab then put a huge stock pot in the middle of her dining room table to catch the shells and we'd dive in with hands and metal crab crackers. Some folks think eating crab is too much work, I say those people leave more crab for me and that's just fine. Delicious!

8) Going to the beach on Christmas day. One of the best Christmases I ever had was when I was all alone, a little depressed, and I made the excellent decision to pack up some leftover Chinese food, a blanket and a small radio and head to the beaches of Half Moon Bay for the day. It was a balmy 65 degrees and for many hours I had the beach all to myself. I read, I ate, I zoned out, I watched the waves, and I wasn't lonely for a minute.

9) The smell of eucalyptus and fog. Okay, fair enough, this is not just a holiday thing, but for some reason it stands out for me during the holiday season. The Bay Area is home to quite a few Eucalyptus trees, which are actually an invasive species, but are now just a part of life here.
The Bay Area geography means we have what is called a "marine layer", which is the reason for the iconic fog we experience. Roughly explained, when a warm Bay Area day meets the cool, cool Pacific Ocean, they crash into each other and create fog.
Add to that when a Eucalyptus tree gets warmed up, it releases its very aromatic oils.
So you have a warm tree giving off oils and by the afternoon a marine layer pushing ocean fog into the Bay Area. This creates a smell that is unique to the Bay Area all year round. Add in the moist damp air from the rainy season that starts around the holidays and you have something that will forever be etched in my mind. Even my sister recently commented on her memory of the Eucalyptus smell from her last visit.

10) To use a colloquialism from the internet, I truly love the way the Bay Area is so very extra at the holidays. Examples include the enormous real Gingerbread House at the Fairmont hotel, the entire Oakland Zoo covered in holiday lights, the huge Dickens fair, the full size skating rink constructed every year at the Embarcadero Plaza, real live reindeer at the Discovery Museum, the lighted boat parade with holiday lights from San Francisco's not one but two yacht clubs, and that's not even the beginning of a comprehensive list. There is always something to do, to try, to remember, and to make a tradition.
The Bay Area loves the holidays and I love everything about that.

_______________


Well that ended up being an awful lot of fun to write. Maybe posting this version right after my New Mexico version becomes my new holiday tradition.
Basically, I just love the holidays and all the food, smells, and trees, so I guess wherever in the world I live, I'll find something to love and write about at the holidays.
Thanks for coming along with me on this journey. Feel free to tell me what you love best about the holidays where you live either here or on any of the social media where we connect.
And to you and yours, wherever in the world you are, wishing a wonderful, joyful, and magic holiday season.

It's funny the things that stick with you. The seemingly forgettable details or moments that you look back on with fondness.
This past weekend, I returned home to New Mexico after a far too long two-year personal drought. Life, work, whatever, gets in the way (no excuse is good enough).
The occasion of my return was the high school graduation of my oldest goddaughter. At almost 19 she is no longer that curly-haired blonde toddler who captured our hearts. She is a smart, sassy, funny, talented and gorgeous woman and I'm a bit weepy right now just typing that. I'm so proud of her.
I have been working too many hours and it's fair to say I dragged my ragged self onto a plane, glad to go home. Sometimes I feel like I wander a little too far away from New Mexico. I forget the foundation of my soul and going home never fails to readjust my mind, my very DNA. It gets me back to remembering who I am and what matters.
Plus I eat good when I'm there, and green chile itself will help anyone get right.
Each time I go home, I'm overwhelmed at all of the things that have changed since the last time I was there. El Paso is growing fast. The area around Las Cruces too. More cars, more buildings, more people. It's crazy.
So then I start to seek the familiar. What hasn't changed. What is there that I remember so I can have a touchstone. A "hey, there that particular thing is, just where I left it."
The feedlots in Vado, for example. I was pleased to find them there, cows huddled under the water misters. The inevitable cow scent on the breeze.
The Organ Mountains. Craggy, uneven, and absolutely gorgeous. I see those mountains that once watched over my college education and smile, glad to say hello again.
So today at work when I was homesick, missing my best friend and the peace of her back patio, I started going through the photos on my phone to help me with the pain.
Did I find photographs of vast mountain landscapes? Did I see the faces of my loved ones? Did I have a whimsical photo of a cow?
No I did not.
All of those sorts of photos are on my actual camera. Weirdly, I took very few photos with my phone on this trip.
So I will share with you the two photos I did take. Memories I'm carrying in my pocket to remind me of home. This gives you an awful lot of insight into my muddled mind:
First, a photo of my goddog. I may have taken one or two photos of him in the past.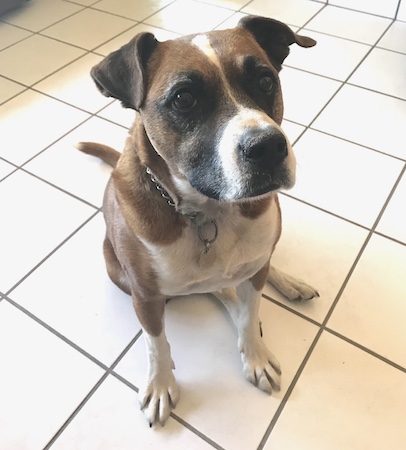 The gray hair around his eyes and in his muzzle makes my heart hurt, just a little

The second will take a little more explanation.
You see, to get back to Las Cruces, I have to fly into El Paso and while that's not my town, over the years I've even grown a bit fond of that crazy place.
When I stumble off the airplane and into the terminal I find that nothing much has changed. Then my heart softens a little when I see the genuinely godawful carpet in ELP's main terminal. Seriously, it's so bad, it makes me sentimental.
Nothing says "welcome home" like lizard carpet. Apparently, I was so overcome I had to take a photo.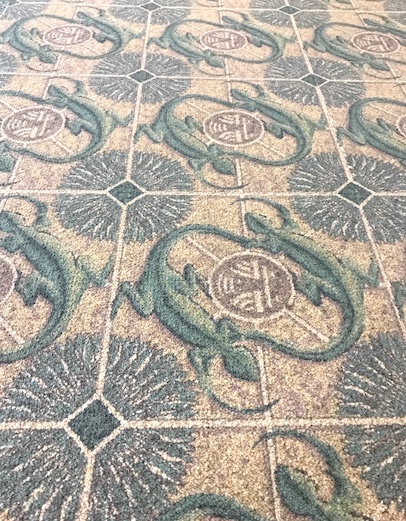 Not conducive to overcoming a hangover

And now I'm glad I did, I just found out today that the infamous ELP carpet is due to be replaced, like this month! Yipes.
That means next time, I won't be greeted at the door by the funky lizards. And as my goddog isn't getting any younger, one day I'll roll up to my best friend's house and won't get to experience his side-angled lope and velvety soft ears.
That's too much to consider. Right now, I will rest easy knowing that hideous lizard carpet and beautiful brown dog eyes remain just where I left them. I feel my connection to home, which makes sitting in this dull gray office just a tiny bit easier to take.

Both photos ©2018 Karen Fayeth, taken using the Camera+ app on an iPhone. Don't steal 'em. Thanks!

One of my coworkers brought in oranges from their yard today. Look at this, it is perfect! A supermodel among oranges. Spokesmodel for the State of California. This orange made possible by the sunshine of the Golden State. Gorgeous!

©2018 Karen Fayeth

Photo taken by me, all rights reserved. Taken with an iPhone7, the Camrea+ app, a green folder from the office, and a little bit of goofing off time while at work.

Here it is, Sunday, January 7th and I'm staring down the barrel of Monday.
It's time to get myself back into gear.
You see, not only does my employer shut down between Christmas and New Year, but I was also able to scrape up enough hours to take this past week off. I've just had seventeen glorious and fun filled days away from work. Days of setting my own agenda. Of not looking at work email. Of working on photography at midnight if that's where the fancy took me because I could sleep in the next day and the next one after that.
Last week I existed in a fabulous sort of limbo land. 2017 no longer, not quite 2018. It suits me.
All good things must come to an end, and so must my extended vacation. Tomorrow, reality slaps me across the chops, as reality is prone to do.
This morning The Good Man and I left our warm and cozy home to venture out into the rainy, wintry cold for Sunday breakfast. Pancakes to bid adieu to vacation and bonjour to 2018.
Through visible breath and rubbing hands together I looked up and saw a bright red maple leaf shellacked to the windshield. "Hey that's pretty," I said and took a quick snap.
Now, I realize that in this simple winter image I somehow exactly captured my mood. No more holly jolly songs and soft Christmas lights. No more Santa and wrapping presents and warm cookies baking in the oven.
It's now winter, plain and straightforward. No more looking forward to the holidays, instead we look to Spring. I have a lot of (needed) California rain to endure this year because that is what the Bay Area does in winter.
This is the long slog, when it's still dark early and foggy mornings and shivery cold.
But soon. Yes soon, the world moves into winter so we can know the spring. Daffodils and cherry blossoms are just around the corner, but for today it's a sodden leaf in cold rainy hazy blue surroundings.
So I won't lose hope. Tomorrow may loom large, but I will pop back to the surface like a bobber and keep swimming. I will have great successes and I will fail a lot too. I will be mad and sad and happy and grumpy and overtired and all the things I was on December 21 when this wild leave from work began.
Okay 2018. I put you off as long as I could, but you are now top of my To Do list and I'm going to tackle you.
Starting tomorrow.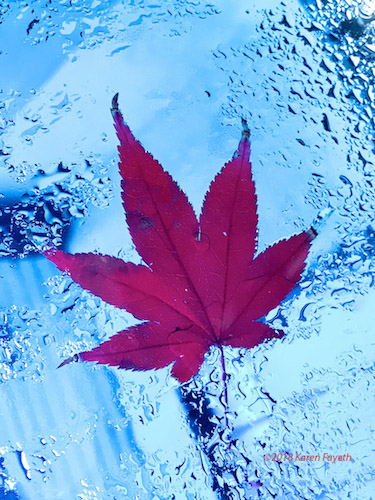 ©2018 Karen Fayeth