Perfect posting for a Friday…
On Monday I had an early morning video call with a company in London. Oh those pesky time zones. Did you know that the US and the UK go to Daylight Savings Time (British Summer Time) about three weeks apart, and the US goes first? Monday was the first workday after the US moving ahead an hour, while the UK didn't.
Yeah, I remembered that in the small hours of the morning and quickly dashed off an email to sort out the timing. Thankfully everything worked out.
To prepare for the video conference, I got up extra early and came into the office to set up and test all of my video gear. I just moved into an office a couple weeks ago and my video gear was in a heap in a drawer. Great.
I was able to quickly get it set up and tested and then ten minutes before the call, I was ready to go.
Ten minutes. That is a funny amount of time. Not enough time to really get anything going with work. I mean, I could have dived into email but then I just knew I would get engaged in something and would lose track of time.
But ten minutes is also kind of a long time to sit around and do nothing.
So I did what any adult professional in my situation would do. To "test" my video camera set up, I fired up PhotoBooth on my Mac and played with the effects.
I tried the one with hearts around the head, then the birds around the head. I tried the one that gave me frog eyes and one that produced a disturbing cartoonlike square jaw.
But none were quite as impressive as this. Let's call it Alien Accounts Receivable Clerk. And your payment is overdue.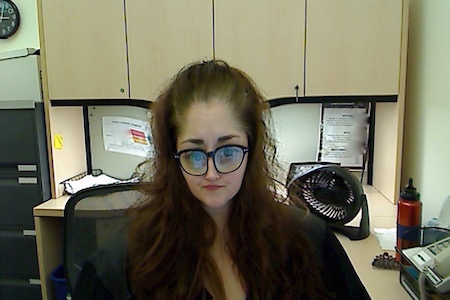 "Please remit payment or I will be forced to terminate your account"


So yeah, when the top of the hour finally rolled around, I entered the video conference still giggling.
A little too jolly for a fairly serious meeting with stoic Brits. *Ahem*
But I cleaned up my act, greeted the others on the call and then behaved like a grown up for a WHOLE HOUR!
Amazing. (hee, hee)

Photo ©2016 Karen Fayeth, taken with the PhotoBook App on my Mac and ten minutes of downtime plus post Daylight Savings Time exhaustion on my hands. Subject to the Creative Commons License in the right corner of this page.

Now that I have been a member of the photography club at my place of employment for just over a year, and have been attending meetings and listening hard, I think I maybe kind of sort of have earned a teeny tiny bit of respect.
Because this month, both of my submissions for the monthly photo contest made the cut. BOTH!
The rules each month are that you get to submit two photos. We review and critique all the photos in our monthly meetings and then there is an anonymous voting app we use. When votes are tallied, the top four vote getters are published internally at the company.
So yeah baby! I have had one of my photos make the cut before, but never both. It is a little unprecedented. Woo hoo!
The theme this month was double exposure and my two prize winning photos are below for your perusal.
The first one feels really special to me. I took both of the photos in the image while I was in Dublin. It was at the end of my one lone day of tourist time after an intense week of work, and I had walked for miles. I was exhausted and it was raining like it only can in Ireland.
Tired and soaked to the bone, I was bound and determined to find this sculpture of Oscar Wilde. This was after I had stood in a very long line (in the pouring rain, a nice lady shared her umbrella) at Trinity College to see the Book of Kells. That exhibit was exhausting in itself. Way too many people jostling around.
The park where Oscar resides is about half a mile from Trinity college and I wasn't sure I was going to make it. It was driving rain and windy and I was so tired that a nice warm cab looked like a good idea. I stopped to rest twice on the short journey, but forced myself to keep going and once I arrived at the park I was glad I did.
The small, lush, green Merrion Square park was silent as I stood there getting drenched looking at this remarkable statue of Oscar Wilde. A small tour group came by and the tour guide said the artist sourced these incredible and colorful stones from all around the world. It is a beautiful statue and so unique as it reclines on a rock.
When it came time to figure out something to use for double exposure, I thought of this statue and of the very old books I had seen at the Trinity College library (I had watched a video about the method used to bound the tomes and was endlessly fascinated).
Using some tools I had learned in a recent photography class about overlay for textures, I fiddled around in Photoshop and came up with this:
Title: Author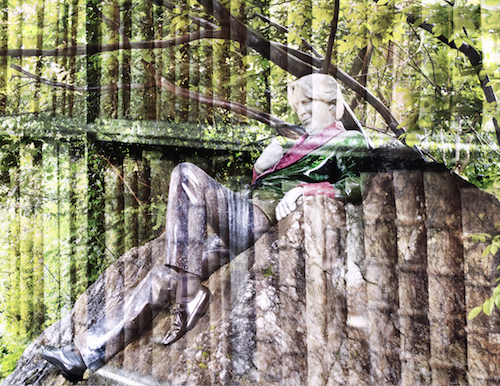 Photograph Copyright © 2014, Karen Fayeth


I was unsure if the photographers in the club would find the image too discordant. It's almost jarring, but I love it. It's hard to photograph a statue and have it be anything more interesting than a photograph of a statue. This to me brings depth and texture to the photo and I am so happy with the results.
The other photo I submitted was something I had been visualizing for quite some time.
As I continue to hear all of the news reports about the drought here in California, I was pleasantly surprised that the lack of rain didn't halt the springtime explosion of California wildflowers. I am mildly obsessed with California Poppies (the state flower) and I love the yellows, reds and purples of other flowers growing in medians, between sidewalk cracks and at the edges of yards.
I picked several of the flowers and shot them using a technique I learned from photography master Harold Davis. Then I took a free stock image of textural dry and cracked ground and combined it with my flower photo. When I look at it, I think of many things I could (and should) go back and tweak, but so far this photo is garnering nice attention.
Title: Drought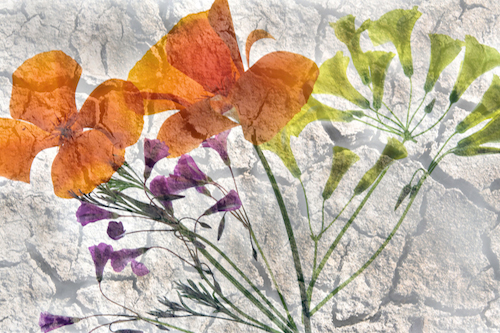 Photograph Copyright © 2014, Karen Fayeth

When submitting both of these photos, I wasn't sure how my surly team of scientists would respond. Both of these photos are kind of arty, but they also show I have some Photoshop chops, and I think they liked that. They had a lot of questions for me on technique since I used a different approach for each photo.
Also, I think the club as a whole struggled with the idea of double exposure. It's too messy for their orderly minds. I had a film camera in high school that I liked for making double exposures. It can either look weird or really cool. Doing a double exposure in Photoshop gives me more control over how the two photos overlap and how the double exposure looks, and I like it.
Anyhow, thought I'd share my winning photos with you.
Next up, travel to Amsterdam. Wonder what treasures I can find to photograph there?
Both images, Copyright © 2014, Karen Fayeth. Shot with a Canon G10 and combined in Photoshop. Stock image of dry ground from Free Stock Textures.

On Saturday the sun shone down so brightly on the Bay Area that it was too hard to stay inside. Roaming and marauding were the order of the day.
Yes, I know as a Californian I am supposed to feel Very Guilty about these sunny winter days we are having. I get it.
But instead of guilt, The Good Man and I went outside and basked in the sun. We decided to wander not our own neighborhood but the one just one city over.
It's a really fun and funky block of shops and restaurants.
They day started with some chilaquilas that were rated as acceptable to me. You see, I grade Mexican food on a very tight scale. Sadly, most Californian Mexican food fails.
Once we were full to overfilled with good eats, we moved on to a really awesome bookstore that I had never been to before.
I do love bookstores. Especially local bookstores with both new and used books on the shelves. You really get a feel for a town by what is stocked on those used shelves.
As I often do in a bookstore, I wandered over to the art section. I am looking for a used copy of a particular Henri Toulouse-Lautrec book. Hope springs eternal.
This particular art book section was more eclectic than I usually find, which was great. A lot of things I hadn't seen before.
While perusing, I found one very small section of books under the heading of "Wild, Wacky and Wonderful."
Boy, this small collection lived up to the billing.
There were just five titles. I can't quite remember them all. One was Toilets of the World. I recall that. Quite an interesting tome, may I add. One was the Pipe Handbook. One was the Diary of a Sword Swallower or something like that. I can't seem to recall the other two.
As I browsed I kept walking back to that section and laughing. It was *too* perfect. Just too.
So then I decided to take an iPhone photo so I could remember what five titles were there. But how to snap a photo without incurring the wrath of the storeowners? They are sick, I'm sure, of people finding something in their store then buying it on Amazon. Snap click is a means to that end.
My intentions were good but I didn't want to be a pain in that charming store.
Then I remembered, oh yes, that you can use the volume buttons on the iPhone to fire the shutter. I decided that I could hold the camera at about waist level and take a surreptitious snap.
I went over to the side of an aisle and thought, "Ok, I better give this a try to make sure I know how it works."
I pushed the button and then loudly echoing through the store was the shutter sound that iPhone so helpfully adds to camera app.
You see, I always, always, always have the sound off on my phone. Always. I mean seriously, always.
Except on Friday afternoon when I was expecting (and didn't want to miss) a call from my boss. After the call I then forgot to switch sound back off.
The shutter sound caused three people around me to snap their heads up and give me "grrrr" eyes.
Busted. Flat busted.
So there you go. I have no photo of the crazy fun titles, only my hazy memory.
And this piece of photographic art of the wrong shelves. *sigh*
Enjoy.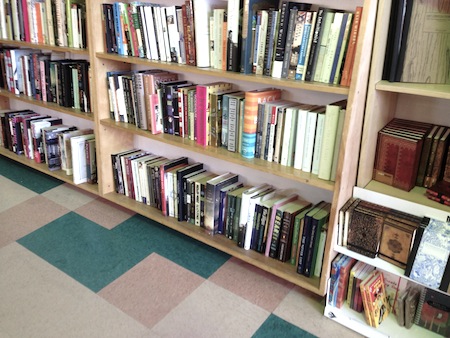 Copyright © 2014 Karen Fayeth

Photo Copyright © 2014, Karen Fayeth, and subject to the Creative Commons License in the right column of this page. Taken with an iPhone5, the onboard camera app, and not a lot of guile.

Yesterday, as I blathered on and wrote a blog post and then decided I wanted to nab a selfie that
1) didn't make me look like an old hag
and
2) showed off a rare day when my hair was rockin' (sadly, it was a one day only event) I found myself contorting, head tilting, and generally being weird.
And that was before I had the camera turned upon myself.
At the end of the day, I'm pretty happy with the selfie that I captured yesterday. Respectable enough. It took a lot of work to get that one decent photo, however.
In snapping my own self, I remembered a tutorial I put together a few years back. I still use all of these tips and tricks. Even when The Good Man grumbles at me while self photographing. (he's not a fan of the selfie)
So hey, I figured I would share again. Here it is, for your fabulous selfie-know-how edumacation.
Enjoy.
______________________________
Your Mobile Phone Camera And You
Originally posted December 21, 2011
Ok, look. Facebook finally got me. Like a hungry, persistent mountain lion, it pounced on me, grabbed me by the throat and took me down.
Anyhow.
As I've been spending more time in the cavernous Facebook labyrinth, and seeing a lot of pages and a lot of faces, I'm starting to notice a trend.
Remember the infamous MySpace pose? That's the self-photo taken with the camera above you, eyes looking up but chin down. Sometimes called the Princess Diana pose. Yeah, I think we've all seen plenty of that pose.
But that's so over now.
The pose I'm seeing a lot of these days is the in-the-car self-photo.
Yup. Hold the phone way out to one side and snap a shot of yourself in the driver's seat.
Post it.
Magic.
Look, I fully understand the need to look good in our Facebook profile. An old boyfriend or girlfriend from college might show up or something. None of us wants to look all haggity.
Believe me, I get it.
So what's with the in-the-car profile photo and how can we make it better?
I will now dig into my deep and (not so) closely held secrets of the art of photography and perform a public service.
Ya wanna know why you like that photo of yourself in the car?
Two words: Natural light.
We ALL look better in natural light. When you are in your car, good ol' fashioned sun comes pouring in through all the windows. Real sunlight makes you look hot.
I'm not kidding.
So assuming you want to have a nice photo of yourself on your Facebook page without your steering wheel in the background, and assuming you are all alone or too shy to ask for help, and assuming you want or need some advice on self portraiture…..


Here's Karen Fayeth's tips for a smoking hot profile self-photo:


Either get outside or if you have a nice sunny spot in your house filled with natural light, go there.
Next, what would be a nice background? How about a wall with a fun pattern or a wood fence with character? Sit down and lean back against it. Sit up straight! No slouchy here because we'll all see it.
Make sure the sun isn't shining directly in your face. That will make you squinty. Then make sure the sun isn't directly behind you. That will make you halo-y and a dark shadow. It works best if it's a sunny day but you are in shadow, or the sun isn't directly on you. An overcast day is even better. That diffused light is majorly hot.
Hold your phone camera out at about eye level and a little off center. If you hold it above your eyes, you'll get that eyes-up MySpace look. If you hold it below, now you are looking down and no one likes a double chin in their photo.
Seriously, no one.
Keep your chin up but not too high. Keep it at normal level as if you are looking straight forward.
Keep your elbow slightly bent. Don't straight arm it or you will see your arm in the photo. Here's an example.
Relax your face. Don't force the smile. Try thinking about something that makes you laugh or smile naturally. Think about that time your buddy slipped and cartwheeled on the ice. Or think about how much your love your kid/spouse/dog/whatever. Something that tickles your funnybone and makes your eyes twinkle.
Look into the lens. Don't look at the screen. Don't look off to the side. Don't look up. Don't look down. Locate the actual camera lens on your phone and then look that lens square in its little lens eye and snap the shot.
And then another. And another and another and another and another.
Don't be shy about taking A LOT of photos. You are looking for one good one among the many that make you go "uh, no". It's every photographer's little secret. Take lots of shots.
Wait! Don't just upload that one photo you like right from your mobile phone to your Facebook page!!!
Pause.
Look at it on a bigger screen. Download it or email it to yourself and look on a regular monitor.
Check out the photo and crop it down if you want. Look in the background ALL AROUND you in the photo to be sure there isn't something weird going on back there. (be especially alert for dogs pooping, kids barfing, etc. Check out This is Photobomb for a sense of what I'm putting down here. That site is totally not safe for work.)
Then, if you are happy with the photo, go ahead and make it your profile photo.
And wait for the compliments to roll in.
Oh, and one last piece of advise: Fer chrissakes, no duckface!
No photos in the mirror either.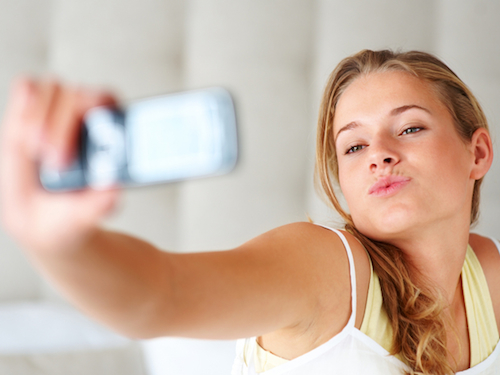 Sooo many things wrong with this technique. Good light though!

Image found all over the web. If it's yours I'll gladly take it down or give credit, at your request. Thanks! I found it here.

My fascination with bridges is pretty well documented. I have a mini project going on in my creative background to photograph bridges (and rivers, boy do I love rivers!).
This weekend I had a nice opportunity to photograph a brand spanking new bridge.
For years, ok pretty much since I moved to the Bay Area, I have railed about the eastern span of the San Francisco-Oakland Bay Bridge. The western span is a beautiful, elegant suspension bridge while the eastern span is a bunch of clunky tinker toys, better known as a cantilever bridge.
Here's a photo I took from the upper deck of the tinker toy:

Image Copyright 2010, Karen Fayeth

This part of the bridge is very functional but not very aesthetically pleasing. At least in my personal opinion (others disagree).
You'll recall that in 1989, this was also the section of the Bay Bridge that collapsed during the Loma Prieta earthquake.

Image from Wikipedia and used under a Creative Commons license.


If that photo don't make your heiney pucker, than you have a set of brass nerves that I just don't have.
In the wake of the 1989 earthquake, planning and work began to replace this span of the Bay Bridge with something more seismically stable. This project was not cheap and it was not simple, but by gum, now some 24 years later the brand spanking new eastern span of the Bay Bridge opened up to the public last night.
Traffic reports this morning were pretty bleak as plenty of people crammed onto the new span for their first ride.
Yesterday The Good Man and I sought to escape the breeze-less heat at our happy home and drove out to the marina near Emeryville, which offers unobstructed views of the City, the bridges and downtown Oakland. I took my camera along as I am part of a photography club and this month's theme is landscapes.
Here is my semi-artistic view of the new eastern span (to the far left in the photo) and how it blends is perfectly with the existing buildings and landscape of the San Francisco city line (that's the top of the iconic Transamerica building just to the right of the new bridge).
At first I was no fan of the white paint on the new span, but now I've come to love it. This new suspension bridge really stands out against the backdrop and claims its own place in Bay Area history.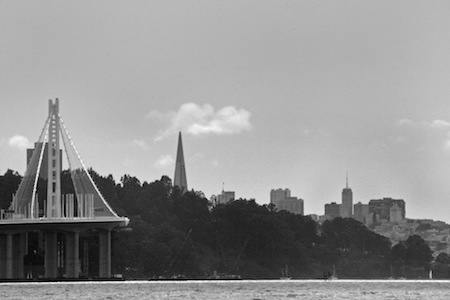 Image Copyright 2013, Karen Fayeth


Hard to tell from this photo, but there are no cars on the deck of the bridge. Who knows how many years will pass before we see that again!
And while I'm excited to the point of hyperactivity about this gorgeous new suspension bridge and looking forward to seeing it every day as I drive to work, I find something curious is happening.
The news reports say that the moment the new bridge is up and running, the old eastern span will be dismantled. The pieces will come out in the reverse order they went in and much of the metal will be sold for scrap. This makes me a bit sad. It seems that ugly ol' bridge found a way into my heart. Those 1934 era tinker toys now mean something to me, and I'm more than sad to see them go.
In the wake of this shiny new toy, that unseismically sound bridge now seems awfully lovely. In the many months I commuted to the east bay across the Bay Bridge (before I made the big move), I learned to love the forgotten little sister to the Golden Gate bridge.
Sure am going to miss one half of my old chum, even as I welcome this safer new span.
I'm glad the Bay Bridge is having a much deserved moment in the sun.

Image of the old eastern span of the Bay Bridge, Copyright 2010, Karen Fayeth. Image of new eastern span of the Bay Bridge, Copyright 2013, Karen Fayeth. Both images subject to the Creative Commons license in the right column of this page. Old span taken with an iPhone and the Camera+ app, new span taken with a Canon Rebel and fixed up a bit in Photoshop.