Perfect posting for a Friday…
On Monday I had an early morning video call with a company in London. Oh those pesky time zones. Did you know that the US and the UK go to Daylight Savings Time (British Summer Time) about three weeks apart, and the US goes first? Monday was the first workday after the US moving ahead an hour, while the UK didn't.
Yeah, I remembered that in the small hours of the morning and quickly dashed off an email to sort out the timing. Thankfully everything worked out.
To prepare for the video conference, I got up extra early and came into the office to set up and test all of my video gear. I just moved into an office a couple weeks ago and my video gear was in a heap in a drawer. Great.
I was able to quickly get it set up and tested and then ten minutes before the call, I was ready to go.
Ten minutes. That is a funny amount of time. Not enough time to really get anything going with work. I mean, I could have dived into email but then I just knew I would get engaged in something and would lose track of time.
But ten minutes is also kind of a long time to sit around and do nothing.
So I did what any adult professional in my situation would do. To "test" my video camera set up, I fired up PhotoBooth on my Mac and played with the effects.
I tried the one with hearts around the head, then the birds around the head. I tried the one that gave me frog eyes and one that produced a disturbing cartoonlike square jaw.
But none were quite as impressive as this. Let's call it Alien Accounts Receivable Clerk. And your payment is overdue.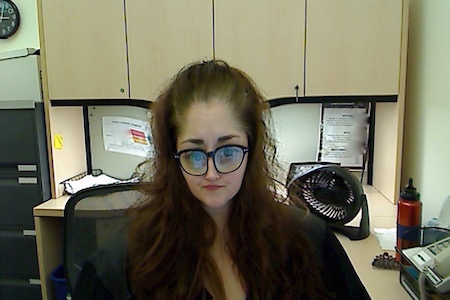 "Please remit payment or I will be forced to terminate your account"


So yeah, when the top of the hour finally rolled around, I entered the video conference still giggling.
A little too jolly for a fairly serious meeting with stoic Brits. *Ahem*
But I cleaned up my act, greeted the others on the call and then behaved like a grown up for a WHOLE HOUR!
Amazing. (hee, hee)

Photo ©2016 Karen Fayeth, taken with the PhotoBook App on my Mac and ten minutes of downtime plus post Daylight Savings Time exhaustion on my hands. Subject to the Creative Commons License in the right corner of this page.

Oh boy is it gone. I have, for years, gone on and on in the pages of this blog about my personal anglophilia, a love of all things British.
Perhaps it's time to invoke the saying "familiarity breeds contempt" as it applies to my waning interest in the sovereign subjects of the Queen.
Oh, I suppose those oddball Brits will find their way back into my good graces, but it may take a while. The reason you haven't seen a lot of my words around these pages and the reason I had the great fortune to travel to Dublin and then to Amsterdam over the past months was due to a very large project that is rapidly boiling along at my place of employment.
One of the main reasons I was hired to work for this joint was my previous international experience. My current employers don't do a lot of that and what it takes to become a world player is quite substantial, so this project is been groundbreaking in many ways.
We're far from over, but we're getting there. I have been cooped up in conference rooms in three countries and participated in many video conferences with a group of very standard issue British citizens. And they are starting to wear me quite thin.
That fun little lilting British accent starts to grate the nerves after ten hours of intense negotiations.
That cheeky sense of humor makes you want to punch a wall.
That squishy style of confrontation makes you long for a Clint Eastwood style smack across the chops.
When I went to Britain two years ago, I delighted in every moment I was there. The food, the sights, the people, the everything! Even inspecting all of the coins and bills felt so dear to me.
Well, that was fun, but the fun's worn off.
I now see the good people of Britain in a much different light. I once heard that "moaning (the British term for complaining) is the national pastime." And that wasn't even a joke. The ability to complain about everything from the idiosyncrasies of residents of other countries (a much beloved pastime) to the temperature of the water from a water cooler (not making that up) is an art, a sport and a hobby. All the whining gets to an American soul after a while.
I know Americans are often viewed as being far too friendly and upbeat, and I've been known to gripe with the best of them, but sometimes you just want to have a moment where every little thing is simply going to be all right.
You know who really ruined the Brits for me? The Irish. At this moment I can hear the screams and howls of my UK colleagues. They have told me, repeatedly, that the Irish are boring. Pretty standard opinion.
The Irish are anything but boring. They are the most cheerful, upbeat, hilarious people. Take a long gander at Irish history, look at the waves and waves of hellfire and damnation they have endured. Including the most recent thirty years!
Look at the strife, the upset, the horrors they have baked into their DNA. And then tip a pint and laugh your ass off, because the good people of Ireland won't complain. They'll laugh about their own misery, joke about their pain.
So maybe my Anglophilia is now Irishphilia? Yes, I did just make up that word, why do you ask?
In the time I spent in Dublin I found all of the things I liked about England with none of the complaining. And a cracking good sense of humor.
Maybe what happened is the Irish stole my love for the Brits and did so with charm and a gleam in the eye. The reserved, closed in, afraid to be embarrassed, must complain even when having fun British suddenly look, well, dare I say? Boring.
Take me back to Ireland, I still have some fun to attend to there!
Or, perhaps, let me finish my big project and back away from these fine British citizens for a while. Time and distance may make my heart grow fonder.
(The irony is not lost on me that I spent almost 700 words complaining about people who complain.)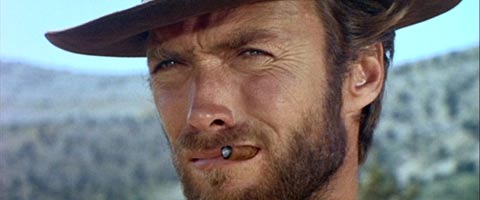 Image found here

As long time readers of the blog are aware, last year my very multi-national job had me on the phone at all hours of the day with coworkers and suppliers across the globe.
While I have always enjoyed dealing with people from every country around the world, I do have a certain affinity for the good people of Britain. One might even call me an Anglophile. Oh yes, visiting the motherland last year felt so right, like coming home. My ear always perks up to the sound of a good British accent and over this past Fourth of July weekend, I found myself maudlin remembering how I'd spent last year's fourth by the Thames.
I changed jobs in January and I now work for a very, very American centric institution. Doing business with other countries is rather, ahem, foreign to my coworkers.
To be honest, my global background is part of the reason I was hired, but in moving to this job, I had to let go of my dreams of further global travel. It was a tradeoff I was quite willing to make in order to salvage any auspices of a work-life balance.
So imagine my delight when, yesterday morning, I had a call scheduled with a counterpart in Cambridge, UK.
And not just a call, but Skype video call. Big fun.
I smiled broadly to hear my very British counterpart discuss important matters of business. I giggled to myself at "Cheers, Karen!" when I'd made a useful point. And as the nice gentleman spoke, I found my eyes drifting over his shoulder and looking through the windows of his office and out to the green hills just beyond.
Oh England! How I miss you!
And maybe England misses me too, you know? Because damn, I am the one who walked away, and look, here it is again, loitering about, hoping to get my attention. We were only apart for a scant six months.
Cheers, Britain. We'll be together again someday. Hopefully soon.

The Thames, taken just one year ago from the Westminster Bridge. *sigh*

Photo Copyright 2012, Karen Fayeth, and subject to the Creative Commons license in the right column of this page. Photo taken with an iPhone4s and the Camera+ app.

Blog post written for and on behalf of The Good Man.
_________________


Late last week we all got the news that the Supreme Court had handed down their opinions regarding both the Defense of Marriage Act (DOMA) and California's Prop 8. There was much news coverage all around as same sex couples are now allowed to marry and receive federal benefits.
As in any Supreme Court case, there is the majority opinion and the dissenting opinion. Each must be written up as a point of record.
In the instance of DOMA, Justice Anthony Kennedy wrote the majority opinion and it was Justice Antonin Scalia who wrote up the dissenting opinion. I actually made it a point to read Justice Scalia's opinion as I was interested to hear what points he might make in his dissenting case.
What I got was a blast of vitriol, indignation and sarcasm.
My favorite line in the whole piece, however, was this:

"As I have said, the real rationale of today's opinion, whatever disappearing trail of its legalistic argle-bargle one chooses to follow…"

Did he…did a Justice of the Supreme Court of these United States just use the term "argle-bargle"? Is that for real?
I looked around and confirmed in several spots that indeed, yes, the term argle-bargle is now a part of the legal and constitutional history of our country.
Wow.
So of course I immediately sent this over to The Good Man. We are both big fans of the television show Boston Legal which often featured a doddering old judge (played to perfection by Shelly Berman) who would use terms like "stop all this jibber-jabber" and then proclaim "I am the decider!"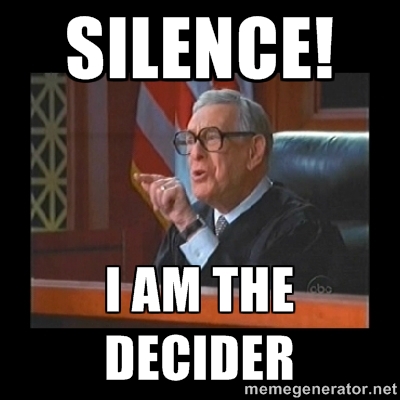 So good they made a meme

But it was The Good Man who reached even farther back into the folds of his brain and pulled out an audio recording he remembered from his youth.
On an album entitled "Monty Python's Previous Record" released in 1972, there is a track named "Teach Yourself Heath".
In the track, the Python crew mocks the accent style of British conservative Prime Minister Edward Heath. This would be something akin to the Saturday Night Live tradition of sending up the US President.
Click here to give it a listen if you wish. It's at about the 3:22 mark (for reasons unknown this clip is subtitled in Spanish):
In the clip, the phrase argy-bargy is used. A short Google search shows that argy-bargy is a rather low-brow bit of British slang used to describe a lively discussion or vigorous dispute.
So this begs the question: Did Justice Scalia really use modified British pub slang in his dissenting arguments?
and
Is he just a big ol' Monty Python nerd?
Either way, it's pretty fascinating. Usually American politicians tend to shy away from anything British, especially anything relating to British politics.
As we get very near the day of celebrating our independence from the King of England, Justice Scalia went all Monty Python. (Do you think he has his own funny walk under that robe?)
Wow.
'Merica! With a British twang.

Judge Robert Sanders photo found here and Monty Python photo found here.

Today in the very small hours of the morning, I found myself wide awake.
Wide. Awake.
I do not know why, exactly, my body said, "hey, you know, 3:12 am is an awesome time to be awake. Let's do it!" I could only go along with the overbearing wishes of my body and try to get through.
So there I lay, staring at the ceiling and contemplating my life, and I noticed quite a racket going on outside. One mutha of a late winter storm came ripping through the Bay Area last night. Intense winds howled and pile drove raindrops into window panes.
But that wasn't the noise that had my dander in a full upright and locked position. Nope, it was the gall dang wind chimes that the neighbors above us have hanging from their balcony.
I really deeply profoundly dislike metal tube clanky wind chimes. The high pitched sound actually assaults my ears.
"But what about those cool bamboo chimes" you might be asking.
And I would reply, "No. No no no no no nonononononononono."
We have rules about not forcing neighbors to listen to your smooth Muzac jazz played loudly over a stereo. We regulate leaf blowers. We ask that noisy cars be muffled.
But clank makers are juuuust fine. Assault the ears of your neighbor all you want.
I DO NOT WANT TO SHARE YOUR CLANK NOISE!
I am a woman of New Mexico. Wind is not something we celebrate or entice to visit our balconies. Wind is something to be endured along with tumbleweeds, goat heads and rattlesnakes (see: safety training from yesterday).
With teeth gritting and bile rising, I tried to use my whirling mind for the greater good of all mankind and the 35 other units in the building. With my new harness training in mind (see: safety training from yesterday) I considered scaling the exterior of the building up just one floor and yanking those clank tubes clean off the deck.
But it was so cold and rainy outside I figured by the time that journey was done I'd really be wide awake. Plus the neighbors might be a tad cranky at my destruction of their property.
I considered using a high powered pellet gun to shoot them sumnabitches off the side of the building, but The Good Man had a long talk with me about the use of gun-like devices in an urban setting in a state that has no sense of humor about these things. So that was out.
So that just left me very awake, cranky and frustrated.
Rattin' smattin' windchimes.
Turns out my friends across the pond are with me on this:
Why wind chimes are the UK's most hated garden accessory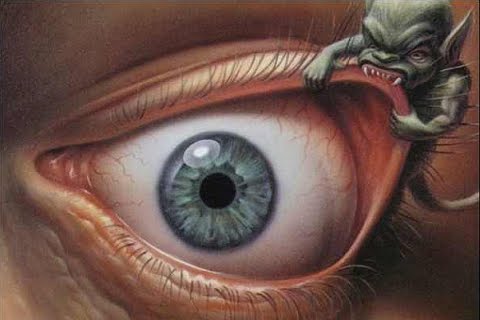 Photo from Notes From A Burning House.