And so as I was perusing my Facebook timeline this morning, idly reading posts while breakfast was consumed, I came across a post from Chile Monster, a good group of folks that I follow.
Contained in their post was a link to an article about a woman who had moved to New Mexico and her first experience dining at Albuquerque restaurant Little Anita's. She details how over time she learned to love green chile, and now living in Colorado, she found another location of Little Anita's where she could get her fix.
In the comment section of that article was the following quote:

I have the greatest disdain for it. Green "chili" is disgusting gruel. Chile verde is supposed to be made from tomatillos.

– Diego Raya

When I read that, I actually jumped a little as though I'd been touched by a live electrical current.
Then I said aloud to my phone in the quiet dark of my living room, "Whaaat the f*****k?"
It was at this point that I laughed. This had to be a joke. The Good Man wearies of me raging against tomatillos. In California, green salsa and green enchilada sauce are made solely with tomatillos and thus I avoid them at all costs. Occasionally there are some jalapenos thrown in. All heat and no flavor.
That is, as the internets would say, weak sauce.
Why anyone would prefer tomatillos over green chile is a mystery to me. There is actually room in the world for them both. I believe true chile verde has both, but I won't quibble with the adamant commenter.
In the aftermath of reading the quote, I went through many of the stages of grief. I was disbelieving. I was angry. I was sad. Then I accepted that one Mr. Diego Raya is entitled to his opinion. And also his utter lack of taste buds.
Then I realized, let Mr. Raya have his silly green tomatoes. Piles and piles of 'em. Let him have the entire watery crop.
Eat, Mr. Raya, eat! Enjoy every last one.
Just leaves that much more green chile for me and my people.
Move along Mr. Raya. Nothing to see here.
O Fair New Mexico, we love, we love you so…

Image Copyright 2008, Karen Fayeth.

In a full to overflowing bathtub, I relax, soaking the ache out of legs and content to be surrounded by water. It's not long before I slide down, legs crawling up the wall under the shower, head dipping below the surface. My right hand plugs my nose and my left hand covers my eyes like a sleep mask and water fills my ears.
I savor these few moments I have to just float in nothing.
The water amplifies noise but bends the sound waves into something more beautiful. Even the passing fire truck with its shrill siren and blaring horns sounds almost musical when passed through my warm, clear water. The rhythmic hum of the clothes dryer puts me in a trance and I enjoy this until my lungs ask politely and then not so politely if we can surface and take in some new, unused air.
I reluctantly rise up and gasp in a big breath and go under again. It's just too delicious and quite addictive. This time I think about buying a snorkel so I can stay under the water and still breathe. I've considered buying a snorkel so I can stay under my bathwater ever since I was a kid.
Even as a child I was drawn to the solace and quiet of being under water. One early evening as I was taking a bath and creating my own sensory isolation chamber, my mother walked in to check on me. As any protective mother of three children would do when presented with the sight of her youngest lying apparently lifeless in a bathtub full of water, she freaked out.
My mother yanked me from the water and shook me hard, shouting my name. I unplugged my nose and uncovered my eyes and said, "What?"
I got a well-deserved and thorough chewing out and was told in no uncertain terms that I was never to simply slide under the water and remain motionless. Ever.
When I later emerged from my bath and got dressed and ran a comb through my unruly long hair, I was confronted by my father who ripped into me for scaring my mother.
I always thought that was quite unfair. I didn't set out to intentionally scare my mother. I simply wanted a moment, if even half a minute, where I didn't exist in the world. Where everything was blocked out and time slowed down and sounds bent in pleasing ways.
My solution thereafter was to continue to dunk my head well below water and plug my nose with my right hand. With my left hand, I would raise it above the surface and wave it like the Queen on parade so that any passerby would know I was still conscious, just submerged.
This seemed a suitable solution for all. A nice compromise.
I've always wanted to visit one of those sensory isolation tanks. It sounds like a little slice of heaven to me. Floating in a tank with no light and hardly any sound and just the quiet to embrace me. Yes, I think I would love this very much.
The Good Man thinks I'm half a bubble off level to consider this. "I always figure while you are locked in there, the people outside will steal your stuff or do something weird," he says.
This is how his mind works. This is not how my mind works.
A few years ago we visited a spa in Calistoga, California. The spas in Calistoga are known for their mud baths. You give them money and they allow you to slide your nekkid body into a warm tub of slightly sulphurous goo. The weight of the mud resists your body, you actually have to dig in there. Once settled, you are surrounded and suspended and oh my goodness I could have stayed in there for weeks.
The Good Man did not feel as kindly toward the mud. He said he was antsy the whole time he was in there and ready to vault from the tub. He couldn't wait for it to be over. I never wanted it to stop.
Perhaps it's something Freudian that I like to slip into warm suspended places and forget about things for a while. I choose to think it rather normal to want to seek out genuine moments of respite where the world and all its crazy spinning and shouting and clanking and cruelty goes away, for just a moment. For as long as it takes me to hold my breath.
Until I buy a snorkel.

Image found here.

Oh me oh my oh. Sometimes I really have to step back and just wonder what in the hell is wrong with me.
I try to be a normal person, I really do. I try to keep the weird under wraps and show a normal, professional, got-it-together face to the world.
But I ain't got nothing together. It's all just a shuck and a jive.
On Friday, I managed to embarrass myself pretty good.
See, I've been feeling a little bit on edge about the new job. I really, really like the job and my manager and the people I work with and perhaps I've become almost too emotionally attached to this place.
It's an awesome gig! With how crazy busy things have been recently, I have made a few mistakes. One medium sized, one a great big whopper. Wheew. I do hate making mistakes on a grand scale.
I'm used to making mistakes. I always say, "It's not whether or not you make a mistake, it's how you get back out of the mistake that matters." And it's true.
Trouble is, I not only made these mistakes, but being so new I don't even know how to back out gracefully. So I've been flailing at it.
Flailing. Never a good look.
I suppose I am actually grateful that I got sick recently because it took me out of the game for several days. That flu laid me down not-so-gently and gave me respite. And perspective.
Coming back to work I felt humbled and ready to step back in and be more calm and methodical about how I approach my work.
Then there was Friday. For reasons I can't fully explain, I was totally out of sorts on Friday. Quaveringly low self-esteem, a bit of anxiety, and just all around trying and failing to keep it together.
At lunch I decided to head outside. My sister and I had been chatting about this fabulous under eye serum she found and I was off to Sephora to procure some of my very own. I thought it would be a nice bounce to my self esteem.
I got up from my desk and felt pretty ok. Threw my shoulders back and was doing my best "fake it until you make it" strut.
I went out the front door of the building and saw four coworkers (one of them an employee on my team), I smiled and said, "hey, that looks like trouble" and threw my head back and laughed just about the time the toe of my sandal caught the uneven concrete.
Then I went ass over teakettle. Right there. In front of a crowded foyer, lots of people outside, and four of my coworkers.
Oh, and everyone gasped and many people came running over. "Are you all right? Are you ok? Here I'll help you up" was like a loud chorus swarming around my head.
Now, here's the thing: I fall down all the time. My whole life. It's just something I do.
Usually falling down happens in one of two scenarios. 1) I am feeling pretty overwhelmed and "out of it" or 2) I am feeling overconfident.
Well, Friday's tumble definitely falls into category one. Overwhelmed. I tend to lose track of my feet and the results were incredibly humiliating.
Since I fall down so much, when I roll to a stop and quickly assess my limbs, and I realize I'm fine (and since I'm so well practiced at this I'm almost always fine) I start to laugh. C'mon! Falling down is funny!
But I think my sitting there on the ground cackling at myself makes people really nervous. I guess I'm supposed to be upset and crying when I fall. Hell, I'm not giving anyone that satisfaction! I'm going to laugh because falling is totally funny! Even my own tumbles are pretty dang hilarious.
Anyhow, I waved off all the hands reaching out to pull me up and repeated like a mantra, "I'm fine, I'm fine, no I'm not hurt, I'm fine."
I got to my feet and walked away, intent on going to my car and still having my fun lunchtime shopping break, despite the dirt and gravel stuck to my backside.
Then I walked past a picnic table out by the parking garage, near to where all the fuss had happened.
Two young women sat at the table. As I walked by, one said to the other, "It's because she's so fat."
Ouch. That's not funny. That's not ooops I fell down but I'm fine rocking good time Karen. That's just mean.
So I walked away from them and went around the corner and I called The Good Man, because he felt like the only person in the world who might actually be on my side.
And of course, he was. So I promptly started crying. Sobbing, actually.
Thankfully he was nearby to where I work and he came over quickly whisked me away. We had lunch and he said soothing things and he took me to Sephora and I got my eye cream anyway.
Then I went back to work and I was (mostly) fine.
Because when the world is mean and gravity isn't your friend, it's nice to know that no matter what all those people think, The Good Man still likes me and believes I'm an all right person.
I worked for a few hours quietly in my office then I left work a little early and enjoyed my Friday late afternoon.
Today, Monday, I still feel a little sheepish. I am a manager, fer chrissakes and falling and flailing don't inspire confidence from the troops.
Somehow I have to get my mojo back. Not sure how, just need to. And fast.
Maybe I should post an ad: LOST! One mojo. Last seen about a month ago. Really funky and fun. If found, please return to owner. Excellent karmic rewards upon return.

Image found here.

As mentioned yesterday, last week at work included a roomful of auditors which meant that we not only had to be on our best behavior (for a whole week!!), but we also had to entertain these auditors for the duration of their stay.
When my Boss Lady informed her very own team of minions that we were each expected to attend a dinner with the full audit team, I replied, "But I don't wanna eat dinner with auditors!"
Not to one to be easily swayed, she replied, "Well you're gonna!"
And so I did.
Wednesday night last week we went to a local, popular and well Yelp-ranked dining establishment. It is an old warehouse converted to an eatin' place, as is so hipster cool these days.
I found myself seated right next to one of the auditors, a pretty decent guy from Chicago. Conversation was formal and challenging at first. We were both very guarded.
The fare at the restaurant was simple and good. Not great, but got the job done. Thankfully they had a nice wine selection which helped lubricate the conversation over dinner with a bunch of stilted business folks.
At the end of the meal, and full of enough wine to matter, we were all chatting like old friends. As plates were cleared, dessert menus were plopped on the table in front of us. Since it was a busy night in the warehouse food place, the waiter asked us to share dessert menus because they were running low.
Chicago and I leaned in to look over the selection of sweet treats to end the meal.
Since I've had to concede that I actually *do* have lactose intolerance (despite all my best attempts to ignore it and pretend otherwise), looking over the dessert list has become a bit more difficult than has been in the past.
I have to be more thoughtful about my choices.
"So, what are you thinking about having?" Chicago asked.
"Well," I said, "I'm not sure. Maybe that berry crumble?" He looked at the listing then sat back in his seat and sighed.
"Berries not working for you tonight?" I asked.
"It's just that…" he faltered. "You see, it's served with ice cream. And I was recently diagnosed with lactose intolerance."
"You too!?!" I asked, way too over-excited to find someone else with my gastro intestinal dairy related woes.
We lamented together. He told me that he really misses milk, especially a big glass of cold moo juice with a stack of chocolate chip cookies. I lamented the loss of a late night cereal snack. I told him I'm using almond milk these days and he shook his head, "Yeah, that's ok. Not like the real stuff though."
"Yeah," I couldn't help but agree. "And I miss ice cream. Oh, wait!" I said, then dug around in my purse and withdrew four Lactaid packets. Enough for us both.
So we both got sort of happy and turned back to the menu and looked again. "Maybe that ice cream…" he said.
It was my turn to sit back with a thud. "As I am sure you have also discovered, Lactaid is an imperfect solution. I don't know about you, but it helps a little, but not that much."
"Yeah," he agreed. And then we both looked sad.
Then Chicago reached out and turned over the menu to the coffee and aperitifs section. "You know," he said, "We could solve this problem by skipping dessert and having a glass of port."
My eyes widened and I said, "You. Are. Brilliant."
And so we did. Two glasses of ten year tawny port were ordered and consumed and I felt nary a tummy rumble after.
Later, without even knowing it, The Good Man was also pleased with my choice.
Because lactose intolerance doesn't just trouble the afflicted. No, it impacts loved ones too.
I guess I'm learning to live with this terrible, awful affliction.
Good thing I still tolerate wine okay. *grin*

Image found here.

Whew, and wow, and holy cow and other explicatives.
So here I am, back here at the ol' blog and oh-so-happy to be back.
This past week was the first time I've ever taken a break from My Fair New Mexico in the six years I've been at this game. It was really hard for me to step away. Really, really difficult.
Writing somewhere around a thousand words a day about whatever is on my mind is what keeps me sane. Well…as sane as I can be. Which isn't much.
Here's the low down on the time away:
As ya'll know, I've started a brand new job, in fact I've been here just shy of four months. Still a total newbie and trying to make a good impression.
From the day I started this gig, I was told that there was this really Big Deal coming up at the end of April. The big deal is an audit.
A big whopping audit that looks at our department top to bottom. The review includes our systems, our files, the cleanliness of our socks. All of it.
At the end, the head office decides if we get to keep doing what we are doing, or if we are so out of alignment that every project we do requires executive oversight and approval. (there have been entities that have failed the audit in recent history)
Yeah. This is a huge deal. Basically if we failed the audit, our department would face massive cuts, and being the new person on board, well…make your own conclusions.
Only a tiny amount of GIGANTIC stress.
On top of that, my own sub-team had a massive project due on Tuesday of the same week and one of my (senior level) employees was just not getting her job done. Worse, she seemed not to care one whit that we were going to miss the project drop-dead deadline.
Missing the deadline would mean incurring the wrath of the Chief Information Officer of the company, a formidable person. At four months of employment I am still on probation, so incurring the CIO's wrath now wouldn't be a good look for my future here.
And so I was worried. Really worried. Walk the floor at two in the ay em kind of worried. I was getting little to no sleep, working very long days, and filled with massive amounts of stress and worry. This of course, just a short week after The Good Man and I had finished moving to a new town. So no stress there either. *harumph*
To make the long story short, we passed the audit. Yay! And after some yelling and application of heavy doses of guilt my employee finished the project (just barely), so we dodged that bit of unpleasantness from the CIO. I did get a good butt chewing from my boss for letting it get to the very last minute.
So by the end of that week of hell, more precisely by Friday about 10:30am, I was sick with hundred degree fever and sinus pressure so bad I thought my head was going to pop like a kernel of corn in a frying pan.
Brutal. Just simply brutal.
From Friday until yesterday I haven't even been on the planet. Between fever and Theraflu I think I went on some sort of vision quest. I may have seen my spirit animal, I'm not sure. And the Theraflu dreams. My god the angels and gargoyles that haunt my fevered mind.
Today I am mostly back. Running at about 80% perhaps which is a damn sight better than where I was last week, but still not good.
And so, my dear and loyal readers, that is where I was when I urgently posted on April 30th that I wouldn't be writing on the blog for a while.
It made me sad to have to post that and walk away.
Let's not be apart like that again, ok?
Ok.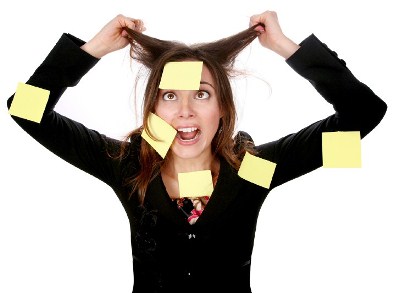 Image found here.

Over the weekend came the very sad news about the passing of Hollywood legend, Ray Harryhausen.
The Good Man was a lifetime Harryhausen fan and introduced me to the magic that Ray made only recently. How badly I had been missing out.
At 92, Ray lived a good long life and he leaves behind a legacy of work. His stop motion animation paved the way for so much of what you see now in this CGI-heavy film world.
Mr. Harryhausen will be missed, along with his best friend, Ray Bradbury. Tough to lose both Rays within the course of a single year.
To remember Mr. Harryhausen, I am reposting something I wrote back in 2010 when I first learned to appreciate Harryhausen movies. You can tell from all the exclamation points how totally into his movies and the animation I was (and am).
For you, Ray.

———————
This old dog learned a new trick
Originally published February 5, 2010

At Christmas, my husband received a great gift from his step-mom. He unwrapped it and exclaimed, "A Ray Harryhausen collection! Honey, look, we got a Ray Harryhausen collection! Wow, thank you!"
And I was like, "who?" My sweetest is an educated film guy, so I figured it was some obscure director of strange and dark independent films. So I said, "hey, great!" with a shrug.
Who knew I was TOTALLY missing out?
In my ongoing film education (The Good Man is keeping a list. I'm working through it….) he popped "The Seventh Voyage of Sinbad" in the ol' DVD player while I was eating lunch one weekend afternoon.
I was immediately hooked in. Yeah baby! I figured out just who Ray Harryhausen really is. A master of creating amazing creatures in stop motion animation.
The stumbling roaring Cyclops from the late 1950′s is every bit as creepy today. In fact, in a lot of ways, I actually like that better that today's overly CGI'd movies.
At the end of the "Seventh Voyage of Sinbad" DVD, there were some special features. One was clips from when Harryhausen got an Oscar (presented by his best friend, Ray Bradbury. What a pair they must make!) and at the conclusion of Harryhausen's acceptance speech, Tom Hanks comes onto the stage to bring on the next award.
He makes the segue by saying, "I know for some people it is Gone with the Wind or Casablanca, but for me, it's all about Jason and the Argonauts"
I looked at The Good Man and said, "Well we have to watch that next, then."
And so we did. We watched as Jason and his merry band of Argonauts fight a huge bronze statue of Talos that had come to life and, oh man this part was cool, a whole army of sword wielding skeletons! Skeletons! I *love* skeletons! They clacked and grimaced and fought. Aw damn, how very cool!
Then we watched "The Golden Voyage of Sinbad" and I remembered that I saw this movie when I was a kid, most likely on TV. I watched it with my big brother back in the day. I remembered the blue Shiva with swords in all the arms. (and let's talk about the very naturally endowed Caroline Munro. Rowr! It's so rare these days to see an un-surgically enhanced actress.)
And finally, we had to get to THE must see film in the collection because, well, it's set in San Francisco. The next in the series of my SF film education.
The movie was "It Came from Beneath The Sea." Yeah baby!
What the movie lacked in dialogue and story (and it lacked A LOT), it more than made up for in great animation.
Oh, that angry squid snapping the top off the Ferry Building and wrapping tentacles around the Golden Gate! Whoa! And that far-reaching tentacle slapping down Market Street, squishing unsuspecting citizens!
Good stuff!
So I'm now up to speed on Harryhausen. I have also watched the Dirty Harry movies. Then we did the Hitchcocks set in SF (hello Vertigo!).
I'm excited to see what's next in my ongoing film edjumacation! I have so much to learn.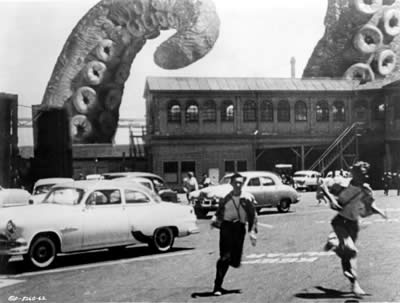 Image is a still from "It Came From Beneath The Sea".

Hi! Yeah. So here's the thing. I'm am up to my backside in alligators and working twelve to fourteen hour days.
Something's gotta give.
Unfortunately it's my favorite blog.
I'm going on a short hiatus, about a week, while I search for my sanity.
I'll let you know if I find it. I wouldn't lay money on it.
Don't give up on me, I'll be back.
Toodles!

Sleep. What a beautiful thing it is. When it happens.
During my early life, sleep was never an issue for me. I would lay down, think up a story or something in my head, and soon I'd drift into good sleep. Then I'd sleep many good solid hours and I'd wake up feeling fine.
In my twenties when I dated a blues musician and I used to attend his gigs which often ended at 2am. I'd go home and get up and be at work by 8am. I'd work a full day, then come home, go to bed by 7pm, sleep something like twelve hours and be fine. How audacious.
That's how easy sleep has always been for me until the last five years or so. Now sleep is an elusive thing. A will-o'-the-wisp that seems to dance at the periphery, just out of grasp.
I still go to sleep with relative ease, but staying asleep, that's a whole other matter.
I have consulted with professionals on this matter. The answer? "Well, you know, it's common for women of a certain age to have this problem."
Bah! I know plenty of women my age who sleep just fine through the night. I also know quite a few women who struggle like me. Men too.
So last night, as I lay there in my familiar bed in my still unfamiliar home, not sleeping at 3am, I started feeling like I am going crazy. Seriously. The thoughts went like this:
"I am going insane. I mean…truly insane. I am not sure I can keep a grasp on the little bit of sanity I have left. Wait, is someone who is going insane aware of that they are going bugnutty? Or does the slide into crazyville go unnoticed? How does one go insane? Probably like that old saying, slowly and then quickly. If I slip my nut does that mean I have to go into an institution? How will The Good Man deal with that? He would not be happy to have me in a hospital, pent up and pulling at the tethers holding me down while shouting strange things."
Of course, all of that kind of obsessive thinking does NOTHING to help sleep show up again.
So I got up for a while and The Feline joined me. She had a snack, I looked at email on my phone (with the brightness at the lowest possible setting).
After a while we trooped to the bathroom together and then went back to bed. The Feline was snoring within minutes. Sleep was a little more elusive for me.
I woke up with my alarm and reassessed my situation. Am I going insane? I asked The Good Man. He reminded me that lack of sleep sure feels like a short ride into crazyville.
Today, just past lunch time, sitting at my desk, I feel fine. Reasonably sane and a fairly normal working drone. I am tired but I don't feel like my sanity is at stake.
All is well.
Until 3am rolls around again and I'm tearing at the sheets desperately trying to find sleep.

Photo by superburg and used royalty free from stock.xchng.

*blink* Ow!
*shrug* oooouch!
*wiggle little toe* aiiyyeeeeeee!
Ah yes, folks, the unmistakable sounds of a post-move body.
Everything hurts. My arms and legs are bruised all to heck and my knee is making a crunching sound it didn't used to make.
In my younger days, I would bounce back from this sort of event within a day or two and go on about my day. Today I have to remind myself to get up from my desk at least once an hour or I will surely become locked up like the Tinman.
When the alarm clock went off this morning I muttered "should have taken today off" but alas, I didn't.
For a work day, I have to say this morning was pretty nice. Instead of my usual 45 minutes to an hour commute across busy roads and over a bridge, today my commute was just 13 minutes (I timed it) on surface streets.
That right there makes a few days (weeks?) of sore muscles all worth it.
So far we are loving our new pad. A lot. On Sunday we took a short walk in the neighborhood and managed to meet the neighborhood kook. She's a friendly kook, but a kook nonetheless.
I happen to think knowing the local kook is an important part of settling in to any neighborhood.
So for now we are still living out of boxes, but we've even put a pretty good dent in that work. All in, I'd have to say the whole move went really well.
It was, dare I say…a smooth move? (*snicker, snort, guffaw*)
Onward to this sunny Spring Monday. May you all have a song in your heart and a bounce in your step.

Image found here.

While I am thinking about the crazy things happening in the amazing town of Boston right now, I have to also step back from new coverage. It freaks me out and hypes me up and that's exactly what these media agencies want from me.
So here's my solution (image from mlkshk.com and found via friend of the blog @ReenieWeenie on Twitter)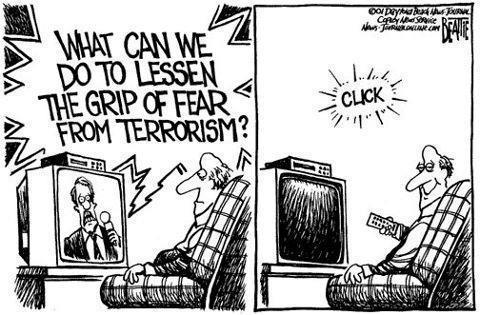 Yeah. That seems to work best.
In other news….
Sorry for being a MIA the past several days. There's a lot of stuff going on including crazy stuff at work (for FB friends the gopher chewing through a key fiber link was just the beginning) and The Good Man and I are moving to a really cool new pad, but right now life is boxes. Bleah.
But! Today the weather is gorgeous and those I love are safe and healthy. For that I have gratitude. Meanwhile I wish for the best resolution possible for this Boston situation.
Happy Weekend!
Kinda hard to be a resident of the San Francisco Bay Area and not sing Journey's little ditty a few thousand times.
This weekend my best friend in the whole wide world came to visit. On Thursday morning I felt lost, but by Thursday afternoon when her plane landed I was starting to find my center once more.
One of the things we did this weekend was have a knockout dinner Friday night at San Francisco's venerable Tadich Grill.
Then we wandered down to the Embarcadero to check out the new art display taking place nightly on the Bay Bridge.
It looked a little bit (exactly) like this: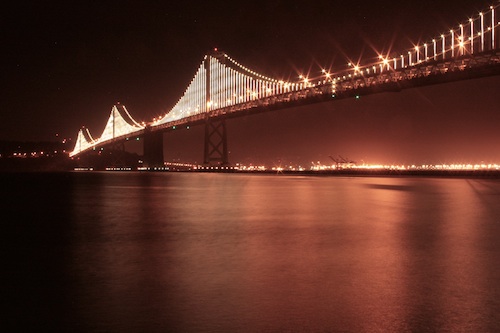 The Golden Gate Bridge usually gets all the love, with poetic odes to shimmering orange paint where the bay meets the sea, but the Bay Bridge is the real jewel of the Bay Area in my opinion. It is the hardest working bridge and still manages to be a knockout. Pretty, functional and smart. That's my girl.
This new light show by artist Leo Villareal is simply adding sparkle to an already gorgeous masterpiece.
It was a beautiful warm spring night in my City by the Bay. It's days like that where my New Mexico heart is filled with San Francisco joy, and every little thing seems just right with the world.

Photo Copyright 2013, Karen Fayeth, and subject to the Creative Commons license in the right column of this page. Taken with a Canon Rebel and a thirty second exposure. Touched up a little in Photoshop Elements.

Earlier this week I received the results of a competition I had entered, and for which I held out great hope. It was related to my writing and even an honorable mention would have been a huge step forward for me.
While entering I knew it was a long shot, but I really believed I had a chance.
Predictably, when the results were announced I was nowhere in the list, and yes, this got me a little down.
That's the trouble, sometimes, with having hope. A burgeoning flower bud of belief can so easily get ravaged by insatiable locusts (over dramatic metaphor alert!!!).
When one is a rather sensitive artist type, it's hard not to feel steamrolled at such times. Then again, what separates the doers from the dilettantes is tenacity.
So after feeling mopey for several days I am starting to rally. In defeat my resolve becomes just that much stronger.
For almost two years I have been using a really wonderful service that forces me to submit writing to literary journals every quarter. They are strict taskmasters and they keep me focused.
Once every three months I send out about thirty submissions, of which most of them are rejected. This means piles and piles of both email and snail mail arrive at my door just to say "you are not a good fit."
Amazing how something like two hundred rejections can really make a girl immune to the woes. It's like a pair of ill-fitting shoes. At first it hurts, then it makes a really painful blister, then finally a callus forms. The thin skin has toughened to endure the scraping.
Like that.
This morning I was thinking back to about seven years ago, back before The Good Man and I had married, and he was living in San Francisco's North Beach. A really cool new art store had opened on Columbus Ave. near his place and I was just beginning my foray into the visual arts. Visual arts were a big departure from writing, which had dominated my creative juices for so long.
I loved everything about the art store and bought quite a few supplies there. One day they had posters up announcing an auction. Customers were invited to submit art works and the store would display them and then at the end of the month, the store auctioned them off for charity.
Great! I was on board. I created an item to give to the auction and when The Good Man turned in my piece for me, he was asked to put a starting bid. Because he loves me and encourages my work, he put the amount of $50 as a starting price instead of starting at zero as most other artists were doing.
Later, when we walked into the store to see my stuff on display, my piece was at the very, very back of the store among the tools and shelves where they stretch canvas. My work was clearly more amateur than the rest of the offerings and it stood out as the only one using the photographic medium, but ok. It was on display which was a huge rush.
When the auction was finished, they called to ask me to come pick up my work. The rather arrogant and sniffly clerk informed me bluntly that my piece was the ONLY one that hadn't sold (meanwhile, he gave us a flyer so we could attend his exhibit of butt ugly paintings at a local small gallery).
I was, of course, embarrassed beyond belief, humiliated and totally crushed. Being judged by a more experienced (and in my mind, more talented) artist just about did me in.
Just thinking about it still gives me shudders of embarrassment. This morning in the wake of my recent defeat I thought again about this experience. I recalled today that among all the donated pieces, my work was the only one that listed a starting bid.
All others put in a starting bid of $0, and they all sold. Snotty clerk said they didn't have a lot of bids and bidders. All of this means that at the end of the auction, someone could have thrown $5 at a piece of artwork and would have won.
Today I understand that instead of being sheepish about that whole thing, I should be proud. I may not have sold my work but I valued my art enough to put a price on it.
Which is stronger? Valuing my own work and not selling it at that auction, or giving it away for free, thus saying the value of my work is nothing?
I know which one I choose. Today I have straightened my spine and I feel a little better.
In defeat, my mettle is being tempered, and that only makes me stronger.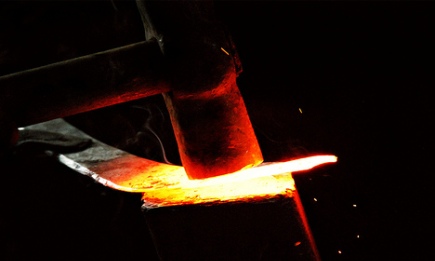 Image from ScienceGuide.nl.

A few weeks ago I was walking out to my car after another real long day at work, when I smelled something a little sweet, a little nice, and a little out of place for a corporate parking lot.
My head whipped around and I saw a rather large burly man sitting on a parking berm next to his motorcycle and he was smoking.
Yes, I live in the Bay Area, but no, you cheeky monkeys, it wasn't skunk weed that I was smelling…
The man was smoking a clove cigarette.
My first thought was "What, is he in High School?" and my second thought was "What, is he a girl?" and then the smell of sweet clove smoke wafted over me and I was shoved into the Wayback Machine and transported back in time.
So there I am, a sophomore at Del Norte High School and it's after a football game and my friends and I have found our way to the McDonald's at the corner of Academy and San Mateo in Albuquerque, New Mexico.
That McDonald's belonged to our high school. Every high school had their "home" McDonald's and going to the other school's home territory, especially on a Friday night, was a whole scary and political thing.
So I'd already supped on French fries (all that I could afford) and was standing out in the parking lot doing what sixteen year olds do: I was slouching and skulking and just being a lump of teenager.
I was kibitzing with my friend Stacy who was sort of a wild girl. She didn't start out that way, but she turned that way pretty quick. She was small, dark haired, pretty and did this squinty eyed thing when she laughed which was terribly endearing.
Later, when we both tried out for the high school drill team and she made it and I did not (we had practiced together) and some distance came to our friendship. That and her affinity for drinking a lot of Everclear. I just couldn't go there.
But on this night we were friends and hanging out and she pulled a cigarette from her purse and lit it up. It smelled funny.
She explained to me that it was a clove cigarette. This particular item was very, very illicit because clove smokes were (and are) illegal in the State of New Mexico. She explained this was due to the fact that clove cigarettes will make your lungs bleed.
She told me this tidbit in that urban legend sort of way that made me wonder if what she said was really true, all the while I believing it 100%. I was (and still am) fairly gullible if told a good story.
So Stacy encouraged me to take a drag. I hesitated, thoughts of bleeding lungs in my head and firmly believing that the second something illegal touched my lips my parents would immediately show up and all hell would break loose.
After waffling, in a rare bit of rebellion I went for it (yes, taking a drag from a cigarette was, at the time, MAJOR rebellion) and she told me to lick my lips after, tasting how sweet it was. And it was.
I'd been so naughty! So *bad*! It was terrifying and exhilarating all at once!
Fast forward just over a decade later and I found myself living in California and oh my! Clove cigarettes are perfectly legal here! So I did some cool slouch thing into the corner store and bought a pack and felt very sophisticated and rebellious and adult and on-my-own and Mary Tyler Moore hat in the air "you're gonna make it after all!"
That pack lasted me several months until they dried out, and then I bought another just because I could. Every now and again on a lonely evening I'd pour an amber liquid over ice and sit on my front porch and smoke a clove and think about things.
Then, of course, a few years later my dad died from pulmonary fibrosis and smoking something that might make my lungs bleed seemed like a really bad idea.
Ok, meandering along the Wayback trail and getting to that train of thought quickly brought me right back to the here and now.
I sort of smiled at the big dude smoking a clove and inhaled deeply. It smelled so nice.
Such an unexpected scent to end my day.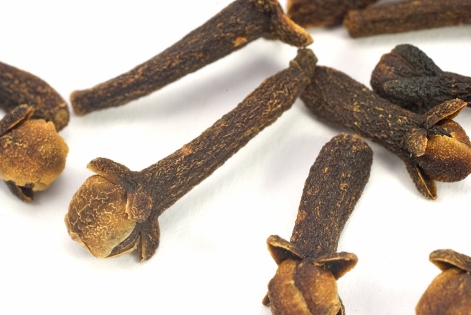 With all thanks to a Random Word Generator for giving me a wayback prompt, in the form of the word clove, on this sunny Monday.


Image by Kriss Szkurlatowski and used royalty free from stock.xchng.
Being a grownup is weird. Sure, in some ways it has its advantages, cookies for dinner, disposable income, no term papers. But mostly I find it's weird. In theory I've been an adult for a really long time, but I don't seem to be getting any better at it. And it doesn't seem to be getting any less uncomfortable.
Take for example, having a job. Every day I come to an office building full of fabric-covered six foot high partial walls. I'm actually lucky to have the six foot high walls. New companies are doing away with walls all together in favor of a collaborative environment. But here are these gray fabric walls and I sit at a pressboard desk and I do tasks that matter very much inside these fabric walls but to the rest of the world are mostly meaningless.
For example, on the very top of my to do list today is the urgent need to call a counterpart at another company and ask her how they structured a contract. Do you care if I make that call or not? Will it impact your life in any way?
Nope. Yet it's of the utmost and highest importance for me to accomplish today.
That seems so odd.
I sit in my little cubicle farm moo'ing alongside people who are, for the most part, strangers. Oh sure, I have great relationships with my coworkers, we all get along really well, but do I really call them my friends? Not really. I care about their well-being (sort of) for about eight to ten (or twelve) hours a day and then I go home and give them nary a thought.
We eat alongside each other, use the facilities alongside each other, spend a third or more of our days together but these people don't really factor into my life.
Today I'm in kind of a weird place. The person (I'm intentionally leaving this vague) who occupied the barn stall directly across from me was politely asked to leave the company early this morning. They were not on my team and I didn't have to be the one to have "the conversation."
I'm just a by stander.
I didn't know the person all that well, personally I mean, but we got along great. They got my sense of humor and they always kept a drawer full of snacks and when I started on my first day, they helped me get up and running.
I liked the person in that "hey you are my office pal" kind of way.
Despite knowing that there was trouble brewing, I'm still sort of boggled by the empty desk that now is across the aisle. When I stand up and leave my cube, I look right into that cube and where once there was life and a laugh and some awesome cookies, there is an empty chair.
Not knowing all of the circumstances I can't say whether this was deserved or not, but knowing the manager and knowing that manager is rock solid, I have to believe it was for the right reasons.
These are weird days. The media might say that the recession is over but I don't think it is. It's a tenacious little beast. In the first ninety days of this year, five of my dear friends were laid off from their jobs. And all five are struggling to find new employment.
The person across the hall wasn't laid off, but still I think about what they will be going through over the next weeks and months to land a new gig. It makes me a bit sad.
But honestly, can I dwell on it? Should I even dwell on it? The answer is no. I cannot get too bogged down in the whys and the hows and the what ifs. I can only sit in my barn stall and look at my screens and make damn sure I call that lady at that other company today because in about an hour someone is going to ask me what they said, and I should have an answer.
Because being a grown up is pretty weird that way.

Image from here.