This one goes out to all of us who found ourselves attending New Mexico State University back in 1989. Maybe it was 1990. Memory is funny.
This one is for the Ag College kids. I'm about to drop a memory on you. Come along with me.
I can't really recall what time of year it was, but it was sunny. That much I recall. Then again, it's sunny in Las Cruces an awful lot.
The band Foster & Lloyd were on the radio. Remember them? Back then we were all listening to Foster & Lloyd. A lot. And Dwight Yoakam. And the Mavericks. And more.
So along came the news that Foster & Lloyd were opening for a Los Lobos show at the Pan Am Center. Yeah, I wanted to go to that show real bad. Alas I was a broke college kid and couldn't afford tickets. I heard the ads on KGRT over and over and pined, but knew it wasn't meant to be.
So instead I popped my Faster and Llouder cassette tape into the boom box I carried in the car. Or maybe it was Verision of the Truth. Or maybe first one then the other. And I held my own car concerts as I rolled around Cruces.
Then something unbelievable happened. My best friend called, out of breath and excited, to tell me that Los Lobos had to cancel the show and Foster & Lloyd were going to do a free concert just outside of Corbett Center (the student union building at NMSU) in this little amphitheater area.
We gathered up all of our friends, an armful of blankets and made sure we went to that show. My best friend walked with confidence right to the front of the small stage area and staked out our place. Up close and personal. We sat, we listened, we sang, we were a bunch of kids feeling an awful lot like family on that day.
For a bunch of Ag College kids from NMSU (hands up now, "I believe in the Future of Farming…") having a national act come out and do a show FOR FREE was, well, that was about the coolest thing in the world.
That was a best-day-ever kind of a day. Back then anyway. Sitting here today I do have to admit that my wedding day is my best day ever, hands down. But back then to this New Mexico kid wearing dusty beat up goatskin ropers, that sunny Las Cruces day was really the best day ever.
My best friend and I slip into the Wayback Machine an awful lot when we get together, and that free concert is one we land on quite a bit. What I wouldn't give to have a real Wayback Machine and dial it to back to that day. I might never come back.
Toward the end of the show, Foster & Lloyd were really swinging. We were all riding a sonic high and at one point, Mr. Radney Foster wandered out into the audience and put a hand out to my best friend's little sister. He plucked her from our blanket and spun her around a little bit with the music.
My best friend and I were both elated and jealous as hell. In fact in the now twenty-five years hence, I know for sure that my best friend has never really gotten over it. Neither have I, if I am honest.
My best friend's little sister was and is a beauty. Gorgeous and sweet and funny as hell. She is pure awesome and I love her madly, so of course I can't be upset with her. Just jealous, I guess.
When we were in college, Little Sister was in high school and she'd find her way to Las Cruces and we'd take her out with us. When a cowboy would start to get a little too interested in her, my best friend would wander by and whisper "Um, just thought you should know…she's sixteen." That usually put an end to things.
So we were used to her getting a lot of the attention. On that day after Mr. Radney Foster twirled her under the bright New Mexico sky we laughed and hugged her and loved every second of that show.
It is a beautiful memory. Were you there too?
A few months ago I happened to stumble across Radney Foster's Facebook page and hit "like" so I could see what he was up to. I'd lost track of him after his Del Rio, TX 1959 album.
Then came the fateful day where he posted that he'd be playing a little venue called Freight & Salvage in mid-July. That's not too far from where this New Mexico kid is living these days.
Well, I hopped on those tickets so fast my credit card started smokin'.
And that live show happened just a week ago, July 15.
The Good Man had never heard of no Radney Foster until I showed him a bunch of YouTube clips in the days before the show. Then he was totally onboard. We stood at the front of the line when the doors opened and found second row seats in the general admission venue.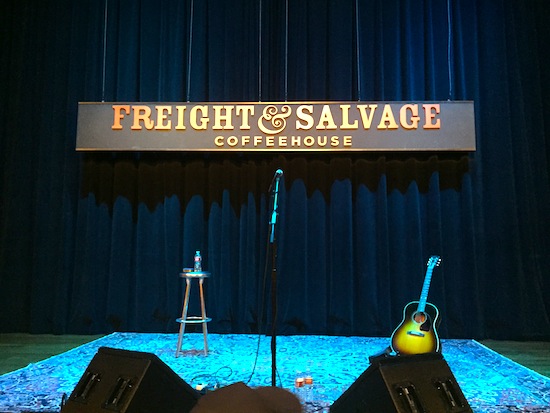 Photo Copyright ©2015 Karen Fayeth

It was just Mr. Foster and his acoustic guitar and he put on one hell of a show. Storytelling, songs, laughter. Man alive, it was really profound. It was like seeing a really dear old friend and picking up right where we left off twenty years ago.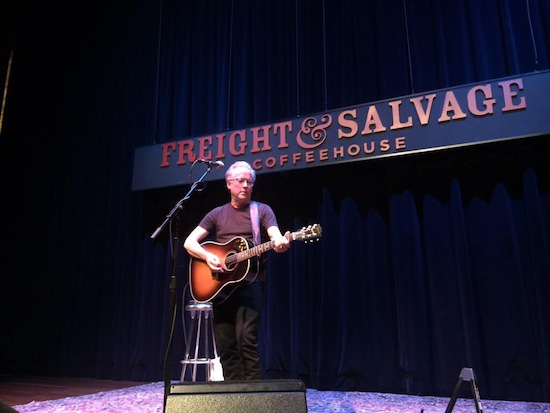 Photo found on @valisaschmidley Twitter stream because I was too gobsmacked to actually take a photo myself during the show.

I almost started crying when he hit the first notes of the first song. It felt so right.
And then…oh and then…
After the show, Mr. Foster came out to the front lobby to sign a few autographs and I jumped in line.
I practiced what I was going to say and when I got there, I let roll the story of that day, 1989 (or was it 1990?) in the grass outside Corbett Center in Las Cruces, New Mexico.
Given the sheer number of shows he has performed in the last 25 years, I was surprised that he actually remembered that one day. But he did.
"Oh yeah, we were rocking that day," he said.
"Yeah you were!" I replied.
Then I thanked him, I told him how much that free show meant to all us New Mexico college kids.
Then I reminded him about coming out into the crowd and dancing with my best friend's little sister. About how my best friend has never quite gotten over it.
Then I held out a copy of his new CD and said "Her name is Kate and you are going to sign this for her."
(The album is titled "Everything I Should Have Said" and it's awesome and you should pick one up. Here is the Amazon link and here is the RadneyFoster.com link ($3 cheaper!) Go on, click one of those links. You know you wanna)
And he did sign that CD. Oh boy did he ever.
Here's what it looks like. In case you can't read it, it says "Kate, You get the next dance."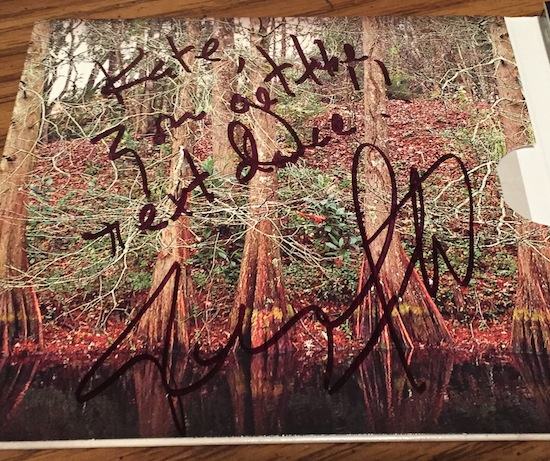 Photo Copyright ©2015 Karen Fayeth

C'mon! How awesome is Radney Foster? The correct answer is amazingly awesome!
I told him that he had just created some healing twenty-five years in the making and he laughed. Then I had that "hey, let's go grab a beer" moment and of course thought better of it. He's just the kind of musician you feel like you know well because he writes the kind of songs that feel personal.
Then I asked him to sign a CD for The Good Man and me, and he did.
I walked out of that venue smiling from ear to ear and remembering and laughing and just at peace with the world.
And so this entire post today and all of these stories are intended to bring all of my NMSU Ag College friends along with me into that Wayback Machine.
Were you there? Do you remember? Wanna reminisce?
This post is also to thank Mr. Radney Foster for helping create another amazing memory.
Whew. Today as I wrote this I listened to The Essential Foster & Lloyd album and it was almost hard to hear. So many memories both beautiful and sad captured in all of those songs.
Well, thanks for staying a while and reading all of these words. I'm serious about you grabbing one of those new albums. Get to clicking! And if you can catch Radney Foster live? Well even better.
____________

P.S. If you have ever wondered how a New Mexico girl could ever live in California, I suggest you obtain a copy of Mr. Foster's new album and listen to the song "California." (I believe it is also on YouTube) Then you will understand. According to the story, that song was inspired by a beautiful Bay Area sunset as viewed from the Oakland Hills. Saaaalute!

Recently I've been a little delinquent in spoiling The Good Man. Things have been crazy what with all of the international travel and working long hours and, well, life.
His birthday was last month and although we had a nice quiet celebration, I feel like I failed a bit to make the day something special.
The Good Man is a child of summer and it's easy to understand why his favorite fruit is the peach. Yesterday I found a nice ripe pile of the fuzzy stuff at the grocery store and brought several home.
"Cobbler or pie?" I asked after showing him the peaches. He began muttering the question over and over to himself like a philosopher mulling over the meaning of life.
"Or a crumble?" I followed, then, "Is that too many choices?"
For several hours after he wandered around the house "cobbler or pie…or crumble? Hmm…" This is a very big decision in Good Man Land.
Finally toward the late evening hours, I surveyed the ingredients I had on hand and began consulting cookbooks in preparation for his decision.
It was then I pulled out The Book of Love (dun, dun DUUUUUN!) to begin the search for recipes.
This Very Good Book: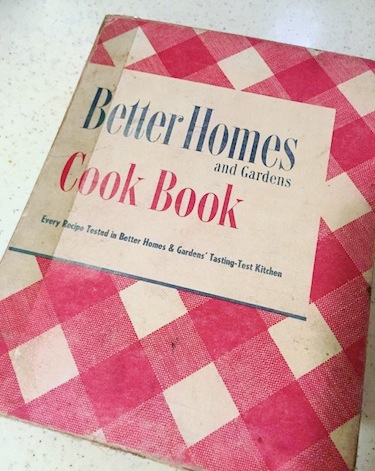 I think every person who likes to cook has a favorite or special cookbook that is the go-to for any circumstance, and this one is mine.

Taking a seat in a nearby chair, I opened the holy tome. I read the inscription inside the front cover. You see, this particular cookbook was a gift from my grandparents to my mother on the occasion of Christmas 1950.
My mom left it behind when she moved out and my grandmother kept updating the recipes inside. The Better Homes & Gardens magazines published recipes that the homemaker could cut out and add to the book, to keep it fresh. I love seeing my grandma's handwriting along with the food spots and spatters in its pages.
Some of the recipes are a little odd or outdated, but I'll tell you this, I've never made a recipe from this book that failed me.
As The Good Man walked by, he said in a voice a little quavery with anticipation, "I love it when you pull out that cookbook."
Oh yeah, he knows. Good things come from that 1950's made with yum cookbook.
Finally, after waiting for his answer and looking at recipes and thinking about my laziness factor, I decided for him. "Good news, you are getting cobbler."
He nodded, relieved the decision had been made and ready for the delivery on my promise.
That happens tonight. Oh yes and oh yum.
Best part about making baked goods for the one I love? I get to have some too!
It began with a photo of fish.
The photo was published in the online edition of the Albuquerque Journal. I often read the Albuquerque Journal so I don't feel so far away from home.
A glance at the file information for the photograph gives a date of June 2002. I find that so hard to believe, and yet it's true
The photo shows three fish that got stuck when their river home dried up. A rapid New Mexico drought took all the water.
I can't recall which New Mexico river this happened to, I probably should have kept a screen shot of the newspaper article, but even as I know that New Mexico has struggled with drought for years (and today), I was amazed and shocked by this photo.
It is difficult to believe that water could evaporate that quickly.
Here is the photo: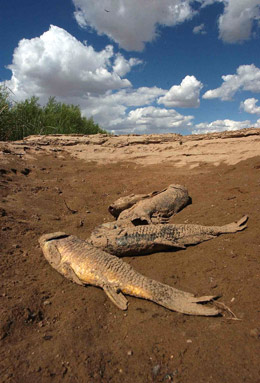 The image didn't leave my head, it rattled around in there and said so many things to me. My brain worked it over and a story began to form. The feeling of trying to draw a breath but only getting New Mexico mud.
The first draft of the story "Sangre del Toro" took shape in October 2002. Wow. Thirteen years ago.
Over the years I have submitted that story off and on to contests and literary magazines. I'd dig it up, edit and polish and try again with no luck.
I believed in the story, in the character, in the image, so I kept trying. And trying. And editing and trying and so on.
I did another edit and submitted it again for another round in the publishing meat grinder this last December. I have come to understand that publishing is as much about timing as it is about quality. And that's why I kept trying.
On February 26, I finally got a yes from a literary journal named Jet Fuel Review.
It was almost surreal to finally hear a yes in response to this story and it's even more surreal to announce that the Spring 2015 edition of Jet Fuel is live.
You can download the entire edition here: Full Edition
Or you can read just my story here: Sangre del Toro.
Woo! Whatta rush. Very excited about this one finally seeing the light of day. It was only by searching my hard drive to find that fish photo that I realized this published piece was thirteen years in the making.
Thirteen years of believing in a kind of sad story about a little girl caught out, just like the fish.
The editors of Jet Fuel told me they thought the metaphor was a little too obvious, which is probably true. I guess they still liked it enough to publish.
And so please give it a read and support Jet Fuel. They are a great group and I am forever indebted to them for taking a chance on little Adelida.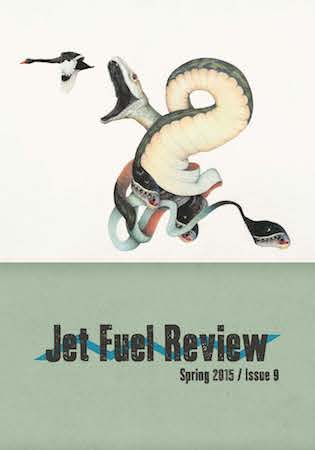 This is where I ate my lunch yesterday: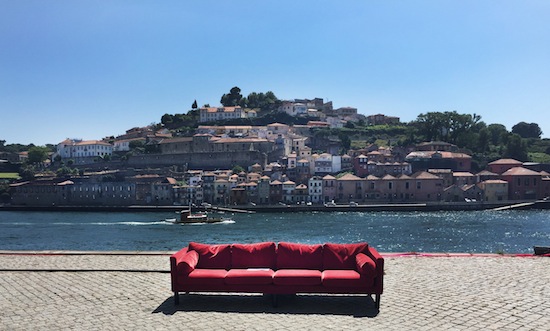 Copyright ©2015 Karen Fayeth

A velvety red couch by the beautiful Douro River in Porto, Portugal.
Wednesday was a beautifully clear warm June day. I sat on the pleasantly comfortable couch with two other people who are counterparts from another company. Two people I genuinely like.
We sat together companionably and talked and laughed and told stories. We couldn't believe our good fortune that the couch seating was open on such a gorgeous day.
Inevitably, time passed and it was time to go back inside the Alfândega Congress Centre, a historic former customs house, and go back to work.
Deep in very businessy conversations inside the cool stone structure, I couldn't stop my mind from wandering back to that place. That seat. That sun. That perfect moment. A delicious lunch with good and decent people on an oddly but fortuitously placed couch by the Douro river. In Portugal.
On the next break I wandered downstairs and back outside. After taking a photo of that now empty red couch by the river, I went down a few granite stairs and sat closer to the water. Small wakes from passing boats gently lapped the bottom step.
Then I starting thinking. Lovely thoughts on a lovely day. A workday, no less! What a lovely city in a lovely country. Just that easy. Just that difficult.
And that, my friends, is how a good memory is made.

Or: Tales From The Upper Deck
When word came down at work that I had approval to travel to Porto, Portugal to participate in meetings with key folks from around the world, things began to follow a usual path.
Since the place I work for gets a lot of Federal funding, we're bound to abide by the Fly American Act, i.e. when on Federal business, fly US carriers.
No problem. I'm used to shoving my cookies onto a United Airlines jet and riding around the world, so per the norm I picked out my United flight pairs and the admin booked them. I was all set.
Because I am a little weenie and need more leg room, I like to pay out of pocket to upgrade my government bought United economy seats to United Plus economy seats.
My employer doesn't pay for business or first class and I don't fly enough to rack up the miles to get me there, so I ride in the back half of the plane. Economy plus at least gives my long legs a little room. A little less sardine-like.
However, when I logged into my United account and tried to upgrade my seats, I was told I could not. That I would have to wait until the day before the flight to pick out seats. What?
It took a little work but I figured out the deal. Three of my four flights on this trek would not be on United planes but a codeshare on Lufthansa.
Well hell, I'd never flown Lufthansa before so this was an adventure.
Doing some research on the Lufthansa site, I also figured out that my plane for the San Francisco to Frankfurt leg of the trip would be on an Airbus A380-800 airplane. A gigantic double decker of a holy-crap-that's-huge airplane.
In fact, it's the largest passenger plane flying today.
Looking up the specs of this plane online, I found people affectionately call it "the whale," and it's no wonder. The configuration I rode seats about 500 people.
When I was finally able to select my seats, I found that the second floor of the airplane (this airplane has two floors!!) was mostly first and business class, but the back of the upper deck had a small grouping of seven rows of economy seats. So yeah, I scooped up an aisle seat upstairs right away.
On the day I arrived at SFO, I let out an audible "wuh-huh-hoooooo" when I saw the airplane sitting at the gate. Then I became filled with anxiety. "How will that ever fly?" said my worried mind.
I wondered if my brain had anything I could compare this to. Many years ago I worked for a Lockheed Martin site that was right next to a military airstrip. Every once in a while the military would practice "touch and goes" with various planes and pilots. We'd drag our desk chairs outside and watch the show.
What I'm trying to say is, I've seen a fully loaded C-130 execute a touch and go, so yeah, I realized that the A380 could certainly fly. And I was going to get on it.
As I walked down the jetway to the plane, my heart began trip hammering. I always have a moment of pause before boarding any plane but this was different.
I stepped through the nice wide doorway and saw a beautiful gleaming white staircase front and center. "Ah, that must be how I get up there," I thought.
The oversmiling male flight attendant looked at my ticket and informed me that I needed to go all the way to the back of the plane and find a staircase there.
In other words, your economy-seat riding ass don't climb these stairs, honey.
Fair enough. I set off on my journey to the back of the plane. I stopped rest once or twice. I had snacks to keep my energy up. I may have camped out overnight. Jesus, that's a big airplane.
Finally I reached the end of the plane and scurried up the stairs, then slid into my seat.
It was still an economy class seat so it fit tight around the hips. I got snug like a bug in there as the plane began to push back from the gate.
The Lufthansa A380 features three live cameras, one on the nose pointing forward, one on the tail also pointing forward, and one on the belly looking straight down.
Here is a terrible quality image. It's a photo taken with an iPad of my screen on the plane as we are somewhere over the Labrador Sea. It's enough that you can see what the view from the tail camera looks like: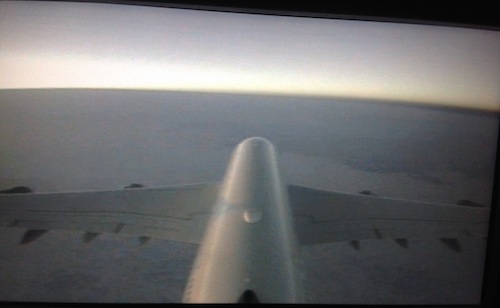 I wanted to stick my hand out the window and wave to the camera, but that's mostly frowned upon

It was mildly surreal to watch this behemoth take off from a bird's eye view but I was fascinated.
Once aloft, I began to realize why non-US carriers rock the casbah. It's one word: alcohol. The wine flows freely on non-US airplanes. I had flown a Singapore Airlines plane a few years ago and was gently surprised at the wine served with meals. The Germans have the Singaporeans beat. Wine with snacks, wine with dinner, brandy and irish crème after dinner.
All of this is a plot, however. They ply you with food and booze then turn down the cabin lights. Pretty much everyone falls asleep right away. Except me, I have a flaw in my DNA. I can't sleep on a plane. Not even a long haul. Nope.
The Good Man shares this flaw and it's good when we travel together because we entertain each other like little kids while everyone else sleeps. Sadly on this trip I was alone.
The flight attendant overseeing our little cozy area of economy class seats was a rockstar. He noticed I was the only one awake and didn't let up on the top-notch service. He checked in on me constantly and brought water, juice, snacks and some cookies that seemed way too delicious for economy class.
Even though I was packed into an economy seat I felt spoiled like a little princess up there, inside the white whale.
When she touched down in Frankfurt I was reluctant to leave my cozy little seat and my white glove service. It was a gentle landing as the plane beast docked next to its siblings.
That was one of the most comfortable and happy international flights I have ever known and I am sure I will reflect back on it for years. It has become the high water mark by which all other flights will be measured.
Sadly, when going home from this journey, the Frankfurt to San Francisco leg will be on a plain old United jet, a Boeing 747-400. That plane also has a second deck, but only the pish-posh get to sit up there.
I'll be seated among the cattle, in an economy plus seat but still among the unwashed. No first class cookies for Karen on the way home.
I think I'll write a nice letter to Lufthansa to tell them how much I appreciated the flight attendant. As I have learned in my short time in Portugal, I will extend a hearty obrigada (i.e. thank you or much obliged) for his attention and job well done.
And I will wistfully dream of my time inside the whale, a modern day Jonah high above the bustling world.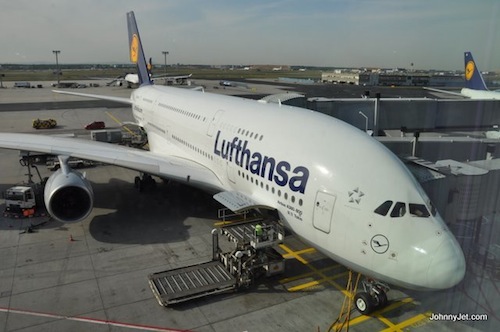 Thar she blows!

With a nod and a smile to Johnny Jet for the photo and for his awesome blog post about the Lufthansa A380. Read it here.