And Then There Was Perspective
Yesterday as I was writing up a post about whether or not to take the brand new laptop allocated to my new employee and give him my old machine, I got a ping on interoffice chat from my employee in Costa Rica.
She and I had spoken earlier in the week and she told me some sad news. Seems that she and her husband have to sell their car because her aunt has demanded immediate repayment of a debt. They have worked and tried to find a way to get the money to pay it, but cannot.
The car has to go.
When I was in Costa Rica with this fabulous lady in May, I was impressed by how much she and her husband loved their car. It is a ten year old Kia and they had lovingly detailed it, put on nice wheels, kept the paint clean, reupholstered the inside and doted on the car.
They even told me how important this car was to them. It got them back and forth to work. It helped my friend take her sick mom to regular doctor appointments. It gave them freedom to get out of stuffy, overcrowded San Jose and to the ocean.
She was crying as she told me the news.
They had found a buyer who gave them quick cash and they re-paid their debt, which means that both she and her husband need to ride public transit, such that it is, to get to work every day.
I've been on the buses in San Jose, Costa Rica. It's not that bad, just very crowded. My friend has to walk about a mile from her home to the bus stop on roads with no sidewalks (or "walk sides" as she calls them) in the oppressive heat and tropical rain and at night.
She assured me it would be ok. She and her husband were looking into getting a loan for another car. They both have good jobs and it seems likely the bank will approve.
So yesterday, when she pinged me, she was apologetic. "I was late to work today, I'm so sorry."
This is quite unlike her, she's very prompt and quite businesslike.
"That's ok, are you all right?"
Seems there is an ongoing protest in Costa Rica and while she was able to get on the bus, ultimately the route was blocked by protesters and traffic so everyone had to get off the bus. She walked five kilometers to work (about three miles) in her work clothes and heels.
She was spitting mad and drenched with sweat and just really, really sad.
"Do you mind if I leave a little early today? I have to go to the government office to get a report to take to the bank so they can see if we can have a loan for a car."
"No problem," I responded. "Take care of yourself."
I'd tell her she could work from home for a few days until this is sorted out, but they can't get internet to their house. The infrastructure just doesn't exist yet in her neighborhood.
Whatta world, whatta world.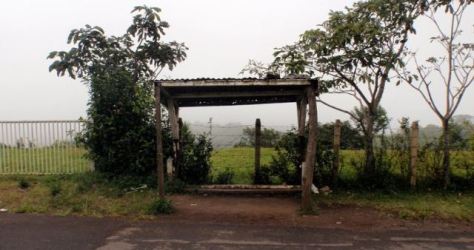 A Costa Rican bus stop, and this is a nice one. In the hills, bus stops are little more than a bench carved into jungle overgrowth.

Image from You're Not From Around Here and that post is totally worth reading. I suggest a click.