Recently, as I perused the pages of Facebook, I came across a Newscastic (read clickbaity) article with a New Mexico topic. I took the bait so you don't have to.
The title of the article is:
Pick A Side: 11 Famous ABQ Rivalries Since The Day You Were Born
They said to pick a side, so I did.
Herewith, the 11 so called rivalries (many of which came well after the day I was born, by the way) and my pick for each.


1) Comanche vs Candelaria


We can all agree not Montgomery, right? My preference always was and will always be Comanche, since it was quite close to the house where I grew up.
Sideline here, I looked up the house where I grew up on Google Street View. Wow, hardly recognize it. Brought a little tear to my eye.
Back in my day Comanche had way less traffic than Candelaria and made it worth taking, even with all of the stoplights. Who knows how it goes today? Maybe my ABQ folks can let me know.


2) Twisters vs Golden Pride


Have I been out of the state so long I don't know what Twisters is? Had to look it up. Established in 1998. Psh! No.
Golden Pride (est 1972) all the way.


3) Sadies vs El Pinto


Isn't the right answer first one then the other?
Okay, okay, look, I grew up in the days when Sadies was located in a bowling alley. That's the kind of clientele they drew. El Pinto was always nice, a little more upscale (and pricey).
So to me it's Sadies if you want casual and El Pinto if you want nice. Even with the lovely Sadies stand-alone restaurant, I stand by that rule of thumb.
Verdict: No pick, love 'em both in different ways


4) Rio Grande vs Alameda


Shrug. No opinion. I was a Northeast Heights girl. Didn't get down either very often. Probably Alameda, based on my limited memories.


5) The Shins vs Brokencyde


Who? I thought this was "rivalries since the day you were born."
Let's go with neither. How about Joe King Carrasco, who is not from ABQ but played the hell out of it back in my day. Yeah.


6) UNM vs New Mexico State


I believe my feelings are this matter are abundantly clear.

And when we win this game, we'll buy a keg of booze, and drink it to the Aggies til we wobble in our shoes.

Best. Fight song. Ever.


7) Eldorado vs La Cueva


Richie rich versus the really Richie rich. Who cares? Not me.
Del Norte for the win.


8) Sandia vs Rock Quarry


For skiing? Sandia. Oh Sandia and your bare dirt patches. Your hard icy spots. Your imperfect but nearby skiing, how I miss you.


9) La Cueva Skatepark vs Los Altos Skatepark


Hey! You children get off my lawn!


10) Scorpions vs Dukes


Those Dukes are comin' up swinging. No contest whatsoever. Love the Dukes. Likely because I am a huge fan of the sport of baseball.
While I love the sport of hockey and have nothing against the Scorpions, it just never seemed…right…to have hockey in the middle of the desert. (Yes, yes, I know about the Coyotes)
Side note, the Dukes used to have dollar dog and dollar draft days. Wow there are some games I can't remember but had fun.


11) Sandhill cranes vs Balloons


Stop it Newscastic, you're drunk. This is a ridiculous question. What, because they both fly?
Here's the answer, hot air balloons in the morning, sandhill cranes at sundown. Owl burgers all day long.
Solved.


Okay, ABQ folks, what are your picks?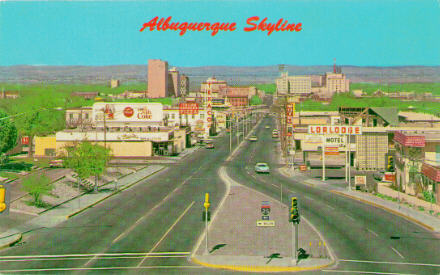 Image found here.

I have the greatest best friend in the world. Knowing a ex-pat New Mexican like me is missing home more than ever in the Fall, she decided to poke the bruise. Because why not?
And being my best friend, she knew right where to hit for maximum impact. She got me right in the green chile.
Over this past weekend, she sent me a text with a photo taken near Las Cruces and the words "New Mexico misses you."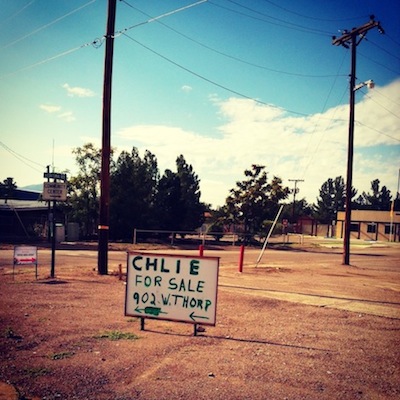 So of course I damn near wept. I mean, my nostrils long for the scent of roasting green chile. And Zozobra just happened. And the State Fair is going on. And the Balloon Fiesta is coming up. It's the best time of the year to be a New Mexican. And oh damn, why again did I move to California?
So I replied and waxed rhapsodic about the virtues of green chile. How I missed it. How maybe I could find some again this year at Whole Foods. How my local hippie grocery store carries dried red chile pods that are labeled as being from New Mexico.
I was lost in a land of happy thoughts and green chile dreams when my best friend who is teaches English at a local high school, said…
"Did you notice it was spelled c h l i e?"
Whaa?
Truth was, I hadn't noticed. I was so busy trying to locate the green chile smell in my memory banks and bring it back to my nose. So I looked again. Sure enough.
Then I laughed. I considered making a crack about the sorry condition of public education in New Mexico, but that's just hitting below the belt.
To be honest, the photo of a hastily hand painted sign made me miss New Mexico that much more.
Oh Fair New Mexico. How I love you you, your green chile and your bad spelling.
Love you so.

Photo courtesy and copyright 2013 my best friend in the world. Don't steal it without asking!"

Since the 2012 Albuquerque International Balloon Fiesta kicked off this weekend, I decided to take a meander down memory lane.
For my Albuquerque folks watching the balloons this year, I present photos from my family's archives as evidence of what the balloon fiesta looked like in 1977: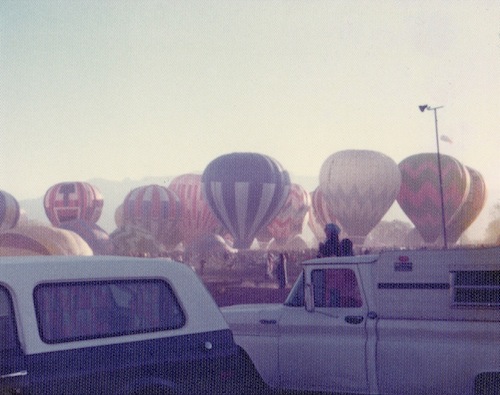 Ah yes, I've mentioned before on this blog about my love for that blue on bottom white on top 1971 Chevy Blazer my family drove around as I was growing up. My goodness I loved that truck.
This photo just goes to show you that back in the day, the Balloon Fiesta was a big open field and spectators simply drove up and parked. And we helped. If you were standing idly, the balloonists would shout at you to help, even if you were a kid. We held and shook the envelope while that big burner whooshed hot air into the balloon as slowly it rose from the ground.
It's a visceral event that still gets to me, even today.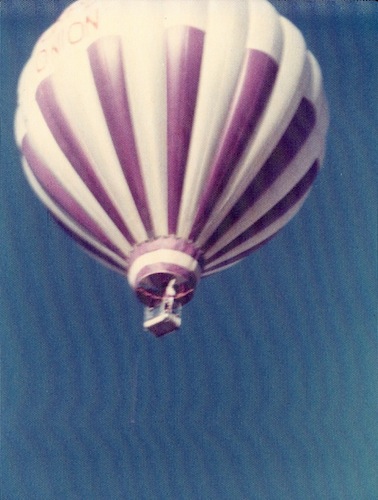 I always loved this purple and white balloon and I believe when I went to the 2010 event I saw either this exact same balloon or one of it's replicas. I love that this balloon is still up in the Albuquerque sky on a cold October morning.
And the basket and burner. Such the epitome of the event is the sight of firey flames shooting upward. That sound as the whoosh fills the air. That feeling as heat blows back. Watching the envelope shudder and move. The smell of fuel. Truly an assault on every one of the five senses.
Magic!
I had planned to go to the Balloon Fiesta this year, and then, as you know, the best laid plans of mice and men and stressed out overworked girls in the Bay Area.
Oh yes, I also have this already scanned. Here is the 1976 balloon fiesta. For some reason I only have the one photo in my album. That's me walking with my dad and older brother. My mom must have taken the photo. My dad loved the balloons and couldn't resist helping every pilot who asked (or didn't ask).
Ah Albuquerque, my hometown, how I wish I could be with you this week. As the Balloon Fiesta snarls traffic and causes everyone's noses to point skyward, I'd love to have a breakfast burrito and a hot chocolate and cry a little and laugh a little and love every minute of it all.
My last Balloon Fiesta was 2010 and I gotta get The Good Man out there so he can understand too.
I follow Neil Patrick Harris, a good New Mexico native son, on Twitter and he's been tweeting that he took his family to ABQ for the Balloon Fiesta. After the events on Sunday, they went and ate at El Pinto.
I'm so damn jealous I can hardly stand myself.
Anyhow. Off to Monday and a drab ol' day at work with no ornaments in my sky.
*sigh*
Miss you, my Fair New Mexico.
Photos from the family archives are Copyright 1976 and 1977 Karen Fayeth and subject to the Creative Commons license in the far right column of this page. Be respectful with my memories, please.

In the wake of my most recent (and fabulous) visit to my home state of New Mexico, I find I'm getting my old crone on.
New Mexico has both grown and grown up over the last twenty years. I suppose change is inevitable.
But sometimes I still lament the way it used to be.
So here's a top of my mind list of how New Mexico used to be. This just happens to be what I'm thinking about on my first day back in California on a stormy Bay Area day.

Grumpy McGrumperson's List of "That was my New Mexico"

It rained in summer. It snowed in winter. The Rio Grande bulged with water in July. Farmers irrigated their land. Sure, it was still a desert, but water didn't cost $300 a cubic meter. Cotton plants grew tall. Pecans grew large. It worked. Now New Mexico is in the midst of a terrifying descent into serious drought and a mismanaged water conservancy.
If you went to the Balloon Fiesta, there was never, not for one moment, a thought that you'd just sit there and watch. You were expected to pitch in, even if you were a small child. "Safety" and "insurance" didn't ever come into mind. We just helped, because getting those hot air balloons off the ground was what we did in Albuquerque.
Breakfast burritos at the Balloon Fiesta were cheap, incredibly delicious, and you bought them out of a battered ice chest and didn't think twice about it. Same with tamales at Christmas.
Pinto beans were made with pork. No one ever wondered about or protested this fact. Ever.
If you ate a Biscochito, you didn't question if it was made from lard. OF COURSE it was made with lard. And no one thought that was weird, bad or worried that it would make them fat. Anything but lard was unfathomable.
Luminarias used a real candle. None of this electric hogwash.
If it said Hatch green chile, you knew it was actually from Hatch. It seemed strange to even question.
When you looked into a bucket of ice at a bar, and pulled out a bottle, it was beer. Just beer. None of these foofy malt-based sugared up drinks. Just beer. And decent beer. What's with the light, light, oh so lite you can breathe it like air. Just drink a damn beer! Or don't. (this comes straight from the events of this weekend. I grabbed what I thought was a beer. It wasn't. *sigh*)
While on a two lane highway, when someone passed the other direction, you gave 'em a wave. Be it whole hand, the pointer finger, two finger Boy Scout style or whatever acknowledgement you like, you did it. And the other driver waved and smiled back. (in some places this still happens, but I got an awful lot of unreturned waves this weekend.)
We didn't call a tortilla a wrap. It was a tortilla. They weren't made of spinich or tomato, and if mom made 'em from scratch they were thick and oh so very good.

There's more, I think, but that's enough of what's bothering me today.
I suppose time marches on whether I march in step or not. New Mexico can't stay the same forever and neither can I.
Must be the dark clouds I have, both mentally and meteorologically, that's got me all stirred up.
Wish I could find a way to send you some of this wet weather, my Fair New Mexico.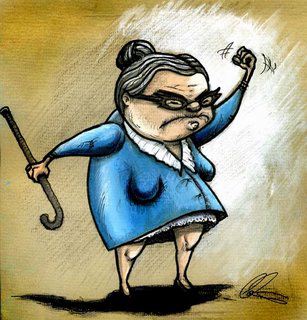 Today's National Geographic Photo of the Day is a timely shot from the Albuquerque International Balloon Fiesta.
Stunning!
Click the image to see full size.