December 23, 2017 by
Karen Fayeth
·
Comments Off

on Butterfly Maiden Bokeh
Filed under:
Albuquerque
,
art
,
artist
,
awesome!
,
awkward
,
Be Better!
,
bokeh
,
business is business
,
butterfly
,
disapproving boss
,
drama
,
fresh ideas!
,
fun
,
gratitude
,
heart
,
hellidays
,
holiday fun
,
home
,
homesick
,
latent childhood
,
learning
,
life
,
light
,
Macro Mondays
,
macro photography
,
make it work
,
memories
,
mi corazon
,
Monday
,
New Mexico
,
Opinions
,
photography
,
play through
,
right tool for the job
,
show and tell
,
stress
,
woo hoo!
,
yes boss
,
zia
,
Zuni
The job that pays the bills has been especially nutty this month. Around these parts, Santa is saying "Ho, Ho, Hoooooly crap I have a lot of work to do." Thankfully, I managed to get through to the end of the week and now get to enjoy a bit of time off for the holidays.
And so it's best to balance all that work with some fun. Which can also be work, in a way.
This week, my photography takes a turn toward bokeh, the sort of blurry backlights seen in many an Instagram photo. I've seen a LOT of photos with bokeh, it's quite popular. When I see these kinds of photos they always seem fun, and those blurry lights look like they would be so easy to shoot.
Easy was not the case for me. I figured I'd waltz right into some fabulous bokeh photos, but I really, really struggled with this challenge. The photo's subject was photographer's choice, it just needed to have some nice juicy bokeh in the background.
Curse words were uttered. Cameras were called names. Swears in English, Spanish, French and British English (bollocks, bollocks, bollocks!) were all employed in the making of this photo. Finally after several Google searches and articles consumed, I stumbled onto a good suggestion for creating lots of sparkly light, and it worked.
In the end, I'm pretty happy with how this turned out. The photo features a Zuni Pueblo fetish carved by a Native American artisan named Dilbert Gasper. His Butterfly Maiden is carved from black marble and inlaid with turquoise. Since Christmastime is when I miss New Mexico the most, she seemed to be a good subject for my trials and (many) errors in learning a new technique.
I hope I did the little Butterfly Maiden and master artisan Mr. Gasper their justice.
And with that, a hearty Feliz Navidad to all!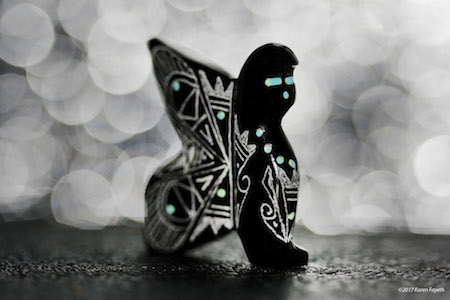 ©2017 Karen Fayeth