Am I? Is it? Could It Really Be? Oh. Nope.
As I learn more and more about the art of photography, I've become enamored by the retro look photography made popular by the people at Lomography, Hipstamatic and Instagram.
I own several plastic cameras and I actively use the Hipstamatic app on my phone. I'm not as in love with Instagram, but I see a lot of fun photos posted on Flickr and Twitter, so why not?
While perusing the Photojojo online store (I'm a little bitch for Photojojo), I stumbled across the Diana+ lens and adaptor for a DSLR camera.
I was stoked! I don't own a Diana, though I do own a Holga, and the thought of having the look of a Diana lens on my digital camera made me happy. So I ordered it.
Today I went out in the yard to take the new lens for a spin. I'm not going to lie to you, this is a tough lens to work with. It has zero electronics inside so shooting is all manual. This fact is actually good for me as I need to keep practicing my exposure triangle (ISO, aperture and shutter speed).
When I came inside and took at look at my photos, I felt only sort of "meh" about all of them.
Here's the best of the lot.

Copyright 2011 by Karen Fayeth
After fiddling with these photos and playing with contrast, I went online to take a look at what others were saying about the lens and maybe pick up a few tricks.
I stumbled across this review from a user named Blunty3000 titled "Stupid Hipster Lens Review – the 'Dreamy Diana'".
Blunty's main gripe seems to be that he had to pay "Sixty sodding dollars" for his lens. From what I can discern, Blunty is from Australia. I only paid thirty sodding US dollars for my kit of lens plus adapter.
Blunty seems to use this product review as a platform to eviscerate hipsters everywhere. Ok, fine. I get that. As for me, I like the retro look photos. I own and enjoy quite a bit of the hipster gear.
But wait. Does that make me a hipster?
Nooo. I mean…I'm over 40. I refuse to wear skinny jeans. I think retro photography is awfully mainstream to be hipster anymore.
Then Blunty makes a point that these hipster photographers are "…pining to feel nostalgia for days they are too young to feel actual nostalgia for…"
Ah. Yes. And there's the difference. I was actually alive in the 1970's.
I feel nostalgia for years I actually remember. I'm not a hipster, I'm old.
Back then my sister and I shared a suitably uncomplicated (and now very hip) Kodak FlipFlash camera. Ok, it was really hers but when she tired of it, I got it as a hand-me-down.
It looked like this.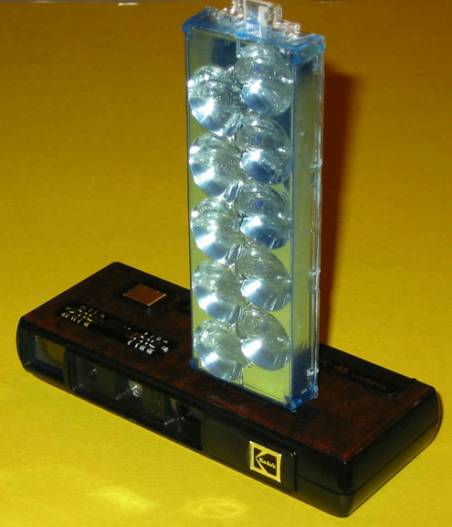 Kodak FlipFlash Camera, photo attribution unknown.


Here's some of the dreamy, out of focus, widely vignetted photos that made me one of the mainstream back then and an almost hipster today.
This is our family's cat as a kitten. And yes, that is a poster of The Muppets in the background. Note the "soft glow" the vignetting, the all around retro feel. This photo is circa 1981. Very hip in 2011.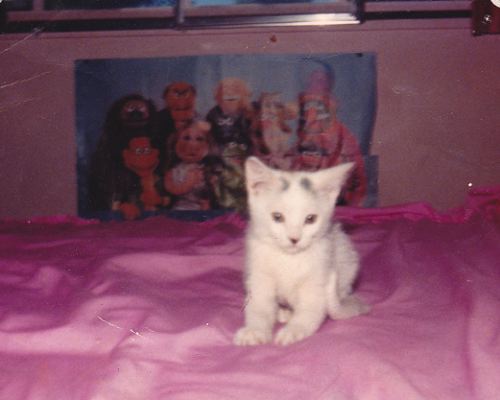 This is me posed at the chicken coop behind our place at Ute Lake. I think my mom took this photo. Maybe my sister. I don't remember. It has that certain je ne sais quoi with the dry grass, the cloudy sky and the rundown gray stucco chicken coop. How very Grapes of Wrath. I place the year to be around 1977.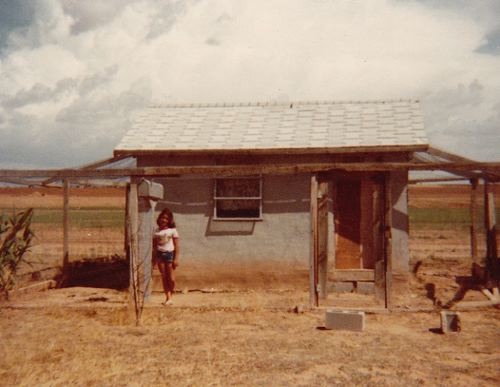 So after this dark journey of the soul to determine if I'd become a hipster and should then begin my self-loathing, I've come out the other side. I shall go back to shooting my retro cameras with reckless abandon knowing I can make all the old timey photos I want. I lived it baby!

Today when I Googled a photo of an old Kodak FlipFlash camera, I found the *perfect* photo. And where did I find this photo? On my own blog. I'd already posted it a couple years ago. I'm becoming self-referential!

Unless otherwise noted, photos are from my personal family albums and subject to the Creative Commons license found in the far right column of this and every page of this blog.