The Coolest Letter I Ever Received
So in the file of "things you might not know about me" there is an item I'll share.
Back in 2005, I wrote a book. Ok, that's not the exciting part. I've written several novel length books, actually.
What is exciting is that I really loved this particular book so I spent the time (a lot of time) and the energy (a LOT of energy) to scrub it, then I worked with an online publishing house to self-publish my little book, just so I could learn how it's done.
The story takes place during the course of a baseball game, and I used the names of real players and a real Giants announcer as characters in my story.
Recently I reread parts of this story (a sample is available on the iBook store) and I am still incredibly proud of the story and the writing (even if I realize that it could still use some editing).
So once I had a real live book in my hot little hands, I took one copy and popped it in the mail with a letter. The package was addressed to one Mr. Jon Miller, game caller for the San Francisco Giants, and at that time, ESPN Sunday night baseball.
In my letter I explained to the now Hall of Famer that I'd appropriated his name and style for the announcer in my fictional story because when I think about baseball, it's his voice I hear.
I had been too shy to actually put a copy in his hands when I saw him at Spring Training earlier that year (I'd had the opportunity and couldn't do it), so mailing it was the next best step. I figured that was the end of that, and forgot about the package I'd sent.
Until one day in my mailbox I found one of the greatest letters I've ever received.
Written in his own loopy, cursive hand, Mr. Miller apologized for taking so long to respond, lamented about the 2007 season just passed, gave me his thoughts about the upcoming 2008 season, and he told me he appreciated that I sent my book.
Well knock me over with a feather.
I still have the letter and it still gives me such a rush to read it.
Now that's a guy with good old fashioned class. I'll never forget it.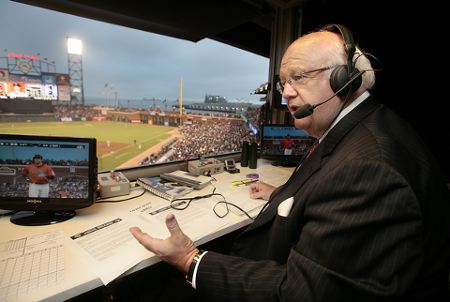 Today's Theme Thursday is: Letter

Image from FriscoFastball.com