Imitation is the Sincerest Form of Education
On the final day of the San Mateo County Fair, a beautiful blue sky Sunday, The Good Man and I went for a final visit and the intent of procuring unhealthy fair food.
I grabbed my camera to take along, intent on taking some photos of the carnival.
Let's be honest, carnival shots have been done. A lot. By a lot of photographers that are a heck of a lot more talented than me.
Not only is imitation the sincerest form of flattery, when it comes to photography, it's the best way to learn. I sometimes spend an awful lot of time figuring out how someone got the shot and trying to replicate it. *click* Nope. fiddle-fiddle-fiddle *click* Nope. You get the idea.
But then, I do finally figure it out. And I get it. Then I understand how it works. I learn a bit more about light and exposure and framing…and…and…and.
And so, the ubiquitous Ferris Wheel shot. I'm pretty happy with how it turned out, actually. I like that the edges break out of the side of the shot. This is something my photography teacher has been working on with us.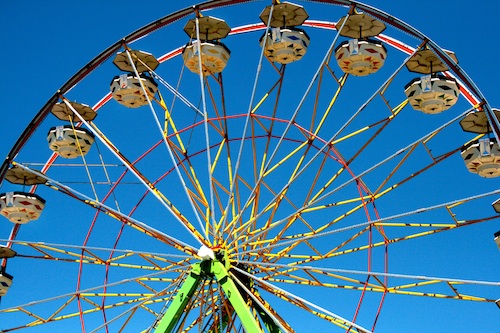 From there, now that I got it, I branch out to try to get some snaps of things that take on my own style. Learn from the masters then add a layer of my own perspective.
This is my favorite shot from the day:


This one is for my best friend who loves carousels.
Nothing ground breaking here, but a lot of fun. And what's best, you may not be able to see it, but I can certainly see how my skills are continuing to improve.
As they say, practice, practice, practice.