Back Out Into the Wintry Days
Here it is, Sunday, January 7th and I'm staring down the barrel of Monday.
It's time to get myself back into gear.
You see, not only does my employer shut down between Christmas and New Year, but I was also able to scrape up enough hours to take this past week off. I've just had seventeen glorious and fun filled days away from work. Days of setting my own agenda. Of not looking at work email. Of working on photography at midnight if that's where the fancy took me because I could sleep in the next day and the next one after that.
Last week I existed in a fabulous sort of limbo land. 2017 no longer, not quite 2018. It suits me.
All good things must come to an end, and so must my extended vacation. Tomorrow, reality slaps me across the chops, as reality is prone to do.
This morning The Good Man and I left our warm and cozy home to venture out into the rainy, wintry cold for Sunday breakfast. Pancakes to bid adieu to vacation and bonjour to 2018.
Through visible breath and rubbing hands together I looked up and saw a bright red maple leaf shellacked to the windshield. "Hey that's pretty," I said and took a quick snap.
Now, I realize that in this simple winter image I somehow exactly captured my mood. No more holly jolly songs and soft Christmas lights. No more Santa and wrapping presents and warm cookies baking in the oven.
It's now winter, plain and straightforward. No more looking forward to the holidays, instead we look to Spring. I have a lot of (needed) California rain to endure this year because that is what the Bay Area does in winter.
This is the long slog, when it's still dark early and foggy mornings and shivery cold.
But soon. Yes soon, the world moves into winter so we can know the spring. Daffodils and cherry blossoms are just around the corner, but for today it's a sodden leaf in cold rainy hazy blue surroundings.
So I won't lose hope. Tomorrow may loom large, but I will pop back to the surface like a bobber and keep swimming. I will have great successes and I will fail a lot too. I will be mad and sad and happy and grumpy and overtired and all the things I was on December 21 when this wild leave from work began.
Okay 2018. I put you off as long as I could, but you are now top of my To Do list and I'm going to tackle you.
Starting tomorrow.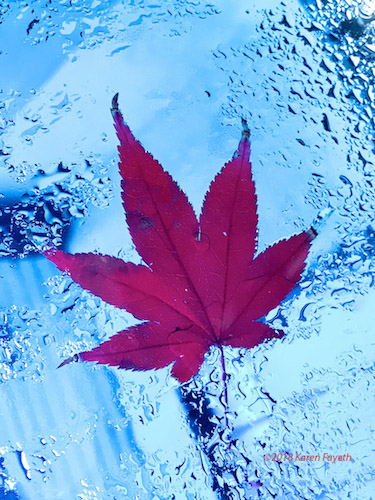 ©2018 Karen Fayeth