Taking It International
I've been sitting on this one for a while as I wasn't sure when I could go public with the news but…..
I am happy to announce my story "Human Sounds" was recently published in Existere, Journal of Arts and Literature, which is affiliated with York University in Toronto, Canada.
That's right! I'm taking this thing, whatever this thing is that I am doing, over the borders and out to the world!
Since the magazine is published on good old fashioned paper and sold in stores, I don't have an online link to provide, so I've scanned my story so you can read it here.
Here is a direct link: Human Sounds
There is also a link in the right column of this page.
If you like what you read, I encourage you to check out the rest of the issue. There is some amazing writing to be found in Existere.
Thanks for giving me a read and stay tuned, I have another story that is tentatively scheduled to be published in December.
Yay!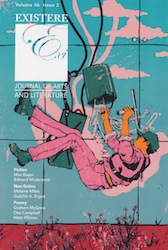 Volume 36, Issue 2