Well If You Didn't Want Me To…
Today was my first day back at work after a nice and relaxing weeklong vacation. Always tough to get back into the routine.
Last week, I missed a big event at work. It was The Great California ShakeOut, an annual earthquake preparedness event. On a set day, they sound the sirens and we take cover and hold for a period of time to simulate an earthquake. Then when that is over, all must evacuate the building.
It's getting us ready for "the big one" that we all keep hearing about. Practice like this has proven to be useful. We do this every year meaning once a year I get to check out what's going on under my desk.
Since was on vacation and I live pretty close to work, I heard the sirens, but I was driving in my car so I hunkered down in my mind.
Today upon unlocking the door to my office I see my employer has left me a little gift in the wake of the ShakeOut event.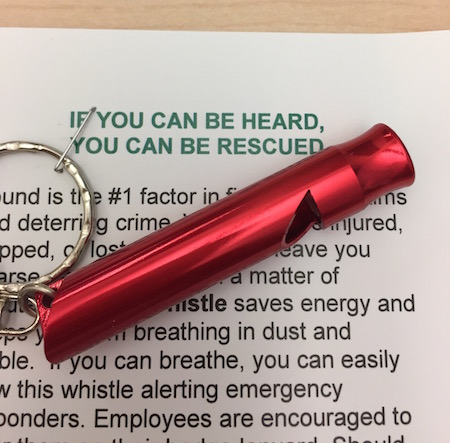 Lemme hear you whistle, baby…


Seeing this laying on my desk, I did what any mature, right-thinking adult would do when presented with a shiny red whistle. I picked it up and blew that sucker.
It's loud. A little piercing. The sound rattled off the high roof of the building.
You'd think this would be occasion for another one of those "talking to's" that my boss so enjoys providing to me. But alas no, she was in a meeting and missed it.
Instead the group administrator came over and stood in the doorway of my office, gave me the world record of stink eyes, then walked away.
I mean, if you didn't want me to USE it, then why didja give it to me?
Anyhow, my pretty red whistle is now safely stowed in a drawer. Guess I won't do that again.

Pretty whistle photo ©2016 Karen Fayeth, and subject to the Creative Commons license in the right column of this page. Taken with an iPhone6 and the Camera+ App.