Log, Log, It's Big, It's Heavy, It's Wood
The photography club I attend monthly has been going through a lot of flux over the past year. A few of the main members have left (retired, mostly) and new folks have joined. We have a new leader and he's got a lot of ideas. It's a lot of change. For the good, I'm sure, but change anyway.
I've talked a bit about this group. It's made up of both scientists and engineers and is overwhelmingly male. These guys are very much tech head photographers who are all about gear and photographic perfection. Their photos are technically precise but in my opinion lack emotion…which suits them just fine.
It's a debate we have a lot in the meetings. Art vs Technical. Let's just say, my storytelling approach to photographs is in the way, way minority. I can often actually *hear* eyes rolling as one of my photos rolls across the screen during critiques.
I have learned a lot from this group. I work hard to make my photos better. To improve. To get technically cleaner. That said, in some ways, I also like to goad them. Poke the tiger with a stick.
One of the things we seem to struggle with as a group is our monthly theme. It's hard to come up with jazzy ideas every thirty days. This year's themes are some good and some weird. All are great in my opinion. I love being challenged.
A few of the more rigid photographers aren't having as much fun with the themes as I am.
For March, our theme was "wood." Seems easy, doesn't it? But it's harder than you'd think to come up with a good, unique, and well crafted photo of wood. It's almost too broad.
We get two entries each month. I did one that was a bit more "clean" though it still could use some technical work. And I did one storytelling photo.
Neither were very well received.
Presented for your perusal:

Palm, Pine, Maple, and Telephone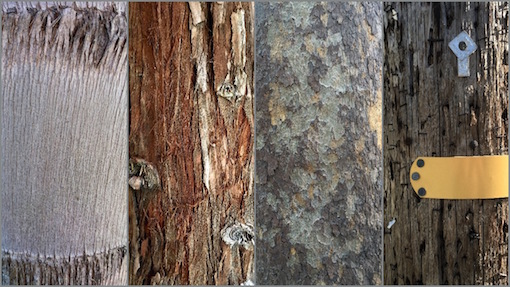 Copyright ©2016, Karen Fayeth

I presented this as a study of the wood types found in my neighborhood, each pattern more interesting than the last.
Ok, the image has a joke there at the end. And with the title I was yanking their chains, as these nature photographers get quite sniffy about the precise genus and species of flora and fauna they photograph.
This photo garnered four votes in our monthly contest. Not terrible, but not close to winning either.
Here is my other shot. I very much enjoy the story in this one. It got one vote. (At least it got one?)

Log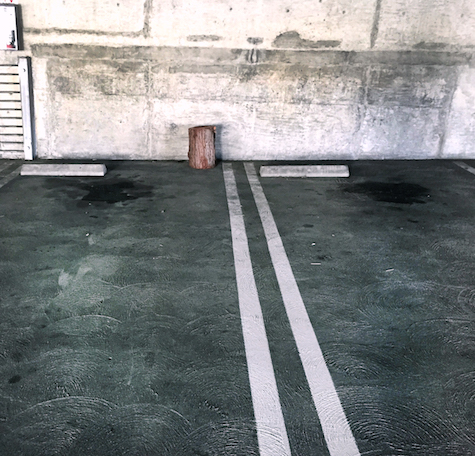 Copyright ©2016, Karen Fayeth

When faced with the conundrum of properly conveying the feeling of "random log in parking garage," I chose to go with moody.
This photograph was not subjected to Instagram filters. A color photo of this wooden beauty was lightly desaturated then pulled into Photoshop for burn and dodge to bring out those beautiful loggy highlights.
The squarish shape is due to cropping out surrounding cars.
I really love this photo. I mean…why the hell is there a log in the parking garage at work?
Also, could this BE any more perfect for the theme of wood? Nailed it!
One vote. At least one other photography club member gets it. It's something to build on.
Both photos are Copyright ©2016, Karen Lingua. All taken with an iPhone6 and the Camera+ app. First photo also utilized the free photojoiner.net site to combine the photos. Subject to the Creative Commons license in the right column of this page.