Slowly Fading Out of Sight
I drove a 1979 Mercury Bobcat. It was a Ford Pinto made by Mercury. Less flammable.
It featured a rigid manual clutch and four speeds on the center console. With a good tail wind and a steep New Mexico hill, I could get some speed in that tin can of a car.
Its vintage meant that it was too new for an 8-track player and too old for a cassette player. Only an AM radio was provided. You'd pull the button out and shove it back in to save your favorite station.
There is a lot of wide open land in New Mexico. So uninhabited that radio signals from faraway populated areas don't always reach. Spin the dial and listen to different kinds of static. Only static.
I grew up in Albuquerque and went to college at New Mexico State in Las Cruces. The same day I moved into my freshman dorm, my parents moved to Carlsbad.
To go from Las Cruces to Carlsbad, you get to the other side of El Paso and face about two hours of nowhere and nothing. No people. No animals. No radio.
The seatbelt on the passenger side fit nicely around my boom box, a Christmas present from my mom. A stack of cassette tapes queued up to take a turn in the dual slots.
The Mavericks, Patsy Cline, Foster and Lloyd, Dwight Yoakum, Buck Owens, Alan Jackson, Keith Whitley, Marty Stuart, Willie Nelson.
Merle Haggard.
And that's the point of telling this story, isn't it?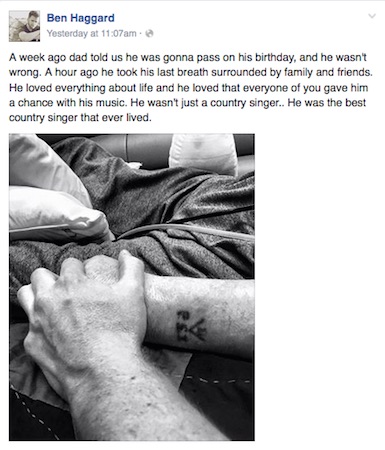 Those voices, those songs, those musicians. Then and now, they are a part of telling my life's story. The music of Merle Haggard lives in my DNA. It's a short hand between friends. An access code for memories, to instantly revisit a time and place.
There was this blue eyed cowboy. He loved to sing. Occasionally he'd even sing to me. There was this dance in Mimbres. The band let him do a song, "Silver Wings." Merle's music and that cowboy's voice. Everyone talked about it for weeks.
I wasn't even there (he and I had parted ways by that point) and it's still a part of my story, the collective story of all of us Ag College kids from that era.
Back then a band or a jukebox or a cassette tape would play a Haggard song and we had to dance, had to sing along.
When I was taking acoustic guitar lessons, I spent a lot of time learning how to play "My Favorite Memory." I never quite got it right.
Merle Haggard told stories. His stories became our stories. His stories became timeless. The opening cords of any number of his songs thrum a string in my soul.
Seventy-nine years is a lot and yet somehow not enough. I had recently been trying to get tickets to a show. He'd rescheduled February and cancelled March. I knew he was having trouble.
Knowing the end is near and the arrival are two very different things.
We last got to see him in December 2014. He came out to the stage looking tired and at half a lung down his voice was a little thin. By the end of the show he had energy and that smooth Merle Haggard sound rang clear, filling the venue and spilling out onto the streets.
We left the show full up to the top with the music of Merle Haggard. Though we've lost the man, his music lives on. In that way, we'll always have Merle.
I'm saddened for his family who lost a husband, father and friend. We lost a good man yesterday. Today seems a little paler for the loss.
Rest easy, Hag.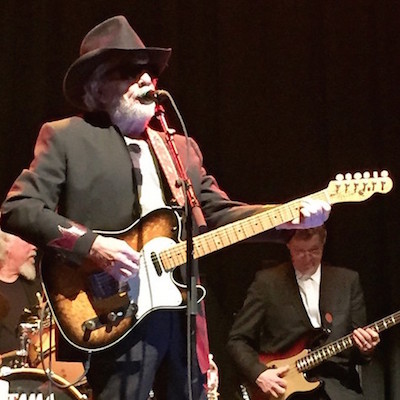 December 2014 at the Uptown Theatre in Napa, CA

Black and white photo from Ben Haggard's Facebook page all rights stay with the originator. Color photo ©2014 Karen Fayeth, taken with an iPhone6 and the Camera+ app and subject to the Creative Commons license in the right column of this page.