Yeeeup
File this under "The Joys of Owning a 15-Year-Old Vehicle"
Yesterday was a weird day. I mean, when you are me most days are weird, but yesterday was especially so.
To kick off the festivities, I forgot my work badge and had a meeting in a special super secure location. It was okay, I simply had to run the security gauntlet which included one security guard keeping a sharp eye on me while the other spoke in low tones to the Human Resources Department.
Turns out I'm still an employee so they grudgingly let me through.
After the meeting, I went back to my building and because I didn't have my badge, I couldn't get into the garage. The alternative was to park on the street outside.
After parallel parking, I gave my car a visual sweep because this neighborhood has a pretty bad smash and grab problem. Satisfied that there was nothing of any value in the Jeep, I headed inside.
At the end of the day, weary from a long day of solving other people's problems and fighting fires, I walked to my car to discover that during the course of the day someone had smacked hard into the back bumper of my beloved hoopty. Someone in a white car by the looks of the stripe now tattooed into my black bumper.
Joke is on them, under that bumper is a solid steel towing package that is attached to the frame of my treasured Jeep. My bumper is a bit dented but they caught the worst of it, that is for certain.
With a sigh and a shrug, I got into the driver's seat and I thought "something looks different." My tired eyes roved around the Jeep, heart sinking, expecting something bad.
That's when I saw my rearview mirror wedged between the passenger seat and the floor.
They smacked my bumper so damn hard it knocked the mirror off my windshield! Sonovabiscuit!
Let's be fair, at fifteen years of age that mirror likely wasn't very strong in it's moorings anyway. But kind of a nuisance to see it laying on the floor.
You don't know what you've got until it's gone. I never really realized how often I look in the rearview mirror when I drive. It's a lot. Which I suppose is good.
On the plus side, with no mirror in my line of view it was a lot easier to see the crazy college kids who rabbit out from between cars in my neighborhood. Next week is their Spring Break so they are especially hoppy lately. (nothing compared to finals week though, oh my)
So yeah, my tired old Jeep is a little worse for the wear. I will call in an insurance claim because parking around here is so weird that this isn't first smacking the bumper has taken.
The insurance claim is a crapshoot, the cost to fix it may be more than the vehicle is worth. We'll see. Maybe they can factor in how much the vehicle means to ME? Anyone? Huh?
Ah well, I have the side mirrors to guide me home and some sort of made up inspirational quote about not looking too much in the rearview.
Or something.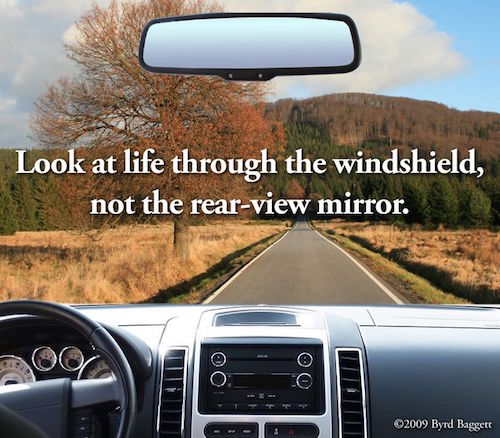 And I thought happiness was Lubbock, Texas in my rearview mirror.

Image found on Pinterest, attribution included on the image.