Too Much Time On My Hands
Perfect posting for a Friday…
On Monday I had an early morning video call with a company in London. Oh those pesky time zones. Did you know that the US and the UK go to Daylight Savings Time (British Summer Time) about three weeks apart, and the US goes first? Monday was the first workday after the US moving ahead an hour, while the UK didn't.
Yeah, I remembered that in the small hours of the morning and quickly dashed off an email to sort out the timing. Thankfully everything worked out.
To prepare for the video conference, I got up extra early and came into the office to set up and test all of my video gear. I just moved into an office a couple weeks ago and my video gear was in a heap in a drawer. Great.
I was able to quickly get it set up and tested and then ten minutes before the call, I was ready to go.
Ten minutes. That is a funny amount of time. Not enough time to really get anything going with work. I mean, I could have dived into email but then I just knew I would get engaged in something and would lose track of time.
But ten minutes is also kind of a long time to sit around and do nothing.
So I did what any adult professional in my situation would do. To "test" my video camera set up, I fired up PhotoBooth on my Mac and played with the effects.
I tried the one with hearts around the head, then the birds around the head. I tried the one that gave me frog eyes and one that produced a disturbing cartoonlike square jaw.
But none were quite as impressive as this. Let's call it Alien Accounts Receivable Clerk. And your payment is overdue.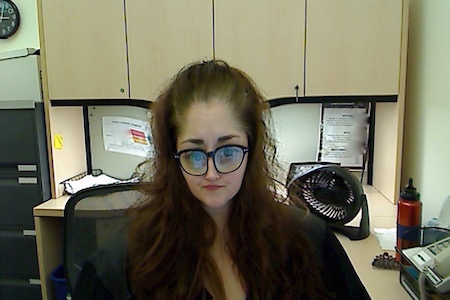 "Please remit payment or I will be forced to terminate your account"


So yeah, when the top of the hour finally rolled around, I entered the video conference still giggling.
A little too jolly for a fairly serious meeting with stoic Brits. *Ahem*
But I cleaned up my act, greeted the others on the call and then behaved like a grown up for a WHOLE HOUR!
Amazing. (hee, hee)

Photo ©2016 Karen Fayeth, taken with the PhotoBook App on my Mac and ten minutes of downtime plus post Daylight Savings Time exhaustion on my hands. Subject to the Creative Commons License in the right corner of this page.